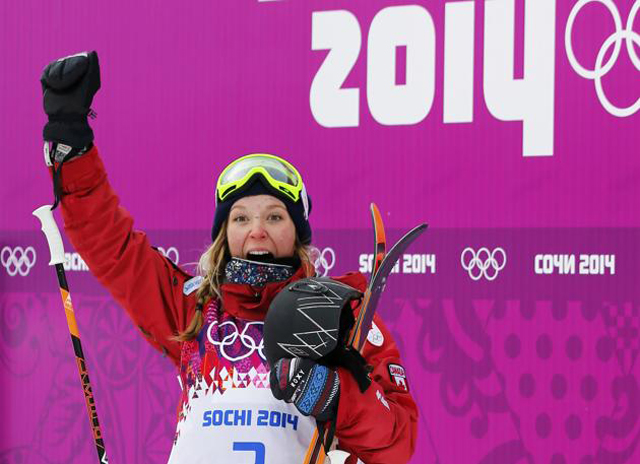 On a course that had been tempered into slush by warming conditions at the Rhosa Khotur Extreme Park (Xxtreme?), Canadian Dara Howell, not necessarily a favorite to win the Olympics, beat out American standout Devin Logan for a gold medal in Sochi's Women's Ski Slopestyle with a 94.00. Fellow teammate and dominant slopestyle competitor Kaya Turski, who had just managed to recover from knee surgery in time to compete at the Olympics, unfortunately fell on both her qualifying runs, partly thanks to a virus she'd been battling since arriving in Sochi. That left the door somewhat more ajar for Howell, whose 4th place X Games run had been highlighted by a switch misty 900, cork 720, and rodeo 540, to make a stab in the finals by keeping her speed up through the slushy conditions. Devin Logan won the silver, while Canadian Kim Lamarre rounded out the podium wiht a bronze.
Americans Keri Herman and newcomer Julia Krass, who had only made the slopestyle team as of the final Grand Prix in Park City a few weeks ago, landed in the finals as well, but finished in 11th and 10th respectively. It appeared rising above the conditions was the name of the game in the the slope finals, with the softening of the course leading a few athletes, like Canada's Yuki Tsubota, to come up short on the landing of a few jumps. Tsubota, who kneed herself in the jaw on one of her runs, had to be taken away on a stretcher.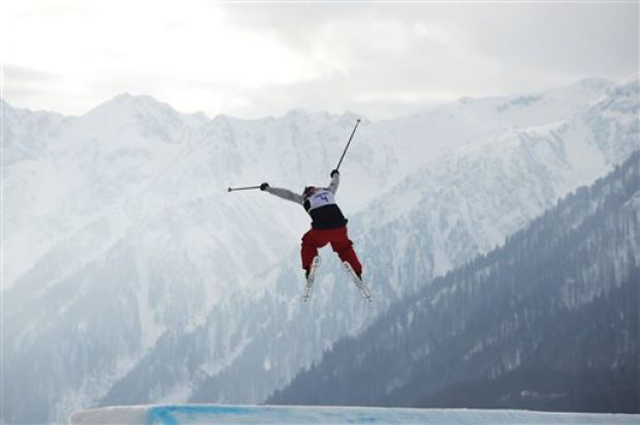 "What trick is she doing?" "I don't know; just zoom in more!!"
Unfortunately we won't know more about tricks until the video recap later today, but thankfully the Associated Press made their best effort to drop into the trick-naming game (which had baffled Al Roker previously, although we're still now sure what "spoice" means), crediting Howell for a "frontside 720-degree spin in which the 20-year-old... gamely held onto her landing," and a money booter trick in which she pulled a "540-degree spin while grabbing the front of her skis," which we assume is Howell's run-ending rodeo 5 bow & arrow. Until the video recap goes live, look forward to a cavalcade of images of the women's slope field in an awkward moment mid-air before or after they've gotten their grab but zoomed in far enough that you couldn't possibly understand what feature they're on or trick they're doing.
Want more Sochi Olympic coverage? Check out:
-Bobby Brown vs. Bobby Brown Pop Quiz
-Jamie Anderson wins Women's Snowboard Slopestyle Finals
-Sage Kotsenburg wins Men's Snowboard Slopestyle Finals
-Sochi Olympics Backcountry Conditions Advisory
-Watch VICE's documentary on Olympic park & pipe skiing