Ever want to own a ski resort? Well, now you can. Er, you just have to have a $100,000 cashiers check to participate in the auction of tiny, bankrupt Wolf Creek Utah ski resort in Eden, Utah. The highest bidder on Jun 1, 2012, will get the hill, the 18-hole golf course, the clubhouse and more.

The ski area's website boasts that: "Wolf Mountain offers a variety of skill levels to accommodate each skier, and snowboarder. Approximately 20 percent of the mountain is appropriate for beginners, 50 percent for intermediate skiers and 20 percent for advanced skill levels. Wolf Mountain also boasts the best slopes in Utah for night skiing with the entire mountain lit up each evening."

However, looking at the trail map indicates that there may be less than 20 percent of terrain for advanced skill levels. ...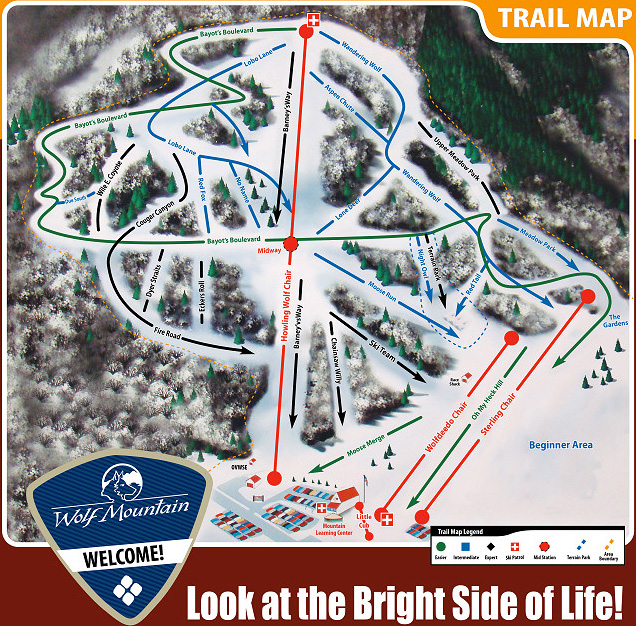 I like to imagine buying this place and keeping it all to my self, kind of like Eric Cartman in that South Park episode where he buys his own amusement park. ... Wouldn't it be sick to have your own ski area, even if it was one of those tiny bumps of a hill, like Wolf Creek Utah?

Read below for more information on the auction:

Wolf Creek Resort Ski and Golf Course for Auction
Real Estate Bankruptcy Auction


Wolf Creek Resort
3926 N Wolf Creek Dr. Eden Utah 84310

This includes

The 18-hole championship golf course
The Clubhouse (restaurant, snack bar, golf shop)
State of the Art Golf Course Maintenance Building
Pineview Lodge Event Center (event center and corporate offices)
Discovery Center (workout facilities, retail space, corporate offices, etc.)
Wolf Mountain Ski Resort
800+ acres of open dedicated space
Development acreage for aprox 850-950+ mixed use units (single family homes, condos, townhomes and retail/commercial) among many different development parcels
All the personal property to operate the businesses.



Over 3,000 Total Acres!
Working business!
A turnkey operation!
Minutes away from Olympic Venues!
This is a once in a lifetime opportunity!
$100,000.00 Cashiers Check payable to Erkelens & Olson required to bid.
3% Buyers Premium

Preview by Appointment Only.
Call 801-355-6655 to Schedule Appointment