Matty "Moo" Herriger lives for the journey that winter brings. As a Teton Gravity Research cinematographer, each ski season he travels the world capturing the pinnacle of the sport: the hottest athletes, the biggest lines, the newest gear. But 10 years ago he began a quest to break that formula with his art film "Winter's Wind." This Thursday, March 15, at the Sun Valley Film Festival in Ketchum, Idaho, Herriger's vision will come to life.
"It's probably the first ski movie in 20 years that isn't about self-promotion or promoting some sort of athlete or brand," Herriger said. "It's more of a movie about us. It's about everybody. And if we're all fortunate to go long enough, you know, then it will be our journey."
Inspired by the early ski films of John Jay, Warren Miller, and Dick Barrymore, Herriger's "Winter's Wind" is the story of one man's journey from ski protégé to guru, to mentor and legend. The main character — old man Zio — is played by six different skiing legends — past, present, and future. Shot on 16mm and HD video, it is a full-length theatrical feature and ski-action epic.
"It's a timeless piece about timeless souls," Herriger said. "It's not about the new raddest trick, or the new raddest gear or the new raddest athlete. It's an art piece project."
The seed for the film was planted in South America in the summer of 2002 when Herriger was filming with Micah Black for TGR's 2003 release "High Life."
"We went a little over the top on some lifestyle stuff," Herriger said. "But I thought, 'Let's keep chipping away.'"
The next spring, Herriger and Black filmed in Chamonix and made a seven-minute short titled, "Winter's Wind." It went to some film festivals and gained some accolades, so Herriger kept working on the project — for the next eight years. The real production push started January 2011, Herriger said. That's when he put a trailer together and finished writing the script.
"I had as much artistic latitude as I needed, because there was no corporate sponsor," Herriger said. "I got to write, direct, shoot and say whatever I wanted. It's got integrity for sure."
Old man Zio.
The film synopsis is decidedly different from any recent ski or snowboard movie:
"On a cold morning in Burlington, Vermont, old man Zio gets the call to once again journey into the unknown. A brisk wind, the first push off winter's wind, calls him back. Zio must say goodbye and let it be known he is leaving. The day's journey has a reminiscing effect and sends his mind back to memorable days of adventure.
"A day years ago, when Zio pedaled down the charmed streets of Stowe, Vermont, with the vigor of a young man. From the bike Zio remembers highlights of his journey from youth, into the mountains, and to the freedom of skiing. From the hardwood glades of Vermont where he first felt the soul of the turn, to years of wanderlust and dedicated training in the North American west, and finally the proving grounds of the Chamonix Valley, France. Zio remembers all he has lost and gained in a lifetime of commitment and surrender built on passion, love and soul."
The purely out-of-pocket movie isn't getting the typical action sports film treatment, either. Herriger had post production done at Sixteen19 in New York City. Harvey Gold narrates the film. The sound design was done by Parabolic. Daniel Burgess of Skier Shop is the executive producer. Seven-time Emmy award winner Derek Ambrosi is the editor. The soundtrack features all-original music, and the movie will be shown at film festivals in hopes it will get picked up for larger distribution this fall.
"It's such a journey," Herriger said. "But if you want to do it, you have to do everything yourself. You just have to hold the tail of the dragon until it gets tired enough to take it home. It's definitely a razor's edge odyssey."
Catch Matty's epic film for the first time this Thursday, March 15, at 6 and 8 p.m. at the Sun Valley Film Festival in Ketchum, Idaho. An after party at Whiskey Jacques follows the premiere with performances by DJ Logic and The Aerolites.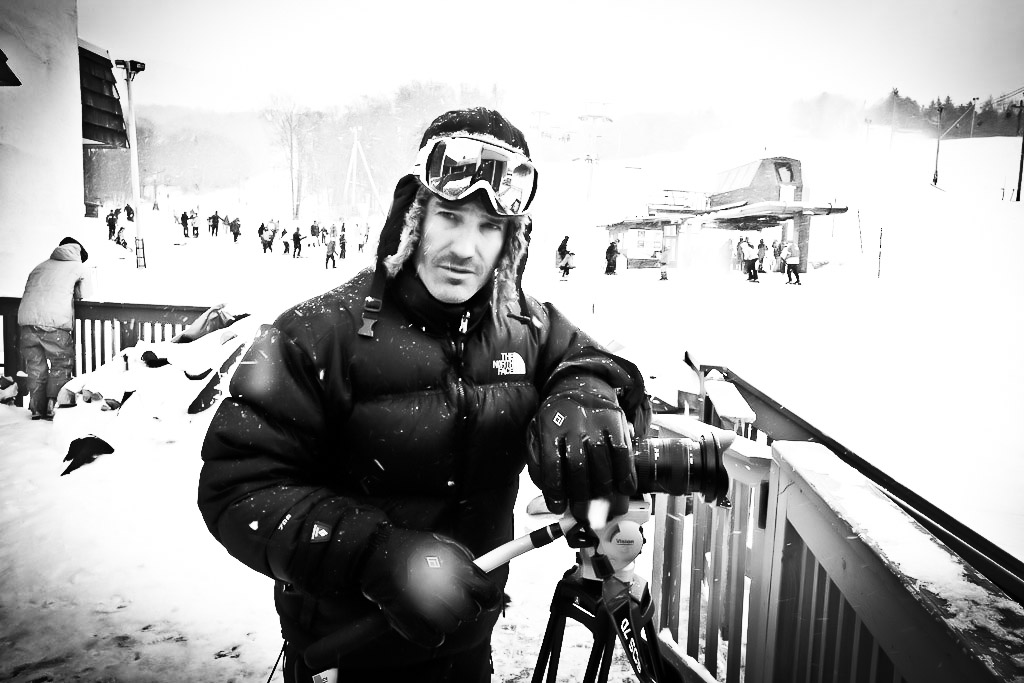 Matty "Moo" Herriger.