Skinning in to the Williams Peak Yurt in Idaho's Sawtooth Range.
In early April, I skinned and snowboarded some classic lines in Idaho's Sawtooth Range with 10 shred friends. We scored a last minute cancelation reservation at the Williams Peak Yurt, operated by Sawtooth Mountain Guides, planned a menu and pulled together a crew of riders including Wyatt Caldwell, Spencer Cordovano, Taylor Carlton, Cory Smith, Pat Lee and Jeremy Black.

The three-hour approach went smoothly with blue skies, sunshine and easy skinning. Everyone took shifts pulling the 60-pound food sled up the 6 miles to the Yurt at 8,000 feet. We spared no expense in our prep for the three-day trip fresh fruit and veggies, steaks, chicken and of course enough liquor to drown out the loudest late night lumberjacks.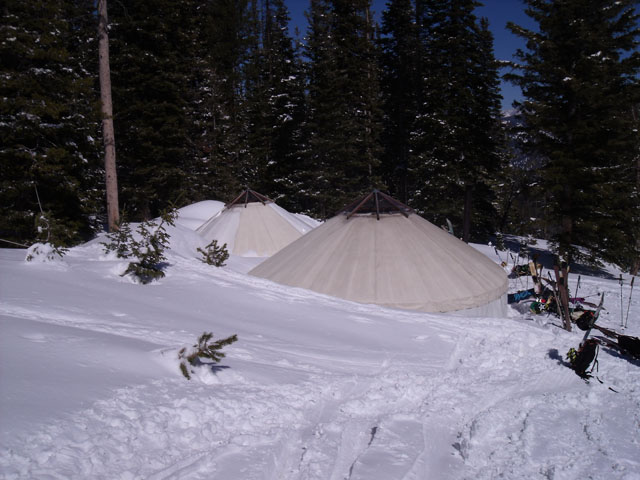 The Williams Peak Yurt set up.

Our porter, George, arrived with the other 40 pounds of food, joined us for a couple Bloody Marys and told us about recent weather patterns. One week earlier they had gotten rain up to 9,500 feet, but since then, it had stayed cold and had snowed about a foot. George headed back out to civilization and we headed uphill for a quick tour in the Marshall Basin. After digging a pit and getting some solid warm up turns, we headed to the yurt for an early dinner and a late night sauna.

On day two, we got an early start as far as snowboarders are concerned, and were skinning by 8 a.m. Our group naturally split into two squads, the fast moving and short tempered "Team X"(X-treme) and the mellower, frequent break taking "Team Y"(Yurt-team).

An hour of skinning put us in Profile Basin where we found a single skier about a quarter of a mile ahead of us. There was some frustration in the group that we had blown an opportunity, were missing freshies and were getting scooped by a solo skier. Where the hell did this guy come from anyway?

We watched the skier begin the boot pack up the cooler coulior called "Redemption," so we decided to go after the two other main chutes, "Jesus Christ" and "Whats Up Dock."

After a quick plan about camera placements we split up and started toward our respective targets. Three groups climbing the couliors, three cameras off to separate angles, plus one camera on Taylor Carlton, who was jibbing a boulder the size of a house down by the lake.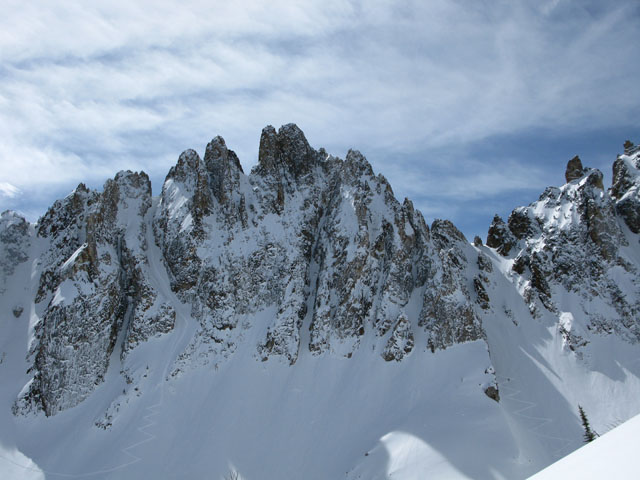 The three couloirs from left to right: Redemption, Jesus Christ, and What's Up Dock?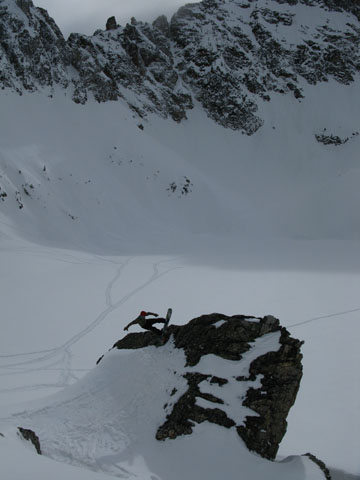 Rock to fakie … no pun intended.

By the time I was in filming position at the other side of the frozen lake, the unknown skier had already blazed to the top of Redemption and schralped back down to the lake in tight and symmetrical turns, farming the vert for as many mini-slashes as possible. Our group at the bottom struck a conversation, "Nice turns, how was it up top?" A woman's voice responded, "Thanks, it was nice. Good snow."

Holy shit, Han Solo skier was a woman! It turned out that she had skinned in from the road (6 miles) and was going for several couloirs that day. …The Redemption couloir was her warm-up and she was up and down it before we could even get a tri-pod out. This woman was crushing it.

Our three groups of riders got up and down their respective couloirs with smiles and high-fives at the bottom. Spencer Cordovano was clearly the most puckered in the group, "That was as close to God as I ever want to be," he said. It was a big day capped off with banquet beers and another sauna session.

On day three we woke up to some howling winds and a few inches of fresh snow. We stayed low and safe, skinning back over to the Marshall Basin to take a look up at KB's couloir. It was "a little breezy" at the top, so we decided to post up for a couple hours in hopes that the skies would clear.


Shredding What's Up Doc?


It's a steep one!
We found semicircle of small trees, used our snowboards and
Getting warm.

The Scrabble board came out after a badass steak dinner and we finished the day off with another sauna session.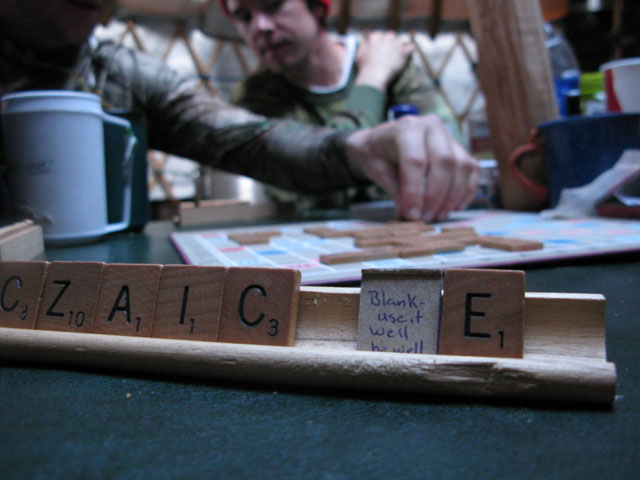 Scrabble.
On day four we cleaned up and went home. With one solid day of pow-filled couloirs in the sunshine, we all felt that the trip was a huge success. Wyatt Caldwell summed it up, "Man, all I need to be happy is a little slice of dirt and a sweet lil' Yurt."