This season's winter outlook, courtesy of NOAA, predicts a dry the Pacific Northwest and Great Lakes region and high levels of precipitation across the South.
Prattle about snow levels prevails every early season. This year, the typical question, "What's the long-term forecast look like?" has turned into "How's El Niño going to ruin our season?"
Why the negative attitudes? Because the last El Niño event in winter 2009-10 brought below-normal levels of precipitation to the Pacific Northwest, Idaho, Montana, Wyoming, northern Utah, Upstate New York's snowbelt, and northern Maine. You know, almost every place with great (to decent) skiing.
The last El Niño event brought huge amounts of precipitation to the Southern U.S., and very little to the Rocky Mountains.
By contrast, the southern half of the United States got crushed. Southern Colorado's San Juan range, New Mexico, and Utah's canyon country experienced unprecedented snowfall totals. Remember the November 2010 cover of Powder magazine? Photographer Jay Beyer grabbed a shot of an unidentified skier dropping into thigh-deep snow in Bryce National Park's red, sandstone canyons, which saw 130 inches thanks to El Niño.
Jay Beyer's famous Powder magazine cover shows off the 50-year storm cycle that hit Southern Utah's canyon country.
Despite all the worry, some places still see normal snow years during El Niño events. Others see banner years. Even drier-than normal locations get the occasional dump, reprieving them of days full of park laps and groomers.
We outline what happens during El Niño events, what's predicted for this season, and why you still have a reasonable chance of seeing snow somewhere.
What Happens During El Niño
The National Weather Service refers to El Niño as an "ocean-atmospheric phenomenon." Near the equator, the central and eastern Pacific Ocean experiences warmer surface temperatures. Also known as South Oscillation, El Niño happens, on average, between every two and seven years. It can last as long as 18 months, but shorter, overlapping events are more common.
Meteorologist at NOAA's Climate Prediction Center, Tom Di Liberto says, "There's a lot of focus on El Niño, but it doesn't necessarily mean more weather. It's a weighting of the dice. With a weighted dice, you could still roll a low number."
What happens? Storm tracks get pushed south.
This Climate.gov graph demonstrates the warm, low pressure systems that hit the northern part of the country during El Niño.
Places across the southern half of United States, like Central California, Southern Utah, and New Mexico see above average precipitation, while normally wet places, like Washington and the middle to northern parts of Oregon, see below average precipitation. Montana and parts of Idaho also tend to see below average precipitation. Areas between the super-wet southerly storm track and the unfortunately dry north are up for grabs.
"The signal isn't strong [for that region]," says Di Liberto, "and it's not really leading us to potential to think it could go in any one direction." Utah, Colorado, Wyoming, and Nevada, he explains, are currently under equal chances, meaning there's a 33.3% percent chance of above, below or normal precipitation.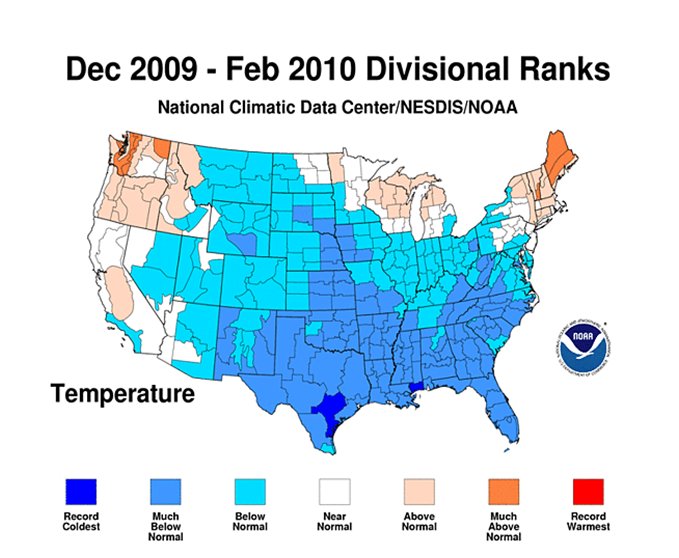 This NOAA graph shows above normal temperatures in the Pacific Northwest, Idaho, parts of Montana, the Sierras, and New England.
Obviously for a great snow year, we need both above-normal precipitation and cold temperatures. However, El Niño tends to bring warmer temperatures across the northern part of the country. For example, the 2009-10 event brought what the NWs calls "above-normal" temperatures to most of New England, the Sierras, Oregon, Idaho and parts of eastern Washington. "Much above-normal" temperatures hit Maine, southeastern Vermont, and western Washington.
Why You Should Have a Healthy Distrust Of Long-Term Forecasts
Di Liberto points out that every El Niño is different, with areas that are impacted atmospherically, making each Southern Oscillation its own separate event. He says other things could happen during the season that could lead to a variety of different impacts, which the Climate Prediction Center takes into account before issuing a seasonal forecast.
Though much of the skiing and snowboarding community waits with bated breath for seasonal forecasts, Joel Gratz, head meteorologist for the powder-tracking website, OpenSnow.com, maintains a reasonable skepticism about long-term forecasting.
"Long-term forecasts have inconsistent accuracy," he said. "One season they may get it right, and the next season the forecast is off, which makes it hard to trust these forecasts. Also, and more importantly, seasonal forecasts don't necessarily tell you which months, weeks, and days to expect good powder, and timing is the really important issue."
Why This Season's Event Isn't Apocalyptic
The Climate Prediction Center gives us a 58% chance of El Niño during the Northern Hemisphere's winter and spring. The CPC's November forecast states that "If El Niño does emerge, the forecaster consensus favors a weak event."
Since El Niño occurs during one-third of all seasons, Gratz points out that it's not a particularly unusual event. Moreover, El Niño "shifts the odds," he claims, but it doesn't guarantee where snow will or won't fall. Much like what skiers and snowboarder saw in 2009-10, Southern Oscillation tends to increase the odds of more snowfall in southern California, Arizona, New Mexico, southern Utah, and southern Colorado.
Despite the attention the Southern Oscillation receives, it's only one factor affecting temperatures and precipitation.
"There are many other variables in the equation," Gratz explains, "like the amount of snow cover in Russia, and the temperature of the northern Pacific Ocean north of Hawaii. All of these things help determine the storm and which areas get more and less snow during a season."
There are many other variables in the equation, like the amount of snow cover in Russia, and the temperature of the northern Pacific Ocean north of Hawaii. All of these things help determine the storm and which areas get more and less snow during a season.
Arctic Oscillation represents another major, but perhaps less-talked-about, variable in the climate equation.
When Arctic atmospheric pressure is high, northern-middle-latitude locations like Northern Europe and North America experience low atmospheric pressure. This atmospheric exchange brings warm weather to northern places, while colder temperatures and storm cycles head to more temperate regions. Meteorologists call this the Arctic Oscillation's negative phase. The winter of 2009-2010, which also brought the last El Niño event, had a record negative phase.
The positive phase of the Arctic Oscillation sends storms farther north to Alaska and Scandinavia. In the U.S, the West Coast stays dry throughout the winter, while the East Coast enjoys warmer-than-average temperatures.
Utah-based meteorologist Peter Veales contributed to a Wasatch Weather Weenies blog in which he compared the Arctic Oscillation's monthly mean index and monthly snowfall totals reported at the Snowbird SNOTEL site. He found no correlation during winter months and very little correlation during the spring.
What the Bottom Line Is
Seasonal speculations might be a waste of time. You can track storms within about 10 days time and follow them, if you're fortunate enough to travel this winter. Gratz optimistically notes that if you can't travel away from your home mountain, you'll likely see at least a few great powder days, or weeks, during a below-average winter.
Should your worst El Niño fears be realized, this may be the season to hit Taos, Silverton, Mammoth, or Big Bear.