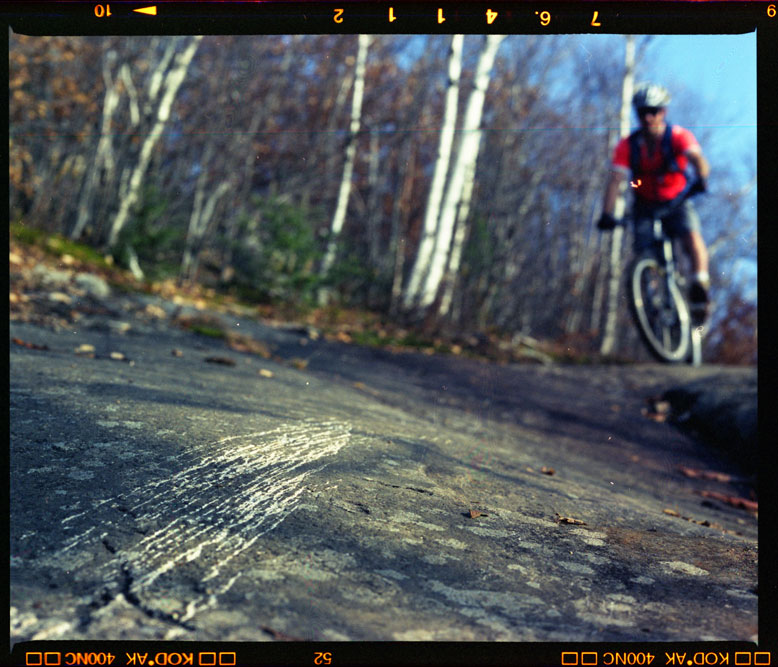 Max Santeusanio photo.
The polo shirt offered little comfort as the cold dew rose from the grass in anticipation of the sun rising to welcome the day. I was thirteen and waiting for the local golf pro to arrive at the course. Once there, he'd unlock the club house and assign caddies for the Saturday lineup. In hindsight, being at the course an hour early was a little overboard, but I wanted to secure the pick of the litter of paying golfers. After all, the chance to earn twenty-five dollars instead of a mere twenty made all the difference when enduring four and half hours of speedwalking while lugging around a heavy case of metal sticks. If—after all that time bleeding sweat in the heat of a New England summer—I got to walk away with an extra Lincoln, I was that much closer to buying my dream bike.
I suffered a spinal cord injury during my freshman year of college, one that left me unable to stand convincingly on the pedals and all but assured my amateur bike career was over.
By this point, I'd already hammered my steel Trek 930 hardtail into the ground. The wheels were wobbling and rubbing into the V brakes after months of jumping out of culverts onto flat pavement. A subsequent attempt to turn it into a "trials bike" further beat it down as I bounced off of boulders along the beach all summer long. But after watching every edition of the Kranked movies until the tapes burned up in the VHS player, dreams of crushing phantom Utah spines like Wade Simmons filled my young head. No steed would suffice except a blue and yellow 1998 Rocky Mountain DH Race with a rowdy aluminum frame and six inches of coiled and oiled-up suspension. After the end of a brutally hot and humid summer, I could barely contain the grin under my bowl cut when I forked over a thousand dollars in cash— more money than I'd ever held before—for what seemed like a legendary bike.
I spent the next several years riding that thing whenever I could find an excuse. I biked to school every day and hammered the crappy dirt path behind the soccer field once class was out. I built my own version of Vancouver's North Shore in the swamp behind my house. I balanced my way from dry spot to dry spot on rickety ladder bridges that creaked from side to side. I secretly built "freeride" trails in my neighbor's woods and hucked myself off granite drops to flat ground. After ski days in the winter, I would hike back up the mountain at night with my bike and hammer blindly down freshly-groomed corduroy, the skinny tires quivering and flopping through the soft snow. I was obsessed.
Skiing would later steal more of my free time and focus, becoming an even greater obsession. Then, I suffered a spinal cord injury during my freshman year of college, one that left me unable to stand convincingly on the pedals and all but assured my amateur bike career was over.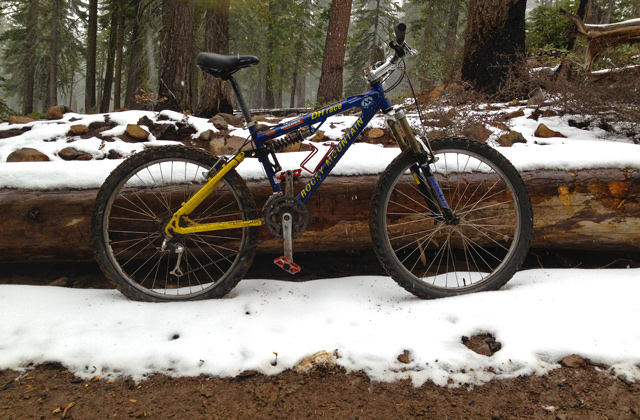 As the snow fades away, new obsessions take hold.
But seven years later, I felt stronger and more confident. I had my parents dig my DH Race out of the garage and ship it to my then-home of Lake Tahoe. I pulled the mess of parts out of the cardboard box on a sunny May day, hunted down some new V-brake pads, and was ready to ride. In the midst of a spring squall, I tested the waters on a jeep trail across the street from my apartment, alternating between pedaling and walking as I climbed higher into the woods. I turned down a random shoot-off of singletrack, tested the brakes, and let the tires roll with gravity for the first time in years. As I got steadily more comfortable with the speed, I could feel the coil shock hustling to absorb the rocks littered across the trail, the bike skipping and bouncing underneath me as I held on, my eyes watering.
The trail straightened for a final pitch. I let my hands off the brakes and felt the suspension compress and then release, accelerating the bike up the other side like something supernatural. A big dumb grin covered my face, and a whooping cackle erupted from deep inside me. On the road back to my apartment, I dipped from side to side to feel the cornering nobs dig into the pavement, smiling the whole way. I was obsessed again.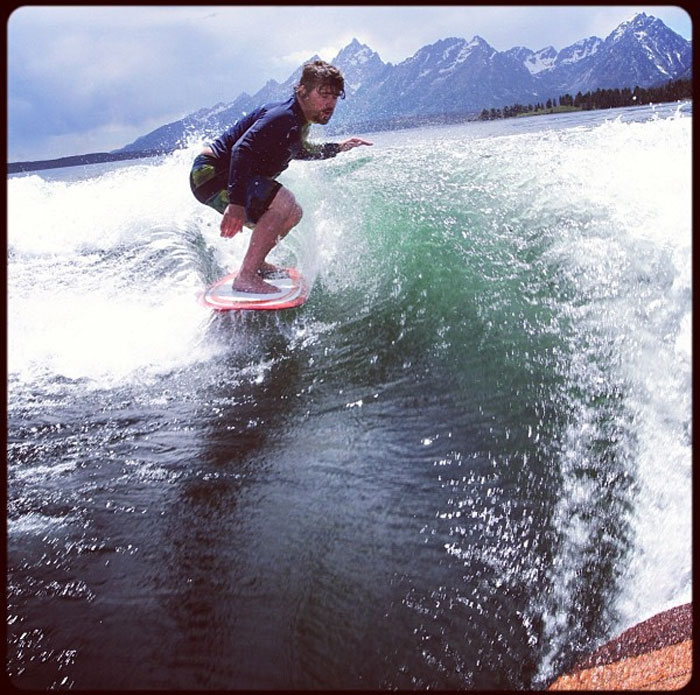 TGR co-founder Todd Jones prefers freshwater faces once the snows melts down. Instagram photo.
While we here at TGR have always been a bit snow-crazy, we find ourselves equally obsessed with warm-weather pursuits—be they biking, surfing, hiking, rafting, or a host of other things that make themselves available once we can finally shed some layers. We suspect many of you feel the same way, and fall victim to powder-day giddiness when you turn the corner to see a new rock wall you've been aching to climb, a line-up of fresh corners just waiting to be railed on your bike, or hear the uncensored rumbling of big surf as you get close to the beach on a quiet dawn patrol session. After months hyper-locked on the dumps and whims of the ski season, it's nice to know that hope remains after the snow, and that a whole new cast of rivers, trails, climbs, waves, hikes, and adventures are up for the taking.
We're excited to team up with you this summer to support and showcase the sports, places, people, and feats you dream of during the other seasons. Whether you're out for an hour after work or an epic multi-week unsupported bike trip in the Peruvian Andes, we hope you'll share your photos, videos, stories, and adventures with us and the rest of the world in our new Community section, which offers stupid-simple upload tools, a clean layout to make your stories sing, and a built-in audience to enjoy them. If we like what we see, we'll even highlight them as a Staff Pick, and post them to our official homepage so an even bigger audience can enjoy them. Cheers to summer.