GT Bikes photo.
Rachel Throop is a skilled, ambitious and down-to-earth enduro racer. She began riding cross-country when she was seven years old, entered her first competition (and won) at age ten, and has been taking names ever since. In 2006, she was the country's Junior Expert National XC Champion, which landed her at the World Championships in Rotorua, NZ, representing the U.S., where she placed 14 th.
In her late teens and early 20s, Rachel took a hiatus from cycling to get a degree in global marketing. After graduating, she started riding again, but this time the steep, technical trails called to her–so she moved to the gravity/enduro side. Currently sponsored by GT (among others), her 2015 season consists of the Enduro World Series, the Big Mountain Enduro Series and the California Enduro Series.
We were really excited to interview Rachel. She has that vibe of being in the sport just because she loves it, but make no mistake, she's a hammer.
After School you took a job in marketing with crankbrothers. Tell me a little about your time in marketing, what you learned, what you liked and what you didn't.
When I first started working at crankbrothers, I was not involved in marketing at all really. I managed the front desk, and was a glorified front desk girl. But as my position evolved, I became more and more involved in the direct sales side of the business, which ended up teaching me a lot about marketing.
READ ALSO: Competing, training, eating, and riding with Anneke Beerten's
I was able to create marketing sales plans to help increase direct sales so that my coworkers and I would reach our goals each month. It was fun, but working behind a computer 8-9 hours a day, 5 days a week was killing me. I missed being outside and having the freedom to create my own path.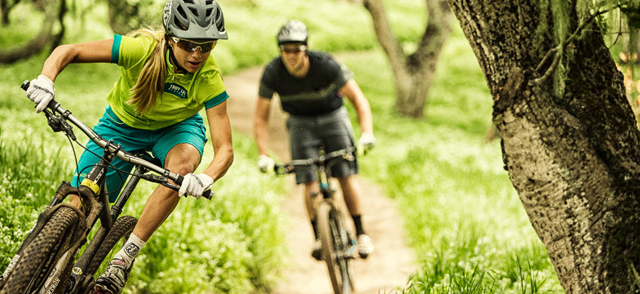 Railing turns in California. GT Bikes photo.
I missed being outside and having the freedom to create my own path. So I quit, and decided to follow my dreams!
Of course, being a sponsored, visible athlete is about maintaining a platform and keeping a narrative going for fans. Tell me a little about how that fits into our culture and how you maintain that? Does anybody, in cycling or outside, do it particularly well?
I think most fans want to know a story, and in particular know your story, the story of the athlete or famous person that they follow. As far as fitting into our culture, I find it relatively simple due to the fact I am always traveling or busy on a project or goofing around with Kyle [Straight, her fiancé] or my friends, so I try and involve my fans. With the rise of social media there are many athletes doing it well. I find Josh Bryceland (Rat Boy) to be really entertaining. Caroline Buchanan also does an amazing job with maintaining high visibility.
In marketing, you look at data and feedback and craft messages for your audience. That's a little too clinical to describe what you do now, but tell me a little about what you decide to share and what you don't.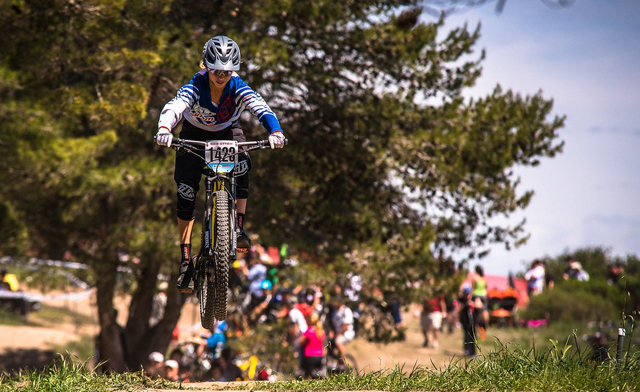 Rachel blasting at the enduro at Sea Otter this spring. Sea Otter photo.
Most of the time, when I decide to share something to the world, it falls under the following categories: something I think is awesome that my fans will like, an accomplishment or activity that I succeeded in, something a sponsor wishes I would share, or something I personally think is rad and I don't really care if anyone likes it or not ha ha.
What's the best thing about fans today?
I love how interactive fans can be now days! The fans really make the hard days worth it.
What's the worst?
Nothing in my opinion. Maybe some fans will hate on other athletes a little to much on the Internet, but then you can argue are they really fans, or just haters?
When we last met, you shared some brief thoughts about objectification and social narrative, especially as it appears in comments, articles and so forth. Would love to hear more on this.
Nowadays, the internet has made it so easy to sit behind your computer and make comments on an article without really thinking about the consequences of your actions. I just wish that people would think a little bit more about what they are saying before they blast it on the internet.
Last year was pretty good. You took 2nd at the Enduro Kamikaze Games Mammoth, and 5th at the Big Mountain Enduro in Keystone, CO. What are your goals for this year?
My goals are always to win, so I hope that my training pays off and I am able to take home some gold medals this summer!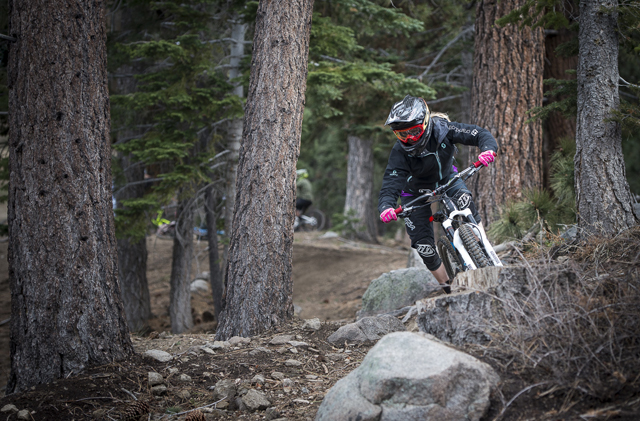 Rachel on the slay up at Mammoth. Ian Collins Photo
I've seen pictures of your dad as someone involved in cycling and supporting your biking. Seems like having rad parents is a common theme for many of today's racers. Can you tell us a little about him and how he supported you in biking? I've read you all raced together–take me through a typical family race weekend.
I am pretty damn lucky because both of my parents are rad! They both raced off-road desert before I was born and throughout my life have been my biggest supporters. But it was my dad that got me into mountain bikes. He was a huge enthusiast about getting his three children outdoors and away from the TV and video games.
So he bought us all mountain bikes instead of an Xbox and took us to the races. We joined a local youth development team called Team Nova, which provided more structure to our racing, and before long we were chasing World Championships dreams. Back when we were young, there was no such thing as high school mountain bike racing, so we were solely supported by Dad.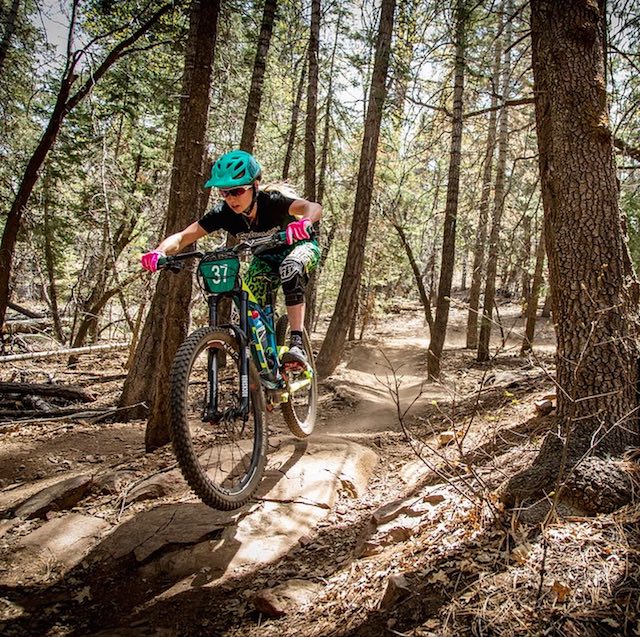 Rachel Throop on her way to winning the Big Bear Enduro. @calledtocreation photo via Instagram.
One race, I can still clearly remember was the 2005 Schweitzer Mountain National in Sandpoint, Idaho. My sister Amber and I raced on Saturday in the junior expert class. We had muddy conditions, but no rain and no big crashes. Sunday was when my brother Jason and my dad raced. Halfway through the race, a crazy rain storm came through and it began hailing!
My brother was 12 at the time and I guess he found shelter under a tree close by. My crazy dad on the other hand decided to take advantage of the rain and continue racing and passing his competitors hiding under the trees. Well, shortly after he took off he had a big crash and ripped his spandex shorts, showing most of his ass.
To our horror, when he came through the starting area to complete his last lap he refused to stop to change his shorts! We were mortified, but hey, Dad wanted to win! So I guess that is where we get our competitiveness from!
Does he still build your bikes–how is he still involved?
My father is still extremely involved in my racing. He is the best bike builder I have ever had and builds 90% of my bikes. He retired last year, which has been awesome for me. He was able to travel with me last year a lot, which was amazing because he is one of the best mechanics!
Do you still train for fitness the way you did when you rode XC? This year you're doing the EWS, the BME and California Enduro Series. That's a lot. How will you maintain your body, injuries aside, and how did you train going into the season?
This year I will be doing 3 EWS, the entire BME series and as many CES as I can make. As far as training goes, I am pretty mellow. I mean I ride a lot, but I really try to make it as fun as I can! When I raced XC, I was petty stressed about my training, which ended up affecting my mental state, which ultimately caused me to burn out.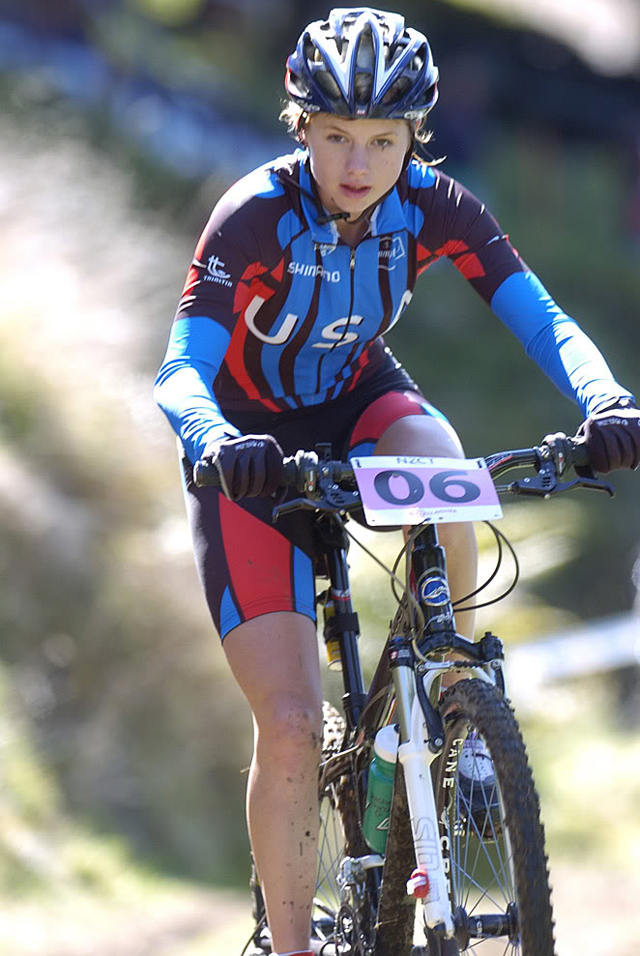 Yeah, she looks totally stressed. Rachel in XC mode. USAC photo.
The cool thing about enduro racing is there are so many skills you have to be good at–it is really hard to get bored. If I am over long XC rides, I will go to the BMX track for a day, or do some downhill runs with Kyle, keeping riding always fun and fresh.
One of my personal heroes, Marianne Voss, races a few different disciplines. Do you believe more in focusing on one thing or does being an all-arounder help?
I think the more the better. I understand why some athletes will only focus on one thing, but racing XC will only help your fitness for enduro and racing downhill will only help your speed. Cross training can be a great tool if you do it right!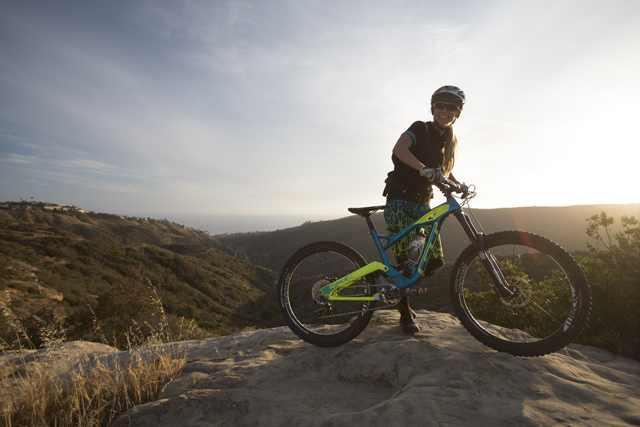 Rachel's moved up in the race world, but her dad still builds most of her bikes. GT Bikes photo.
If you were to open a brewery, what would your first beer be?
Definitely a sour or Lambic style beer. I am obsessed with them. So delicious and fruity. They are definitely not for everyone, but if you are not a big beer drinking and like kombucha, I highly recommend trying one!
You have what seems to be a very open minded approach to work and career, anything else interest you besides cycling?
So many things interest me! I love yoga, working out, crocheting, and gardening. I am also super girly, so I love getting my nails done, learning new make-up tricks, shopping, decorating, and baking. My mother bought me a natural beauty book recently that teaches you all about natural home remedies for beauty tricks. It has been a blast learning about things I can make from home and give to my girlfriends.
What's in your pack when you ride?
In my Ergon BE1 pack I always have the following:
tube, tire lever, multi-tool, CO2 applicator and cartridges, Probar meal bar, my cell phone, and a utility knife.
What's the most non-standard thing on your bike?
The colorway. GT has done some awesome new color ways this year for the female athletes and I love the colors they have picked!