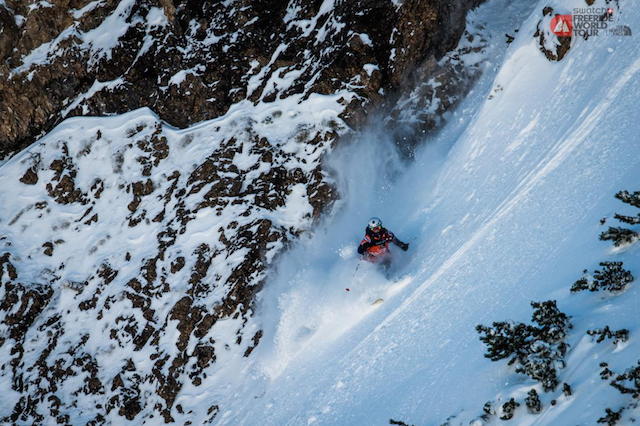 Hadley Hammer making steep slash and burn turns for the judges on the Freeride World Tour. Freeride World Tour photo.
Perhaps you're an avid vacation skier who heads to Jackson or Vail for family spring break. Maybe you're new to a mountain town and want to keep up with all the ripping skier chicks. You might be an avid backcountry skier with 100 days under your belt this season, but hear me out. No matter what kind of skier you are, you should consider competing in a big mountain contest if you're looking to up your game in bigger terrain. Whether you want to learn to choose a line, understand the terrain below you, ski a badass run safely, or hit your first airs, today's big mountain contests, and the fellow competitors that attend, will help you do just that.
Despite the common misconception that competing is unnecessarily dangerous (think big airs on skied-out landings, just for the judges), or overly intimidating (no one cares if you're the best skier on your upstate New York mountain) or even just altogether pointless, here's a comp veteran who couldn't disagree more with popular opinion about the big mountain circuit. After hearing what she had to say, we're considering registering for one next season.
MEET HADLEY HAMMER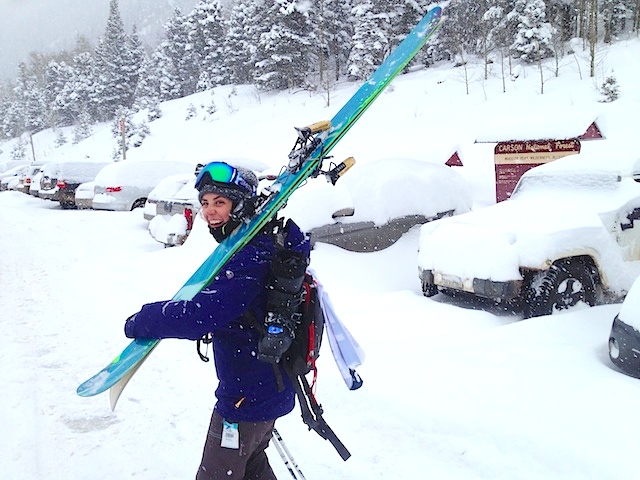 Hadley living the dream in four feet of fresh in a Taos comp. Forrest Jillson photo.
Hadley Hammer–Jackson Hole local, The North Face athlete, and Freeride World Tour competitor, to name a few–is no stranger to having a few commas after her name. With nearly 20 big-mountain contests under her belt, she's not only a ripping skier and an all-round badass, she's got a few wise words of womanly wisdom from her years of experience competing on the biggest stage for big mountain skiing out there. We caught up with Hadley in between her heli laps in AK–"some expensive soul shredding"–to ask her a few questions about her years skiing and competing.
Hadley grew up skiing with some of the best male athletes in the world. Both her younger brother, Max Hammer, and longtime boyfriend, Griffin Post, are TGR athletes. With few big mountain lady skiers her age, Hadley gravitated toward skiing with men by default, but recently that could not be farther from the case.
Rather than preferring all-women ski trips or being the only girl in a sea of dudes, Hadley notes that in terms of your mountain partners, matching personalities, and not genders, is the key. Nonetheless, she's had to navigate within the confines of a male-dominated sport, and has faced the challenges that are inherent to an industry that speaks largely from one end of the gender scale. Hadley has plenty to say about the comp scene, and how women, both professional and amateurs, could move and do move through it.
HOW BIG MOUNTAIN COMPETITIONS WORK
Hadley takes third in a SFS/FWT 2012 event. Subaru Freeride Series photo.
The two biggest opportunities for both men and women, skiers and snowboarders, to compete for big mountain medals center around the U.S.-based Subaru Freeride Series and the international, but mostly Europe-focused, Freeride World Tour and its associated Freeride World Qualifiers.
In order to be invited to the Freeride World Tour itself, an athlete first needs to accumulate enough points at a number of open FWQ stops to qualify. Both series judge athletes in five criteria–air and style, fluidity, control, line, and technique in equal measure–for an overall impression score that determines their rank among other competitors.
WHY YOU SHOULD TRY COMPETING
Hadley and friends scope their lines on the tour. Freeride World Tour photo.
Despite the intimidating nature of skiing for the judges, Hadley claims that once you get your first one out of the way, it's less intimidating and more supportive. Her first comp she "had no idea what I was doing, I didn't know how to pick a line or how to ski it, or how it worked." But household names like Crystal Wright and Jess Baker provided solid moral support from her first run through her last. "The FWQ's are an approachable way to start competing because anybody can sign up for them, and you don't have to prove yourself. The barriers to enter are so low, it gives people a chance to figure out the scene in a pretty controlled environment."
Rather than catty girls and judgmental attitudes, Hadley maintains that every time she crosses the finish line, it's into a sea of hugs (check out her run at 1:56 and sea of hugs at 2:30 in the highlight video here) and not trash talk. The lack of coaches and team members enables an environment where your competitors are your teachers and the venue is your classroom. These comps are learning experiences rather than battlegrounds. "It's a good environment to push yourself, and it's easier to relate to women because it's so supportive," Hadley said. "The family feeling is kind of unreal."
20 comps later, Hadley still enters with some healthy fears and understandable nerves, but instead of intimidation, she's welcomed by friendly, familiar faces, and overwhelming support.
This encouraging attitude is exactly what draws so many women to showcase their abilities, in turn creating a community where Hadley goes out "to ski with my friends, which means skiing with four other girls who all happen to rip… and the bigger the field, the better it will be for everyone involved." Running contrary to some of the opinions espoused by others on the Tour, Hadley is hopeful that a bigger field, with more competitors, will encourage stronger, more controlled skiing, rather than bigger airs and riskier lines.
ARE COMPETITIONS REALLY THAT DANGEROUS?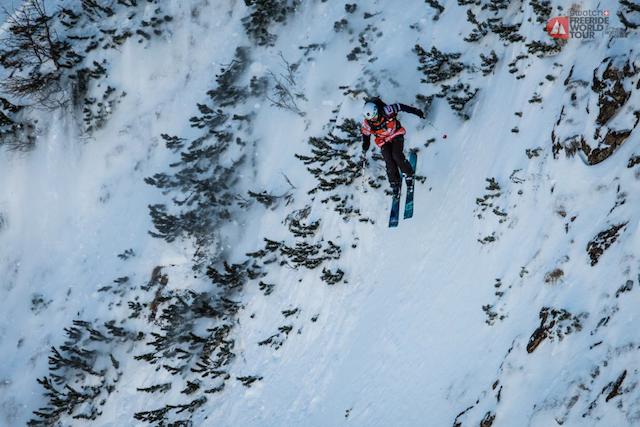 Hadley sending a calculated air in comp. Freeride World Tour photo.
This notion that competitions are rewarding dangerous skiing, while pushing the sport too far, is not an unfamiliar one for nearly all skiing disciplines (think alpine racing, slopestyle, etc.), especially considering the park tricks that have become the fan favorites in big mountain comps. But rather than big mountain skiers taking unnecessary risks, FWQ, FWT, and SFS athletes are taking what they consider to be calculated risks. These events prioritize staying on your feet, technical turns, and landing your airs–especially for the female athletes who generally hit smaller cliffs and throw fewer tricks. This mindset is especially important for women, who are biologically more prone to ACL injuries and ligament tears.
Hadley sending it big in the JHMR sidecountry. JHMR and Jay Goodrich photo.
"The consequences tend to be higher in comps because the conditions are not usually prime, but the risk is what you make of it. People are not skiing 100% because they want to ski a line they know they can slash. Smarter athletes don't hit 40-foot cliffs… you need to have a realistic relationship with yourself and your skiing abilities to evaluate the risk in order to be successful. It's definitely veering away from the loose huck fest it's always been thought of."
And although, for Hadley, the comp scene is not as glorious as the ski film world, she's encouraged to see the sport growing in a really positive direction with an incredible group of athletes. With the positive direction and the support and camaraderie of fellow competitors, Hadley thinks the time is nigh if you've been thinking about getting into competitive big mountain skiing. The comps can teach you how to choose a line, how to ski it, and how to win–all under the supportive and friendly eyes of some of the raddest, most badass skier chicks in the game.