In the mid 90's, a group of fresh-eyed college grads rolled into Jackson Hole with misty dreams about big lines and endless powder – a ski experience they'd only fantasized about while cutting their teeth on hills less spectacular than the Tetons. It's a tale that repeats itself every year about this time, as the leaves fall from the trees and snow begins piling up on the high mountains of the West, beckoning restless youth to come live out their dreams among the steep slopes.
Fast forward nearly twenty years. Porter Fox, now Features Editor for POWDER Magazine and a full-time writer living in Brooklyn, gets a call from his former ski bum buddies, Ned Hutchinson and Steve Tatigian. The message? "We want you to write a book about climate change and skiing, and we're going to publish it ourselves." What started as a pipe dream has since turned into a 24/7 effort over the past eighteen months, with the two former ski bums investing their savings into an effort to get the word out about skiing's future in the face of climate change.
How would this all work? Steve and Ned would start their own publishing company, and Porter would travel across North America and Europe talking to a huge swath of people who live and work in the snow to find out what was really going on. Thanks to the help of some generous Kickstarter backers (who you could very well join the ranks of), the trio is set to print some 15,000 copies of the book stemming from their project, "DEEP: The Story Of Skiing And The Future Of Snow." . The book gives us a beautiful story of the lifestyle we live and die for, the biggest threat it has ever faced, and the way we can all help save it.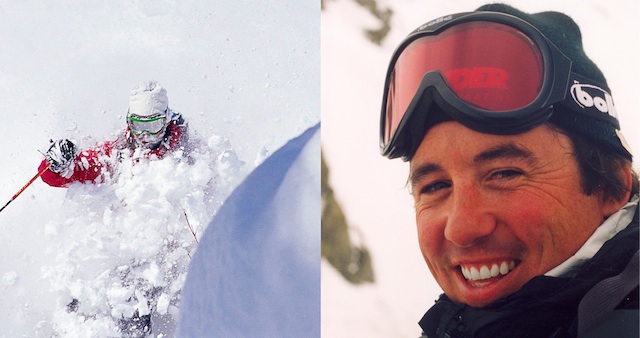 POWDER Magazine Features Editor and author of DEEP, Porter Fox.
"I really wasn't sure if I was going to do it when they first called," said Porter, describing that first phone call from Steve and Ned. "I have an agent in New York, and I had three other books in the hopper and I'm trying to get a deal with big publishers, and so I was a little hesitant. Like, my ski buddies in Jackson are going to publish this book? And so I just started looking up the statistics on climate change and I just couldn't believe what I was reading and that we didn't know about it. This [climate change] was waaaay off Powder's radar, and we run stories about the environment – we thought we were in tune. I called them back and said 'You guys just struck gold with this one; there is a serious story here to relate, and I want to do it.' Because it doesn't matter who's publishing it; if there's a good story there and one I care deeply about, then it's going to make a good book and it will get out there enough to spread the message."
What started as a passion project for a posse of former ski buddies soon became very real. They set up an LLC to publish the book, hired a marketing manager, research assistant, and a full-time copyeditor – funded almost entirely out of their back pockets. As it turned out, their effort was not a wild shot in the dark, as RR Donnelley, a Fortune 500 publishing company, gave them a deal. 15,000 copies will be printed when the Kickstarter campaign ends on November 15th – a huge run for an indie publishing company's first book. E-books, from Kindle-friendly versions to enhanced multimedia versions with audio, video, animations and maps, are on their way to screens worldwide at the same time. "It's the same thing Norton or Doubleday would do as a publisher," said Porter. "Except two skiers put their money on the line to do it."

"I honestly think that it's the kind of story and the kind of message that will not only resonate with somebody who loves to ski or snowboard, but anyone that loves the four season lifestyle, who loves watching the leaves change in the fall and the first snowfall of winter. I have a six and an eight-year old now and it snowed today in Jackson and the first thing they did was go outside and stick their tongues in the air and try and catch flakes. As a father, you don't want to see those moments, the ones that you grew up with too, changing."

- Ned Hutchinson, co-publisher of DEEP
In the second half of the book, Porter paints a picture of what's going on with climate change and snow, what the basic facts are and the picture of the future, and lastly, how this vibrant community that loves snow can be, as Porter puts it, "the vanguard of climate change mitigation activism." And why make that case? "Because we're some of the first people to observe the effects of climate change, and we're going to take all this exciting and energetic and creative energy that I painted in the first half of the book and use that to figure out a way to stop the worst of climate change from happening." Over the course of the next several weeks, we'll be delving into the story, facts, and lessons of DEEP, but for now, the two ski bums who made the book possible need your help, as they have 10 days to finish securing the financing for publication. Do your part as a lover of snow and help get the word out about its future.