Whistler will experiment with snowmaking this fall to keep the Horstman Glacier from shrinking as much due to climate change. Whistler Blackcomb webcam photo.
Whistler Blackcomb announced in a press release that they plan to conduct a snowmaking trial in order to preserve the Horstman Glacier on the Blackcomb Mountain as it begins to melt away due to the warming effects of climate change. The mountain plans to install four pilot snow guns at the conclusion of the summer training season in late July, allowing snowmaking to begin in early October.
"If the pilot project is conclusive, this unique project will become a significant addition to Whistler Blackcomb's list of adaptations to ensure long term resilience against climate change," wrote Arthur De Jong, Mountain Planning and Environmental Resource Manager at Whistler Blackcomb. "We will use the data we obtain from this one-year pilot project to determine if an expanded snowmaking system could assist with preserving the Horstman Glacier,"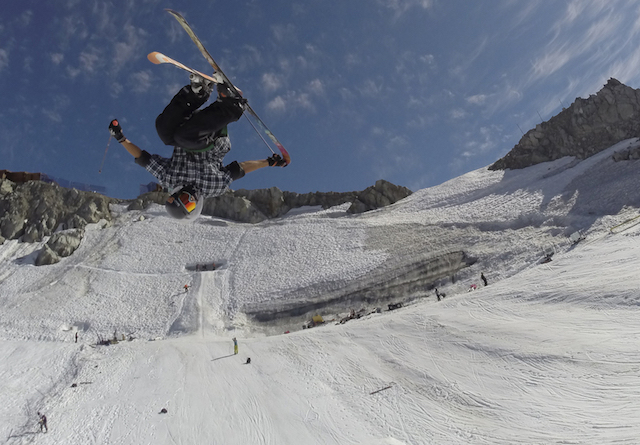 Camp of Champions, one of the two summer camps on the glacier, recently announced the cancellation of their last two camp sessions for summer 2015 due to a low snowpack. That's 50% of the camp's total operating schedule. Camp of Champions photo.
The resort already has an integrative snowmaking system with 270 snow guns, however this project will be the highest they have blown snow in their history–dropping snowguns above 1,920 meters for the first time ever. DeJong additionally noted that the Horstman Glacier has a loss, on average, of a half-million cubic meters of snow annually, and has begun to increase.

Average temperatures in 2099 according to data models collected by NASA.
The needs to combat the glacial retreat, combined with models like these, are evidence that climate change is already a serious threat to our snowpack and winter seasons. With enough money, any resort can make snow, but rising air temperatures will affect the quality of the snow, the work it takes to execute, and even the possibility that it's cold enough to make it in general.
In particular, Whistler's Horstman Glacier has been melting significantly since the dawn of the industrial age, losing half its volume in the past 150 years, and 10% of its volume in just the period from 1999 to 2009, according to a Canada Globe & Mail article that reported on the findings of consultant hired by Whistler Blackcomb to use radio waves to measure the depth of the glacier.
RELATED: The Top 10 most-polluting mountain towns
Efforts by Whistler Blackcomb to combat glacial retreat raise the question of how we may be able to use engineering and science to take down global warming in our winters to come, and how the snow community as a whole will respond now that climate change is beginning to directly affect our lives on snow.