We've been hearing a lot about the huge slopestyle course and the dogged halfpipe at Sochi the past two weeks, and about victories and losses on hardpack snow, and even solid ice (on purpose!). But that's not to say that skiing and snowboarding's contest jokes to sneak in some laps on what is quickly being recognized as some of the best lift-accessed terrain in the world at newly-developed ski areas like Rhosa Khutor, where the slope and pipe venues were hosted, to Krasnaya Polyana.
We've been dying to see how those crazy peaks we can see behind the venues are riding, and as Olympic worker and ski legend Steele Spence's POV edit above and the athlete photo gallery below shows, there's plenty of serious "freeskiing" (the real kind) to go around in Russia with lift access curtailed only to the chosen few competing in Putin's Olympics:
American slope skier Keri Herman gives us a good perspective of the kind of terrain that lays beyond pipe jock territory at Rhosa Khutor.
Nate Holland fires one loose to shake off the jetlag upon arrival. Guaranteed to do more for you than the Sochi Delta Lounge.
Up high at Rhosa Khutor before the slope contest got underway, Gus Kenworthy check in from some wild life-accessed terrain. "The mountain is the sickest!"
Chas Guldemond, no stranger to soft snow despite his New Hampshire roots and terrain park leanings, goes HAM off a Russian catrack to loosen up his hip flexors before slope practice.
It ain't all slope training and deadlifts at the Olympics. Gus Kenworthy trades the weight room for a double off the cat track. Teammate Bobby Brown captures the action in between bicep curls.
Finnish skier Anti Ollila: "Goddamn this place is insane! Got some great powder turns down today with@aleksipatja #sochi #pow #funnestshitever#holymoly"
Teammate Aleksi Patja out for some "real skiing" in the midst of the Costas madness.
Fellow Norwegian Torgeir Bergrem, at a loss for how to get to the slope course.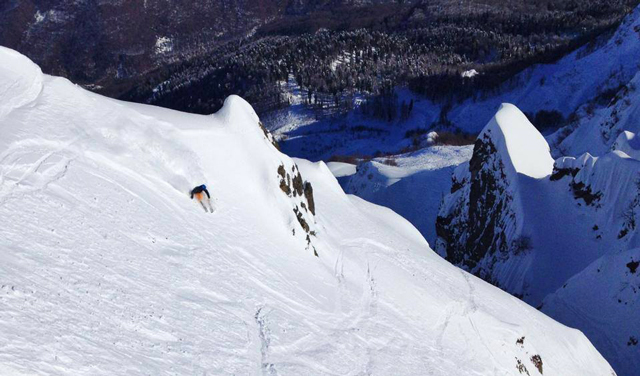 Austrian ski slope competitor Luca Tribondeau lettin' one hang out before practice back on February 4th on some mind-blowing terrain at Rhosa Khutor.
Pre-Olympic gold medalist Jamie Anderson just out for an afternoon stroll in Sochi pow before the real madness begins.
Not a slouch himself despite making a living watching other people ski all day, US halfpipe coach Ben Verge lays one into one of Rhosa Khutor's Olympic-level spine runs for the lens of Angeli Vanlaanen.
Snowboard cross bronze medalist Alex Deibold made sure to bring his backcountry kit so he could check in from high above the slope venue after teammate Sage Kotsenburg took gold in slopestyle. "The Olympics are an event like no other," he said. "They have the power to inspire and unite people like I have never seen, and the pressures can also make even the strongest crumble. Sage Kotsenberg's win today stoked the fire inside me in a way I can't describe. I was also able to get away from it all and ride in one of the most beautiful places I have ever been. In this moment, there wasn't a thing on my mind other how lucky I am and how much I truly love snowboarding."
Olympians doing real skiing (and riding) on real mountains?? Now that's something that would truly tickle Tanner Hall's fancy.
Want more Sochi Olympic coverage? Check out:
-Sochi backcountry conditions advisory
-Women's ski halfpipe finals recap
-Men's ski halfpipe finals recap
-Men's ski slopestyle finals recap
-Men's snowboard slopestyle finals recap
-Women's snowboard slopestyle finals recap