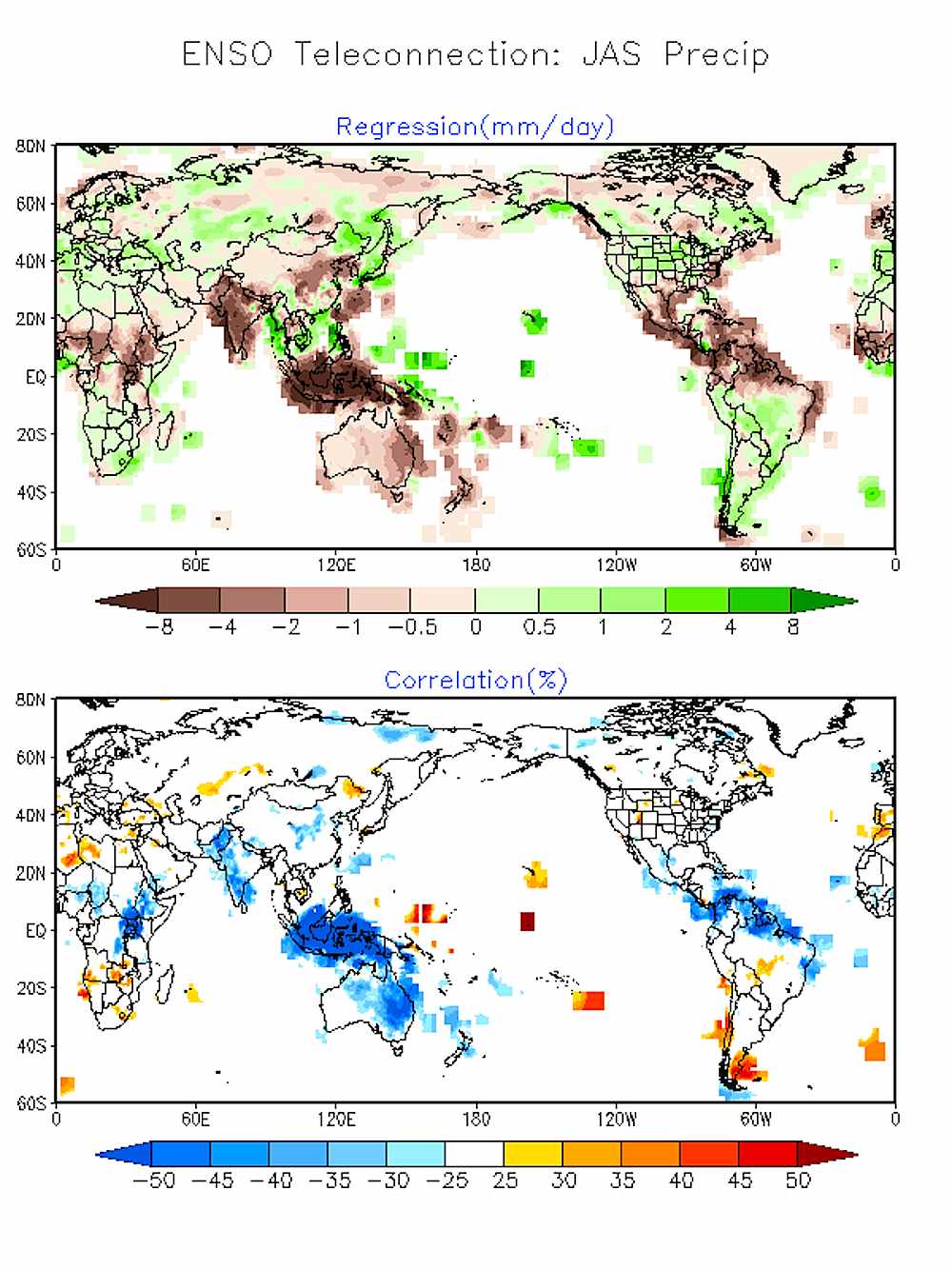 This NWS graph shows July, August, and September having below normal precipitation in Australia and New Zealand, and above normal precipitation in Chile and Argentina. National Weather Service Climate Prediction Center photo.
This winter, El Niño Southern Oscillation drove the storm track south across Southern Utah, New Mexico, and Southern Colorado. Places like California, the Pacific Northwest, and the middle of the Intermountain region experienced below-normal precipitation and above-normal temperatures.
As a result, many of us didn't get quite as many great powder days as we wanted. If you're thinking about going for Winter 2015: Round Two in the Southern Hemisphere, here's what you can realistically expect as of now.
A Weak El Niño Will Continue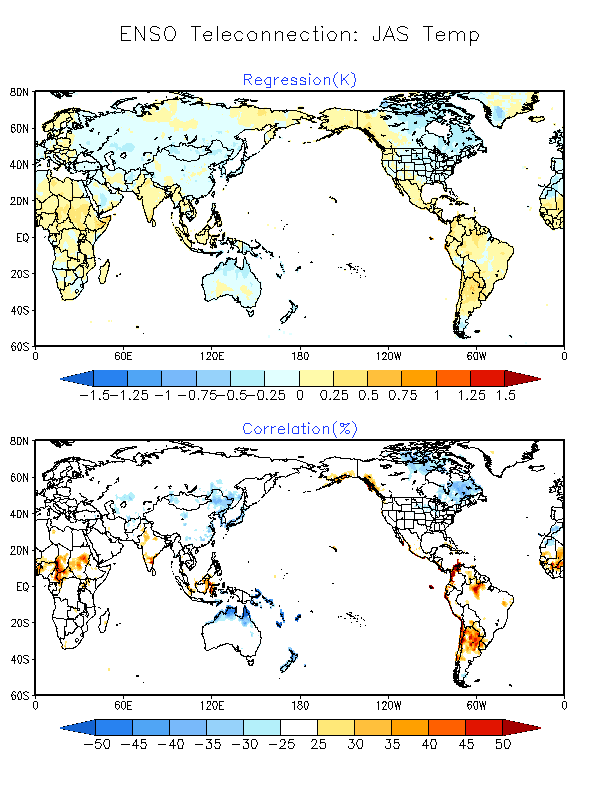 This NWS graphs shows below-normal temps in northern Australia and New Zealand, and above-normal temps in the northern interior of Argentina. National Weather Service Climate Prediction Center photo.
Mike Halpert, Deputy Director for NOAA's Climate Prediction Center, explains, "Right now it's still what we'd classify as weak. Some models say it's going to strengthen over the next couple of months. It's hard to have confidence in that. This time of year are when our models have the least skill. We'll have a better idea in June and July."
"In a historical sense, if this is going to be a real strong El Niño event like we had in 1997-98, we will see a real strong evolution. If not, it probably takes that off the table. It might keep going with weak to moderate strength."
"All I can really say is over the past couple of weeks the ocean has started to warm, and it's hard to say whether that will continue," Halpert says.
What That Means For South America
Pier Solomon charges through trees in Bariloche, Argentina. Ben Girardi photo.
Columbia University's International Research Institute for Climate and Society is the only American institute actively releasing international forecasts. With a dearth of climate prediction online resources in South America, their seasonal climate forecasts may be your only option for tracking how ENSO will effect precipitation in Chile and Argentina.
For people who want international, comprehensive snow reporting, Snow-Forecast.com tracks the elevation of the current freezing level and provides snow, wind, temperature, and cloud maps. The site forecasts where snow will fall for up to six days in advance, or nine days for members. It also documents where and how high snow falls for a week after a storm.
Thus far, things are looking good for powderhounds bound for South America.
"The main idea is that with El Niño, central Chile has a greater-than-average chance for above-normal precipitation during their coming winter months," says Anthony Barston, Chief Forecaster at IRI. Halpert also said signals indicated a wetter-than-average winter in southern parts of Argentina and central Chile. As you closer you get towards the equator, he added, it looks drier than normal from June to August.
The issue, of course, is temperature. Like any Pacific Northwest native might tell you, precipitation isn't preferred if it's not cold enough to be snow.
The Andes are the second only to the Himalayas in size. This ensures that there's always good skiing to be found in the high alpine, explains Pete Connoplly, Mountain Operations Director and ski guide at SASS Global Travel. The last El Niño year, 2010, brought huge storms to the SASS base of operations, Bariloche, Argentina.
"It produced later-season, unbelievable snowstorms. We'd get 2, 3, 5 feet over the course of a few days. We were legitimately entering houses on their second story because the first story was snowed in. Those powerful storms, from late August to early September, seem to be a complete game-changer for the season," Connolly said.
The international ski guide service uses the Argentinian resort as a base because it's one of the few places in South America with tree skiing. During a white-out blizzard, most resorts in Chile and Argentina need to shut down their high lifts due to visibility.
What That Means For Australia and New Zealand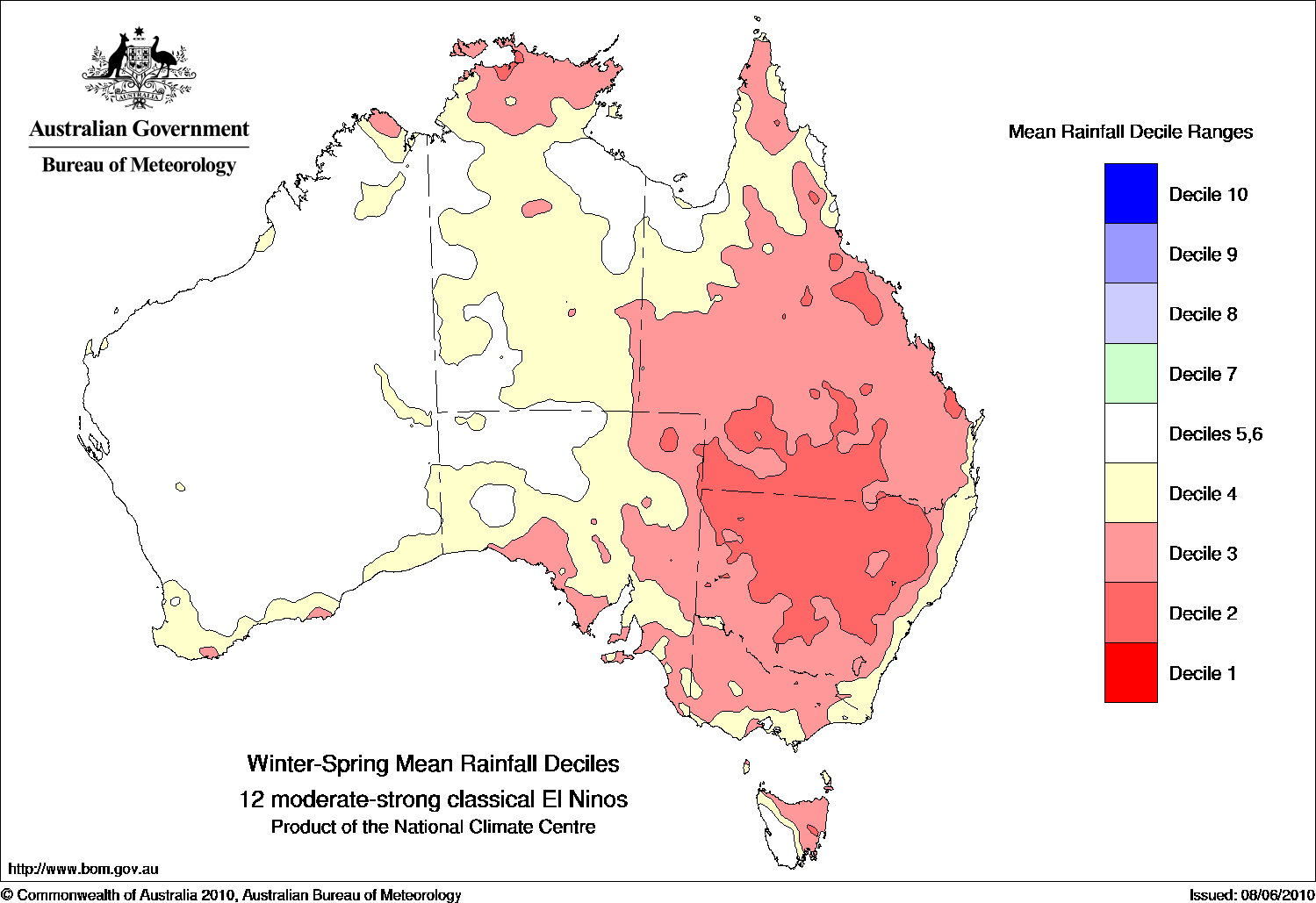 El Niño means drought in Australian. Australian Government Bureau of Meteorology photo.
Long-term forecasts don't look quite as promising for the Land Down Under. El Niño years typically bring drier than normal conditions to eastern and northern Australia. Though most of the ski resorts are in Australia's south-central interior, this region also tends to experience less precipitation during ENSO events.
Pete "The Frog" Taylor's site, Snowatch.com.au, forecasts snow for Aussie skier and snowboarders. He predicts powder days–currently he expects light snow May 12, 13, and 22–and provides long-term forecasts.
In his 2015 seasonal outloook, he points out that the Bureau of Meterology gives this winter a 70% chance of seeing an El Niño event. Of the 26 El Niño events since 1990, he adds, 17 of them have brought widespread drought to Australia.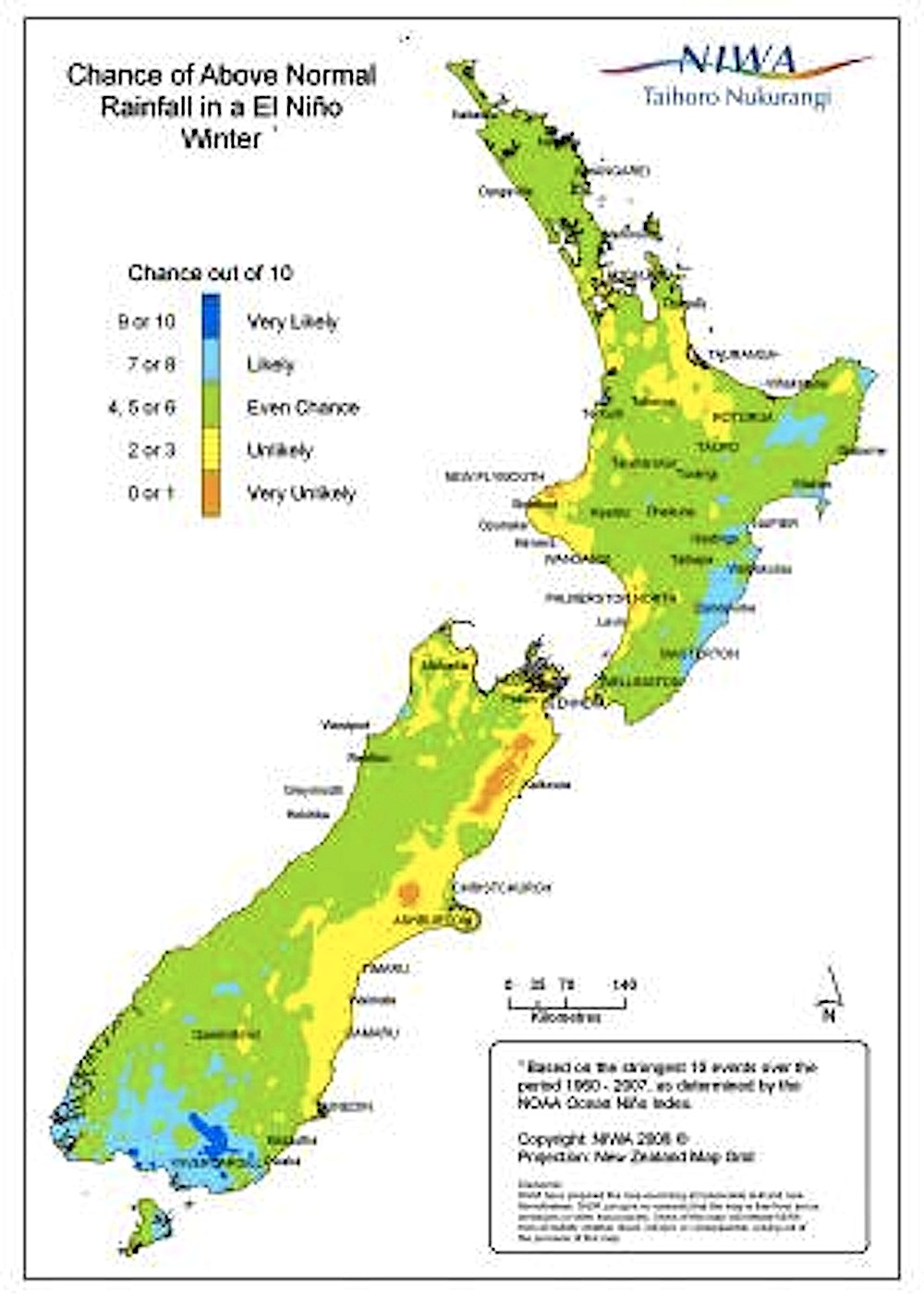 If ENSO continues, NIWA predicts an even chance of above-average precipitation in New Zealand. NIWA photo.
According to New Zealand's National Institute of Water and Atmospheric Research, New Zealand isn't as dramatically effected by ENSO weather patterns as Australia. El Niño does tend to bring cold winds up from the south. This shift, combined with the even chance for above-average precipitation, could equate to a great winter in New Zealand.
However, spring is a difficult time to forecast ENSO events, a complication meteorologist call the 'spring predictability barrier.' Though NIWA just released its seasonal climate outlook for May to July, there aren't any conclusive findings that point to what the upcoming winter will look like.