You've heard of the Amazing Race, right? A trains, planes, and automobiles rally around the world where couples or best friends try and maintain their relationship while facing a host of challenges that somehow always include wolfing down a bowl of some god awful local cuisine filled with fried spiders or animal organs. While the most outrageous thing you might be forced to eat in a ski town are some Rocky Mountain Oysters, the Mountain Collective TGR #Crowdtrip is sort of like that, except instead of CBS deciding all the challenges, YOU - the person reading this on the internet - get to decide what adventures our intrepid crew of four explorers must undertake as they make their way to shred all 6 Mountain Collective destinations over the course of three fast-paced weeks in a brand spankin' new BMW X5, couresty of BMW Canada.
You can tell the #Crowdtrip team what runs to ski at Jackson Hole, where to party in Aspen, what hot tubs to sneak into in Whistler, hell, you can even tell them to penguin slide the Headwall at Squaw Valley, hit on the tram operator, review a beer at Aspen Brewing Company or find a movie star at Mammoth. It's up to YOU, and at each destination along the way, TGR and the host resorts will be matching your efforts by putting the crew up to their own challenges, including skiing Jackson Hole top-to-bottom on one ski or doing a scavenger hunt on Instagram.
OK, I'm in. How do I get involved?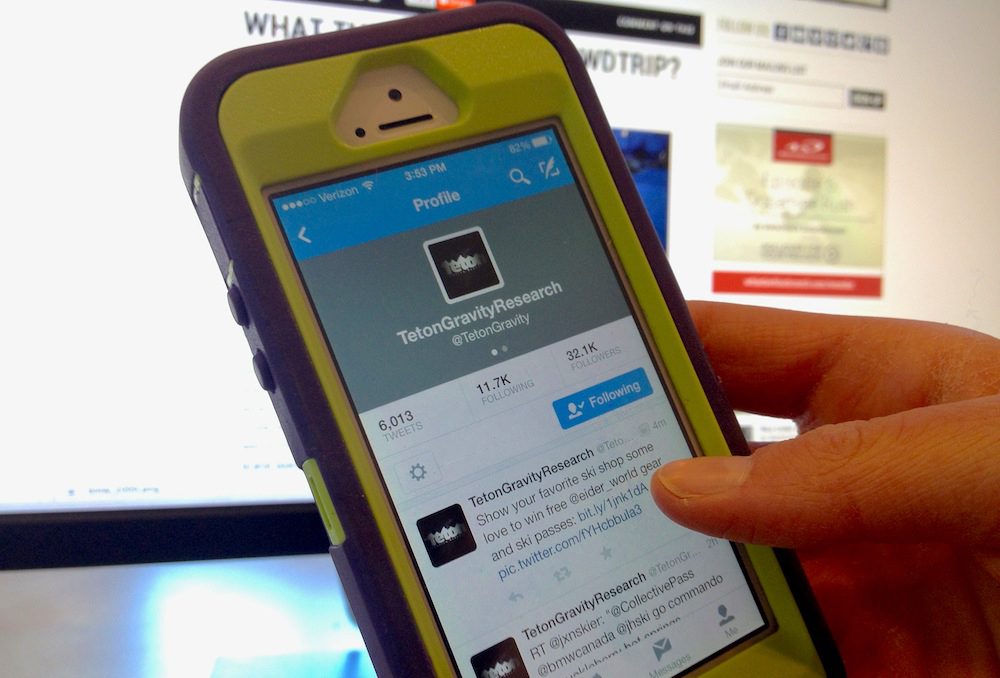 So you want to be involved with remote-controlling these guys as they fly through the Mountain Collective universe? It's simple. Follow TGR on Twitter - the #Crowdtrip team will be taking over our account for the duration of the trip and will be soliciting your input on their next move anytime you tweet to @tetongravity with the #crowdtrip hashtag.
Stay tuned to our Facebook and Instagram as well, where we'll be crowd-sourcing input from you at regular intervals. Got a shot of your favorite run at Mammoth? Instagram it, tag @tetongravity and the mountain (i.e. @mammothmountain in this case), and use the #crowdtrip hashtag to relay the message.
TGR mags can get involved in the fun too by following the #Crowdtrip forum thread and posting their challenges, advice, or outright slander.
Where are these guys going?
The #Crowdtrip team is making a 3,615 mile journey in a giant loop in their 2014 BMW X5 around the West Coast starting and ending in Vancouver. Along the way, they'll hit all six destinations included in the new-for-this-season Mountain Collective pass, which gets you 12 days of skiing and riding at six of North America's most legendary ski areas - Jackson Hole, Aspen/Snowmass, Alta/Snowbird, Mammoth Mountain, Squaw Valley/Alpine Meadows, and Whistler/Blackcomb - with no blackout dates, a 50% discount off of additional days, and up to 25% off lodging. The Mountain Collective pass gets you access to 12 mountains, 186 lifts, and 30,376 acres of terrain, which the #Crowdtrip crew will try to shred as much of as humanly possible while knocking off as many crowd-sourced bets, dares, and challenges and they can muster.
The Itinerary & The Challenges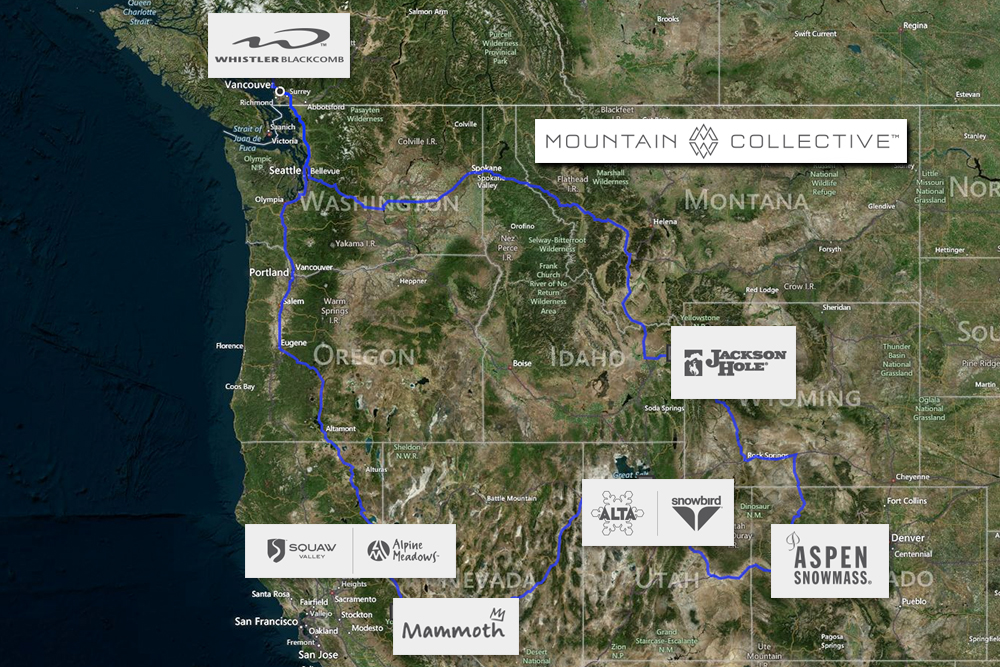 Jackson Hole Mountain Resort - January 17th, 18th, and 19th
JHMR challenge: Ski Corbet's Couloir in a pink bunny suit
TGR challenge: Someone ski the tram top-to-bottom on one ski while the other skis top-to-bottom switch
Aspen/Snowmass - January 20th, 21st, and 22nd
Aspen/Snowmass challenge: Keep up with Pats & Tats for a day...
TGR challenge: Summit all 4 Aspen/Snowmass mountains in one day
Alta/Snowbird - January 23rd, 24th, and 25th
Alta/Snowbird challenge: Instagram scavenger hunt
TGR challenge: Taste-off between the Alta Anniversary Ale and the Snowbird Dunkelweizen - review both for the #Crowdtrip site
Mammoth challenge: Ski the Grand Prix slopestyle course in the Unbound terrain park
TGR challenge: Find the infamous Jaded Local, Hans Ludwig, and buy him a drink
Squaw Valley/Alpine Meadows - January 29th, 30th, and 31st
Squaw/Alpine challenge: Eat lunch with the 6-year old ski crew, the Mighty Mites
TGR challenge: Ski from the south boundary of Big Bend Bowl at Alpine Meadows to the summit of Granie Chief at Squaw Valley in one day. Finish with belly flop into Cushing Pond if it's unfrozen.
Whistler/Blackcomb - February 3rd, 4th, and 5th
Whistler/Blackcomb challenge: TBA
TGR challenge: Ski every single lift at both Whistler and Blackcomb in one day, then make it to last call to celebrate!
Who are these guys, anyway?
An intrepid crew of mostly Canadians but also a Swede and a Polish-born former pro mountain biker, the four-strong #Crowdtrip team is both gung-ho about spending time in the mountains and certifiably insane for wanting to spend three weeks in one BMW together while leaving nearly every detail of the entire trip up to the whims of the internet. Meet the men behind the madness here.
Ready to start making the calls for the #Crowdtrip crew? Start following the TGR Twitter account and #Crowdtrip forum thread, Facebook, and Instagram and start barking out orders!!