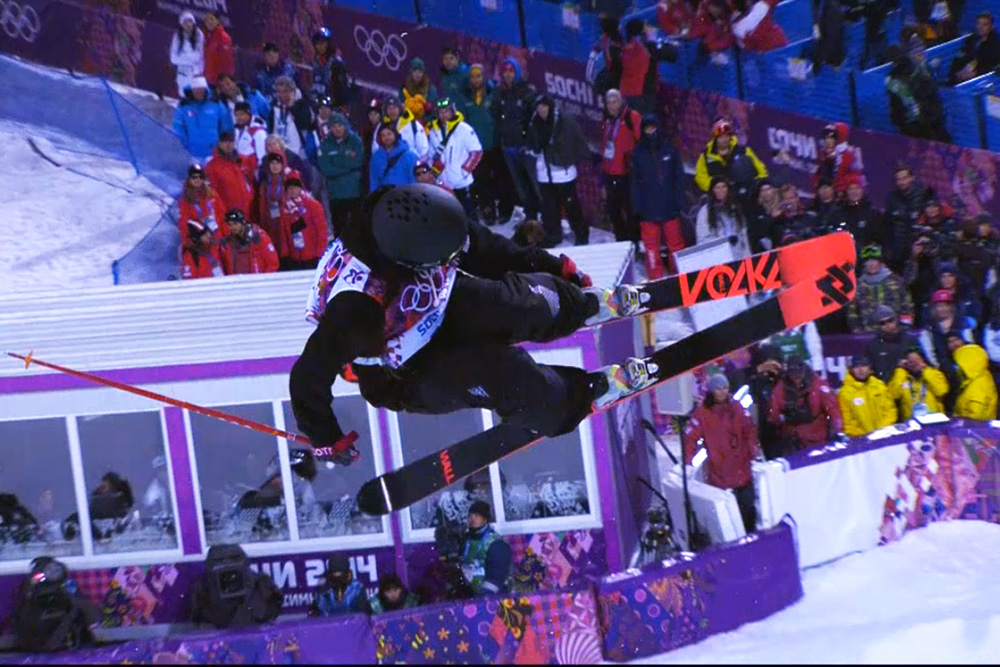 New Zealand's Janina Cuzman grabs up her 720 on the final hit of the women's ski halfpipe finals. All amateur screengrabs have been taken from NBC's live feed of events in Sochi.
It has been truly a bizarre day to be a woman at the Sochi Olympics. One the one hand, news got out that female members of the punk rock band Pussy Riot, who were in prison until Putin decided to clean up Russia's image in the Oympic run-up, were beaten with whips by Cossack police officers or militias, or something. On the other, the women's ski halfpipe finals, an event that owes its existence to a skier who pioneered the right to play for women in action sports, Sarah Burke, went down for the first time in history today. These Olympics have provided more than a few examples of cognitive dissidence, but I digress.
Today's gold medal winner in the women's field at the Sochi halfpipe was much like the men's - a heavy favorite to win and a Lake Tahoe-area local who'd won the past several X Games and demonstrated the consistency needed to end up on top in a halfpipe whose poor conditions had taken down much of the men's field as well as the snowboarders.
That American, Maddie Bowman, didn't go the biggest or have the best grabs, but was able to go back-to-back on 900s spinning both ways, and linked a right 720 into a last-hit down-the-pipe switch 720, which stood as the most technical switch trick performed by any of the women in the field. Despite her consistency, Bowman still seemed blown away to be able to trade her score in for a first-ever Olympic gold medal. She was surrounded by French comeback mom Marie Martinod with the silver and Japanese newcomer Ayana Onozuka with the bronze, whose huge airs introduced her to an unfamiliar Western audience.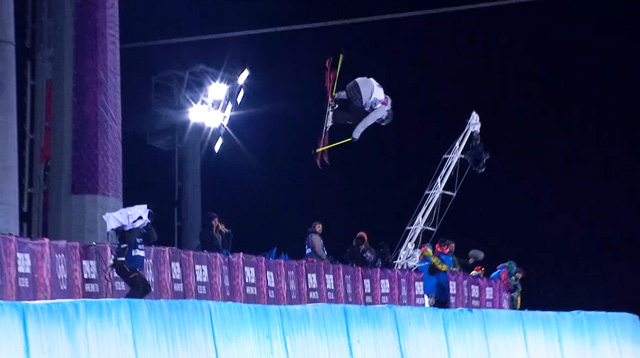 Much like in the men's final, the entire podium was decided in the first run. Onozuka set the pace mid-through the the field in the first run with some of the biggest airs in the field, adding back to back 540's and a 720 on the skier's right wall into a an ungrabbed but nonetheless boosted switch down-the-pipe 540. Oftentimes switch tricks in the women's field have been scrubbed below-the-lip alley-oop affairs, but Onozuka let the podium contenders know she'd be pumping all the way to the lip before she started any of her spins. A 79.00 to the set the gold medal pace.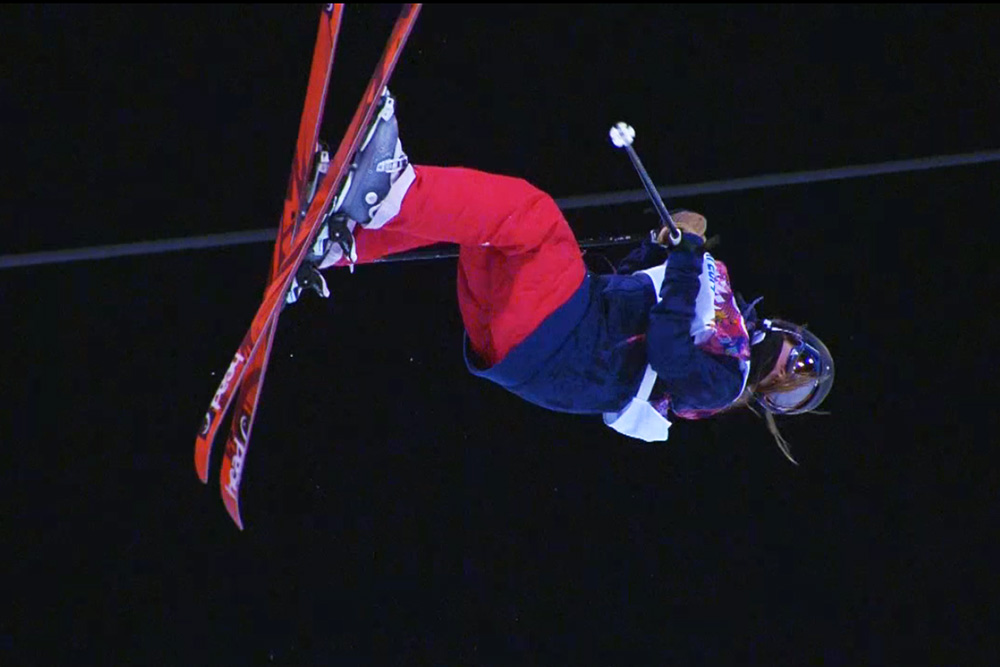 Bowman dropped next, starting off with two straight airs into a right 900 that she got to her feet just in time, leading into a second cork 900 (pictured above), a right 720, and finishing with a stomped switch 720. The one-upped final trick on Onozuka pushed her into first with an 85.80.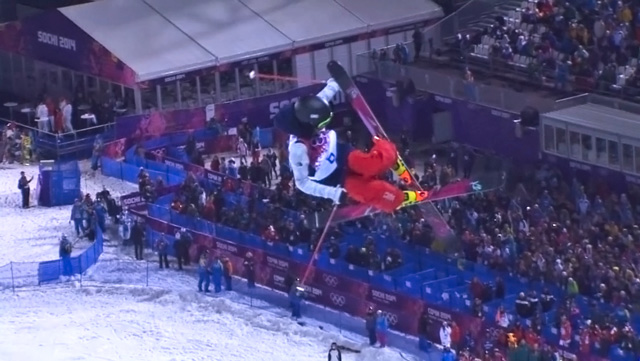 Dropping in next was American teammate Brita Sigourney, whose performance could be compared to that of Justin Dorey in the men's field. With the biggest airs of the field, by and large the best grabs, and a beautiful cork 900 mute off the first hit, Sigourney was a jolt of high-amplitude energy in the field, but after landing backseat on a right 540, Brita couldn't quite recover before the final hit. Deciding to go for the 720 anyways, she caught her edge before she could get her skis around to switch, tossing her into the flat bottom violently. Bowman ran up along with a team of medics to check in, but luckily Brita got her to her feet and skied to the bottom on her own.
French skier Marie Martinod seemed something of an outside chance compared to her younger competitors. A veteran competitor, Martinod had retired from skiing in 2006, had a child, and yet seven years later at 29, managed to return to competitive pipe skiing and throw down a very respectable run highlighted by a flatspin 540 and an energetically stomped 900 in the final few feet of transition in front of the judges. Marie had won qualifiers with an 88.40, but with some mixed grabs, was knocked down to an 84.80 for her first finals run - enough to squeeze into podium position between Bowman and Onozuka.
As a sidenote, while Martinod had the ugliest goggles and the most pumped-out coaching staff, the Team Switzerland coaching staff behind Virginie Favre had by far the most metrosexual outfits. With silver vests laid over white button-down shirts and all three wearing sunglasses at night, I was half-expecting Pharrell to come out from behind the jumbotron and bust out a quick rendition of "Get Lucky" between the first and second runs. No such luck - moving on.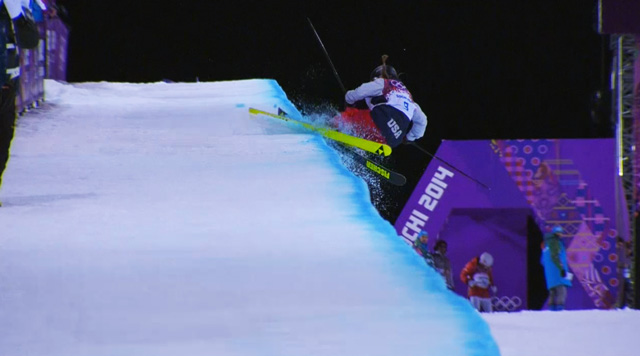 The final runs left the opportunity for a few notable wildcards and veterans alike, most of whom had fallen on their first runs, to make a last-ditch effort for the podium. American Annalisa Drew (above), the only female skier to have landed a 1260 in competition, went for her signature trick on the third hit but clipped the deck at 1080 despite her best efforts. Teammate Angeli Vanlaanen - who at 28 battled through Lyme disease to make the US Olympic pipe team - caught her edge badly in the flat bottom during her first run, leaving her pressing a bandage to her bloody nose, and landed backseat on the same rightside 540 in run two. The error left her wheelying into the flat bottom and unable to recover her composure.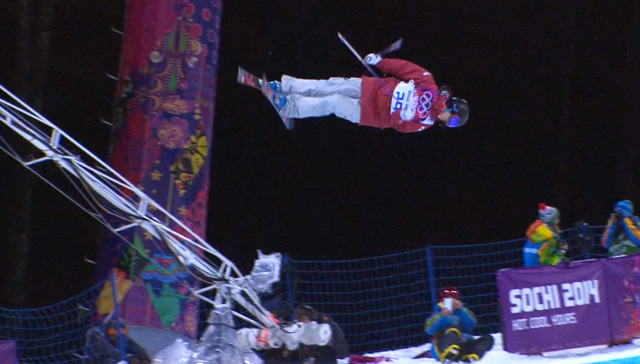 Another veteran of the Sarah Burke era, Target's (er, uh, I mean Canada's) own Rosalind "Roz G" Grounewoud, had a similarly difficult time finding her rhythm through Sochi's notorious halfpipe. Roz, who had gone through knee surgery only two months prior, fell on her first-hit 900 in run one. On her second attempt, the Canadian linked together a loose series of tricks all the way down the pipe, managing to recover from a few squirrely landings in time to put down a right 900, a flare, and a right 720.
Her 74.20 put her in 7th behind Sigourney, who was able to recover from another backseat right 540 in time to land a big 720 at the bottom, but the scrubbed landing docked her down to a 76.00.
Sigourney was the final outside threat to a podium lineup that had held over from the first run, and all three medalists - Bowman, Martinod, and Onozuka - repeated their runs to shore up the judges' thinking. But despite the relative lack of suspense at the end of the final run, Bowman, the X Games champion two years running, was nonetheless astounded to be holding up the stars and stripes to unofficially demarcate her spot in Olympic history.
A big congrats to Bowman, Martinod, and Onozuka, and we can't end without again mentioning Sarah Burke, whose fearless leadership in women's skiing is as much a reason as any the trio got to celebrate their halfpipe performances on an Olympic podium today. Celebrate Sarah today...
Want more Sochi Olympic coverage? check out:
-Men's ski halfpipe finals recap
-Women's ski slopestyle finals recaps
-Men's ski slopestyle finals recap
-Sochi Olympic backcountry conditions advisory
-Watch VICE's documentary about Olympic pipe & park skiing: "FREE"