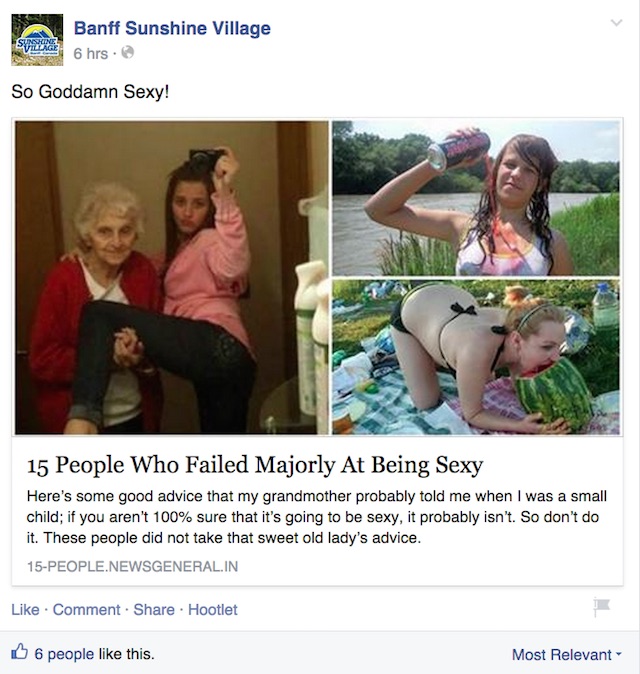 Wait a minute... I came here for a snow report!
The poor folks at Banff's Sunshine Village ski area are currently experiencing one of the blights of the online era: cybercrime. Their Facebook page, with 97,000 fans, has been hacked and taken over by Indian hackers, and instead of posting about missing powder days and their new chairlift installation, has instead become a stream of trashy sex clickbait (see above, and then try to get that image out of your head).
Of course, to any logical person, it's obvious Sunshine's account has been hacked, but that hasn't stopped others from de-fanning the page after being disgusted by the resort's sudden turn towards posting virulent sexual sexual links instead of their usual mountain–undoubtedly the result of the social media manager's recent bender and ensuing mental breakdown.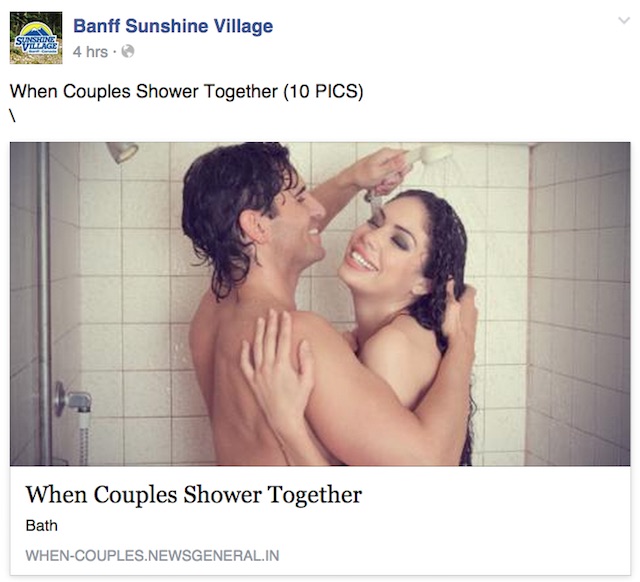 Oh man, Banff's social media manager is going off the deepend!
Sunshine's been desparately trying to reassure their fan base on their Instagram and Twitter that they have, in fact, been hacked, while wailing at the walls of Facebook's customer service department to get a response. But according to former ski area marketing director, industry consultant, and Funny Guy at Ski The East Alex Kaufman, industry businesses looking to recover from social media hacks need to hit up Facebook through the department most eager to listen: advertising.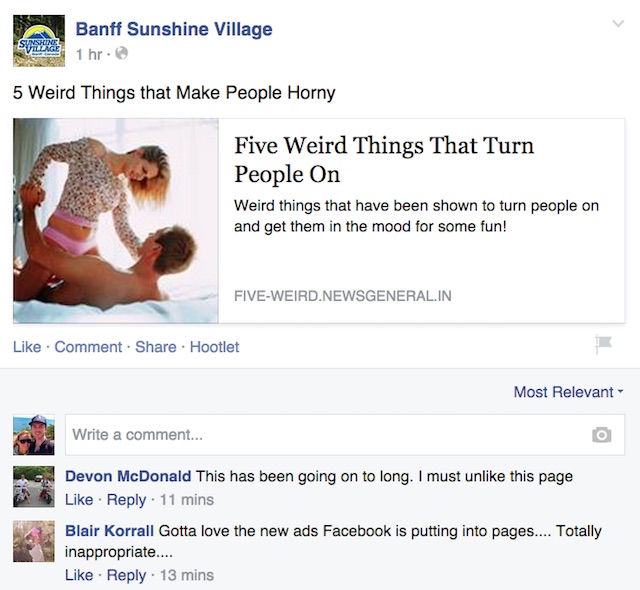 Oh NO!!!!
"If this happens to your business, you can try to use the automated portals that Facebook provides, but they may be slow and ineffective," Kaufman said. "A better route is to login to your advertising account (hopefully you've ever advertised) and use the panic buttons inside the ad account, which go to actual people, since Facebook likes money. Telling them that children are now seeing porn, and that you'd like to spend mad loot, will expedite your solution."