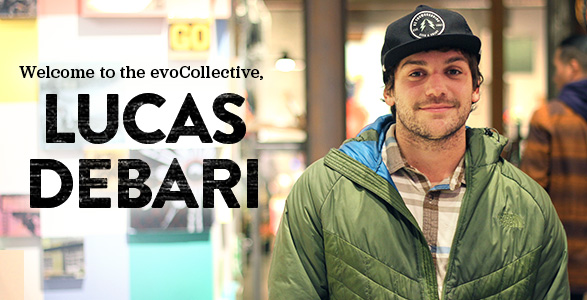 WELCOME TO THE COLLECTIVE: THE LUCAS DEBARI INTERVIEW
Seattle, WA: Leading action sports retailer, evo, is pleased to announce that Lucas Debari has joined the evoCollective, a multitalented group of individuals who represent evo's brand and core values. Debari joins Austin Smith, Chris Benchetler, Kimmy Fasani, Eric Pollard, Tim McChesney, Brandon Cocard and other talented individuals as part of the evo Collective.
Lucas writes: "It is rad to link up with evo. From the community events here in the Northwest, to being the top retailer around, evo is a consistent and solid contributor to the snowboard community."
Growing up in Glacier, Washingtion, at the foot of Mount Baker and only a few hours from evo's Seattle headquarters, Lucas has been well-recognized in the Northwest snowboard scene for over a decade. In recent years, he has gained international recognition as one of today's most progressive big mountain snowboarders, earning him a spot on the list of esteemed professional riders who have cut their teeth on the terrain that only Baker offers.
Lucas is spending this season working on a video part with Absinthe Films, taking a break from long, snowboard-mountaineering expeditions, and getting back to his freestyle roots.
Debari is sponsored by Dragon, The North Face and K2 Snowboarding. evo is proud to join that list and couldn't be more excited to have Lucas as part of the Collective. Shop his collection here>
evo sat down with Lucas to ask some questions. Read the interview below.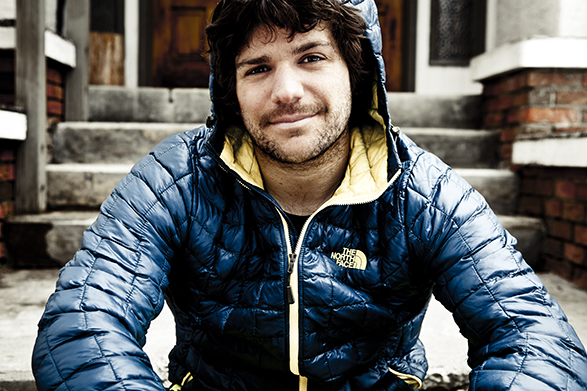 Andrew Miller Photo
How did you end up with evo?
For me, it's all about working with people who share my outlook and Northwest pride. From community events to involvement in snowsports media, evo has solidified itself as a leading retailer, while maintaining authenticity to snowboarding.
Tell us what it was like growing up in Glacier. Obviously, you had access to arguably one of the greatest snowboard mountains out there, but what is day-to-day life like for a kid living in that town?
People always ask me what being a kid in a town of 100 people is like. I have no other experience to relate it to, but my childhood was awesome. I was raised by my parents as well as the tight-knit community that we were surrounded by. I hope to raise children within a similar outdoor-oriented community someday. We also went snowboarding every single day that we could.
Andrew Miller Photo
Certainly, growing up at the foot of Mt. Baker shaped your riding, but at what point did you decide to leave the contest scene behind and focus entirely on riding natural terrain? Was there any specific event or turning point that caused this shift or was it just a natural transition? (No pun initially intended).
I had a pretty bad injury in the finals of a Grand Prix when I was 14. It took a few more years after that, but with the help of some Baker locals, I was fully committed to filming backcountry by the time I was 17. I didn't really understand until then how much more I excelled at freeriding over contests.
You came up as a backcountry rider during a window in the timeline of snowboarding when most other young riders were getting noticed either through their contest results or street parts. Getting paid to ride powder was something often reserved for the older, more established guys. Do you think the path you took was more difficult?
For me, it all came down to snowboarding how I wanted to snowboard. I always try to stay true to myself regardless of the current state of the snowboard industry. I love riding pow, catching air and going fast. Backcountry snowboarding is where I can make all of that happen. I had no idea my career would get me to where I am now. I figure that as long as I'm riding in a way that stokes me out, I'm doing the right thing. Gaining the notice of the industry was a decision made on their part — I just wanna shred.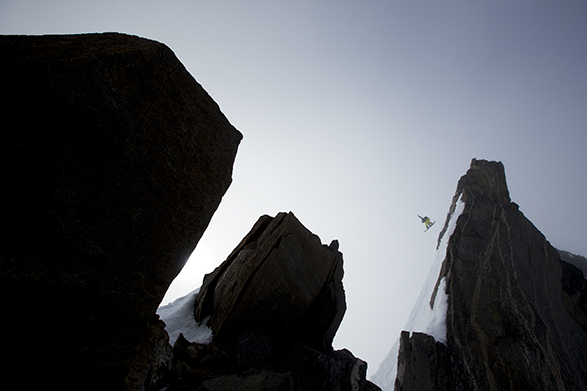 Andrew Miller Photo
Who's the best rider that no one's heard of?
Harry Kearney
Do you have any Morgan Rose stories you can share?
Coonhead? There are too many to focus on. That dude is a true representative of loving to shred, regardless of what a kook people think you are. Mad respect for the sketchiest dude in snowboarding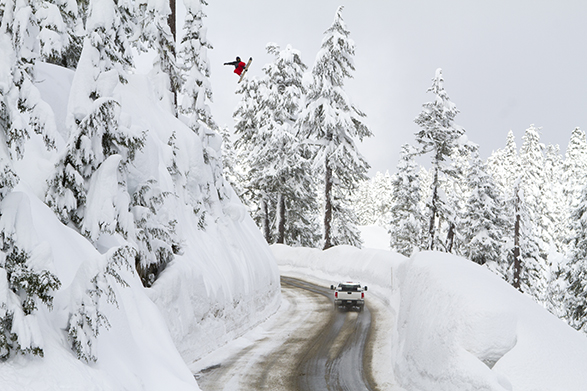 Scott Sullivan Photo
Talk about the first time you hit the Baker Road Gap.
Nate Lind, Pat McCarthy, Nick Ennin… sick Mount Baker crew, all-time pow, historical jump. Hitting the kicker itself isn't really that big of a deal — it's not a huge jump by any means — you just can't f*#& up. For me, it was rad to have those dudes around for one of the most fun seasons I've ever had.
In the Mica to Greenland film, you choose not to ride a certain line that Johnny Collinson skis. For you, what goes into a critical decision like that?
Straight up, that was self-preservation. The video doesn't show it, but that was some really bad snow — one inch of hard, breakable crust with faceted sugar snow on rock underneath. Mad props to Johnny for skiing it. If that had been pow, or even corn snow, the situation would have been quite different. It was really cool to learn from Johnny who has a ton of experience in the mountaineering world — dude rips.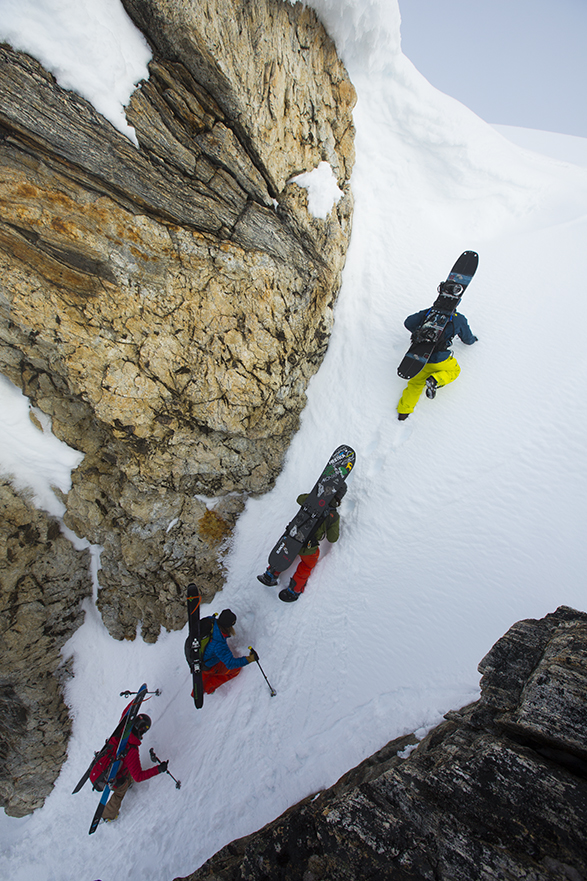 Adam Clark Photo
As someone who has spent a good deal of time riding with skiers, do you think there's a place for a healthy feud to remain between skiing and snowboarding or would you like to see it squashed entirely?
Whatever man, I just wanna shred pow on my snowboard. I like to surround myself with people who share that same passion for defying gravity in the mountains. Riding with snowboarders is awesome, however, it is really cool to see how skiers can see the same terrain in a different light. That being said, I'm still not allowed to ride some resorts because I snowboard. What's up with that? Those Alta skiers can keep their Utah pow, but really? It's hard to let things like that go. To me, snowboarding will always be cooler, and that's all there is to it.
If you had to choose, would you rather ride only powder for the rest of your life — on skis — or ride only park for the rest of your life — on a snowboard?
Wow, that's a rough question. When push comes to shove, I am a drawn to the mountains in a way I cannot explain. I think being in the backcountry is the most important aspect of snow sliding for me. So, I would probably settle for dorking around on a set of planks over wrecking myself on icy park jumps… I think.
Who would you consider your biggest influence outside of snowboarding?
Anyone who has a passion for something and is unwavering in their pursuit of happiness. Regardless of what anyone else may have to say about it.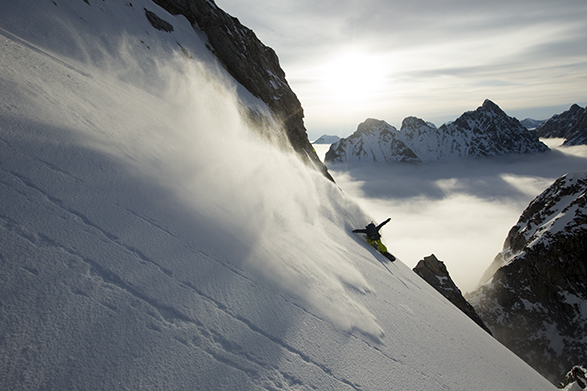 Adam Clark Photo
What are your current goals within snowboarding or otherwise?
I plan on filming a full video part with Absinthe. My goal is to go back to AK and put down the best lines of my life. I also want to focus on my long term health and take training and stretching more seriously
How does a snowboarder end up with a girlfriend who is an attorney?
More like, how does an attorney end up with a snowboarder for a boyfriend? Mallory is an awesome human, who loves her job, snowboarding and rock climbing. Our schedules don't exactly coincide well, but we share the same passions. She is also a better snowboarder than most girls who make that their priority.
What's your setup?
K2 Turbo Dream for the day-to-day. I've also been riding the K2 Joy Driver 159 which I helped design. It comes out next fall. I ride K2 T1 Boots, K2 Lein Bindings, The North Face Freethinker Biband Freethinker Jacket, Dragon D1 Goggles, BCA Tracker 3 Beacon and a Seahawks hat.
Aside from those things, what do you always like to have with you when you're snowboarding?
Good food, good company and a beer waiting for me at the end of the day.
Thanks, Lucas. We're stoked to have you on board.
Thank you. I'm stoked too!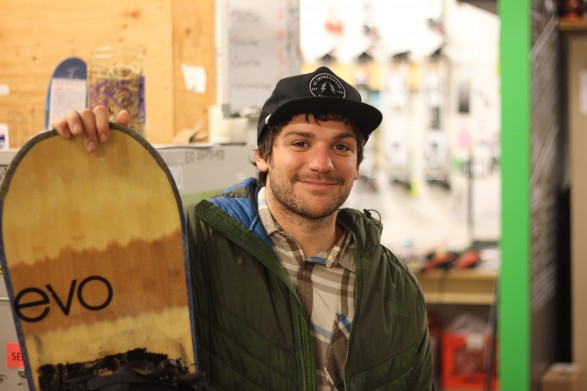 Taylor Boyd Photo
#evoCollective
About evo:
evo is an innovative action sports retailer with strong roots in the Pacific Northwest. While the main focus is delivering value to customers, evo is also very active in the community and the sports it represents. evo has built a strong online presence in the last 13 years and also operates a successful flagship store in the Fremont/Wallingford neighborhood of Seattle and Southeast neighborhood in Portland, Ore. evo also supports organizations that are dedicated to helping kids in need. It partners with local non-profits, plus supports regional and national non-profits.
For media requests, please contact Chris Shalbot, cshalbot@evo.com