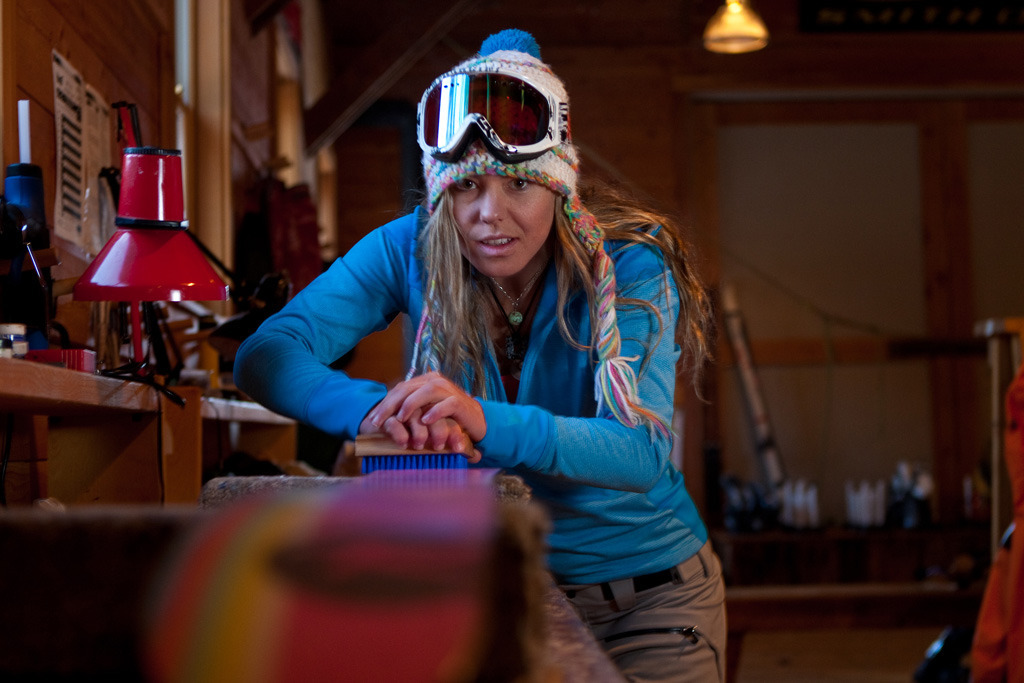 Lynsey Dyer gets tuned up. Photo by Grant Gunderson.
October 12, 2011
— Dan Kostrzewski
Jackson, Wyoming local Lynsey Dyer has traveled far from her roots in the Sun Valley race program to become one of skiing's most respected and inspiring female athletes. With bold, beautiful lines captured on film and in print she has earned widespread respect and recognition that culminated with Powder Magazine's Female Skier of the Year award in 2010. Off the hill, Lynsey has also exhibited a creative side using her artistic talents to design graphic artwork for First Ascent and land one of her photographs in National Geographic Magazine. Tetongravity.com caught up with Lynsey to talk about her recent trips, current segments and geopolitical stories in between international flights to thrilling locations.
Tetongravity.com: What was the most inspiring trip you took this past season?
Lynsey Dyer: Lel Tone and I got to go to Kashmir and ski on the disputed border of India and Pakistan in a red A-star helicopter. It blew my mind the fact that there are guys with guns on both sides and yet we are waving this white flag that we were just there to ski powder. So it was the first time that I saw my sport become something bigger than itself in that both side were opinionated in this war that has gone on for a ridiculous amount of time and yet they could all celebrate together and lighten up for a moment when it came to powder skiing, which I though was significant in that a sport could bring two opposing sides together even just for a moment. So it was really inspiring. I was very proud of skiing on that trip.
What was that experience like skiing in the Gulmarg region?
We got a couple of runs at 5,000 meters and they were first descents, which was really fun. We named a run Uncle Eddie (after Eddie Bauer), which was a treat. It is just completely untouched there. Any run in the past they have had to hike to it and this was the first year they have allowed helicopters out there so the possibilities were just endless.
Do they have anything like the concept of heli tenure in India?
Well, you're not supposed to go into Pakistan but the border is so foggy that we definitely ventured over. We actually peed in Pakistan and that was a highlight.
I mean, what a crazy opportunity, right? To go on a trip where you have five days to try and get good ski footage is difficult, right? And we had one sunny day with safe conditions and it was an epic day, a day that none of us will forget.
And then ending up and skiing at 5,000 meters … the only way we would know how high we were getting was the pilot would put on an oxygen mask and that was how we knew it was high.
We asked, "where is ours?" and he replied, "get out."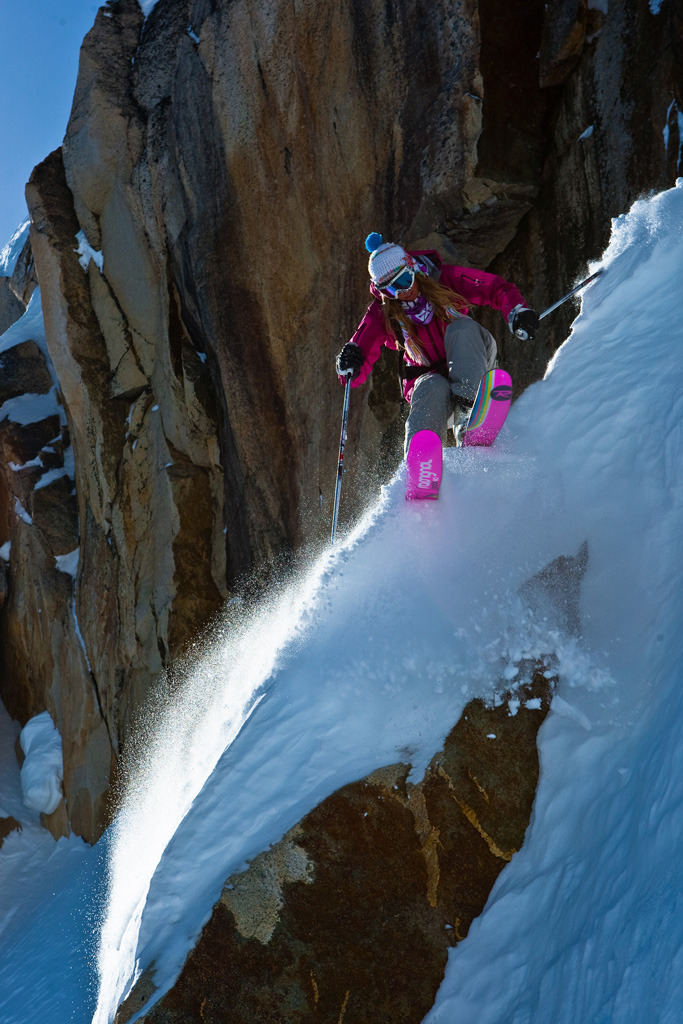 Lynsey Dyer in action. Photo by Grant Gunderson.
Was it an older machine?
No it was a beautiful A-star from New Zealand and a great crew and guides and a great journey. It ended up being seventy clicks from where they found Osama, so we were right in there.
In the heart of the geopolitical zone?
Yeah.
So the other project you worked on was with the Rocky Mountain Sherpas for the film "All.I.Can"?
That's right.
Why did you decide to get involved with that project?
They are incredible people and they are very passionate about what they do and they are on the cutting edge of ski film. This will not be just another ski-porn film. This will be the most beautifully shot and directed pieces of not only ski film but showing the natural world.
Because of the Cineflex they use — which is a ridiculously expensive stabilizing device for shooting from the helicopter — it is going to look a lot more like "Planet Earth," on that scale, rather than a normal ski movie.
As well as having a message, which I feel like a lot of ski films don't, and it's a very powerful message about environmentalism, but in a very inspiring way because these guys are so creative and dedicated and these guys are so over the top and dedicated in all aspects. So I am honored to be part of what the ski industry is calling the best ski film of the last ten years.
So, what specifically about the environmental message resonated with you?
Really capturing the beauty. These guys are famous for their timelapses and showing certain parts of the cycle of life and showing the earth as a living being, breathing through its rivers and through the cycles of winter to summer to spring. And just beautiful imagery of even making logging look beautiful.
It's not opinionated it's just putting it out there for the viewer to decide it's not preaching anything but it is so inspiring that I think my goal with skiing is inspiring people to go outside and to make it accessible to the point where people think if she can do it, I can do it. And so I feel like this film captures all that with absolute beauty.
What are you most excited about looking forward?
Right now we are headed to South America, we are filming with Sweetgrass Productions in Portillo and from there I go straight to Las Lenas, hopefully with Eddie Bauer. And from there I can't say, I've been working with Outside Television a lot and from there who knows — hopefully I'll get more time at home in Jackson but you never know what the season will bring. It's always at the last minute and that's part of the adventure.