Casey Baskins finds plenty of reasons to stick around Vail—despite the I-70 traffic. Connor Walberg/Vail photo.
By MacKenzie Ryan
People love to hate on Vail. It's too flat. You can't afford to do anything. There aren't any real locals. The mountain doesn't get enough snow. And so on and so forth with the bullshit.
The truth is—in a place where the tourists come to be seen, not to ski, and where one of the country's gnarliest mountain passes plugs up storm-day traffic from Denver—the digs are pretty good. The truth is if you think Vail sucks, you just don't know.
We've lined up some general tips to save cash, make pow turns, and enjoy the nightlife.
Avoid Paying Full Price for Lift Tickets.
When lift tickets are above the century mark, it's hard to justify a purchase unless the snow is remarkably deep. Most Coloradans and frequent visitors avoid this disastrous hit to their vacations funds by buying an Epic Pass. It simply doesn't make sense to buy a daily lift ticket if you are going to be skiing Vail for more than a handful of days. There are now many different renditions of the Epic Pass, each with varying restrictions that make it cheaper (providing you're willing to deal with them).
If you blew the deadline for a season pass, purchasing online will still save you hundreds of dollars.
The even cheaper approach would be to scout out mountain employees, which number in the thousands at a megaresort, and try to get them to give you their employee discounted vouchers or free passes (if they've been a long-time employee). Chances are if your buddy works for the mountain and he already gave all his passes away, he'll know or be able to find someone who hasn't yet done so.
Epic Pass holders also have a ski-with-a-friend discount that isn't as big, but every little bit helps, right?
Accommodations Break the Bank
Vail Village: not where you skids will be staying. Chris McLennan/Vail photo.
There are some wholesalers who will try to sell you housing plus lift ticket packages, but generally this is a mistake. They are upselling nearly 20% for what is a glorified phone call to a concierge or reservationist that you can do yourself with a little extra work. Also, in a ski town full of mostly condo rentals, wholesalers can't guarantee your unit choice. For example, you want the four-bedroom condo #300 with bunk beds so your eight-person man camp doesn't need to share beds. If you book with a wholesaler, you may get a four-bedroom condo with only queen-sized beds. Awkward.
It's best to contact a property directly and try to negotiate a deal with its team. Second only to bartenders, concierges in a high-end resort town are good friends to make. Tip them, even if it's with a six-pack. They'll help you navigate tons of bullshit places to go and hook you up with a well-developed network of contacts.
Avoid hotel rooms because they don't have a kitchen. What you will save in price staying in a single room versus staying in a condo will be absorbed by you eating out every meal.
The cheapest accommodations are going to be the farthest from the resort and the longest bus rides into town. This is a bit of a catch-22.
Vail charges a premium for parking ($25 a day), but offers free buses everywhere in town. These buses are both frequent (15 to 20 minutes apart depending on the bus line and time of day) and fairly reliable. Powder days, weekends and holidays the town will send two buses at once, so don't fret if a completely packed bus with windows opaque from steam passes you without stopping.
Free parking is almost non-existent. The few places in East Vail and West Vail that don't ticket day users get packed very, very early.
Condos are hands-down the way to go. Examples of reasonably priced places to stay are the Racquet Club in East Vail, the Wren, Apollo Park, Evergreen Lodge, Marriott Streamside, and Vail Spa Condominiums. Do not fuck with the per-person limit in the condo. Remember that slip of paper you signed when you checked in? That has a finely printed note about how much more they can charge per night if you are over the designated limit for the condo.
Eating Out: What You Perceive To Be Cheap Places To Eat Are Not
Why are we all laughing? Didn't you see the damn bill?!? Jack Affleck/Vail photo.
Buy your food outside of the Vail Valley and bring it with you via cooler. Cook breakfast, pack lunch, and bring $20 for après beers and food.
Look for inexpensive après food and you-call it specials at The Fitz (Golden Peak, east side of the mountain), The George (next to the Covered Bridge under the Mountain Haus), Altitude (in the Evergreen Lodge), and Garfinkel's (the base of the Eagle Bahn Gondola).
Abide by the ski town's major food groups of pizza, pizza and Mexican.
Vendetta's Pizza Bar on Bridge Street is a pretty classic stop for most locals. Pazzo's on East Meadow Drive, about two blocks away, has a little more of a hippy, family-style feel with Grateful Dead on the stereo. La Cantina is the only real Mexican food in Vail Village and it's on the second floor of the parking structure. An actual full meal can be had at all three of these places for $10 to $15.
Most people who want a laidback, distinctly not ritzy place stick to the George (it's underground and features pool tables, foosball, Big Buck Hunter, a mural of the Sex Pistols' God Save the Queen, and all-too-comfortable couches), Bart & Yetis (which has lots of wood, allows dogs, and is adorned with Red Sox paraphernalia), Altitude (which offers cheap beer, really good wings, huge televisions for sports, and pool tables), and Vendettas (which offers cheap beer and pizza plus a revolving, very entertaining door of tired drunks, and ski patrollers).
Lots of foodies reside in or visit Vail often. Rarely will you be disappointed with the "good restaurants," whereas often you'll leave a pub wondering why it cost so much.
Recommended places are Sweet Basil, Yama Sushi, Flame (in the Four Seasons), Montauk, Terra Bistro (in the Vail Mountain Lodge and Spa), Mountain Standard, and Campo di Fiori.
The dilemma with eating out in Vail is twofold:
1. You can eat well for a reasonable price, but you can't eat AND drink for a reasonable price.
2. For what you are paying to eat boring, unhealthy American pub grub, you can spend a little more and eat at someplace Zagat-rated.
Remember where you are (one of the wealthiest tourist destinations on Planet Earth) if you have no reservation. Be cool, be flexible with time, and be willing to eat at the bar. Big groups aren't going to be accommodated, except perhaps late in the evening, and—without a reservation—maybe not at all.
And Now, The Skiing
Brian Morrel gets shacked in Vail. Daniel Milchev/Vail photo
Vail is mammoth. Pick an area and session the shit out of it. Unless you want to straightline every run all day long, don't expect to hit every lift every day. There are so many chairlifts that locals often use their numbers instead of their names.
The Back Bowls can be great with fresh snow, but due to their predominately south-facing aspect, they get a little sunbaked by the afternoon.
Lots and lots of tourists want to ski them as they are fairly famous and offer relatively mellow terrain as far as bowl skiing goes. Some locals will say they never ride the backside of the mountain, choosing to stay only on the frontside. Generally what they mean is they session two or three chairs and call it a day. Less time in transit to one place means more turns overall.
Blue Sky Basin is unusually beautiful with phenomenal glade skiing. Off the main artery, the Skyline Express, there are a few sort-of-rowdy places such as Steep and Deep, Lovers Leap, Iron Mask and Screefield. A wealth of sidecountry access is also available from the lifts to the east (Pete's Express) and the west (Earl's Express).
Still, it's not all roses. Lift lines get a little nuts in Blue Sky. Head here for weekday skiing only. To hit up Blue Sky, you have to ride two lifts (Gondola One to Chair 4, or Chair 6 to 11, or halfway up Chair 6 to a catwalk to Chair 10 to the top of Chair 14) to get to the top of Vail Mountain, then drop down the back and ride up Skyline.
A short hike up from Game Creek Express (Game Creek is the only bowl that's not really on the backside of the mountain), the Minturn Mile is also a pretty famous, intermediate sidecountry run down a low-angle gully that ends typically at the Minturn Saloon.
Be aware of a few things. First, though it's a well-traveled and generally mellow destination, people have been known to get lost and end up on the top of a cliff somewhere. Definitely scout out where you are going. Second, your base(s) may get wrecked on the runout. Rock slides aren't uncommon. Third, the bus to and from Minturn is pretty infrequent. You'll need $5 cash to take the transfer bus to the White River National Forest bus station, then the EcoBus headed eastbound back to wherever you're staying in Vail.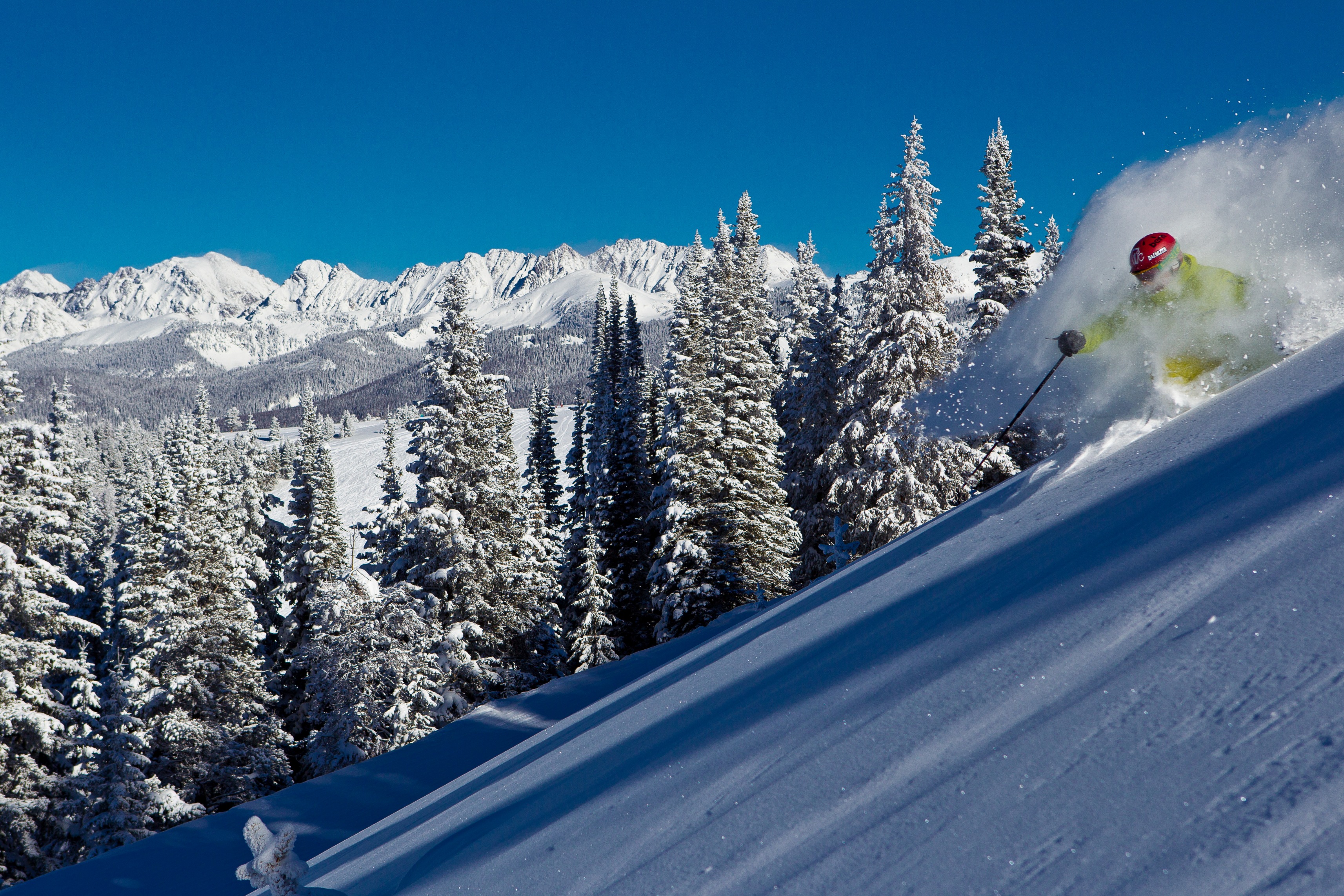 Being snobby Jackson Hole locals, we assume the skiing at Vail sucks, but I guess we're wrong? Vail photo.
The most frequent and somewhat legitimate complaint hardcore skiers make about Vail is the limited amount of steeps at the resort.
These folks therefore almost exclusively shred the vast expanse known as East Vail (accessed from the surface lift known as Chair 22 plus a hike). The chutes you see looking south from I-70 are only the tip of the iceberg.
By the way, just as any non-idiot might expect, they slide. Check the daily avalanche report, visit the ski patrol by Two Elk Lodge, and choose your aspects wisely. EastVailInstitute.com, ski patrollers, and locals are good resources. It's worth putting in the time to network to find someone who knows the terrain well, demonstrates good judgment and expertise, and who will still incorporate you in the decision-making process about where you are going to ride.
Additional Things to Note
The south side of Vail Pass is for sleds; north side for skinning-only.
If it's Saturday, go to Beaver Creek. Colloquially known as the Beav, some argue that Vail Resorts' "boutique" mountain has its best terrain.
A great way to enjoy the backcountry and get into the quiet of the Colorado alpine is the 10th Mountain Division hut system. Some of the huts have longer tours than others; some are swankier than others.
The Gore Range, the prominent jagged peaks you see looking east from town, is seriously gnarly. A small group of very hardcore backcountry skiers and snowboarders live in Vail just to be able skin and descend those peaks, especially come springtime when the snowpack stabilizes.
Douchebaggery Avoidance: An Epilogue
1) Don't set off the fire alarm in your condo because you're celebrating Colorado's recent liberation from marijuana prohibition. That also means don't ask your waiter, bartender, pizza maker, pedicabber, liftie, ski instructor, or concierge where you can buy it. While legally they might not get in trouble, they might get fired.
2) Vail has a huge, huge amount of sidecountry access. It also has very serious avalanche danger (west-to-east wind loading, chutes that slide on the regular, and a dicey, moisture-light snowpack) with people dying every year. Have your avy gear and practice safe backcountry travel. Pick your aspects wisely.
3) Piggybacking on #2, this part of Colorado has a lot of shelfy terrain typified by really striking, red sandstone cliffs. Nearly every year someone gets cliffed out thinking they are going somewhere their buddy from Vail took them to this one time.
4) Be nice to the help. The service staff you encounter are most likely your peers. Under the veneer of well-polished professionalism, these people get at least 100 to 150 days a year on snow, know great stashes, go to Moab to mountain bike in the shoulder seasons, downhill the resort come summertime, and work 50-60 hour weeks in the wintertime dealing with semi-clueless tourists who require their ever-present guidance.