November 1, 2011
— Ryan Dunfee
While past Halloweens spent in college, Aspen and New York City have found me in every state of dress, inebriation and possible sleeping situation, this year the Gods sent me in a different direction. Every meteorologist, every surf forecasting website and the East Coast Roll Call was calling for me to put away the blonde wig, jean vest and Dr. McGillicuddy's and to pull out my mountain bike, surf board and skis for what may have been the first New England Halloween Triple Crown. Ever.
The Triple Crown, the ultimate outlet of pent-up shoulder-season angst, involved pulling off three different action sports in as many days and all within 100 miles of each other. It's as if you took the Tough Mudder, bottled all the misdirected energy of thousands of day jobbers yearning in their running shoes for the weekend, and threw it at something rad. Instead of paying an entry fee for a marathon of torture with an electric fence finish line, you pay for gas money to hunt down the best trails, waves and snow that a freak fall New England storm has to offer. It's a challenge Johnny Tsunami would be proud of, and come to think of it, if I could have just figured out how to look Hawaiian and part my hair down the middle, I could have done it all in costume, too.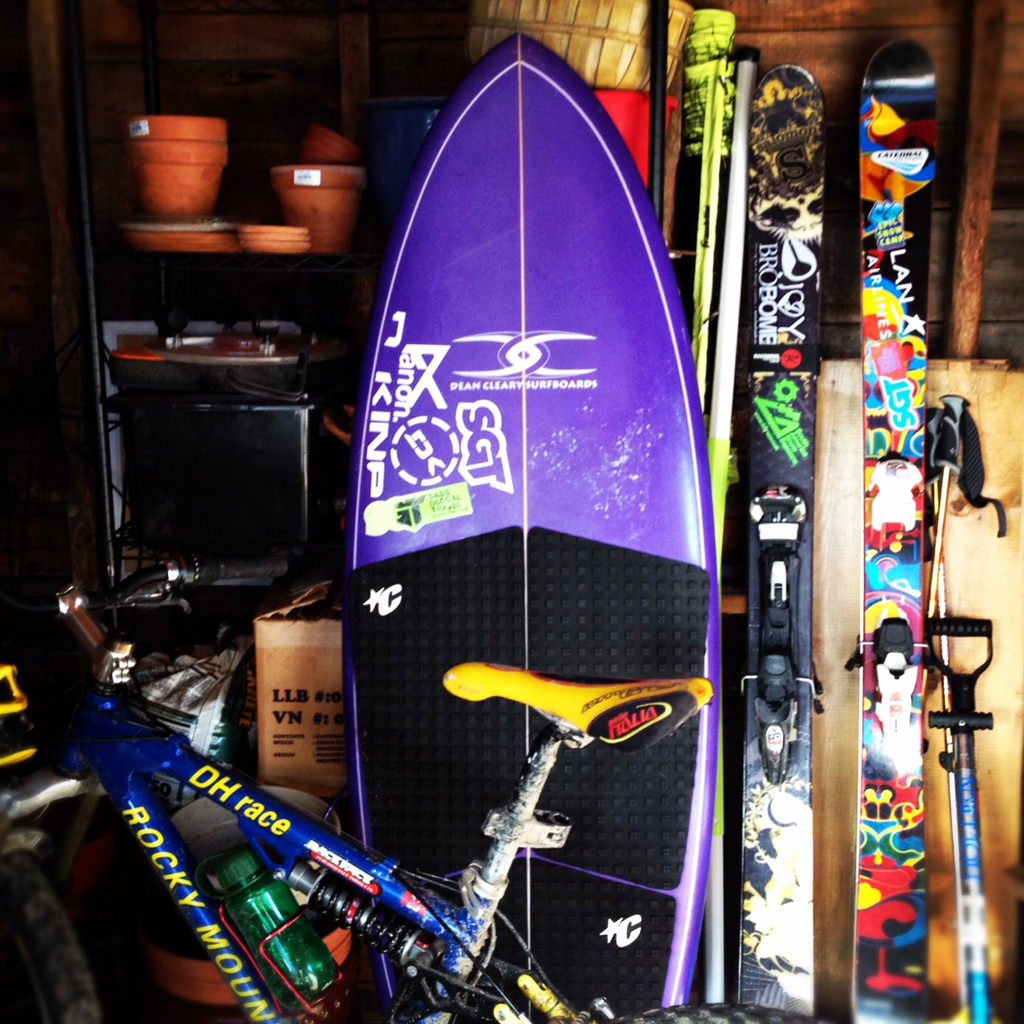 Ryan Dunfee's garage.
Saturday kicked off Parte Une of the Triple Crown with a mountain bike ride through the copious trail system of Exeter, New Hampshire, that included some mildly North Shore-esque bridge crossings across swamps and ponds. The sky was quiet and pale the whole time, a signature weather mark hiding the torment rolling from the North. By dinnertime, the wind was howling and even along the ocean, wet, sticky snow was falling — the earliest we've seen it here in over a hundred years. As the power went out around bedtime, all signs pointed to epic for the next two days.
Waking up early Sunday morning, I threw the 4 mil wetsuit, booties, gloves, hood and surfboard into the car. I slipped out the driveway around a fallen tree, the first of many along the way as the still-unfallen leaves were laden with snow and smacked with wind, bringing down serious trunks and power lines left and right. With a huge northeast swell being thrashed by an equally strong northwest wind, most New Hampshire surf spots were in full washing-machine mode. But after an hour's drive south to the North Shore of Massachusetts, I found a reef break hidden enough from the wind to get on some big walls and steep drops. After a few good rides and one close-out set ripping my leash off and leaving me swimming for the beach, Parte Deux of the Triple Crown was complete.
Surf's up.
So pitted in New England.
Returning home to New Hampshire, the wind was now raging offshore and the buoys read in the teens for both swell height and period. Every rock, point, reef and beach was throwing up heaving, shacking waves that seemed to offer up repeat opportunities for stand-up barrells — a sight as rare as October snow. Unfortunately, with pounding whitewater sending most of the milieu of people who paddled out packing for the shore and snapping leashes and boards left and right, only a few of New Hampshire's able surf shreds had the experience and confidence to put together some amazing rides from deep behind the peak.
With power still out at home, the scouting for the final day's ski mission revolved around poring over snowfall maps and reading reports from the day's missions on the East Coast Roll Call on our dying smartphones. This bizarre storm had brought serious snow to equally bizarre locations — normally you don't hear about people going for a skin up Wachusett Mountain or bootpacking through thigh-deep snow at Berkshire East at all, let alone in the middle of fall. But by the time we arrived at central New Hampshire's Mount Sunapee the next morning, with blazing fall foliage framing several 900-foot shots of foot-plus deep pow, the weirdness of it all, as well as the reality, had fully set in.
The slopes of New Hampshire's Mount Sunapee.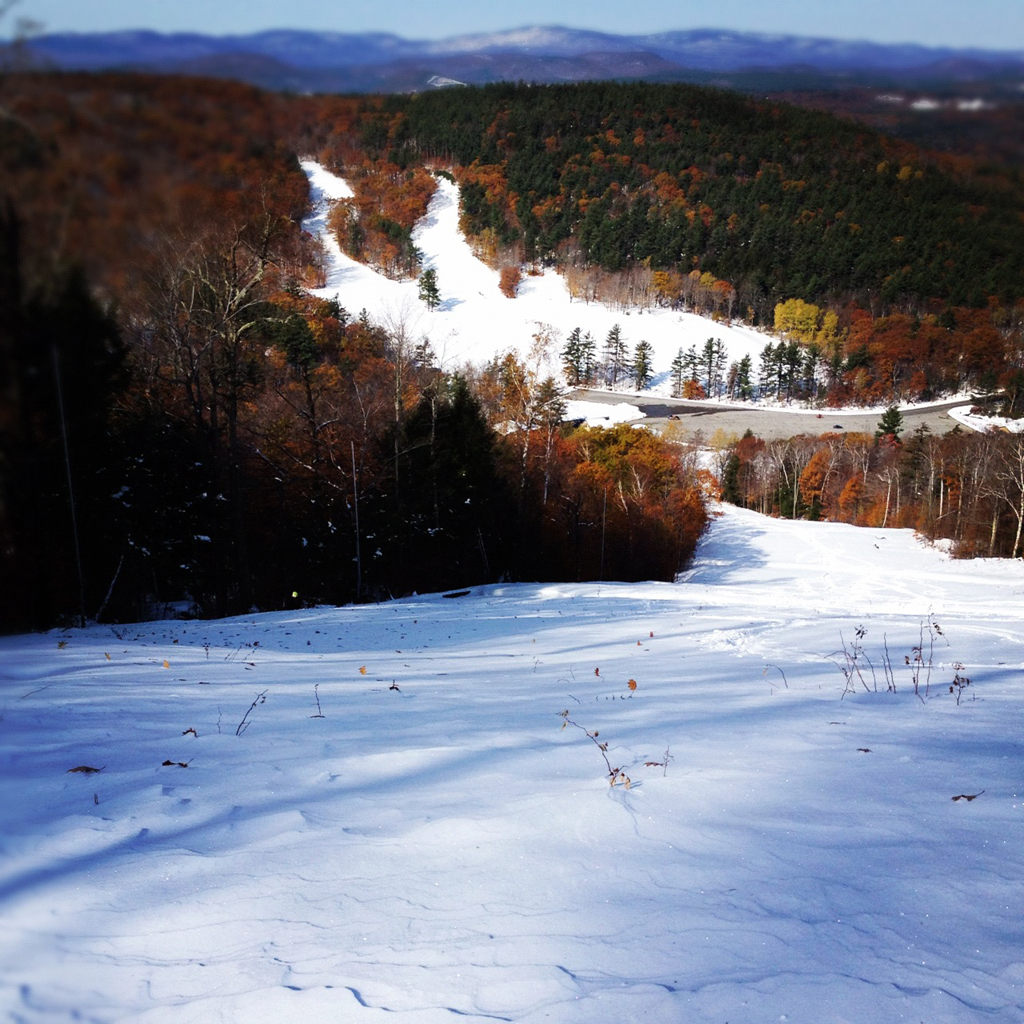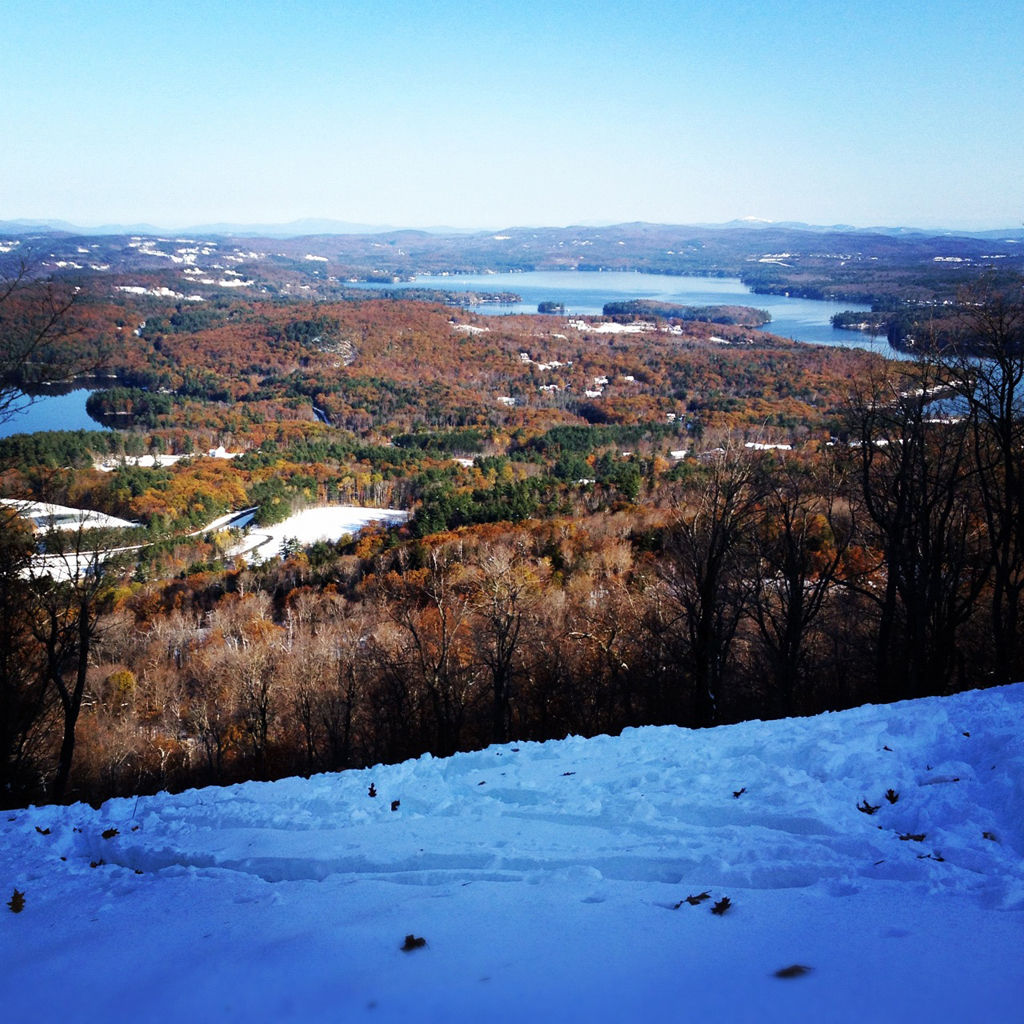 It's kind of like Lake Tahoe.
After the usual first day snafus — cursing old knock-off skins that glided like burnt carpet, forgetting to unbuckle my touring boots before locking them back in ski mode, getting stuck on a playlist of Aaliyah on the climb up — we were ready to drop. After a top section of wind-packed snow as creamy as a knife through Styrofoam threatened to ruin the stoke of Parte Trois of this epic adventure of East Coast radness, we found ourselves in some semi-funked, semi-baked, yet turnable, sweet, untracked snow on opening day. In October. While only two skin laps had exhausted our pre-season fitness level, once my ski legs were back under me, I found myself cruising boot-deep turns through untouched snow and fallen leaves and only scraping the bottom once. On the way back we stopped at the famous Mazelli's deli to recharge on subs and goodies. Crushing a chocolate-covered pretzel to get my blood sugar back up, I threw one up in the air for Tsanami. New England's first-ever Halloween Triple Crown was complete.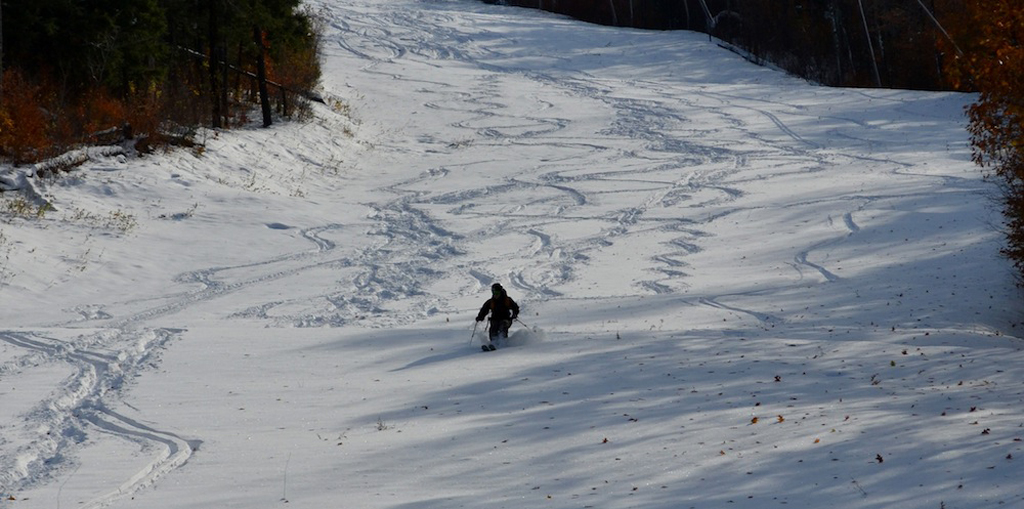 Ryan Dunfee skis New Hampshire's Mount Sunapee on October 31, 2011.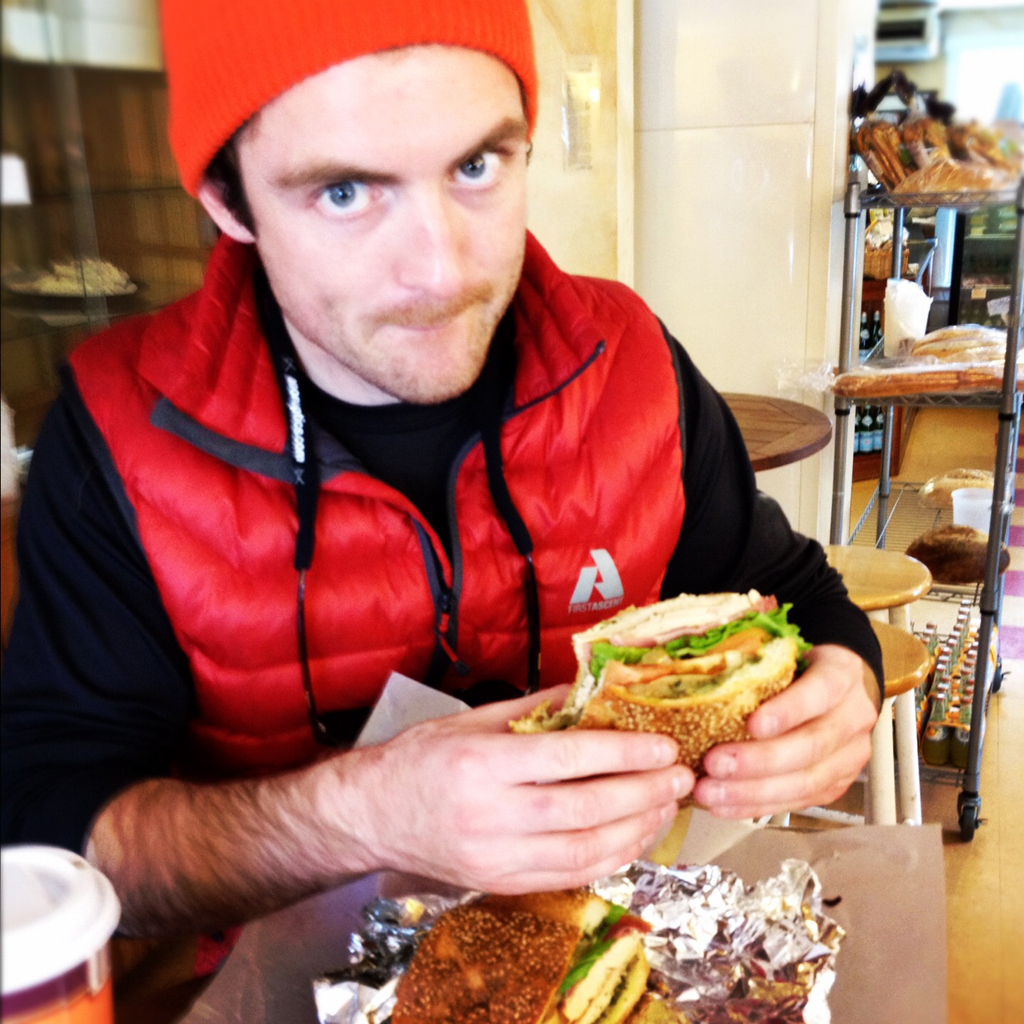 They just don't make sandwiches like that west of the Connecticut River.