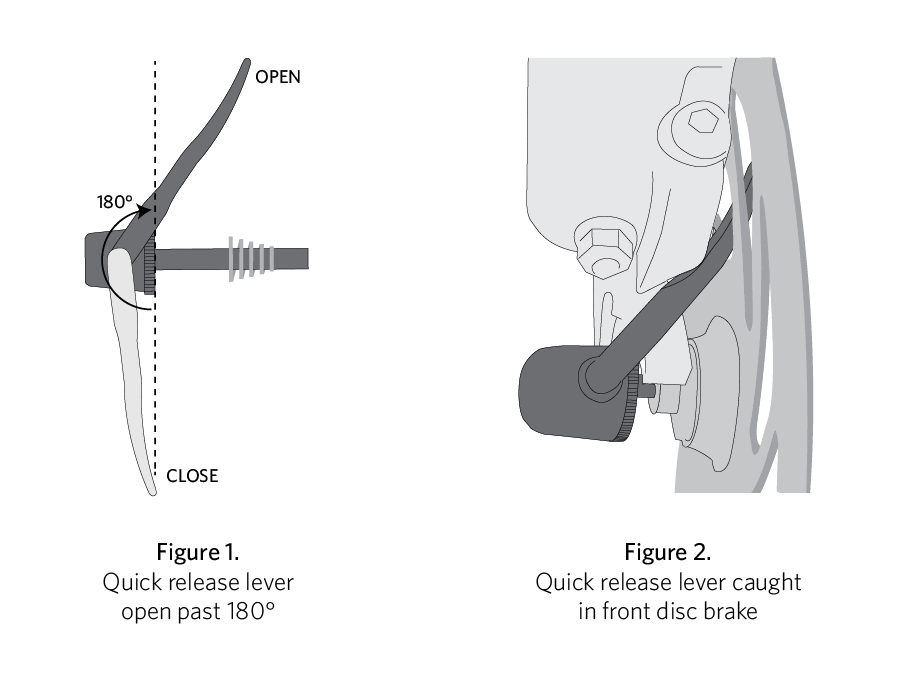 If you haven't already heard about Trek's massive recall of quick release levers for Trek owners' front wheels, tune in, although with a caveat. The recall is for any and all quick releases that rotate more than 180 degrees and thus have the potential to be caught in your disc brake. This could, in theory, cause a nasty fall, although if you're riding with your quick release completely open to begin with, you have bigger problems than this recall, and your wheel is likely going to fall off the first time you pick if off the ground.
Nonetheless, if you have a quick release from any company that rotates past 180 degrees, please do be mindful that it should be closed in the opposite direction before any and all riding takes place. You can also just follow ahead with Trek's full recall notice:
(Waterloo, WI) - In a continued effort to ensure safer riding conditions for cyclists, TrekBicycle is issuing voluntary nationwide safety notices to riders, retailers, and the media relating to improper use of specific quick releases with disc brakes that has been discovered to result in a potential accident. At the center of the notice is the discovery that certain quick releases with a lever that opens greater than 180 degrees can become caught in a front disc brake while riding if improperly adjusted or left open.
Trek is taking proactive measures to bring attention to this previously undiscovered finding in order to keep all cyclists safer on the roads. Trek also encourages riders to check their bicycles' quick release before every ride for secure attachment, which is a simple but necessary step to ensure proper quick release usage.
As part of a voluntary safety recall notice, Trek will provide through its local authorized retailers a free replacement quick-release, including free installation, a process that takes a certified mechanic less than five minutes. For every cyclist who brings in an affected bike with the quick release and disc brake combination, Trek will also issue a $20 coupon good towards any Bontrager product redeemable through Dec. 31, 2015, at a local authorized Trek retailer.
Authorized Trek retailers have been notified of the issue and are ready to begin inspections immediately.
Trek encourages Trek owners to review proper quick release usage at Trekbikes.com, which includes instructional videos, or to consult their local retailer. Videos demonstrating proper quick release usage have been uploaded to Trek's YouTube channel as well.
As the temperature and weather improves across the country, more cyclists will be taking to the roads and trails, and Trek wants to ensure that all rides begin and end safely. Trek urges all riders to have their bikes inspected and always maintained by a certified mechanic.