August 30, 2010
Keystone, Colorado - Chairlift towers for the new Black Mountain Express were installed today by helicopter. The eleven towers took just two hours to be installed. Currently the Black Mountain Express chairlift is on schedule to be completed by late September. The next step in the construction is placing the haul rope onto the lift towers. The haul rope is the stretch of cable used to hold the lift chairs as they move up the mountain.
The Black Mountain Express is a high speed quad that will replace the resort's former Exhibition Lift. Work on the Black Mountain Express follows a series of improvements over the past few years. In 2007, the resort opened a mid-mountain restaurant named Black Mountain Lodge. The following season Montezuma Bowl was opened, increasing the resort's terrain by 80%. Situated on the continental divide by Colorado's Loveland Pass, A-Basin boasts one of the longest seasons in the country, with opening day usually in October and a season that often lasts into July.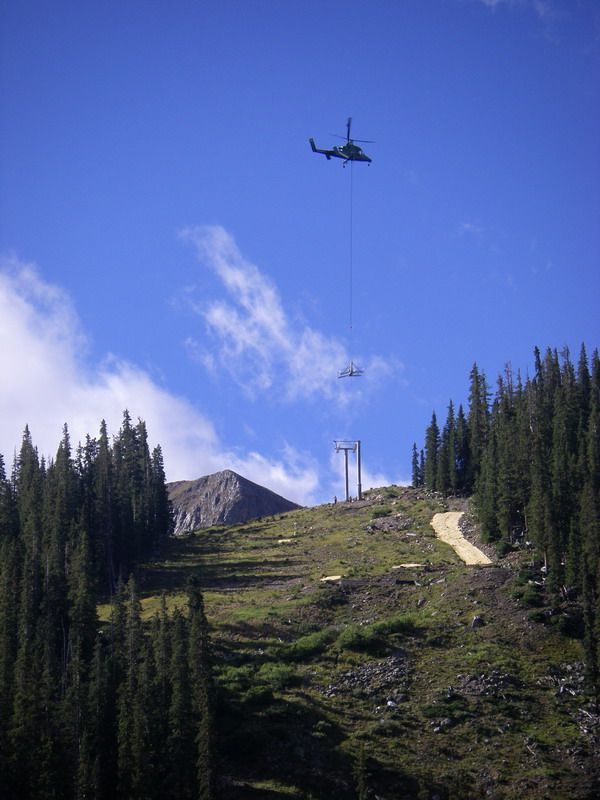 A helicopter positions one of the towers. Photo by Arapahoe Basin.
The Towers in Place. Photo by Arapahoe Basin.
Here's a video of the resort's East Wall from this past April: