Tom Massey wants to bring heli skiing to his home state of Maine. Would you go? Heli-Bear photo.
It's on nearly every skier and snowboarder's bucket list. After watching too many TGR movies, you can almost picture it for yourself: pointing at some faroff peak in the distance, only to have the pilot dip the ship forward, the windscreen pointed almost vertical now, showing the crevasses in the glacier thousands of feet below. Suddenly you're hovering over some dime-sized landing spot that you inch out onto, pull your gear from the side carrier, and give the pilot the thumbs up. The rotors whip into a frenzy, ice particles tearing at your face, until the bird dips into a psychotic dive and drops away, leaving you on the edge of a godforsaken amount of vertical littered with blind cliffs and chiseled spines loaded with snow the consistency of deep velvet.
Of course, you might be dreaming of this happening in some faroff corner of Alaska, the peaks peeling and dripping until they touch the Pacific. But entrepreneur Tom Massey wants you to start picturing this scene taking place in Maine–yes, Maine–where he's convinced there's enough demand for heli skiing close to home for hardcore East Coasters to sustain his new company, Heli-Bear, which he considers the culmination of his life's work and passion.
Heli Skiing... in Maine?
Massey had hoped to fly clients to the top of the ridge at Saddleback Mountain in Rangeley, Maine, until a last-minute permit request pushed him back a month.
"To ski the east in a big, bad new way and give people experiences they never imagined possible in our own backyards, sees me fearlessly brush off those who don't believe this can be done effectively," Tom said over email, and you can believe there are plenty of haters–especially given that the company's inaugural flight was supposed to deliver paying clients to the top of Saddleback Mountain, where Heli-Bear clients would ski the resort from the top during regular operating hours, along with everyone else who simply paid $69 for a regular lift ticket. Yes, Heli-Bear was selling heli-accessed resort skiing, replete with afternoon groomers as the selling point. No joke.
See also: Midwest to get its first cat-skiing operation next season.
The Saddleback heli skiing, with five hours of flight time and 12-15 runs per person, was set up only as a prelude to anticipated backcountry operations across the state next winter, but when asked why the hell anyone in their right mind would pay $700 to fly a Jet Ranger helicopter for five hours to the top of a ski area in Maine, Massey was undaunted. "Why the hell not?!?" was his reply. "We're talking about offering skiers and riders the first opportunity ever to heli ski in the region… they get to be a part of the first group to pioneer heli skiing in the East."
Massey is undaunted. 'Why the hell not?!? We're talking about offering skiers and riders the first opportunity ever to heli ski in the region… they get to be a part of the first group to pioneer heli skiing in the East.'
Unfortunately, a late move by the Appalachian Trail Conservancy, who maintains the section of Appalachian Trail that crosses the summit of Saddleback, forced Heli-Bear to apply for a special use permit with the National Park Service in order to land on NPS land adjacent to the trail.
With a 30-day turnaround on such applications, which would have put Heli-Bear's first flight at Saddleback well into April, Massey decided to hang up the inaugural flight for 2015 and focus on next season, where he hopes to gain permission to land on top of more ski areas as well as work with Maine's vast private logging holdings to cut and access private backcountry zones. Massey also has some peaks in mind near Baxter State Park and in Maine's High Peaks Region.
Dealing With Fickle New England Weather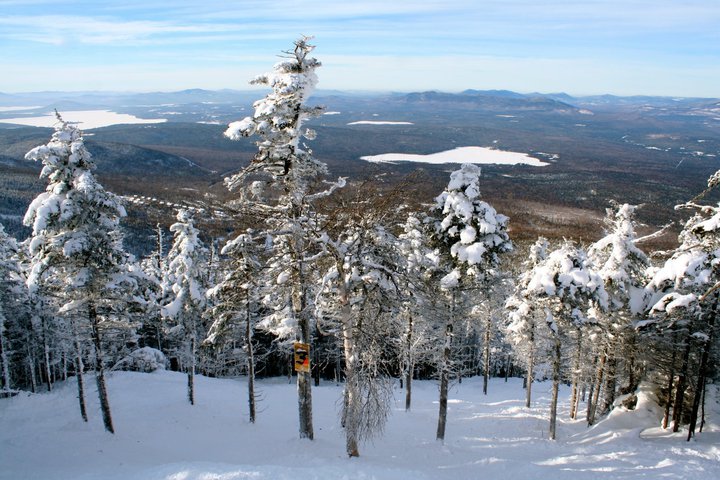 Saddleback's Casablanca Glades, where Massey hoped his first heli clients would drop this March. Ryan Dunfee photo.
And how to compensate for New England's hugely variable winters, which are known more for spitting rain and glare ice than deep pow? Massey set up a Stormchasers Club for Heli-Bear in which, if snow hits and drops at least six inches of snow on a number of prescheduled dates, members can cash in their $750 membership for a day of heli skiing or riding.
It's not hard to imagine that those who remain skeptical as to the efficacy of East Coast heli skiing will remain so, but Massey remains defiant. "For those curmudgeons who look up at the sky and shake their ski poles, like sour trolls under a bridge, at the glorious and masterful method by which helicopters precisely place us on pristine mountaintops, you folks need to accept change like big trolls," he wrote in his initial press release for Heli-Bear. "To cast a little light on your gloomy outlook, our aim is not to use the same old backcountry spots that you hoard like Gollum's ring, but to create brand new trails and cut landing and take off spots from places closed minds never thought possible. Bless your hearts, hobbit holes, and don't knock it until you try it."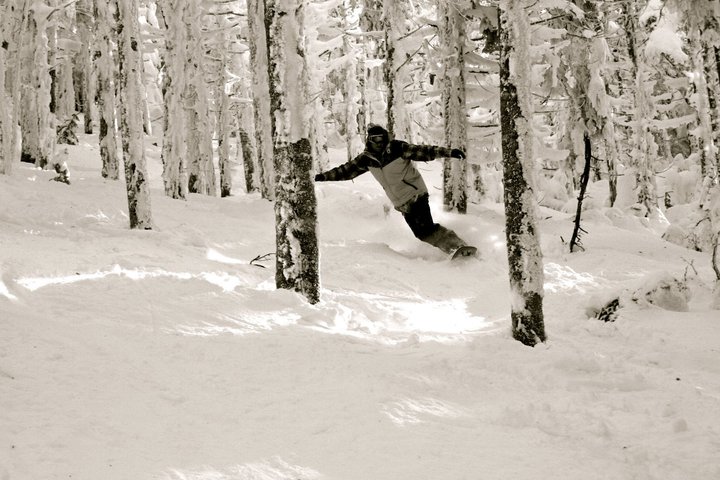 Ryan Pelletier moves through Saddleback's Casablanca Glades. Would you pay to heli ski this? Ryan Dunfee photo.
While he might want to hire a copywriter to feather some of the defensive Hobbit references, Tom Massey, who first got the idea to heli his home state when he dreamed about quadrupling the vertical he was getting hiking and riding the small mountains around his hometown of Camden, remains adamant that there's the market, and the terrain, to heli ski in the East.
In addition, Massey hopes to run "vineyard and winery tours, heli-hiking, heli-mountain biking, paintball expeditions, and heli-golfing" in Maine starting this summer, and will be sending 10% of Heli-Bear's profits to two non-profit organizations, LifeFlight of Maine and NuDay Syria, which collects and delivers supplied to Syrian refugee camps.
Will you hop on board?