Winner: Japan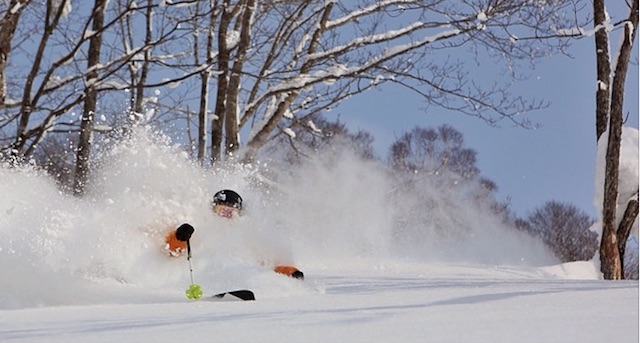 Johnny Collinson #winning in Japan this winter for TGR's new ski film. Blake Campbell photo.
Truth be told, we're not sure Asia's premiere destination for snow ever has a bad year. If recent memory is any indication, they definitely do not have a bad January or February, as everyone with a sponsor sticker on their helmet found a way to flee a dry North America to find themselves absolutely choking on sashimi and overhead blower pow for days at a time, if not weeks. I mean, the summit of Grand Hirafu resort in Niseko has a base of 173 INCHES. 173!!!
If you, like me, added Japan to your bucket list this winter, be sure to check out our 12 Tips To Know Before Skiing Japan. See you there next January!
Loser: Pacific Northwest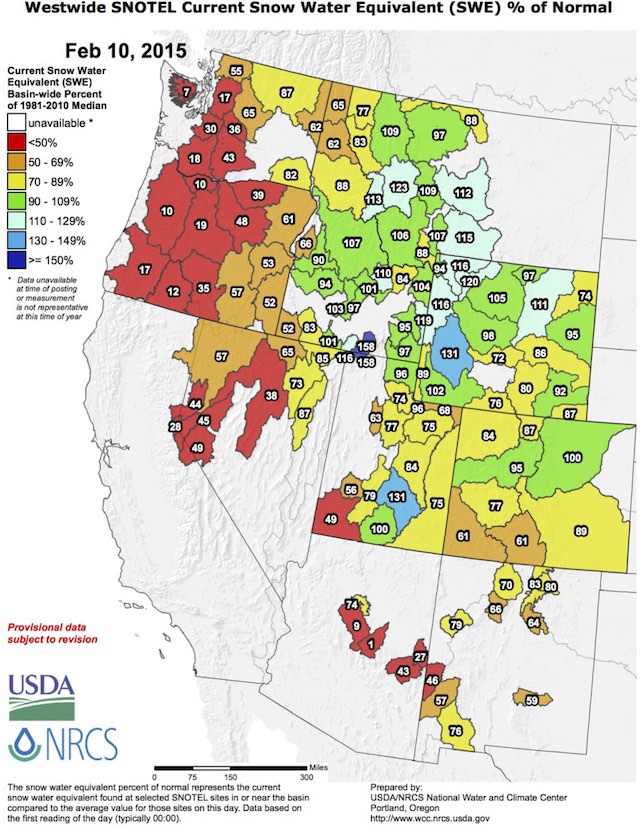 Hot damn has it been an absolute burn of a seasons in the Cascades and Oregon. Parts of the Cascades and Oregon have gotten less than 20% of their normal amount of snow–although plenty of precipitation has fallen, the temps have been mostly above freezing, meaning that most of that moisture has fallen as rain.
Having only received 74 inches of snow this winter, Alpental was the fourth and final of Summit at Snoqualmie's mountains to close due to the low snow, and the resort is on track to best its weakest winter on weather, when only 191 inches fell throughout the winter of 1977. The persistent ridge over the West Coast has continued to keep things warm and dry, while the trough on the East Coast has been sucking moisture and cold straight into the Northeast.
Snow forecaster Class Mass doesn't see it getting any better either, writing in a recent blog post that it is "unlikely that we will get a major event before the typical transition to spring." Bummer. And while Cliff and others have debunked the idea that this extensive ridging is caused by climate change, this winter is a picture of what future skiing in the low-altitude, high-precipitation PNW could look like if temperatures continue to rise.
Winner: New England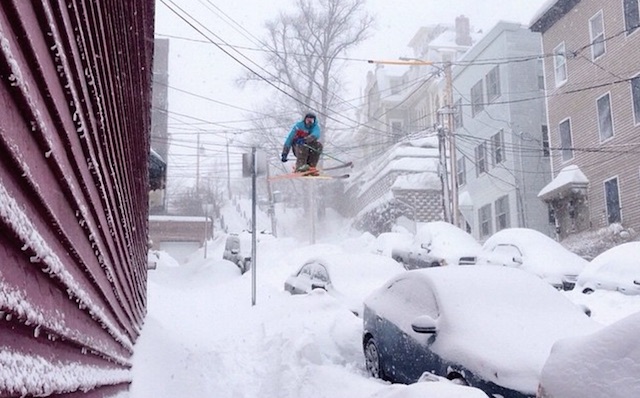 Doug Currie skiing the backcountry of Southie, Boston, last week. Kris Hopkins photo.
What has it been–five, six, maybe 10 back-to-back storms with over a foot of snow that have hammered the Northeast in the past few weeks? Boston's running out of money to keep the snow plowed and real estate to even host however much they can manage to clean off the streets, snowbanks are being measured in stories, and every skier or snowboarder who decided to stay close to home this season, or ditch the West Coast dream entirely, is gloating for the fences and grinning ear to ear. New Hampshire's Mount Sunapee–which averages just 100" a season–has gotten 52" in the past three weeks alone. Conditions are so good, they're even drawing members of Connecticut's BDSM community out of the woodwork (random, I know). On yeah, and 24" more are on the way for next week!
Loser: Utah
Salt Lake's lower-lying resorts, like Park City Mountain Resort pictured here, have taken a beating from low snow and warm temps this season. Roc Maloney/PCMR photo.
While not suffering the sensational snowless spell that's stricken the Pacific Northwest and coastal areas of British Columbia, Salt Lake City-area ski areas have not been sitting below the fountain of 4% blower powder they're accustomed to. Snowfall's down about 25% from normal, while warm temps have worn away at dry snow and snowpacks at the lower-lying resorts around Park City. A high ridge system has kept storms away since late January, and as Evan Foxx of Open Snow wrote in his recent forecast, "It seems like we can't win this year. Ever since the New Year rolled around, we've been seeing our hopes dashed time after time." High pressure's in place for at least another two weeks, although March could be the promising month locals have been waiting for all season.
Winner: Midwest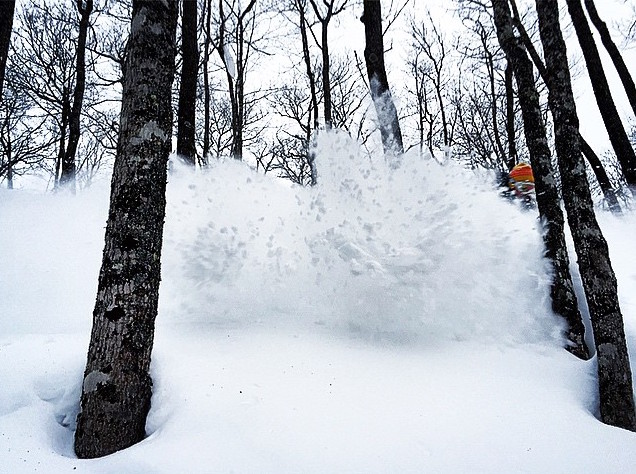 TGR Contributor Paddy O'Connell getting it good, real good, at Mount Bohemia last week. Dana Westbrook photo.
Parts of the Mid-West have been benefitting from the same stream of cold air and ample moisture that has brought the East Coast record pow days. Just for comparisons' sake, note that the base at Michigan's Boyne Highlands is roughly the same as Alta's.
Loser: Whistler & Vancouver
Whistler's Glacier Express chair a week ago. Photo via Imgur.
Following the pattern of the PNW (although not as catastrophic), two of the three ski areas immediately adjacent to Vancouver, like Mount Seymour and Cypress, have closed due to balmy temps and a complete lack of snow. Precip has fallen as rain, mountain biking is in full swing, and even Whistler's been affected by abnormally warm temps that have caused puddles to pool at the base of the Glacier Express lift (see above) and have even dried out some of the Whistler Valley mountain bike trails.
Winner: Climate Change
While much of the crazy weather we've been seeing this winter, from an uber-warm PNW to a bone-dry California and a clobbered Northeast can't be directly tied to climate change and climate pollution, we're currently getting a preview of many of the anticipated effects of rising global temperatures. In coastal areas with relatively low-lying mountains, like the Cascades where many base areas sit around 3,000 feet, as temps rise, more of the annual precipitation is expected to fall as rain, as it is now.
Much of the Southwest, including up through much of the Sierras, is expected to get dryer and parcher, and we're getting a taste of that future now, too. And while the connection is a little looser, many scientists predict that the air above the Atlantic will hold more water vapor as temperatures rise, creating the potential for more huge snowstorms in the Northeast–at least until average winter temps start passing the freezing level.
Here in Jackson Hole, record high temps have eaten up snow down low, produced frequent rains at the lower elevations, and we're even seeing grizzly bears emerge from their dens already.
Loser: California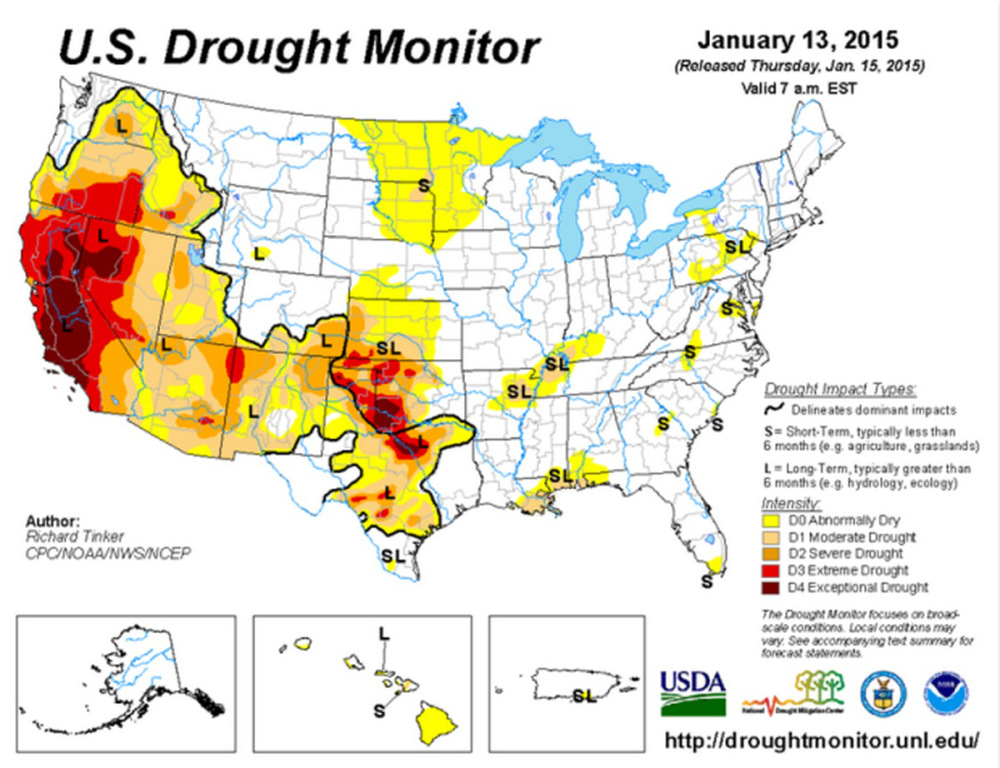 California has been in the throes of its fourth year of low snow and drought conditions, forcing several of the Sierras' smaller ski areas to close as temps stay well above freezing and snow goes elsewhere. Badger Pass, Mount Shasta Ski Area, Dodge Ridge, and Homewood Resort in Lake Tahoe along with Willamette Pass, Hoodoo Ski Area, and Mt. Ashland in Oregon have all had to close at some point in the past few weeks due to barren slopes and high temps. Thankfully, a big dump just slammed Tahoe ski areas this week, which means conditions this Presidents' Day weekend are looking a little more optimistic.
Winner: Revelstoke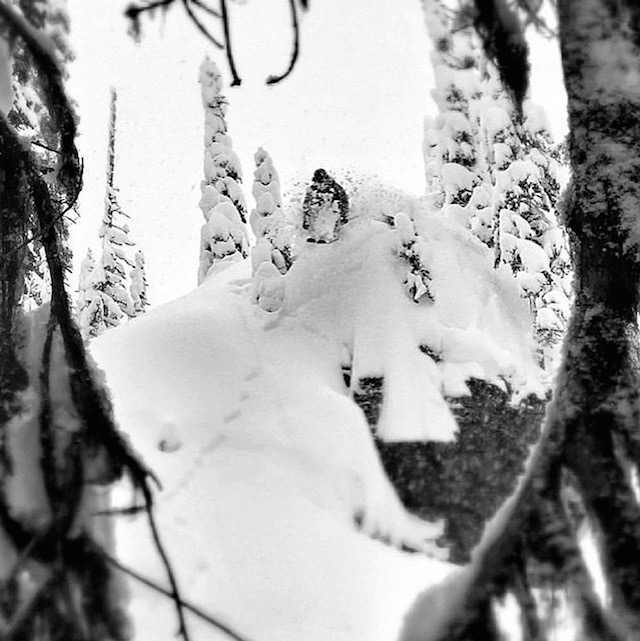 Ian McIntosh charging in Revy this winter. Nick Nault photo.
With the deepest base in British Columbia, Revelstoke, along with much of interior B.C., has been the place for Canucks and vagabond gringos (including TGR's own film crew) to go to find pow this winter with much of the Coast Range in poor shape. While temps have heated up lately, momentum's been strong with this one...
Loser: Europe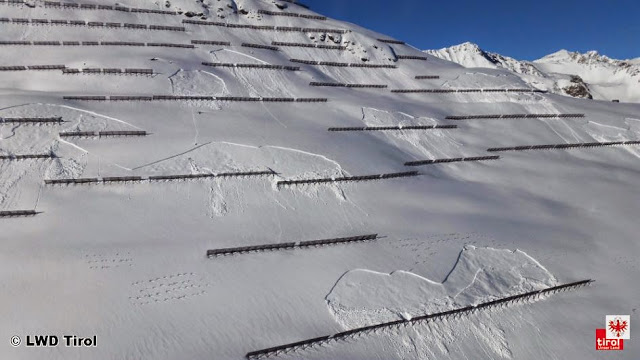 Natural avalanche release above the town of Galtür, Austria, this week due to warming temps and sun. Avalanche Warning Service Tirol photo.
With conditions getting good only recently, heavy snow has fallen on a shallow, weak snowpack in much of the Alps, producing dangerous conditions left and right. The region just marked its 50th avalanche fatality on February 4th. Tragic.