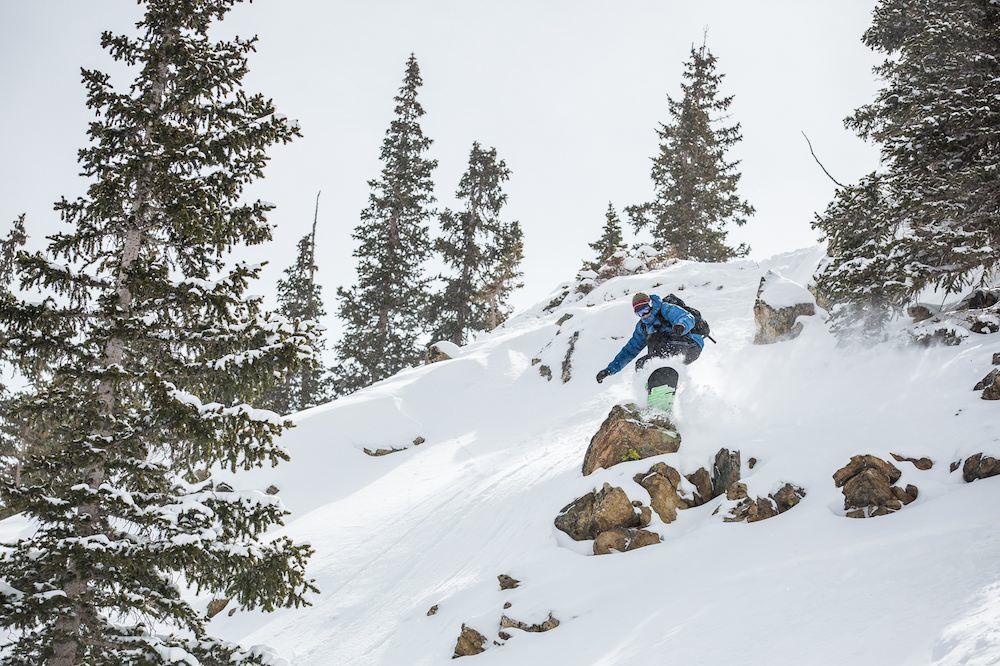 Late spring pow day at Arapahoe Basin. Dave Camara/Arapahoe Basin Ski Area photo.
It's time for T-shirts, sunglasses, and late starts to slushy laps. But at the end of a lackluster snow year, why just commit to a spring snowboarding destination when you can choose a place where you also can ride your bike in the same day?
We compiled a list of the top five places where you can go shred in the morning and ride in the afternoon, ranking each mountain according to its base depth, cumulative snow total, spring pass cost, and access to mountain bike trails. Here's what made the cut.
#1: Snowbird, Utah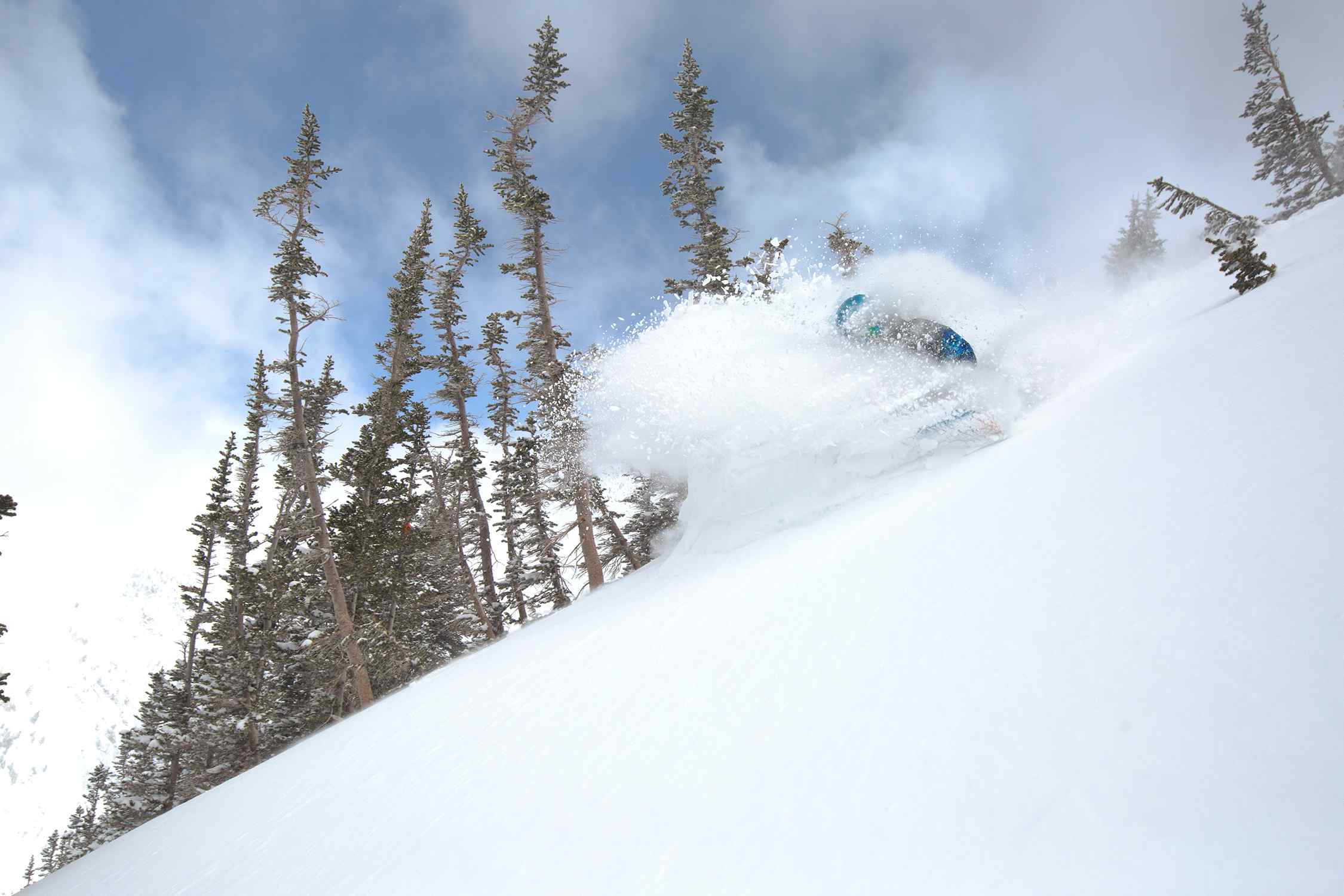 Snowbird athlete Shannan Yates enters the white room on a late April powder day. Matt Crawley photo.
Snowbird offers the longest ski season in Utah, staying open in good years until July. This year's projected closing day will be Sunday, May 10, with operating hours 8 am to 2 pm starting May 2. Currently the Tram represents the primary hub to drop off Hidden Peak (Snowbird's 11,000-foot summit), grabbing 3,000 feet of vertical every lap. Down Little Cottonwood Canyon, the nearby town of Draper provides access to huge network of singletrack.
Spring Passes: Unfortunately, no spring passes are available. The Bird offers spring ski and stay packages, but they are only valid from April 3 to May 3. Full day adult lift tickets are $69. Currently on sale, multiday tickets get you two consecutive days for about $100, or three days for $130.
Current Base: 76"
Year To Date: 329"
Local MTB Beta: About 20 minutes from Little Cottonwood Canyon, Draper's massive Corner Canyon Trail system dries out as early as February and March. It also offers the opportunity to string together 20-mile cross-country loops for riders of any ability. For more beta on lower elevation trails in the greater Salt Lake City area, check out Utah Mountain Biking's Valley Floor and Foothill online guidebook.
#2: Banff, Alberta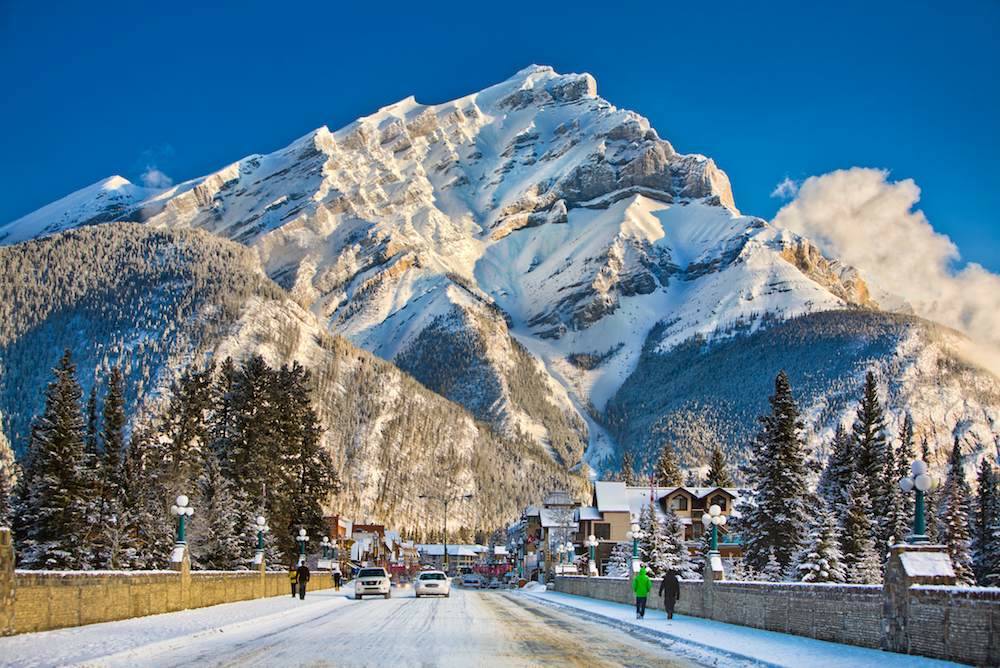 Banff Avenue, the ideal basecamp for a day of shredding and biking. Banff Lake Louise Tourism/Paul Zizka photo.
The Canadian Rockies hold snow into early summer, pushing back closing dates at Banff's two resorts, Lake Louise Ski Resort and Sunshine Village, to May 10 and May 19, respectively. Staying on Banff Avenue in downtown keeps you right in the middle of the town's famous nightlife and in close proximity to its lower elevation mountain biking trails. From downtown, it's also a 50-minute drive or shuttle ride to Lake Louise and a 20-minute drive to Sunshine Village.
Spring Passes: Valid from March 1 to May 10, Lake Louise springs passes are $409 CAD ($342.28 USD). Sunshine Village spring passes are $395 CAD ($330.26 USD) from March 18 to May 18. Student and mid-week passes, valid for anyone ages 18 to 24, are $295 CAD ($246.65 USD).
Current Base: 56" at Lake Louise, 61" at Sunshine Village
Year To Date: 183" at Lake Louise, 211" at Sunshine Village
Local MTB Beta: Unless you want to schlep your bike on the back of your car through the Canadian Rockies, or spend a grand flying with it to Calgary, you're going to be renting your set-up. Head to Soul Ski & Bike on Bear Street, a block from Banff Avenue, to get your bike and trail beta. Locals recommend linking Topp Notch, a short, technical, downhill singletrack full of bridges and switchbacks, with a more intermediate, scenic, flowy loop around Tunnel Mountain.
#3: Killington, Vermont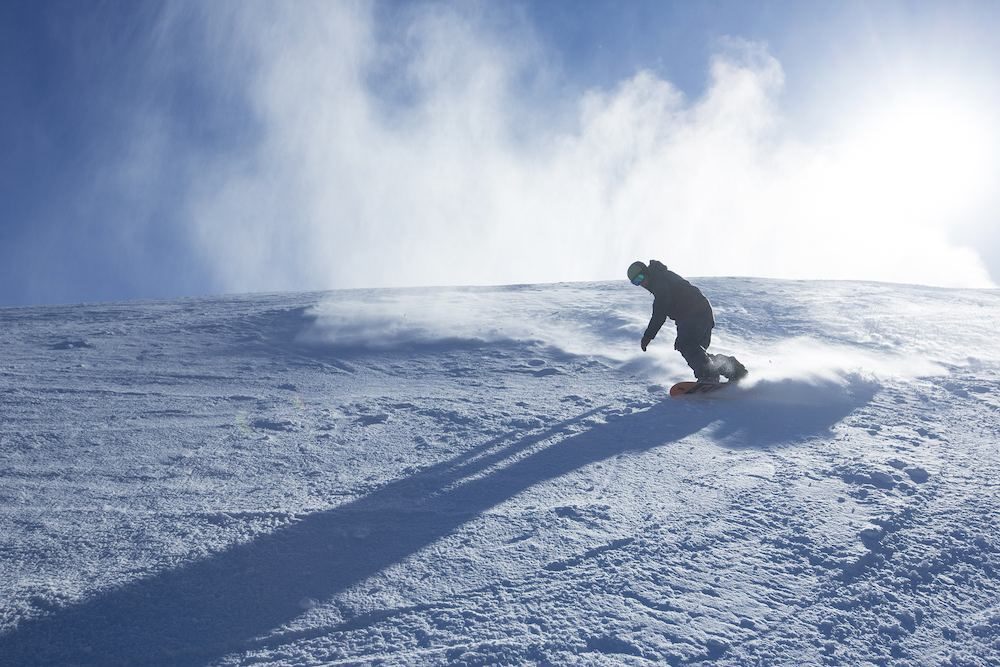 A rider drops into spring packed powder at Killington. Killington/Chandler Burgess photo.
This Vermont stalwart is the last resort standing on the East Coast, currently projected to stay open until June 1. It receives an average annual snowfall of about 250 inches. Like most resorts, Killington experienced slightly below normal snowfall this year (just under 200 inches). However, with summit elevation at 4,241 feet, the seven-peak resort stayed cold and held most of its cumulative snowfall. It also has been known to get snows well into May.
Spring Passes: Weekend adult tickets cost $54 starting next week and continuing through the end of the season. Spring passes cost $199. Season passes holders at any mountain receive a 25% off weekend tickets and 50% off midweek tickets.
Current Base: 40"
Year To Date: 197"
Local MTB Beta: In nearby Pittsfield, the Green Mountain Trails network offers the best singletrack in the area. The Pittsfield General Store sells bike maps. The non-profit that manages the network posts trail conditions, openings, and closures to their Facebook page. About 20 minutes west of Killington, Rutland's Pine Hill Park offers 16 miles of much mellower singletrack.
#4: Bend, Oregon
Despite the abysmal winter in the PNW, Mt. Bachelor's closing day isn't until May 24. The mountain's terrain parks are legendary, and so is its surfy terrain. Springtime at Bachelor brings the Gerry Lopez Big Wave Challenge, the hope of May pow days, and the promise of slushy park laps. The 9,065-high volcano sits 22 miles above the city of Bend. On a clear day at the summit, you can see Washington and California. The temperature and precipitation difference between Bachelor and Bend, like many of the destinations on this list, allows for the mountain to hold snow while bike trails to stay dry.
Spring Passes: Spring passes cost $179, running from March 30 until closing day.
Current Base: 82"
Year To Date: 212"
Local MTB Beta: Bend might have the highest snowboarding-to-mountain-biking convenience factor of any place the U.S. You could feasibly enjoy a great day at Bachelor, and bike any of the Wanoga Complex trails on the way home. The trailhead is just off the Cascade Highway. If you're not into bringing your bike up to the mountain, head west of downtown, where Phil's Trail Complex gives you another great option for a post-shred afternoon of mountain biking.
#5: Arapahoe Basin, Colorado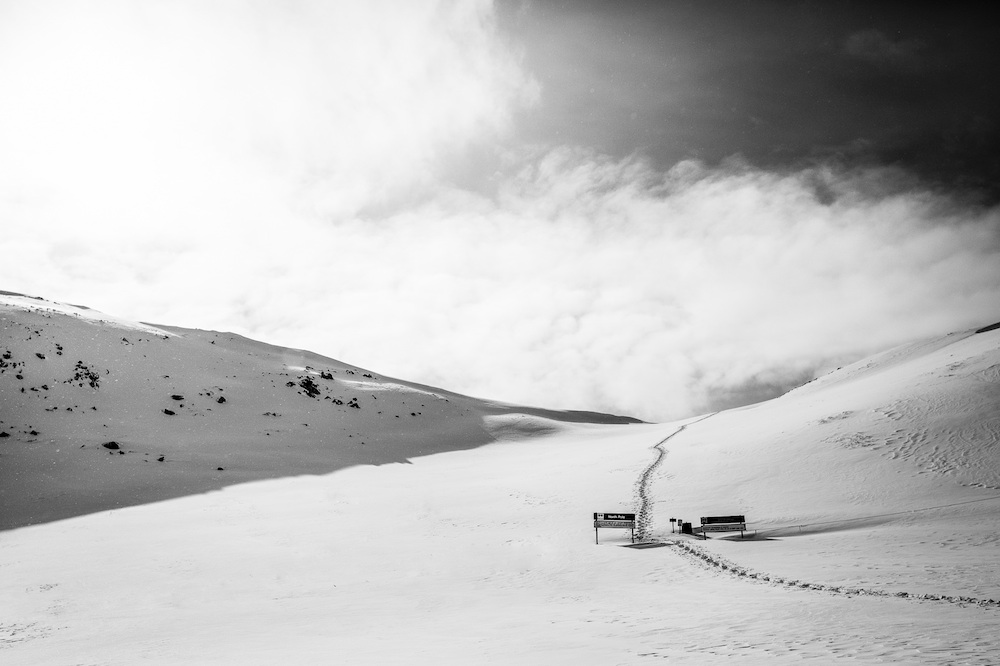 Powder day in May. Dave Camara/Arapahoe Basin Ski Area photo.
The highest ski area in North America (summit elevation 13,050 feet) has one of the longest seasons on the continent. Perched next to the Continental Divide, A-Basin battles every year with its neighbor, Loveland Ski Area, to be the first to open in October and the last to close in early summer. Halloween snowboarding isn't unusual, nor is riding on Independence Day. This year, A-Basin will close June 7. Late spring snows could extend its operations past that budgeted closing date. However, post-extension, management only runs the resort Thursday through Sunday.
Spring Passes: Unlimited, unrestricted spring riding costs $199. The more economical Elevation 3 Pass gives you three days of riding for $139. You also can buy tickets online in advance and enjoy hefty discounts.
Current Base: 52"
Year To Date: 261"
Local MTB Beta: The only reason "The Legend" sits at the bottom of this list is its elevation. The nearest towns to A-Basin, Silverthorne (elevation 8,730 feet) and Frisco (elevation 9,075 feet), can experience heavy snows even as late as mid-June, sometimes immediately followed by sunny, 70-degree temperatures. These dramatic swings in weather typically keep mountain bike trails wet until June. High Rockies residents regularly perform a mass exodus to ride Moab in May.
However, for how far west people drive to pedal, going east towards the Colorado Front Range provides much quicker access to world-class mountain biking. Within 90 minutes, you can hit White Ranch Open Space Park, outside of Golden, and Red Rocks and Dakota Ridge in Morrison. About two hours from Loveland Pass, you can ride gnarly, technical Walker Ranch in Boulder. For more beta, Colorado Mountain Bike Association (COMBA) partnered with MTBProject.com to create an app for mountain bikers to find trails all over the Centennial State.