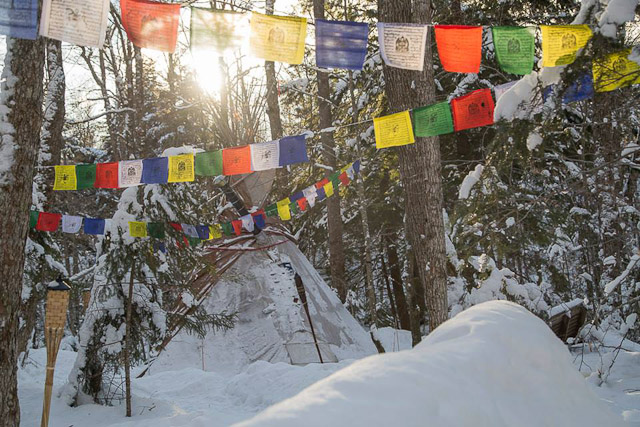 No, it's not a set piece from Sweetgrass' Valhalla–real people actually live here. Joe Foster photo.
Before the term "resort" ever dared feature in the title of any establishment that associated with skiing, American skiing was a wild hair at the fringe of sports culture. Some of the country's first ski racers dueled not in stretched lycra suits between plastic gates on groomed slopes, but in woolen sweaters and on wooden skis from the top of New Hampshire's Tuckerman Ravine, over the cirque's 45-degree headwall, and down eight miles to the base of the East's tallest peak in one blistering, 15-minute, 4,000 vertical foot go called the American Inferno.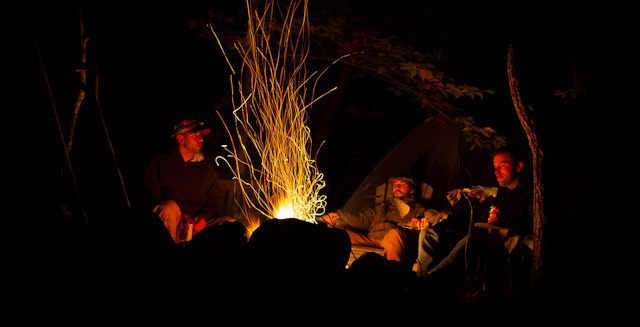 The Sugarden crew at night. Joe Foster photo.
Warren Miller, the sport's first filmmaker, created the ski bum lifestyle and its imbalance of priorities by living out of a teardrop trailer with an outdoor kitchen at the base of Sun Valley after World War II. Suffering temperatures that dropped to thirty below, Miller shot rabbits and ducks for sustenance, along the way helping create the ketchup soup that would featured infamously in the diet of impoverished ski bums across North America as they sought fresh turns above all over distractions, even a proper diet. It was a sport of pure adventure.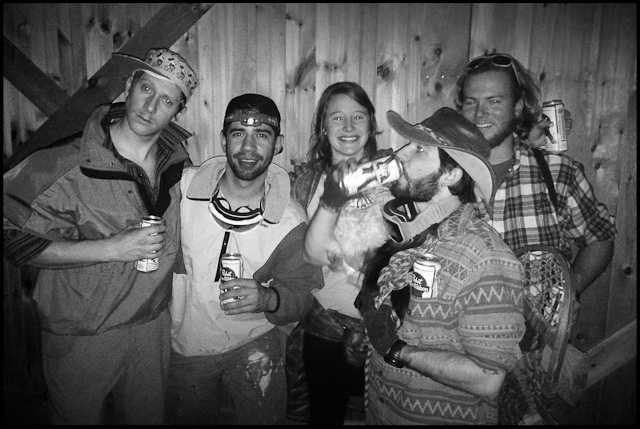 The Sugarden crew: Austin Lines, Joe Foster, Rosie Mansfield, Chris Rago, and Andrew Sayre. Andrew Sayre photo.
So when you hear about a group of friends whose weekend ski house is actually a teepee deep in the woods accessible only on skis, you can't help but to get excited that the purer sap of the sport is still running somewhere out there amongst the tasteless, bland landscape of American snow lodgings that influence how the sport progresses as much as its equipment.
The teepee with its winter coat on. Andrew Sayre photo.
"The teepee provides." Andrew Sayre, one of the principal energies behind this bizarre backcountry abode, explained as the running motto of their 18-foot diameter, completely off the grid teepee, which was purchased for $900 off of Craigslist from a gentleman in central Massachusetts who'd been using it to reenact the 19 th century fur trade.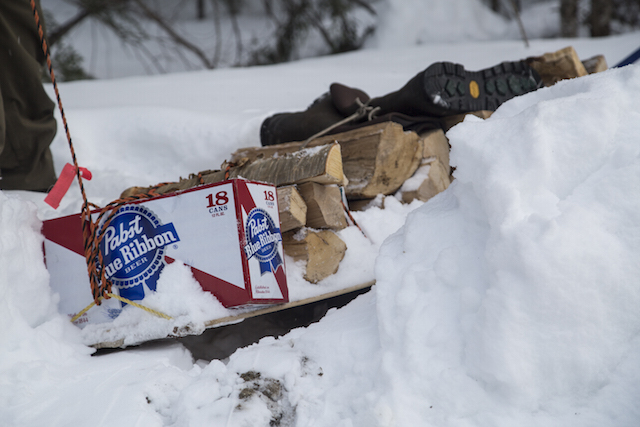 Sugarden's weekly toboggan supply train. Joe Foster photo.
Only a few minutes' drive to their adopted home mountain of Sugarbush, the teepee requires a ten minute skin through the woods to access, along with weekly restocking of firewood, food, and beer brought by in toboggan. But ur can be heated up over a hundred degrees warmer than the frigid outside air thanks to a wood-fired stove, with fresh water easily accessible from a neighboring stream that gives way to a gorgeous slot canyon in the summer. Hearing Andrew describe the scene painted a kind of winter Neverland only a snow-addicted toddler could imagine. They called it Sugarden.
"The Teepee Provides:" The Beginnings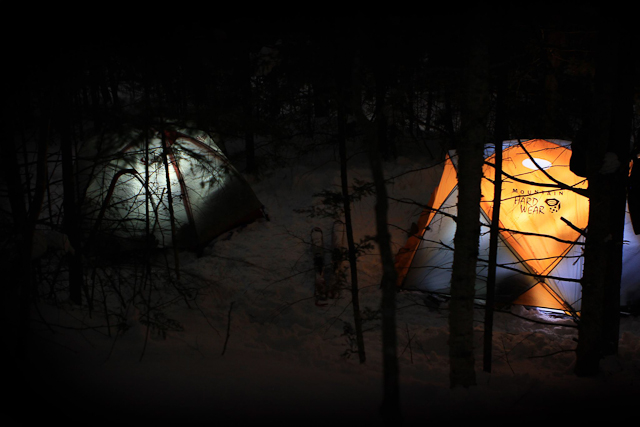 The first weekend on the property, the crew camped out in tents in the pre-teepee days. Joe Foster photo.
Andrew met Joe "Dapp" Foster on a semester abroad in New Zealand, where the two shared an apartment. Quickly establishing a connection, they stayed in touch following their experience abroad as Joe marched off to make a documentary about the Scotchman Peaks Roadless Area, an 88,000-acre expanse of wild, rugged land straddling the border of Idaho and Montana that's been seeking wilderness designation and protection. When Joe returned with his friend Chris Rego to Idaho three years later for the premiere of the documentary, en Plein Air, they stayed with a friend of Chris' and, in the course of their stay with him, talked about their mutual experience skiing the tight woods of Vermont.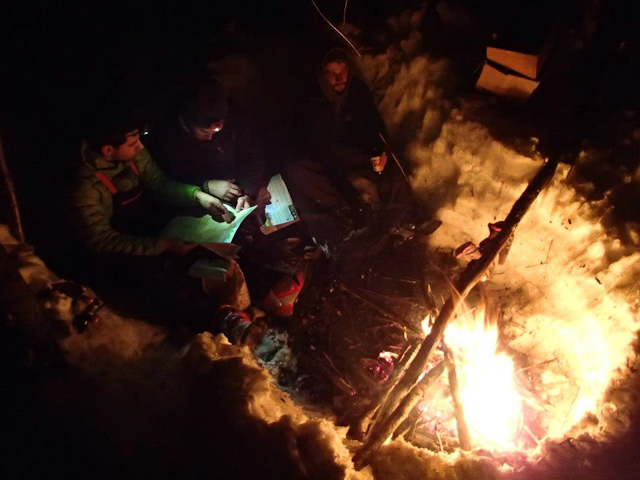 The Sugarden crew explored a topo map for nearby ski lines during an early weekend at the teepee. Joe Foster photo.
Their unnamed host mentioned that he had a little land outside of Warren, Vermont–in the heart of the Mad River Valley that hosts both Sugarbush and Mad River Glen–and that, having decided to spend the rest of his life in Idaho, he had no use for it. They could have it.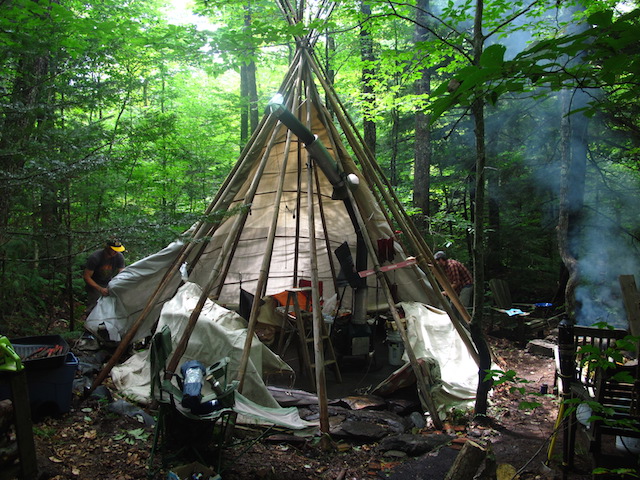 Setting up the teepee. Joe Foster photo.
When they showed up a few weeks later on the property for the first time, they found a mismatched shack built out of old doors and lumber. They knocked it down and put a deposit on a prefabricated cabin, but two days later, found the teepee–18 feet in diameter, 17 feet high–on Craiglist for a mere $900. They loaded it into a trailer, drove it up to Warren, and used the wood from the former shed to build out a wooden floor. Andrew's parents had an extra wood stove, which was trailered in on a toboggan.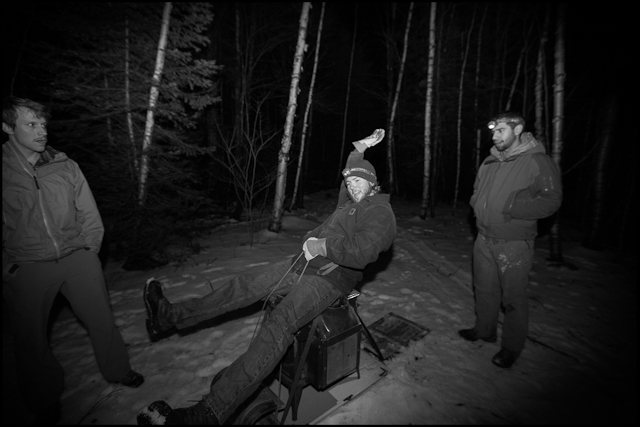 Riding in the wood stove for the winter. Joe Foster photo.
The first winter was a constant series of a projects for the group, which also included friends Austin Lines and Rose Mansfield, and which thankfully counted three trained engineers. They built a kitchen counter, mounted a Coleman double stove, a dish washing station, and put in army cots. They found a double-walled stove pipe for the wood stove and sealed in the canvas.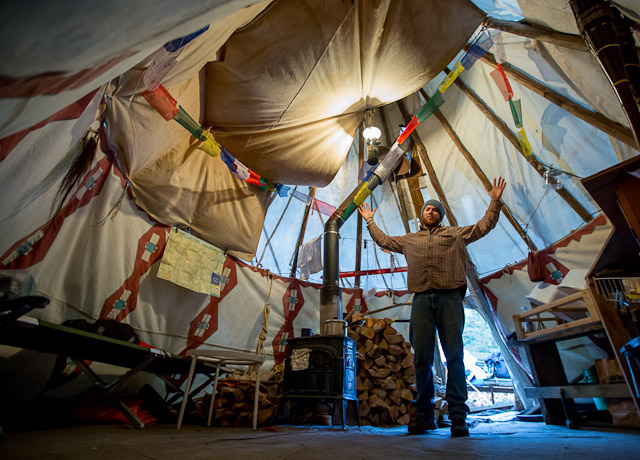 Fully set up in the interior of the Sugarden teepee. Joe Foster.
Summer moisture in the valley property nuked the teepee with mold, requiring a full weekend scubdown and further repair work. The crew found some old racing sails and double lined the teepee with them, while adding another layer of Reflectex insulation to keep the wood stove's heat in. A tarp cone now collects rainwater as it falls into the open top of the teepee and pipes it away from the structure.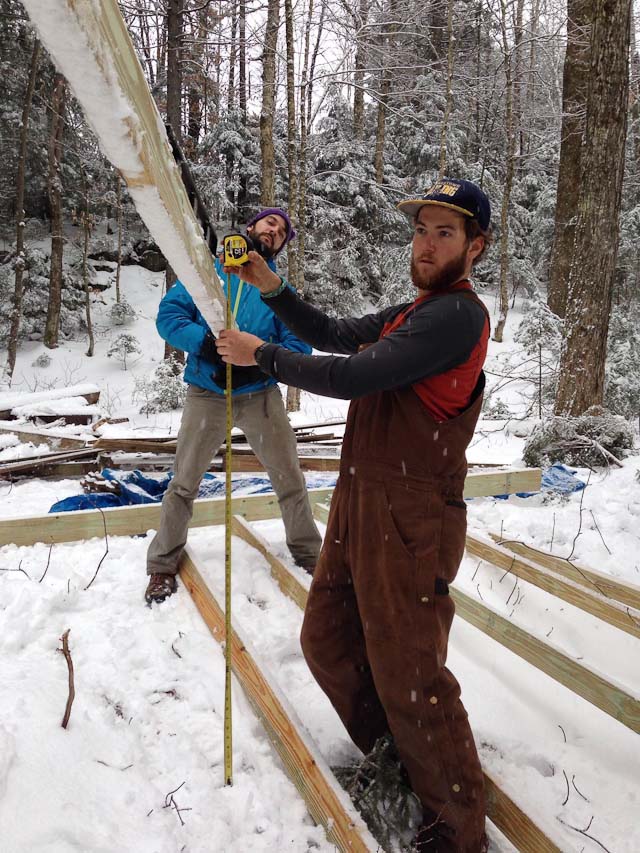 Measuring out the decking for the elevated tent platform. Joe Foster photo.
A Vermont friend moved home from Hawaii to discover his mom had just redone their back deck. The group took the donated material and built a tent platform next to the teepee seven feet in the air, which they throw a tarp over for firewood and tools storage.
See more wild mountain homes, RV's, and tiny houses in our full Base Camp column.
The teepee continued to provide, with nearly everyone who heard about the idea trying to find some way to support it. "It's magical the way this place just fell into our laps, and the way people are just so eager to support our crazy vision for this place," Andrew reflected.
The Sugarden Lifestyle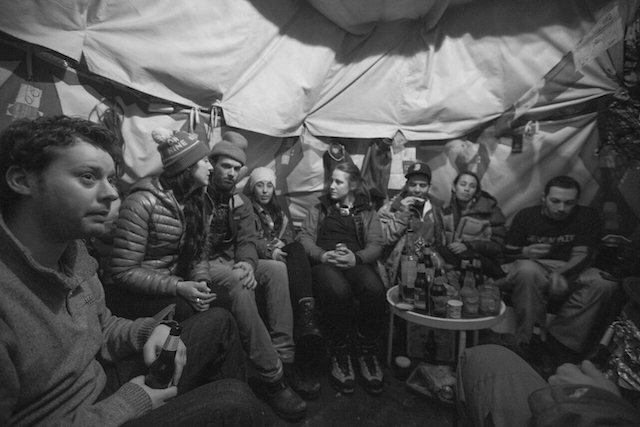 Invited company enjoys the spacious environs of the Sugarden teepee. Joe Foster photo.
Since the Sugarden compound came to life, Andrew, Joe, Austin, Rosie, and a host of other friends have driven from as far as five hours away nearly every weekend to ski, climb, or explore, winter and summer. "Even when I was injured with a bum knee, I was still going up," Andrew said. "I didn't know what normal people did on their weekends; this place has come to feel like home. You feel torn if you haven't been up there in awhile."
Early on, the crew quickly realized the teepee's coverings preferred snow stick to it. Tarps were eventually introduced to help the snow shed. Joe Foster photo.
So every weekend, Andrew and his friends would drive to Warren, skin in with a toboggan full of supplies, and come over a woody crest holding their breath to see if the teepee was still standing, and if their little Neverland was still intact.
After a big December storm this winter, they arrived to find two feet of snow plastered to the teepee walls, the support beams bowing nearly to the point of snapping to the extra load. Having showed up at eleven that night, Andrew and Joe spent four hours shoveling off the snow, then returned the next weekend with tarps to help the snow shed off the structure.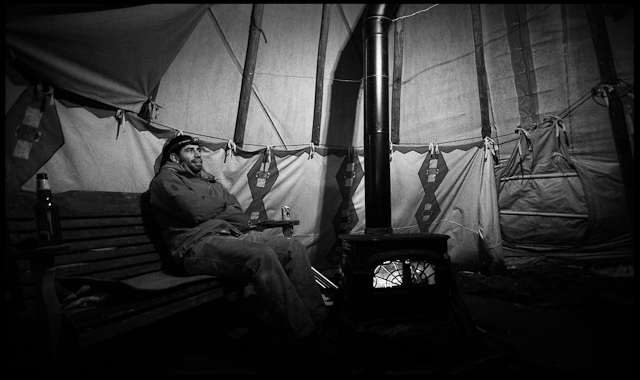 Home sweet home! Joe Foster photo.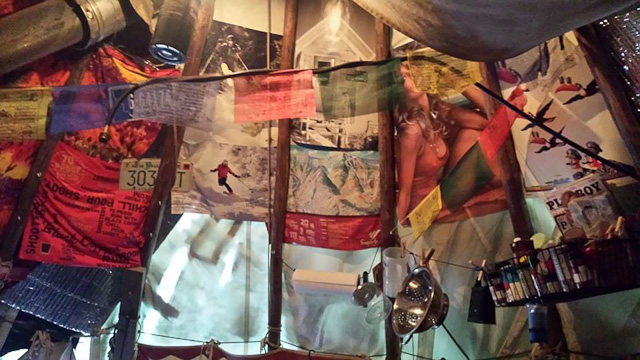 There's a nice Vasu Sojitra cameo in the interior decorations. Joe Foster photo.

The Sugarden complex after a fresh dump. Looks like Tibetan prayer flags were on sale? Joe Foster photo.
With two military cots and plenty of floorspace, the teepee sleeps six comfortably, although their friends with normal ski houses in the area are always gunning to stop by and hang out, understanding that the occupants usually haven't showered in two or three days. "Smelly socks are part of the experience," Andrew said.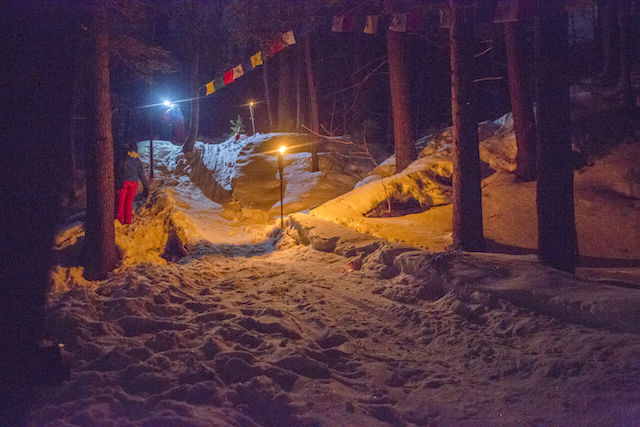 A fully-lit sled track has been built up with banked turns outside the teepee. Joe Foster photo.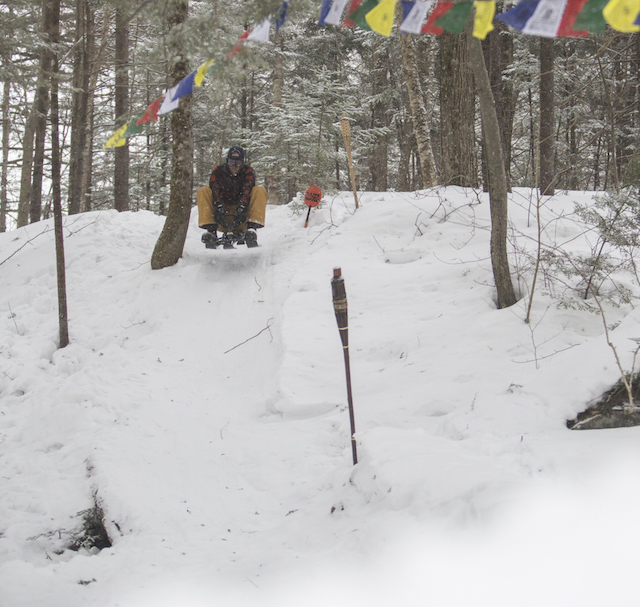 "It's nice when the track gets fresh snow," Andrew said, "as the speeds gets pretty dangerous once it's packed down." Joe Foster photo.
Nearby Sugarbush has become the crew's home mountain. Joe Foster photo.
After a day spent skinning backcountry woods line or lapping lifts over at Sugarbush–whose $350 season pass for twenty-somethings first attracted the crew to the area–or lapping the pucker-inducing sled track that empties out into a creek, the four end up back at the teepee, where they break out the beers and start putting together big, hearty backwoods meals together on top of the woodstove.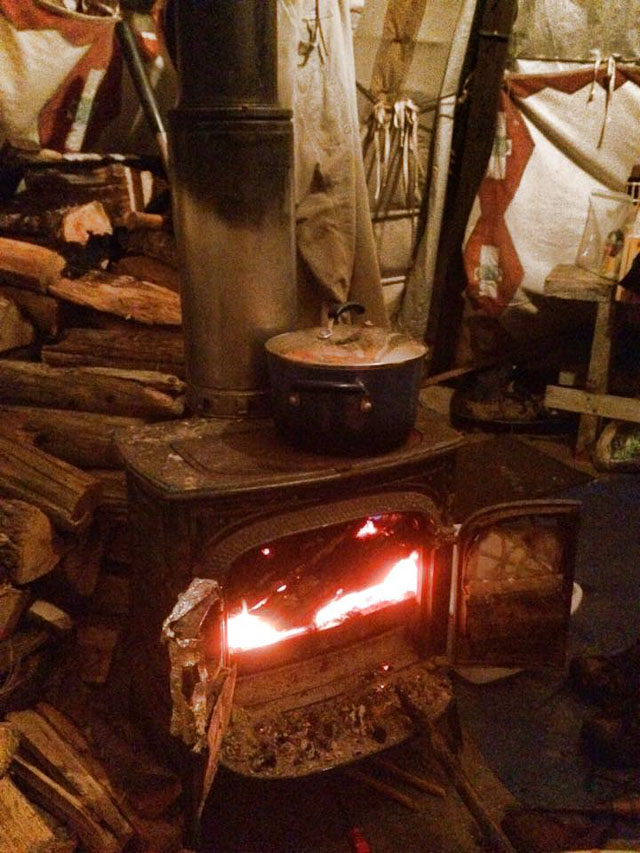 The Sugarden posse staffs some serious cooks, and here a big stew bubbles on the wood stove. Andrew Sayre photo.
Bacon features prominently in all recipes, and a pound or two usually gets consumed every weekend. Of course, having a cooler of food around with a hearty spice rack and a warm, dry interior has drawn out the vermin in a big way, and the teepee has developed a healthy mouse problem, even to the point of rolling in on Friday night to find the lid on a jar of peanut butter completely chewed through. "We'd love to get a bobcat to live there," Andrew said.
The gang puts their feet up outside last spring after their first winter at Sugarden. Joe Foster photo.
Despite being in the midst of their second winter at Sugarden, Joe, Rose, Austin, and Chris still can't believe their luck. It's still too surreal. "You get up there, you're in the middle of the woods where no roads go, and yet you're totally dry and warm in your slippers, and with your friends. We can't put a description together that would reflect the feeling of how special and important this place has become for us.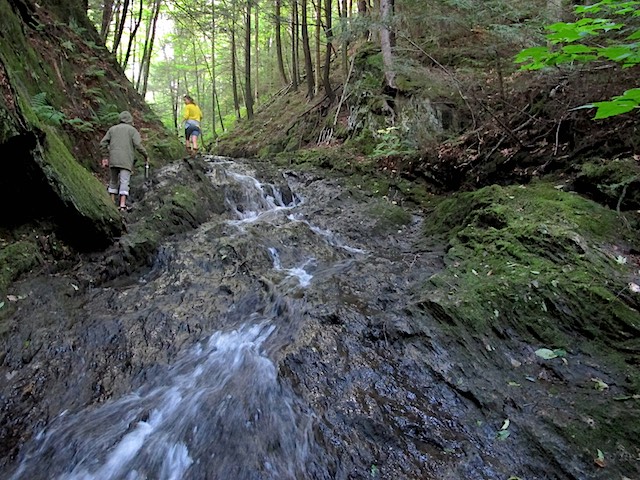 Come summer, it's time to explore the woods around the compound, which feature hidden slot canyons and all kinds of unexplored corners. Joe Foster photo.