The Right Line
By: Korey Johnson
As glazed over eyes met the bright computer screen on a cold April morning, my stokeometer (stoke-o-meter) got a sharp reading after looking over the first e-mail: "I'm skiing Chinook Pass Friday, anyone interested?" Mr. Wayne Grevey, Freeride legend and my last boss had smartly revived the week. It'd been a tough winter; after getting laid off at Alpental due to no snow I found a big boy job as marketing coordinator at a local youth sports agency. Trading backcountry laps for forty plus hours a week as an office jockey seemed like a good idea at the time, but here I was once again without a job and little ambition for anything but a powder day. Suddenly failure seemed like a lucky success, I wrote Wayne back and started tuning my decks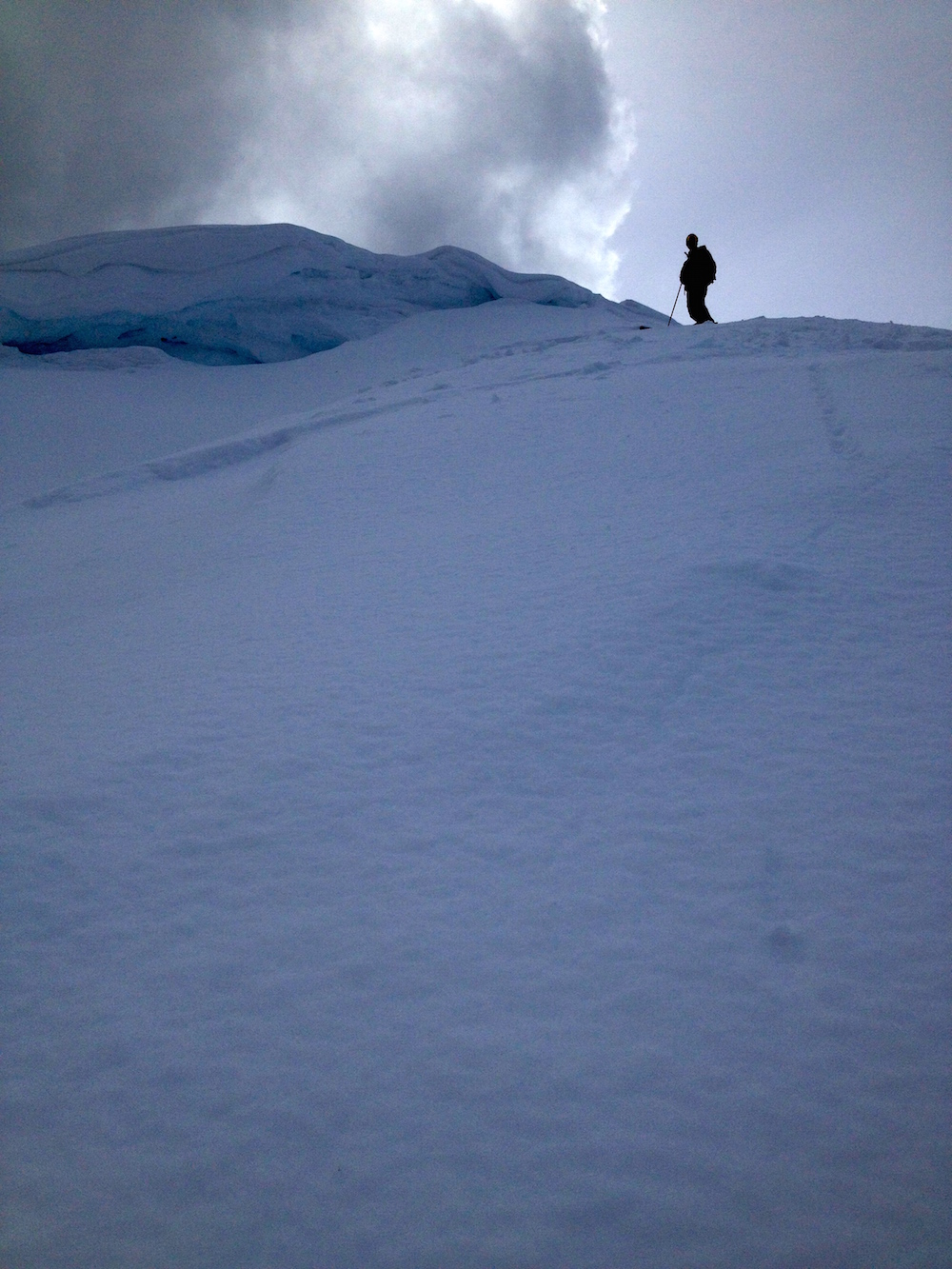 We assembled an exuberant troupe of three for the trip: Wayne, my fiancée Stephanie and myself. Two young knuckle draggers and a seasoned alpiner ready for adventure and excitement in the mountains. For Steph and I it was our first tour at Chinook as we just moved from Vermont in September. The sun was shining bright but the air was crisp. As we ascended the first peak the snow pack felt less than inspiring. It set hard overnight and the sun hadn't done its job yet. There was no one else climbing with shred sticks yet. Much like the winter, there were groves of lemons and only few brave enough to make hard pack lemonade. Still we followed Wayne ecstatically. Rainier was beaming and the wind calm, there was no place else in the world to be.
Wayne rattled off story after story as he led us on the ridge. "This is a great ride right here coming down this side," he said while lining up the slope with his pole. "Can take it all the way to the road and catch a ride back up, do it with my kids all the time," He crafted a rascals smile and laughed. "Yup, lot of good memories here."
We continued to scan lines and trade stories. Steph and I fished for as much of Wayne's local knowledge as we could. "What resort do we want to work at? Where should we buy land? What are good ways to earn an independent living in Washington?" Wayne took each pressure filled question in stride and answered in the calm exuberance that only a lifetime snow rider could muster. But his overarching advice was simply this: "Do what makes you happy."
When we got to the peak the Northeast facing aspect was emblazoned in sunlight. The snow had softened and the zone looked like an absolute playground. Littered with cornices, transitions, gulley's and drops, the slope had my mind playing over the possibilities like a quantum physicist because the possibilities seemed to never end.
"Yeah, I'm thinking we should have a Freeride event over here," Wayne stated as the intense beams sparkled off of his sunglasses. He cracked a grin, "I didn't tell you guys this was a reconnaissance mission?"
I didn't care what it was; I was just elated to be on a mountain peak instead of in an office staring at a computer screen. The hike alone had been worth the day and now at the moment of descent the snow had softened perfectly. "I'm going to go big off of that top cornice Wayne, perhaps you guys should record?"
"Yeah perhaps we should," he chuckled.
Steph waived me off cooly" I wanted to drop first anyway!" She sent it down the ridge playing on the wind lips slashing snow and popping ollies. The freedom of her movements made everything seem light. An erratic breeze kicked in and something happened that hadn't happened in months...I laughed. Not quietly, I laughed like I'd just seen Gallagher smashing a flaming watermelon over an unsuspecting audience. After all of the struggles during the season I was finally blessed with an epiphany. There was this profound feeling that I was in the right place doing the right thing. In the moment there was nothing but happiness, playfulness and creativity. Ambition was transcendent to the whims of fun, and once again I realized that the only thing that matters on the mountain is the experience itself
.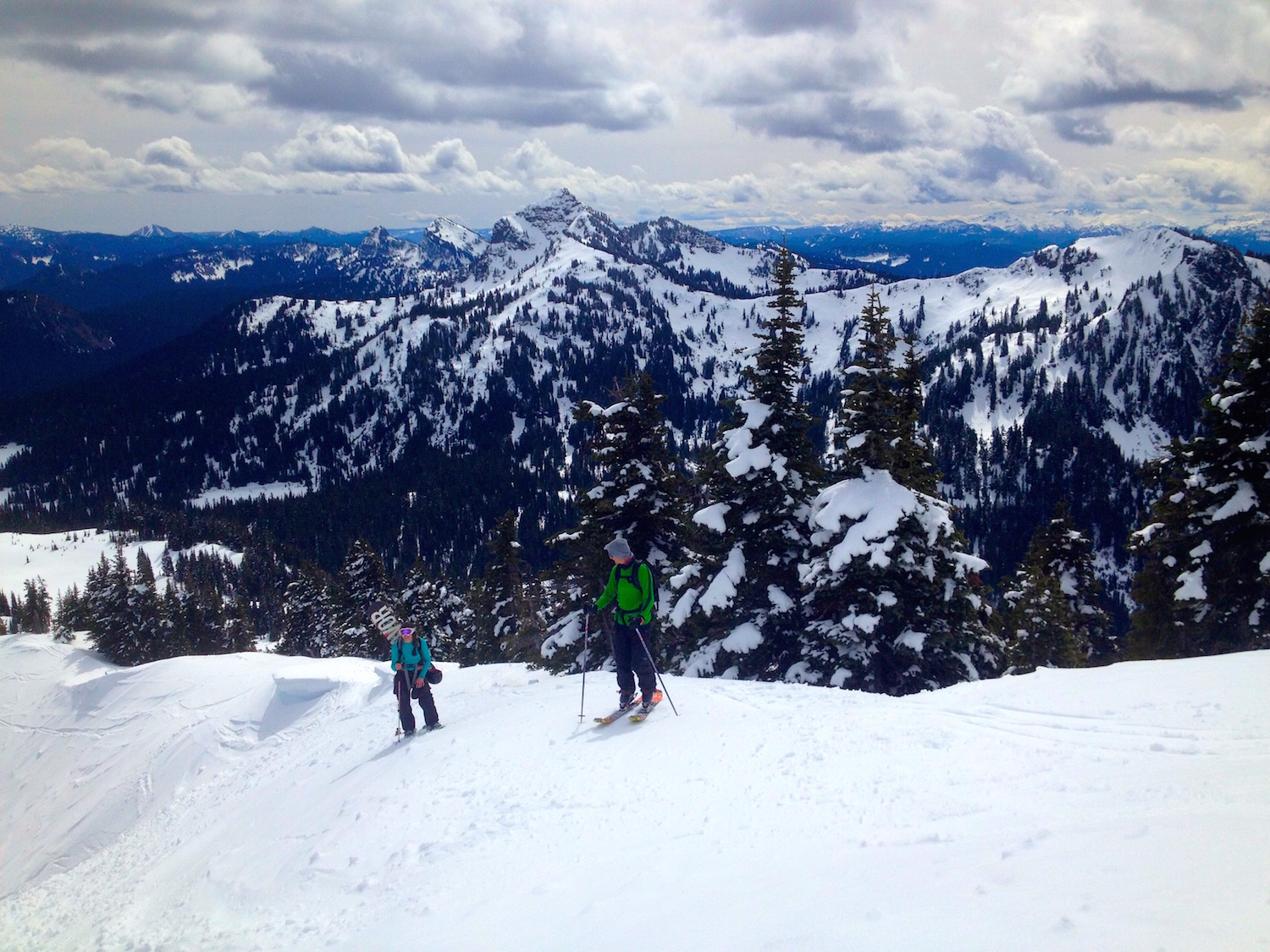 I cranked my bindings tight and began humming while envisioning the maneuver. Everything was tranquil and the focus effortless to achieve. I dropped in and raced across the ridge planting my weight over the back foot for a little extra speed. After slashing the first wind lip all thoughts gave way to feelings. There was no planning anymore, only reaction. As I approached the looming cornice the intense excitement awoke the butterflies in my lungs. Still I urged forward and flexed my ankles ready to flow upward. The pop sent me spinning towards the sky and for a moment reality itself slowed. The air became still and gently caressed my face as I moved through it without struggle.
When the board touched down the steep slope raced time to catch itself again as I was shot down the mountain. Snow sprayed like dynamo fireworks against the blue sky. A hawk circled overhead as my companions dropped in and caressed the white playground with their toys. There was adventure, there was love, there was joy. In the wilderness of Volcano Mountains there was zen amidst the playful yelps. No worry for the future, no thoughts of the past, we were completely taken by the present moment. Each turn, each jump, it's own universe of fleeting joy. It's hard not to be taken by it when it happens, that divine moment when for just a split second you can catch a glimpse of what truly matters. These moments don't happen in the mundane, they can't be found in the "normal." Somewhere someone has to decide to turn the stokeometer to 11, and once things get weird enough, the illusions are revealed.
When the turns had ended and we stood there basking in the sunlight it was agreed that another tour would come soon. Even in the winter of trials and tribulations there were diamonds in the rough ready for the taking, and we weren't about to let up. The surrounding white-capped peaks of the Rainier range were littered with clouds, another snowstorm was moving in. Winter wasn't about to let up either. There would be many more lines to come, and many more friends to share the journey with. Whatever path we were on, I couldn't help but feeling that we'd all chosen a different line, yet all of them felt to be exactly right.
About The Author
Korey Johnson is a lifelong snow rider and poet. A snowboarding coach of eleven years, KJ is a level two AASI and level two freestyle specialist. This past season he coached Freeride programs at Central and Alpental for the Summit at Snoqualmie. Johnson just recently self published his first literary work entitled Merely Players. This visually stunning book is a collection of short stories, poetry and nature photography. It's available on Amazon for just $2.99.
Johnson is a 2011 graduate of the University of Vermont with a Bachelor's degree in both English and Political Science. In 2011 he founded the social enterprise Saving The World Apparel, a clothing company offering American made, eco-friendly clothing that helps support world changing charities with a donation of 10% of profits. If you see KJ on the slopes give him a holler, he loves meeting new people and will take laps with anyone excited to ride!
Connect with the author-