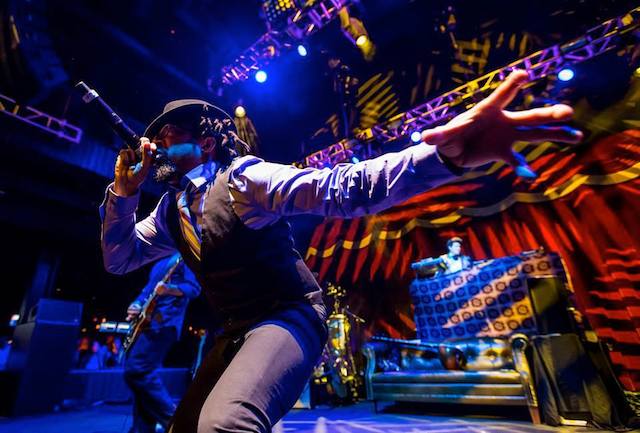 What you can expect from headliner Charles Bradley, funk and soul and a really good time. Contour photo via Facebook.
If your dream weekend consists of some morning yoga, a rip on the mountain bike, some culture in the afternoon, and then 50 live shows in the shadow of the Tetons, then you should be in Jackson this weekend. The first-ever Contour Music Festival starts Thursday right here in the 'Hole, and we're stoked. On top of headlining performances from Charles Bradley, Thievery Corporation, and Emancipator, there's a ton of stuff going on in town outside of the music, and we've boiled it down to the essentials:
The Music at Contour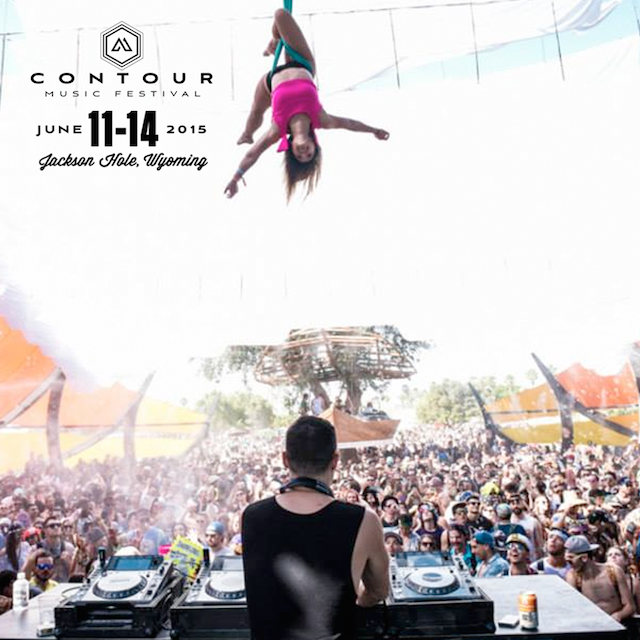 This crowd looks pretty stoked for DJ Sabo's set. Contour photo via Facebook.
Don't miss the headliners Thievery Corporation, Emancipator, the Polish Ambassador, and Charles Bradley, but let's talk about the fine print artists. Sets will continue after the main stage events to the town square bars at night where you can check out local sets, like DJ Era and DJ Oh!Nassi , or multi-piece bluegrass bands like Sneaky Pete and the Secret Weapons, or One Ton Pig.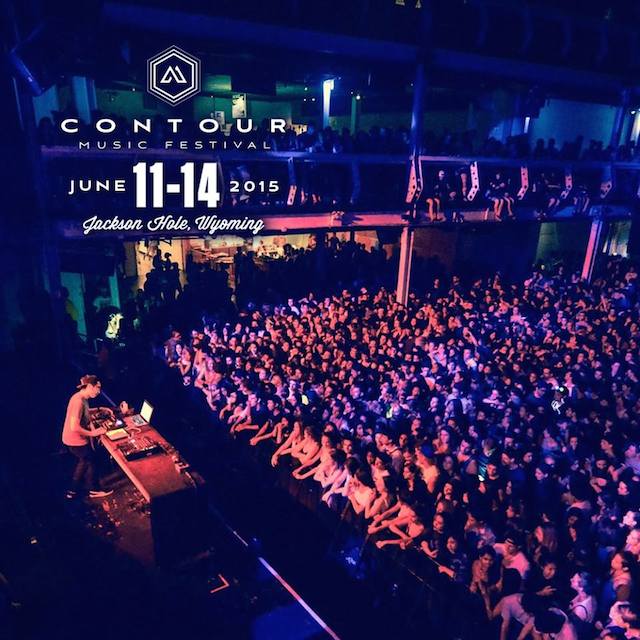 Sweater Beats throwing down. Contour Music Festival Photo.
I'd suggest making the rounds from the Pink Garter and the Rose, to Pinky G's downstairs, then on to the Silver Dollar Bar, and maybe even late night at the Tavern to really get a feel for all the different vibes. They are all within minutes of each other by foot and host pretty different crowds, so it's easy to jump around and check out a little bit of everything.
Contour's full music schedule is viewable here.
Check out Planet JH's guide to the music at Contour here.
Do It: 2 for Onesies with the Polish Ambassador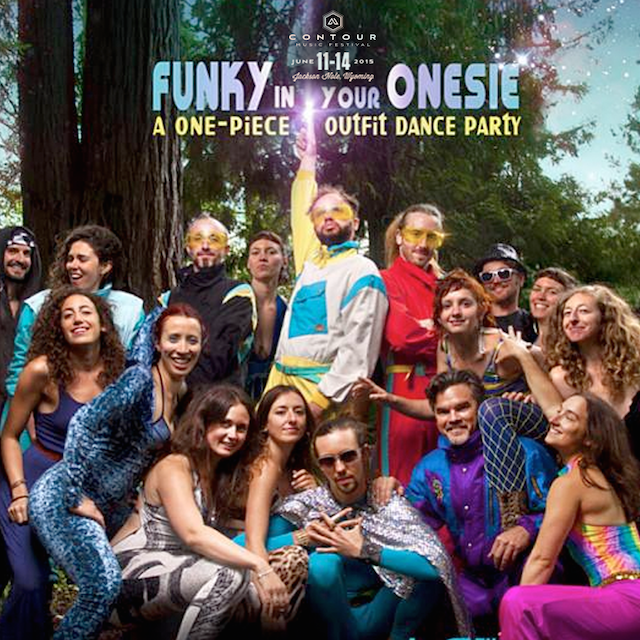 Polish Ambassador wants to see your onesie. Contour Facebook photo.
Polish Ambassador, Friday's headliner, is hosting a onesie clad "intergalactic funk party". Wearing a onesie with a friend will get you two for one deals on single day passes for Friday's main stage event.
Getting To and From the Festival
Don't pull a "Jackson carpool," and all drive individually to the same event. You won't be able to find parking, it's bad for the environment, and I'm guessing you won't be sober. There will be free START Bus shuttles all weekend around town and, more excitingly, as late as 11:30PM to 2:00AM. Us Jackson locals never get public drunk shuttles, so get pumped! Better yet, most venues are under a mile from each other, so stretch your legs and walk off your drinks.
Go Mountain Biking with Contour Dirt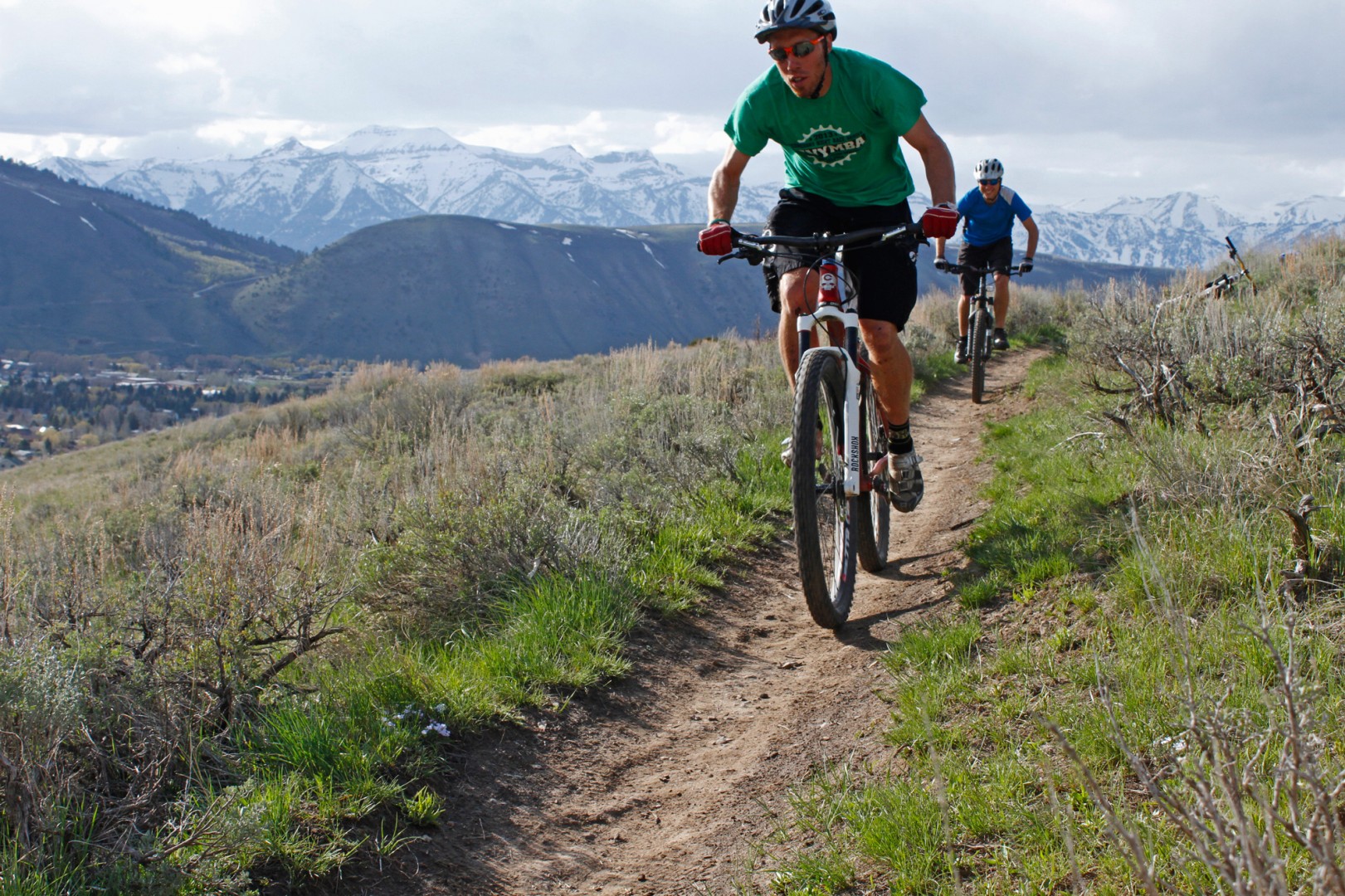 Putt Putt and the rest of the Cache Creek trail system is only minutes from the Contour venues. Ryan Dunfee photo.
Want to see Charles Bradley but not that interested in the daytime shows? Don't have the stamina to sit through four acts in a row? Check out Contour Dirt. The festival is providing a full schedule of group rides, bike demos, and guides for the biking and musically inclined show goers (which is essentially all of Teton County) on the festival grounds. Whether you're a beginner looking to get into it, or an experienced pro familiar with the scene, take a break between acts and go check out this year's bikes and maybe even hop on a group ride.
If you're feeling rubbed by nonstop concert crowds, head down Fall Creek Road south of Wilson to get away from the crowds at Munger Mountain. Ryan Dunfee Photo.
Saturday 10AM-5PM: Bike demos from The Hub Bike Shop.
Sunday 10AM-5PM: Bike demos from The Hub Bike Shop, Hoff's Bikesmith and Rocky Mountain Bicycles.
Sunday 11AM-1PM: Mountain Bike the Tetons group ride around Cache Creek.
You can check out more details from their booth on the corner of Snow King Avenue and King Street during the entire festival, or on their activities schedule here.
Do It: Teton Pass Pass Bash on Saturday
Shuttle up to Teton Pass's downhill trails, and less aggro ones like Phillips Ridge, all day Saturday for free. Ryan Dunfee photo.
Teton Freedom Riders and Habitat High Altitude Provisions are hosting another Pass Bash on Saturday, in which the Teton Freedom Riders are offering free shuttles from both the North and South side of the pass from 11:00AM to 5:00PM on Saturday. Shuttles from the Jackson side will start at the Stagecoach Bar, where you can also snag some happy hour specials and get a selfie in front of the TGR Headquarters next door.
Do It: Cache Creek/Game Creek to the Bird Sunday
Shredding the West Game Creek trail on the way to bottomless bloodies at The Bird. Ryan Dunfee photo.
Hop on the local's schedule and bike up Ferrins and ride West Game Creek to Game Creek (or for an easier options, Cache Creek all the way out to Game Creek) to the Bird Restaurant south of town for bottomless drinks and brunch on Sunday. The Bird boasts a spacious outdoor deck with scenic views of the mountains. You'll either have to bike back into town for Sunday's headliners, or ditch the bike and hop on the Bird's free shuttle.
Contour's Art Scene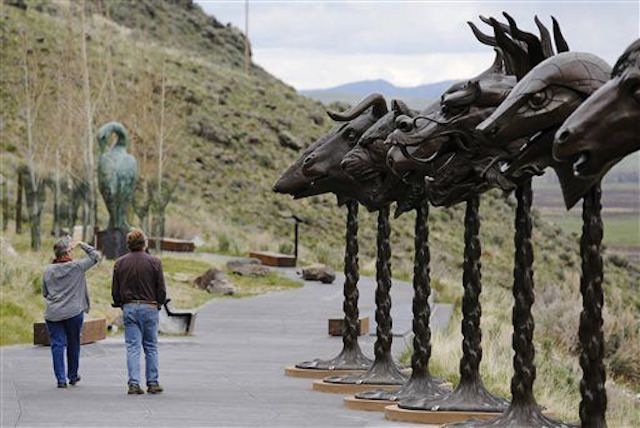 Jackson Hole's Wildlife Museum is hosting a big Ai Weiwei sculpture outside, and is among a few places to get your art fix while in town. Contour Music Festival photo.
Jackson's art scene is teaming up to give you a long weekend of free events at a number of different galleries around town. The Art Garden opens Thursday at 3:00 PM in the backyard of the Center For The Arts and is showing installations from eight different artists, including our very own Sage and Annie Cattabriga-Alosa. Think Coachella's gigantic astronauts but on a smaller, more Teton and less MTV, scale but with similar vibes. It's definitely worth a walk around if you're not feeling five electronic sets in a row, and it's open for free all weekend.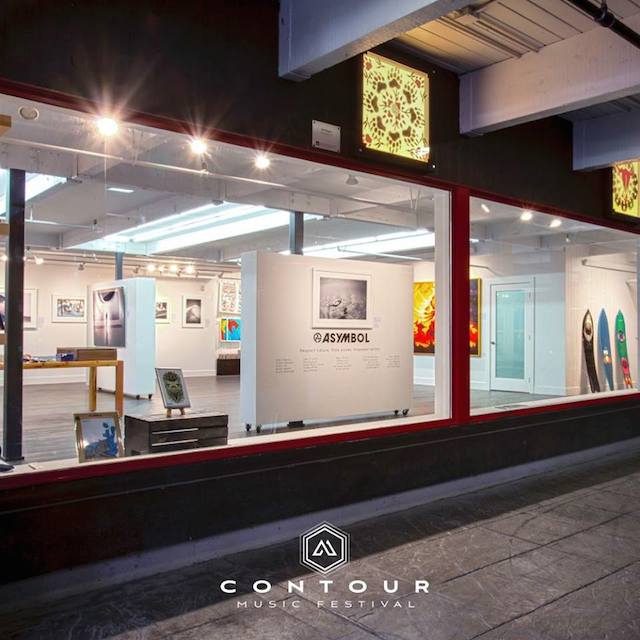 Popular gallery Asymbol right off of Town Square is one of the Festival's venues. Contour Music Festival photo.
If you're interested in seeing multiple galleries and artists, check out the Art Walk on Thursday from 6:00 PM to 9:00. Check out one of the featured artists, Camille Davis' portrait series at Daly Projects. She's a born and bred Jackson local and also incredibly talented oil painter. If you look closely enough you might even be able to recognize some of her subjects on stage, too. Daly Projects is just the first stop on the walk and most galleries will have DJ's, so stick around to see the rest.
Do It: Free Yoga with YogaToday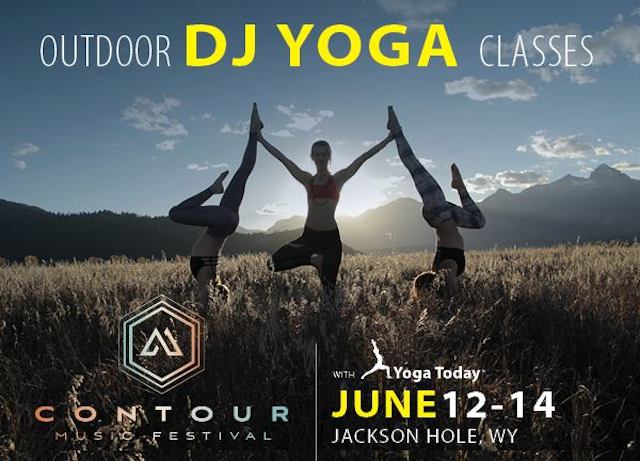 Contour Music Festival Photo.
YogaToday is offering five free yoga classes for the festival! Taking place in the backyard of the Center For The Arts (same place as the Art Garden), it's a pretty great deal considering you will be saving around $100 if you do yoga in the valley. It's also a great way to decompress after seeing one too many shows or sending it a little too hard on the single track.
Friday 10AM: Yoga w/ Adi Amar
Friday 4PM: Yoga w/ Neesha Zollinger
Saturday 10AM: Yoga w/ Niki Sue Mueller
Saturday 4PM: Yoga w/ Cameron Barker
Sunday 10AM: Yoga w/ Jay Nel McIntosh
Contour's Full Activities Schedule Here.
What else to do while you're in town
The rocky beaches of Jackson Lake can give Mexico a run for its money. Ryan Dunfee photo.
If you're looking for some scenic day hikes to enjoy the Tetons, we'd suggest heading out to Grand Teton National Park and taking the short hike to Phelps Lake and Jumping Rock (park your car at the Rockefeller lot). If that doesn't interest you, check these hikes out.
Car Camping in Jackson
Curtis Canyon provides awesome car camping spots close to town–just make sure your car can handle some rough dirt roads. Ryan Dunfee photo.
If you're interested in car camping, we'd suggest Curtis Canyon. You can find spots as close as 15 minutes up National Elk Refuge Road at the end of town, or you can take a longer trip and continue up the canyon. Bring some mattress pads, sleeping bags, a mini stove,(and a thirty rack and handle), and you'll be set. If you're not interested in Curtis you can check out these spots too. Shadow Mountain in Kelly and Mosquito Creek are two other options close-ish to town as well.
Do It: Soak in Granite Hot Springs
They hid the winter snow, along with the moguls, in April, but Granite Hot Springs is still a choice spot to melt away the hangover. Ryan Dunfee photo.
Looking to poach a hot tub? Why not try Granite Hot Springs for a day trip. It's roughly an hours drive south to the spot and the six dollar (cash) admissions will be the cheapest thing you've purchased all weekend. Bring some beverages and a towel or two and soak in the natural spring water in the sun. It's the ultimate hangover cure. A much smaller, natural hot springs is available as well by crossing Granite Creek earlier on the road out, but it'll likely be full by the time you get there.