The Dogtooth Rangers
Interviews with aging rock-bands are full of tedium. Instead of airing fermented grievances or belying anything new, longstanding grudges, real or imagined, are left buried with hatchets. Axes due the grinding wheel are left closeted alongside decades' old skeletons and tax-dodges that crowd the basement cupboard- It is rare to see an unscripted meltdown, composure on-camera maintained for the fans, devout followers similarly aged and just as desperate to regain some semblance of former glory (Boomers and Zoomers drop fat cash for the privilege of a brief, illusory escape from reality, a short visitation with yesterday's icons a welcome reprieve from the hum-drum death-march towards complete and utter mediocrity).
Where controversy used to turn heads and sell tickets, weary bodies and wizened musicians know better than to mess with their public image; the brand must be upheld, and break-ups and break-downs do not translate into arena-packing ticket sales, rather, they result in costly refunds and publicity nightmares.
In turn, a reflection of their heroes, elder fans are also conflict-averse, heart-medication, marital status and boner meds cocktail enough for anxious feelings and a conjoined prescription for that affliction, too- The only drama anyone involved desires is a date with sanitized nostalgia, the only bodily costs involved the price of a seat with admission (replacement hips do not make for a crowded dance floor).
Candor and honesty are rare commodities indeed. Classic rock, music industry mainstays, well-timed reunions and tours are a pit of flaccid penises, clichés and prescription medications, celebrity worship and boring phraseology a modernist rendering of regurgitated tales of drugs, sex and rock and roll. Band interviews are as they have been for years, front-men sagging and spinning their yarns, drummers absent or mysteriously silent. Nothing new is ever expressed, frail little egos temporarily reinforced with so much Gold Bond, Polident and Preparation H.
Interviews, as with the scheduled playlist, will depend on the back catalog as opposed to anything new.
Yawn.
Unlike the music industry of yore, the mountains don't usually breed (or tolerate) personality cults for long. Big egos and big balls may snowball for a while, but basic physics dictate that a petering out or crash is imminent.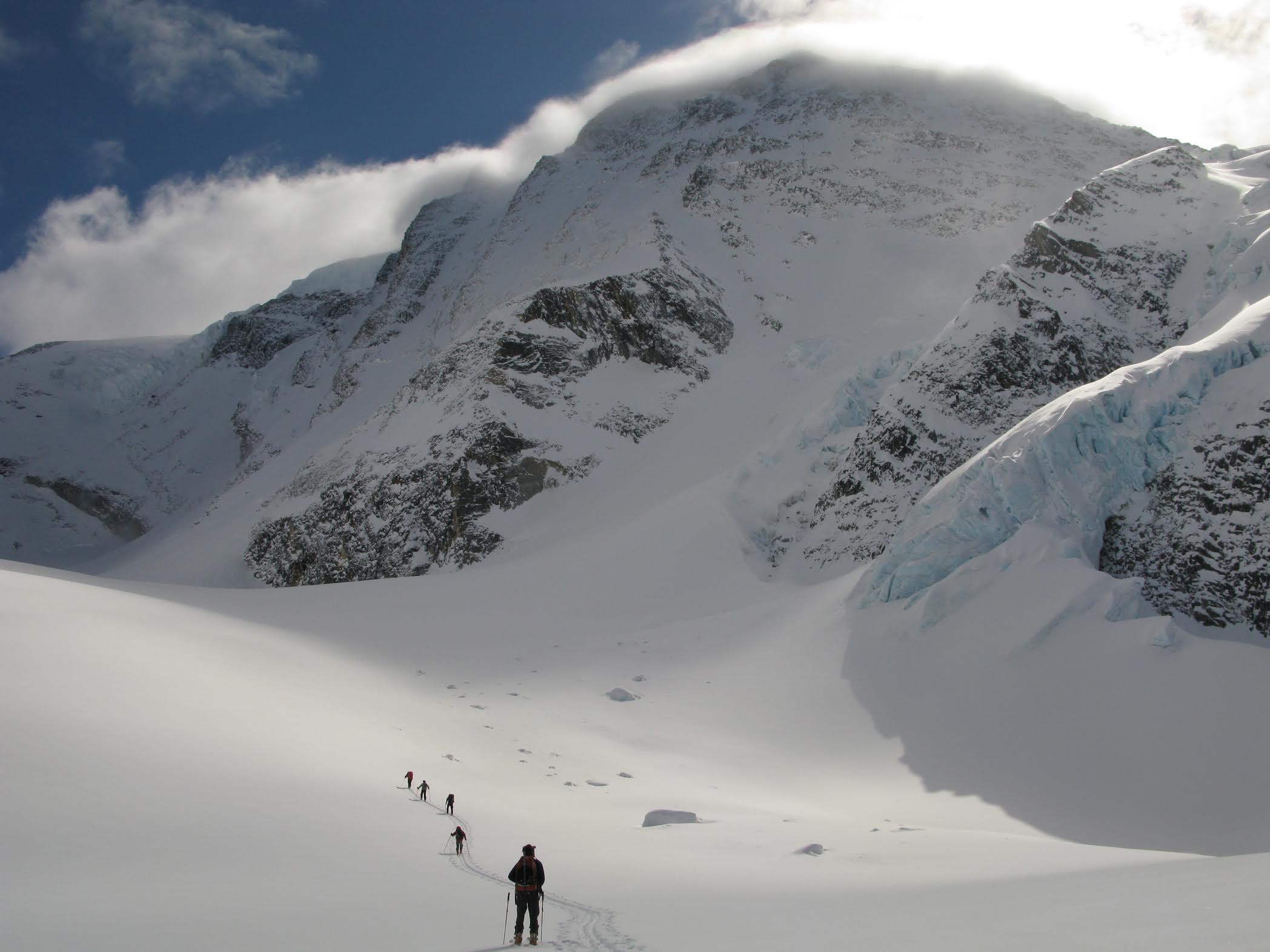 Pic c/o Dogtooth Rangers
And sure, crashing and burning can build legends for a while, but eventually folks clue in that you're just another dead guy (or gal as the case may be).
Sorry if this sounds harsh, but where Sid, Jimi, Janis, Marley and others will live on through their music (and ability to generate royalties post mortem), mountain folk never achieve these levels of fame or notoriety.
Never.
Furthermore, most have and will never earn a living or dime from their efforts in the wild places; mountains are the polar opposite of pressed vinyl, CDs, MP3s, (or whatever your preferred media), mountains a long way from getting cut in-studio; Wind, snow, water and ice carved our mountains out, plate tectonics inching them upwards, no need for a celebrity producer or Phil Spector type to make them famous. The people that venture into them are simply dwarfed by mountains' enormity.
And yes, exploits in the mountains may be recorded for posterity, but ski porn is called ski porn because it is largely disposable. Bigger, faster, spinnier tricks supplant the old as quickly as up and coming professionals can be fit with the latest, greatest, and equally disposable technical wear- As with pubic hair, grooming and styles change.
Careers are typically short-lived, and few will have groupies or so dedicated a following as rock-stars.
In this respect, and in easily a dozen others, ensuring longevity in the mountains is significantly different than that in the music biz; Nepotism, sycophantic (or psychopathic) behavior coupled with gross self-interest and narcissism won't take you very far in the mountains. It will certainly cause your list of allies/fans/touring-partners to rapidly dwindle once your personal shortcomings are well-known and established; being roped to a crazed, talent-free "somebody" who must constantly be the center of attention (and whose parentage got them this far in the first place) is an incredibly unappealing prospect- Rock-star moves, lip-synching charm and the inside-line won't keep you alive in these parts.
There's no auto-tune for notes you have to hit in the backcountry. It's who you are with and how you approach the material (mountains) that will ultimately dictate your survival; If riches, wealth, accolades and tail are what you're after, you are probably in the wrong racket.
Golden, British Columbia, does not tolerate fools. The hometown turf, the Dogtooth Range, is equally unforgiving, peaks and accompanying big mountain features intolerant of showboating glory-hounds. The Dogtooth Rangers, long before they had taken their half-joking title, long before they earned their chops in the surrounding backcountry, recognized this upon their arrival in town some fifteen years ago.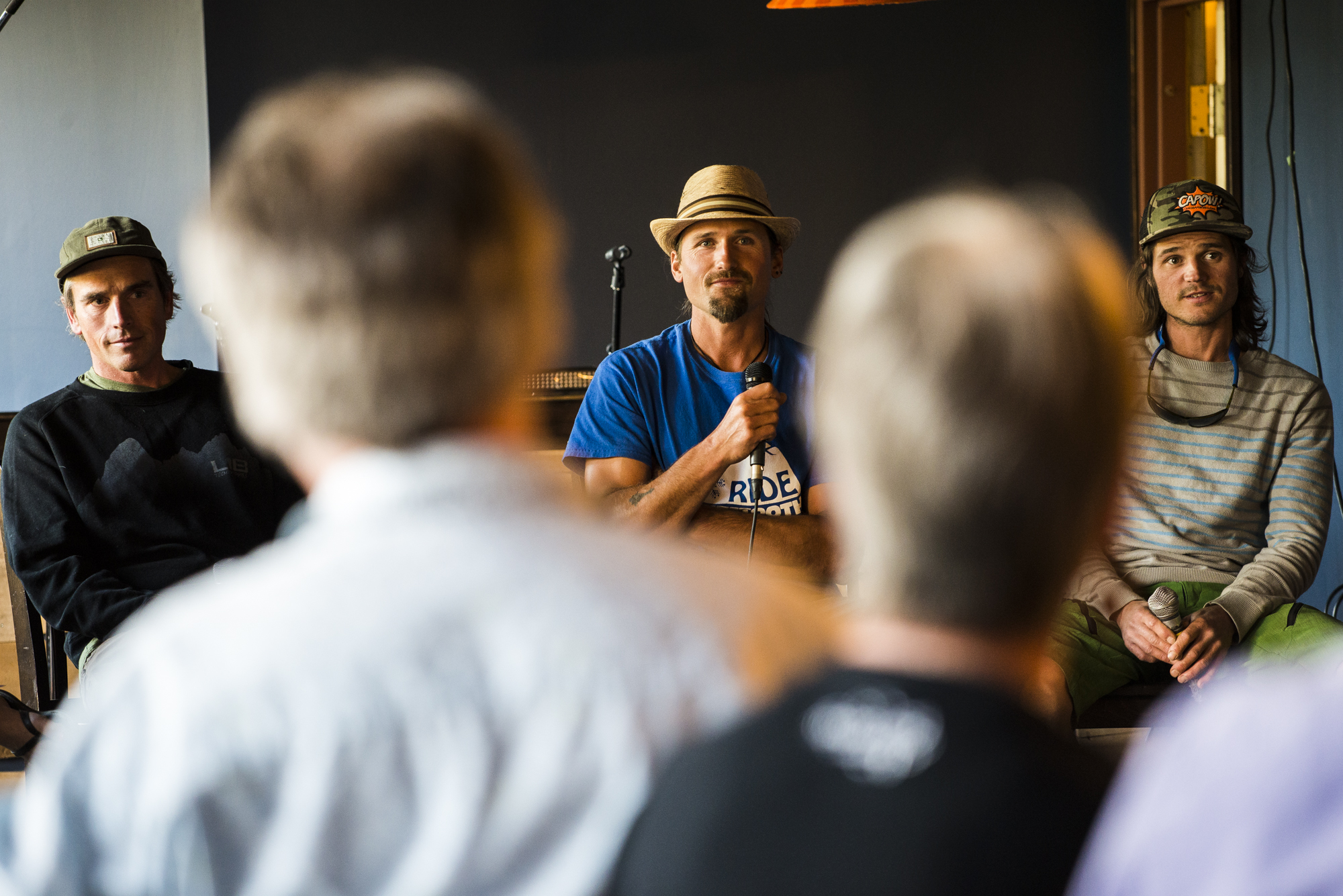 L-R, Ty Mills, Cody Lang, Isaac Kamink. Photo credit Bruno Long
Hailing from Salmon Arm BC, Ontario, and Salmon arm by way of East Vancouver respectively, Cody Lang, Isaac Kamink and Ty Mills arrived in Golden on and around the time of the great expansion, when Golden's community ski-hill Whitetooth was undergoing its transformation into what would become Kicking Horse Mountain Resort.
Amongst the first wave of new arrivals, the trio cemented their friendships quickly and found the backcountry right at their doorsteps.
The initial trepidation they must have felt was echoed at their recent presentation as part of the second annual Golden Mountain Festival; Sat shoulder to shoulder on the Rockwater Grill's stage, microphones in hand, the three old friends initially appeared as uncomfortable as one might imagine they did when first touched down in the vast Purcells.
To reiterate, the Dogtooth Rangers are not rock-stars, they are a band only in that they formed a close knit unit that has remained tight in excess of a decade and a half. They don't play music together, at least I don't think they do, their interests focused more on ski mountaineering lines than cords and scales. That's what the crowd came for, and that's what the crowd got.
The respect they have earned locally was clear as more and more attendees arrived to take in their slideshow and talk. Being onstage, subjects for scrutiny and a barrage of questions, all three seemed familiar enough with the loud-talking drunk at the bar so as to brush it off as nightlife in Golden, no disrespect intended, just another guy doing what he was made to do.
For the Rangers, that purpose has been logging hundreds upon hundreds of days in the backcountry. While they never set out to be cited as "the guys that get after it," or to be sought out as resources for others looking to cut their teeth in the Dogtooths, this public appearance at the behest of Tourism Golden has thrust them into the limelight.
Moderator/host Andrea Idle got the ball rolling, lobbed questions at the Rangers regarding their earliest efforts on getting off-piste from Kicking Horse's already sizable 4100 feet of in-bounds vertical.
Isaac recalled snowshoeing with his skis on his backpack, jeers from the audience a good reminder this was a hometown crowd. Cody initially snowshoed, too, a transplanted snowboarder who soon switched to touring skis, a pair of used CMH Volkl's, the classic yellow-and-blues still occasionally spotted in ski-town lift-lines.
Ty Mills, meanwhile, started his forays into the backcountry boot-packing everywhere, the lone Ranger that still snowboards. Boot-packing ways retired long ago in favor of a splitboard, Mills has since become a well-respected big mountain rider, soft-boots switched for hard-boots, and part of his season in the Dogtooth Range exchanged for guide work at the Kootenays' Baldface Lodge.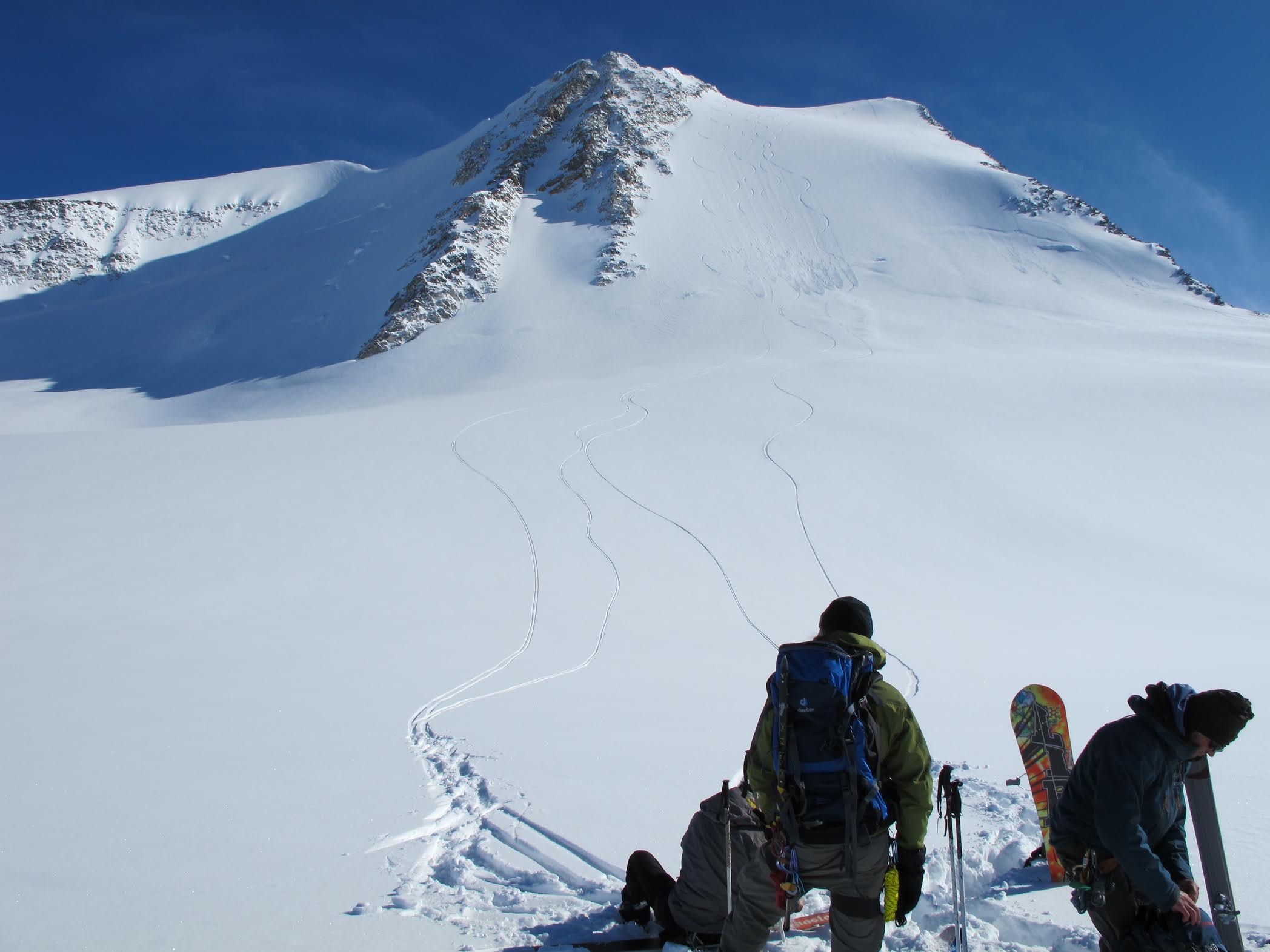 The Rangers in their element. Pic c/o Dogtooth Rangers
But that's skipping ahead.
All three paid their dues and respect to mentors and locals that had early-on taken them under their wings. Isaac emphasized that "Mentoring is key. Golden is tight-knit and there's so much knowledge to pull from. And you can start small here, it's just as fun to ski the non-gnar."
Cody noted the guidance provided by friends deceased and living, the mountains claiming more than their share of lives in this part of the world, too.
"The people in this valley are inspiring," added Isaac.
Dogtooth Rangers at the Rockwater Grill. Photo Credits to Bruno Long
One friend, Darcy, completed a massive traverse on a blown ACL, tenacity a trait bred into Golden locals. His eventual death at a later date brought local climbers and skiers together.
"We were lucky because we had people like Darcy, Troy and Ptor who taught us how to be smart in the mountains."
When asked, "Why Golden?" Ty Mills was the first to respond.
"These mountains inspire me. Golden, it's like living on an island surrounded by mountains."
Cody: "Glacier, Bugaboos, Banff, Yoho."
Isaac: "Rogers Pass, and Kicking horse, too."
Pic c/o The Dogtooth Rangers
The mountains are alive with memories for the three friends, guys that have toured and adventured long enough to be able to finish sentences for each other.
Early recollections of the sixteen day Selkirk Traverse, close calls and ad-lib travel plans were relived on stage. Traveling more on human power and will than cash and 'copters has its challenges.
Isaac: "Without cash you need to find other ways to get out there. You need to plan better, have food caches and stuff."
In 2006 the three stuffed their gear into a ski-equipped Cessna and made for the backcountry, Steve from Alpenglow piloting them in on their adventure. Deposited deep into the mountains, the flight was as harrowing as anything they would encounter that trip.
"Talking to the right people, getting your feet wet and exploring, that's what worked for us," states Mills.
Making connections, finding the right partners and utilizing locals' knowledge are a huge assist, but word of mouth (as in any small town) definitely helped the crew identify and achieve their objectives, goals that took them into The Great Cairn Hut, to Fairy Meadows and beyond.
The Rangers' own stock, if there were shares to purchase, has definitely been amplified by word of mouth. Their reputation is well-known throughout adjoining communities and mountaineering circles. Rossland skier Jarrod McLean remembers skiing the most intimidating line of his life with the 'Rangers, their confidence and experience making the resulting run one of the most memorable, too.
"Their stoke is infectious, and there's no attitude that goes along with it."
Bros not pros, the 'Rangers have no need of a Fender stack to boost or boast volumes about their achievements. Their homespun wisdom, while it could be easily transplanted to other ranges and audiences, was earned in Golden, their adopted home.
Speaking to the character of their town, Isaac says "The community of Golden is out there. It's like a personal space. There's terrain for everybody."
Cody: "Within two hours you're in one of the basins and no one is around. There's solitude. And the views are spectacular."
Not only established now, the three are decidedly more settled than when they arrived. In the off-season (there is something of an off-season for the three nowadays) Ty is a fishing guide aiming to bring his expertise from the coast into a nascent Golden fly-fishing scene, Cody works as a builder, and Isaac is a whitewater rafting guide with Glacier Raft Co.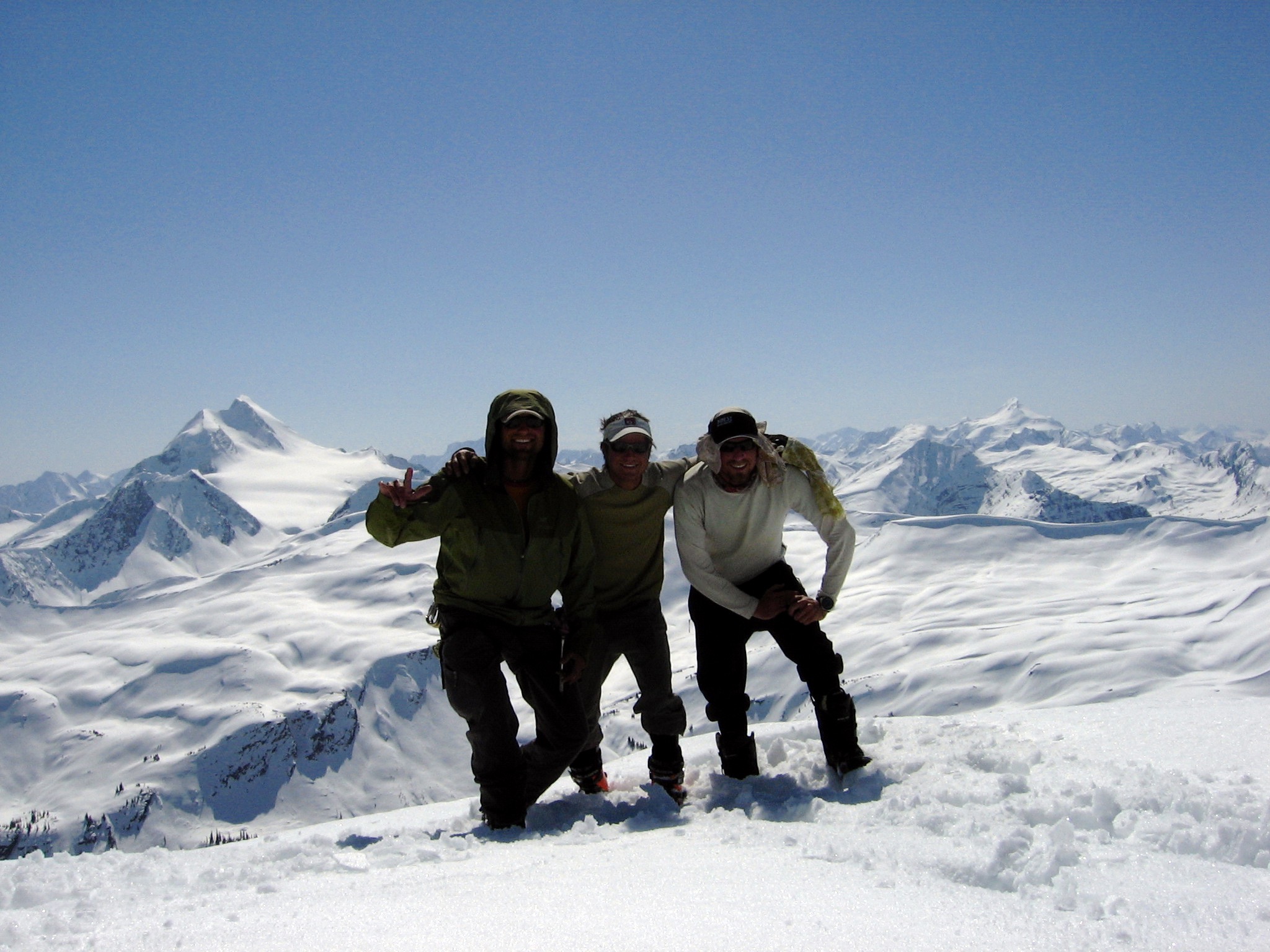 Pic c/o The Dogtooth Rangers
Prompted for advice they would give their younger selves in the backcountry, all three speak from their earned seats of elder, backcountry statesmen- Laughing, shaking their heads is acknowledgment enough of mistakes made or lessons learned with the advantage of retrospect.
Ty: "Listen to your Spidey senses. Talk about things. Give things a second look and don't be afraid to turn around."
Cody: "Take your inspiration from the mountains. Read the terrain. And don't let media influence you, do your own thing."
Isaac: "Slow down. Wake up earlier."
Cody: "Leave your watch by your ear."
(All laugh)
Isaac: "And do your avalanche courses, don't be renegade. Canada sets the bar with Avalanche Skills Training courses and there are way more being offered."
Echoing these thoughts, Ty recommended folks new to the backcountry "Use the resources available. And grab some mentors."
To conclude the presentation, Cody, Isaac and Ty emphasized the importance of respecting the mountain, being humble and avoiding complacency.
Cody: "Details make the difference. Timing, weather, meteorology affect the odds game. You have to be hyper aware."
Previously unaware of their impression or stature in town, it was gratifying to see the Dogtooth Rangers finally receive their due, hard-work, humble beginnings, commitment and friendship seeing them through; lots of applause.
And at the end my only real criticism was that there was no rock-star table of obligatory merch, "Dogtooth Rangers" patches or tees, because I would totally have bought that stuff…
The Great Cairn Hut, pic c/o The Dogtooth Rangers
Many thanks to Joanne and Andy at Tourism Golden for organizing the Golden Mountain Festival, and to Isaac, Cody and Ty for inspiring the next generation of Golden locs to get after it!
*Cover pic photo credit w Bruno Long