By now you've probably heard about how much it snows in Japan. The edits keep coming in continuing to show off deep powder shots time and time again; but does it really snow that much? The answer is yes, yes it does.

Japan has a recipe that keeps storms rolling in for most of January and February that essentially ensures it will snow if you make a trip, and chances are, it'll be some of the finest snow you've ever slayed.

Although the unbelievable food, hospitable culture, and easy travel logistics are worth the effort alone to come to Japan, the lake effect snow recipe is really the ticket that gets travelers from all over the world to make a visit. This recipe involves super cold air masses that originate in Siberia and flow toward the Japanese landmass. As the frigid Siberian air moves across the warmer Japanese Sea, intense evaporation occurs and facilitates the growth of massive clouds that become so full of precipitation, at some point, they just can't hold their moisture anymore and have to release. It's when these clouds meet the mountains that the Japanese magic is realized.

To access Japan and all its powder bliss there are two main locales worth checking into. Although, with more than 600 ski resorts stretched out in a country about the size of Montana, there's no shortage of off–the-beaten path ski areas to check out.
A big mountain feel is less than a 45 minute skin or bootpack to get to lines like this right outside the boundaries of Happo-One in Hakuba, Japan. Skier Brennan Lagasse. Photo by Jillian Raymond.
Hakuba

Access is a breeze and here you'll find the biggest lines in the country. Fly to Tokyo, and then choose a train, bus, or even a shuttle that will take you right to the door of your chosen accommodations.

While Cortina seems to be the local choice for storm days, and Goryu Ski Area offers amazing sidecountry access, Happo-One has it all. A resort that's relatively large in terms of its inbounds offerings "Happo" offers all the amenities you'd come to expect at North American resorts: on-mountain eateries, high-level grooming, lots of piste and a park. However, deep powder is what you came for and during storm days and periods of instability Happo provides more than enough fun tree pitches to relish in the plentiful trademark Japanese white-room that's commonly on tap.

However, the potential of Happo as a resort goes infinite when looked at from a big mountain perspective. This is the place you come to and wonder if you're actually in Japan or in some undiscovered part of Alaska.
The alpine terrain in Hakuba is beyond the usual deep powder shots we've grown accustom to seeing from Japan. Photo by Brennan Lagasse.
While some of these big lines rarely see traffic due to complexities with snowpack safety and proper timing, the near out-of-bounds access from Happo can get you to dream spines, pillows, and big faces in a matter of minutes when conditions allow. It will pop blue here, but for how long is the question.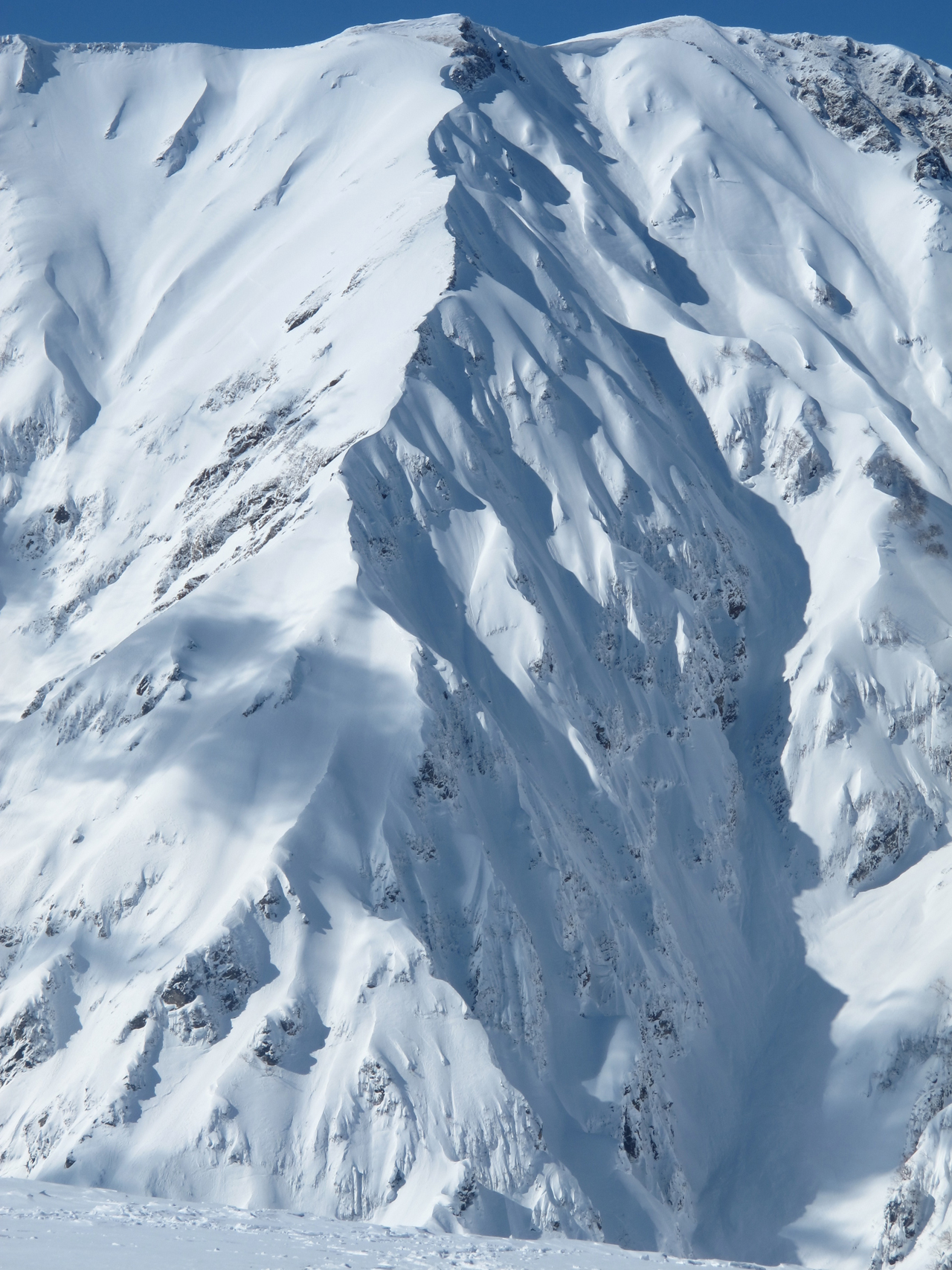 A shot like this begs the question, are you sure we're in Japan? Photo by Brennan Lagasse.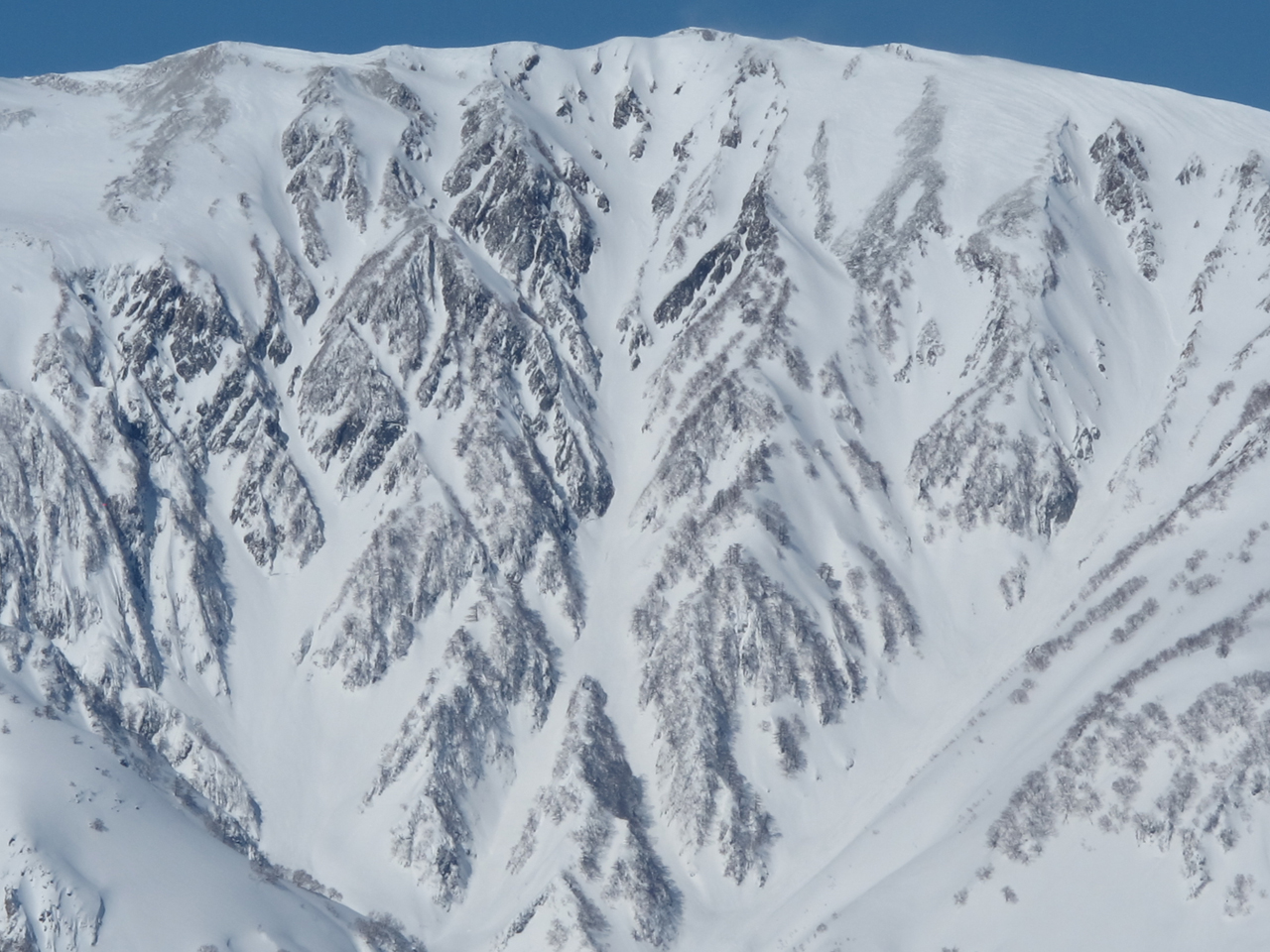 The aesthetic Y Couloir as seen from Happo-One, many miles away. After looking at this line for a few days you just have go for a walk and ski it. Photo by Brennan Lagasse.
While Happo is the biggest and baddest resort on the whole, the other smaller resorts in the area tend to be less crowded and offer access to classic lines like the "Y Couloir," which can be seen from just about every vantage point in the greater zone. This aesthetic line clocks in at about 6,300 vertical feet, top to bottom, with roughly 3,250 feet of the run within the walls of the couloir.
Savvy avalanche skills, gear, and education are a necessity to enjoy the out-of-bounds terrain in the Hakuba area. Heavy winds frequent the area along with plentiful storms that polish the many ridges that you'll use to access the bigger mountain terrain. If you don't have the necessary skills or equipment, simply hire a local guide, which is pretty easy, and let them take you to the goods.
Most of the ski areas have ridge systems that leave resort boundary lines and lead you to a wealth of amazing terrain. Here, Miles Clark, Jake Cohn, and Jillian Raymond discuss whether to keep going deeper, or to peel off for another bottomless run starting a few feet away. Photo by Brennan Lagasse.
With stability comes the opportunity to ski blower powder with full terrain like this... Photo by Brennan Lagasse.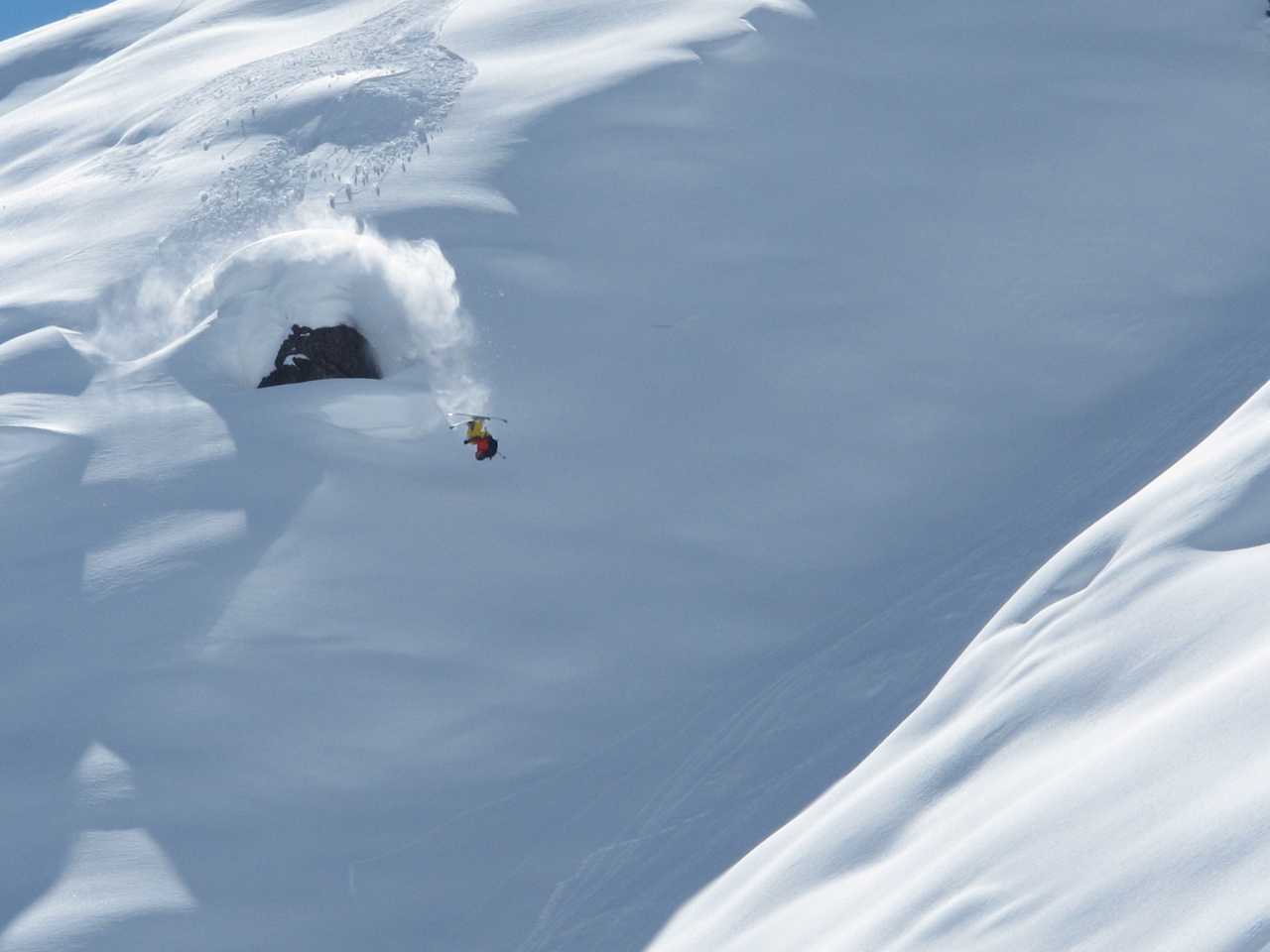 ... and if you're Jake Cohn, the opportunity to send and air like that. Photo by Brennan Lagasse.
Hokkaido

While I'm sure the terrain and snow quality in Hakuba will become more highlighted in the coming years, it's the ski terrain of Japan's north island, Hokkaido, that's given most uninitiated skiers and riders a glimpse into the world of Ja'Pow. To get here fly into the New Chitose Airport and grab one of the several shuttle buses that travel to Niseko.

Niseko has become the hallmark ski area for what we international powder seekers are looking for in a trip to Japan. If you ever wanted to lay into blower face-shots while night skiing, ride in a land reminiscent of something right out of Super Mario Brothers, or literally take laps through trees where you'll follow your own tracks lap after lap as they continuously fill in, this is the place.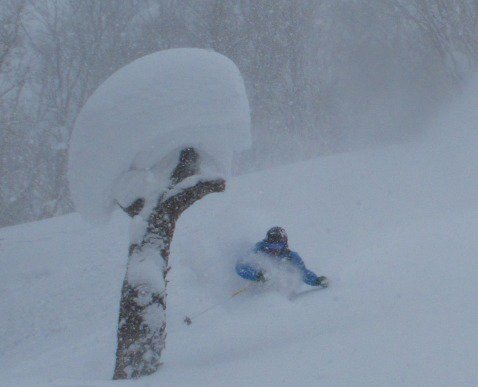 Niseko is the land of marshmallows and mushrooms. When you ski and ride in the Niseko side and backcountry it's pretty clear where the creators of Super Mario Brothers got their inspiration. Skier Miles Clark. Photo by Brennan Lagasse.

The Freedom Lodge is a good bet for local accommodations offering an in-house onsen (Japanese hot-spring), breakfast, and ski-in ski-out access to the portion of the Niseko resort massif that gets less wind affect and holds more of the cold smoke you're looking for.

Over all, the Japanese experience is a completely unique ski trip. The freshest sushi imaginable, smooth sake, and a warm onsen soak will only accentuate the amazingly kind people and bottomless powder you enjoyed all day. The best part about the trip is you'll probably be able to do the exact same thing the very next day.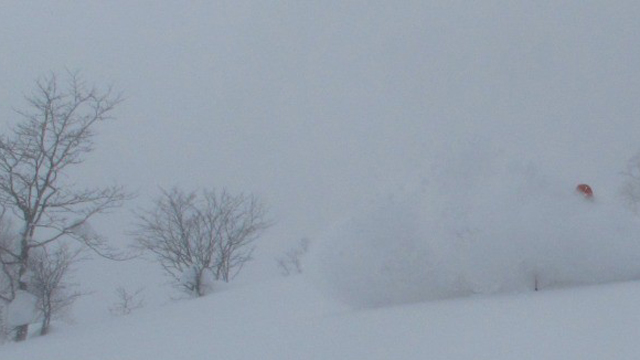 This shot was taken on our down day in Hokkaido. As you can see down days are still overhead blower powder days in Niseko. Photo by Jillian Raymond.