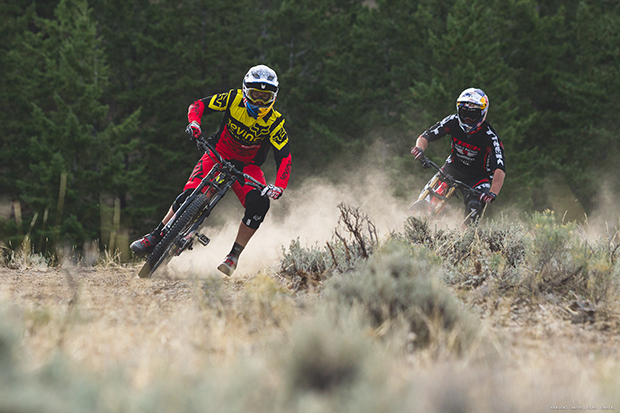 Brook Mcdonald chasing down Stevie Smith, not an easy task. Harookz / @harookz Photo
Every film shoot is essentially a gamble when one considers all of the elements it takes to capture these brief moments in time. It's a long careful construction to line up the people, land, gear, weather, light and, most importantly, the riders. But no matter how much you plan and prepare, sometimes you will find yourself at a moment where the success or failure of the shoot is totally beyond your control and all your can do is hope that the cards will fall in your favour. Last fall we experienced one of these "all-in" moments while shooting with Steve Smith and Brook MacDonald for our new film unReal.
Dusk is falling rapidly and I'm driving down a maze of gravel roads deep in the interior of BC with the fuel gage nearing empty. Stevie is injured and all I have to go on are some sketchy directions that an old timer gave us a ways back. We're hoping that we can find the hospital before the truck runs out of gas.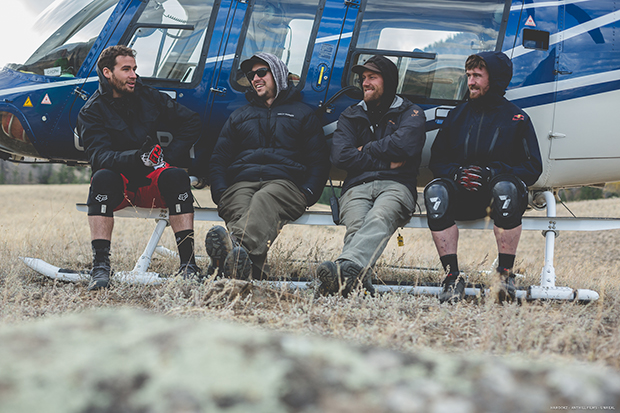 Brook Mcdonald getting his Tokyo drift on. Harookz / @harookz Photo
Earlier today Stevie high-sided while drifting a corner and hit the ground shockingly hard injuring his back. It's only been 9 weeks since he broke his ankle for the second time this season. Hard luck after the highs of the previous season and now this. We were all hoping filming this segment for unReal would be another step on his road to recovery and now we're not sure if he has a bad bruise on his spine or something much worse.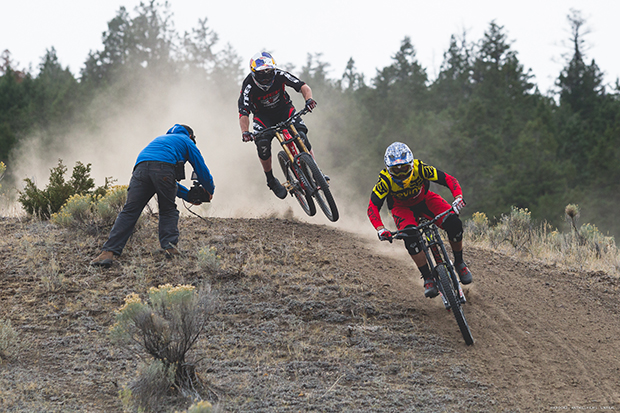 Getting the shot for the boys. Harookz / @harookz Photo
Eventually we make it the hospital in 100 Mile House BC. Stevie is the only patient tonight and within an hour he gets the all clear to return to the shoot. Well, those aren't the doc's exact words, it's more along the lines of "you're not putting yourself in any particular risk riding… but you'll definitely be stiff for a while and don't crash". As the doc speaks I can see that familiar look of determination in Stevie's eyes, all he's hearing is "blah blah blah… you're good to go." And with that we are on our way back at first light.
Ending the day with a couple cases. Harookz / @harookz Photo
After our return to camp, Stevie's spirits are up but he's walking around like an old man. He can't stand up straight and limps heavily on both ankles, at this point it's very hard to picture him riding his bike at all, let alone at the top of his game. Stevie knows the audience isn't looking to see him ride at anything less than 100%. On the other hand another crash at 80 km/h is unthinkable and a guaranteed end to this shoot or potentially worse. Stevie insists that he is ready and so we load the gear and head up to the trail that's taken months of work and tens of thousands of dollars to make a reality. If there ever was a time I felt like we were all-in on the gamble it's right now – this exact moment before the boys drop-in the day after our trip to the hospital.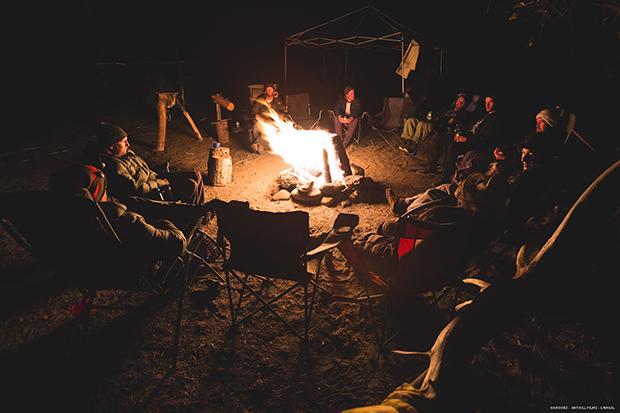 The crew around the campfire. Harookz / @harookz Photo
There's a reason why guys like Stevie and Brook have earned their place amongst the best athletes in the world. When push comes to shove, they'll play through the pain and put themselves at incredible risk just to give the rest of us a few minutes of inspiration. As we watch Stevie and Brook drift past us at top speed, their dust plume arcing out behind them for hundreds of feet over the ridge, a wave of relief rushes over me. The gamble has paid off. It's time to start collecting chips.
___

Sony presents unReal with Shimano & Trek, a new film produced by Teton Gravity Research & Anthill Films starring Brandon Semenuk, Brett Rheeder, Cam McCaul, Graham Agassiz, Steve Smith, Tom van Steenbergen & Thomas Vanderham, with Brook Macdonald, Finn Iles, Ian Morrison, James Doerfling & Matty Miles. Written, directed and edited by Anthill Films. Art direction and additional writing byGood Fortune Collective. Additional support from Bike Magazine, Evoc, Knolly, Pinkbike.com, Rocky Mountain, Western Digital &Whistler Mountain Bike Park.
Photos: Harookz / @harookz
#theunRealmovie