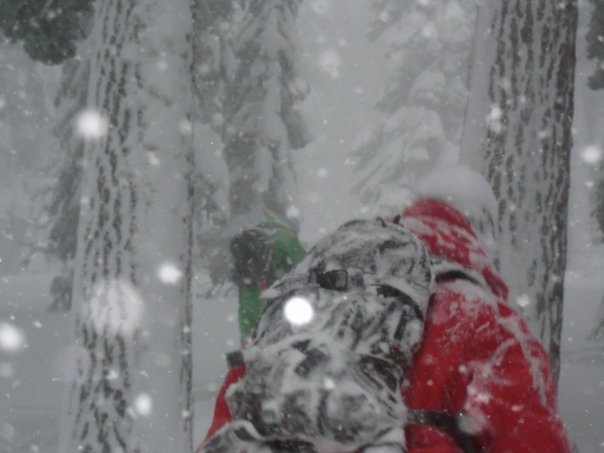 The only photographic evidence of "the best day ever". Photo by Jeremy Benson.
It's safe to say this year hasn't exactly been my year. The notable lack of snow in Tahoe is just the tip of the iceberg, in early January I blew my knee, making an already dismal season even more disappointing.As I sit on my couch or on the bike at the gym and watch late season storms roll through on a weekly basis, my mind drifts to thoughts of my favorite ski days, storm days. One particular day about 4 years ago, which has hitherto been known as the "best day ever", stands out in my memory. It went a little something like this…
Alpine Meadows is closed for the day. Everything's on wind hold at Squaw. Three to four feet have fallen in the past two days and the forecast calls for more of the same. Its snowing two to three inches an hour at lake level and gusting over 100 miles an hour on the ridge tops, a typical sierra crusher.
At 9 am the phone rings, it's the usual suspects itching to go ski some pow. There won't be any down days for us, not in the midst of one of the lightest snow years in recent memory.
It's storming so hard that it's nearly dark out. We drive slow, not only because it's hard to see, but we know that no one is racing us for freshies today. Fortunately, the pullout has been plowed saving us from starting our day with back breaking shoveling. We prepare for our ascent in silence shielding ourselves from the bite of the wind driven snow. Skinning up to our zone, the storm just rages around us, we hide behind our hoods, jackets fully zipped, all vents closed.
Hunkered down in a stand of smaller trees we try to hide from the wind but it's no use, it seems to be blowing all directions at once. We pull our skins and stuff them in our bags as quickly as we can, trying in vain to keep out the snow that threatens to get our extra gloves, layer, and hat wet. I don my goggles with surgical precision, but the fog inducing snow crystals sneak inside regardless of my best efforts.
Traversing from our "windbreak" to the top of our ski it's obvious that we're not skiing the typical Sierra Cement. Our new snow is deep blower, five percent, cold smoke. We drop into the most perfect pitch of widely spaced old growth California conifers, the kind of trees that beg to be skied full speed. Every turn is a face shot, sinking waist, chest, neck deep, even on the fattest skis known to man. An hour climb rewarded with 45 seconds of nirvana, euphoric bliss, indescribable glorious powder.
We regroup at our skin track. Faces caked with snow reveal toothy grins that confirm my hopes for another round. Our skin track is hardly visible, the wind drifting snow into every spot it can. We walk excitedly uphill, fully aware of how good our reward will be, knowing that on this mountain our own tracks are the only ones we'll encounter today.
Four laps later we're forced from our white heaven by waning daylight and the intensifying storm. Ten inches of fresh snow blanket the truck as we exit the forest, our tracks vanishing more quickly than we'd made them.
Despite repeated attempts at re-creating the best day ever it hasn't happened yet. For now the memory of that day will help to pull me through the physical therapy and months at the gym. The most important thing for me is getting better. Even if we can't re-create the best day ever I can't wait to give it another shot.