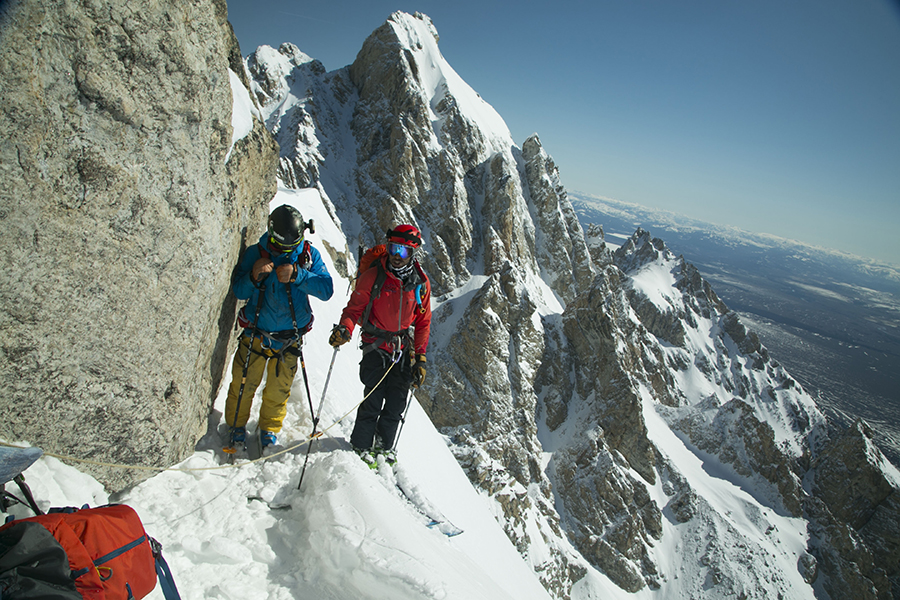 Zahan guides Griffin Post down the Middle Teton during Way Of Life. Photo courtesy of Zahan Billimoria.
Zahan "Z" Billimoria, a backcountry ski and climbing guide on the prestigious Exum Mountain Guides staff here in Jackson Hole, is a pretty prolific figure here in the Tetons. He holds numerous speed records in the area's mountains, including a four hour car-to-car ascent of the Grand Teton. He's climbed and skied all over the world, has been a member of the US National Ski Mountaineering team, and beyond his athletic accomplishments, is an eloquent speaker and teacher whose knowledge base has brought countless other folks, from rank amateurs to sponsored professionals, higher in the mountains.
Of late, Zahan's also been doing quite a bit of work with TGR. He guided Griffin Post up and down the Middle Teton for Way Of Life, guided Jeremy Jones up the Grand Teton and down the Otter Body for Higher, and this past March guided Max Hammer up and down The Sickle on Mount Moran for Almost Ablaze. He also leads the rope skills section of our International Pro Riders' Workshop (which happened last week) for all the TGR athletes and filmers.
"Z" is just about to hop in the TGR Forums on his Ask Me Anything thread to answer any questions you might have about guiding, mountaineering, rock climbing, being extremely fit, and what it's like to ski deep in the peaks with some of the world's best. It all starts right here at 1 PM MST!