Separation Glacier NZ Photo: Tess Carney
An experienced glacier traveler, snowboard mountaineer Tess Carney and her partner, Shane Orchard, began a project this spring called Last Descents. The pair hopes to reach pocket glaciers in the US, New Zealand, South America, and Europe before the the melting effect of global warming makes berchunds on these glaciers too precarious to cross. Their aim is to explore and document glacier retreat with photographs and maps. They kicked off the project with a 12-day traverse across Wyoming's Wind River Range. Currently they are in New Zealand planning trips into the numerous glaciated areas in the South Island.
A Pinedale, Wyoming native, Carney explains why coming home to the Winds was a critical first step to following the world's disappearing glaciers, and how she approaches major mountaineering descents in remote areas.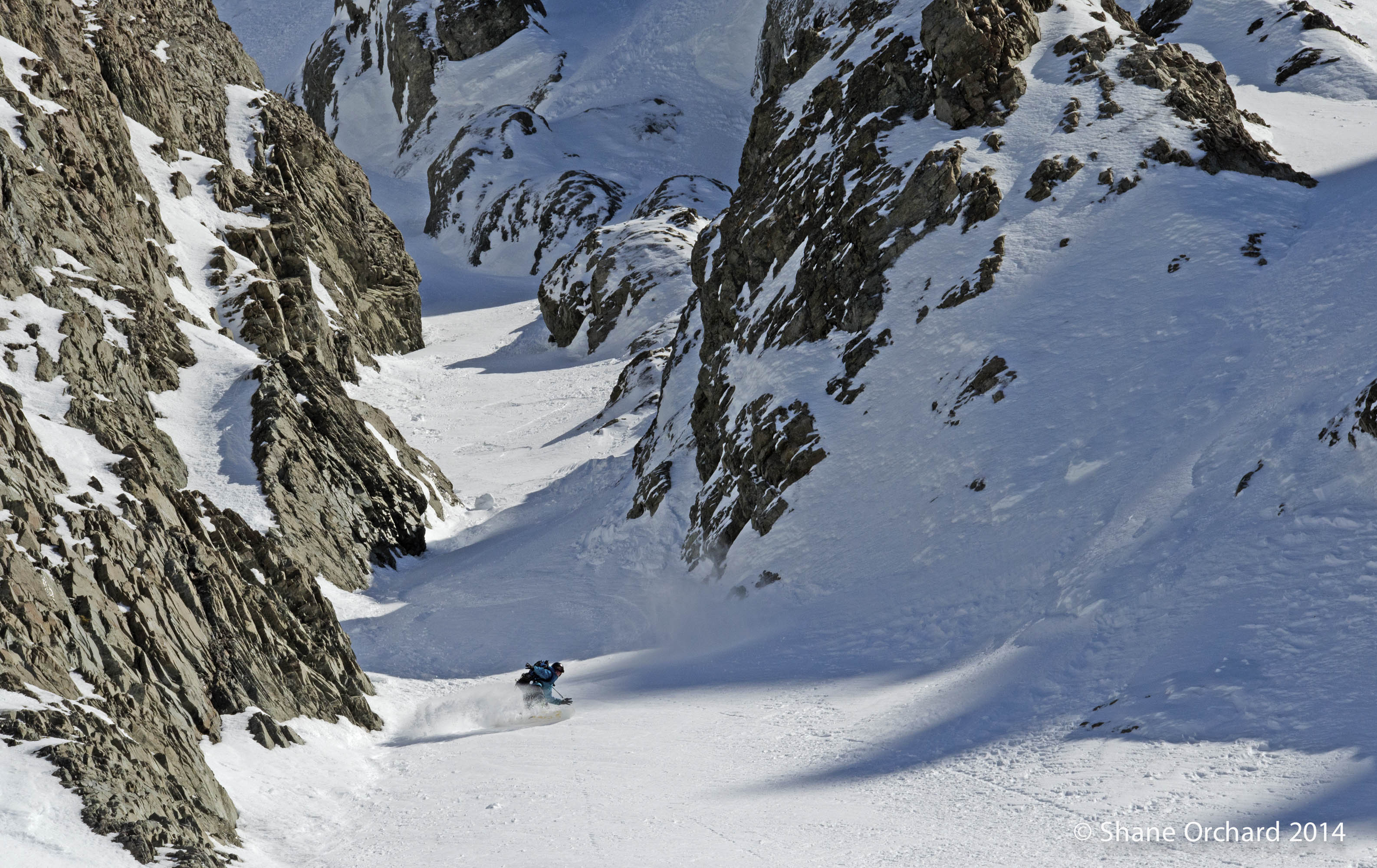 Mt. Greenlaw Tess Carney first women snowboard descent Photo: Shane Orchard
How did you come to ride big, remote lines around the world?
The pursuit of riding powder took me from Steamboat to Jackson and then down to Las Leñas in 2004. I rode some big lines there, but remember looking at Cerro Torrecillas, and thinking, "That's where I want to my level of my snowboarding to go."
When I came back, I started going into the Wyoming Range backcountry. A while back, there were only a handful of skiers and a few snowmobilers on the Wyoming Range's east side from Pinedale and Big Piney, Wyoming. On the west side, there was a different set of locals. There is no scene and that is what I like about it. It's you and your mates.
This has always been where I want to be. I loved being where it is likely that no one has skied before. Remoteness is a personal experience, a feeling like you're on your own. Even when I run into other people, it's as if we are sharing an adventure. I started looking for remote places, and ended up in New Zealand the next summer.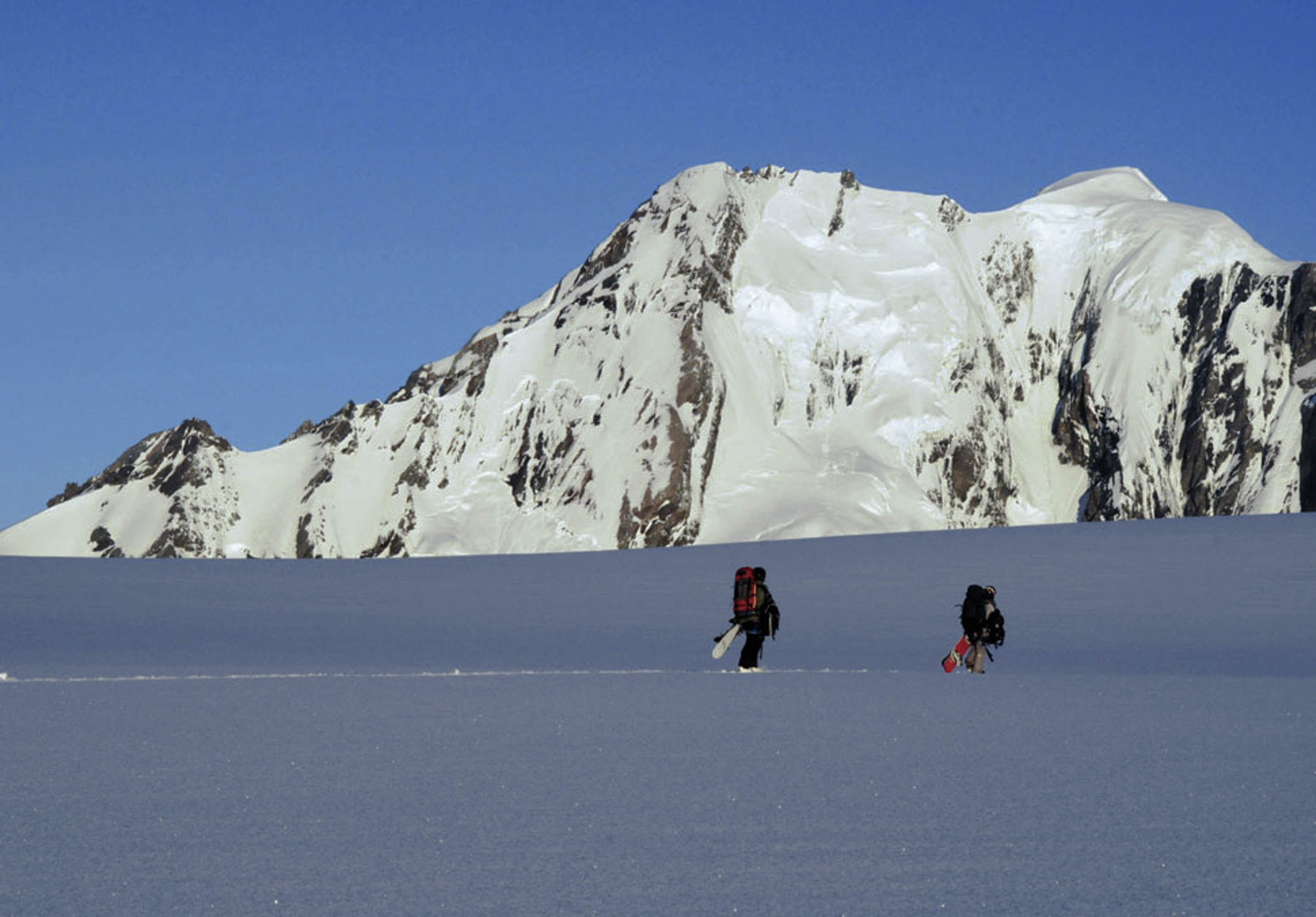 Shane and Surg looking at Elie DeBeaumont and Franz Josef Neve: Photo Tess Carney
When I began snowboard mountaineering, I didn't know how to use crampons, I didn't know how to self-arrest, and I certainly didn't know how to navigate through glacier terrain. I figured it out during a first descent mission on Mt. Mantenga in New Zealand—I learned how to use crampons on an icy slope in the middle of the night with big crevasse underneath me.
Being up on that peak, with that big, beautiful chunk of blue ice, I knew that was where I wanted to be. It was the edge I like. The thought of putting down a first decent is so appealing to me, because it's the edge of exploration, and it's as far remote as you can could get.
What is the goal behind Last Descents?
The idea is to go and snowboard as many glaciers as possible–especially ones that are disappearing because of climate change. I also want to glean how it's impacting local communities. My partner, Shane Orchard and I, want to show through photographs and Geographic Information System data by overlapping the photos onto maps, where the snow line is and where it used to be.
Garden of Eden after 4 feet of snow/sleet and our camp jib zone! Photo: Tess Carney
The goal is to encourage people to explore their own glaciers and submit their trip reports on LastDescents.org, which will be an online publishing place.
Why did you choose the Wind River Range for the Last Descent project?
I wanted to go into the Winds because I grew up there, and have seen the snowfields disappear. These places aren't going to be around for much longer.
I felt a lot of loss during the trip. Stroud Peak is part of the headwaters of the Green River, which ran through my family's ranch. Those glaciers on the west side of the Continental Divide, and that river, are the lifeblood of the Upper Green Valley. The snow line has moved up in the Wind Rivers. Soon the water supply is going to be only from rain and snowmelt. It will impact the wolverines in that area.
Glacier wave: Photo Tess Carney
What kind of preparation and skills did that take?
The main preparations were the food and the route. We wanted to go to as many glaciers as possible and also go snowboarding, so we had to consider where the most of the glaciers and big snowboarding lines are and what the easiest route was to access them. We also organized a food drop from a plane part way through the journey.
How did you go about scouting and dropping lines? What were the descents like?
My long-term mountaineering partner, Shane Orchard, flew in from New Zealand. It seemed like it was the right time snowpack-wise. We waited for a weather window, and then went in on April 28th. We had four days of pretty fine weather, and then it clouded over for two or three days, and then it snowed on us two or three feet. We skinned north following the glaciers on the east side of the Divide after the big snow.
After two days of skinning, we hiked a wind-scoured ridge to Harrower Peak, also known as Ellingwood. The rock scrambling was scary. I was awkwardly stepping in hard boots. I just switched over to the Dynafit Freeride Touring system. The only test run I had done was up the Sliver in the Tetons with three feet of fresh powder. We had to drop down into rotten snow and climb back up to reach the couloirs. We caught it in perfect light. Conditions were pretty good.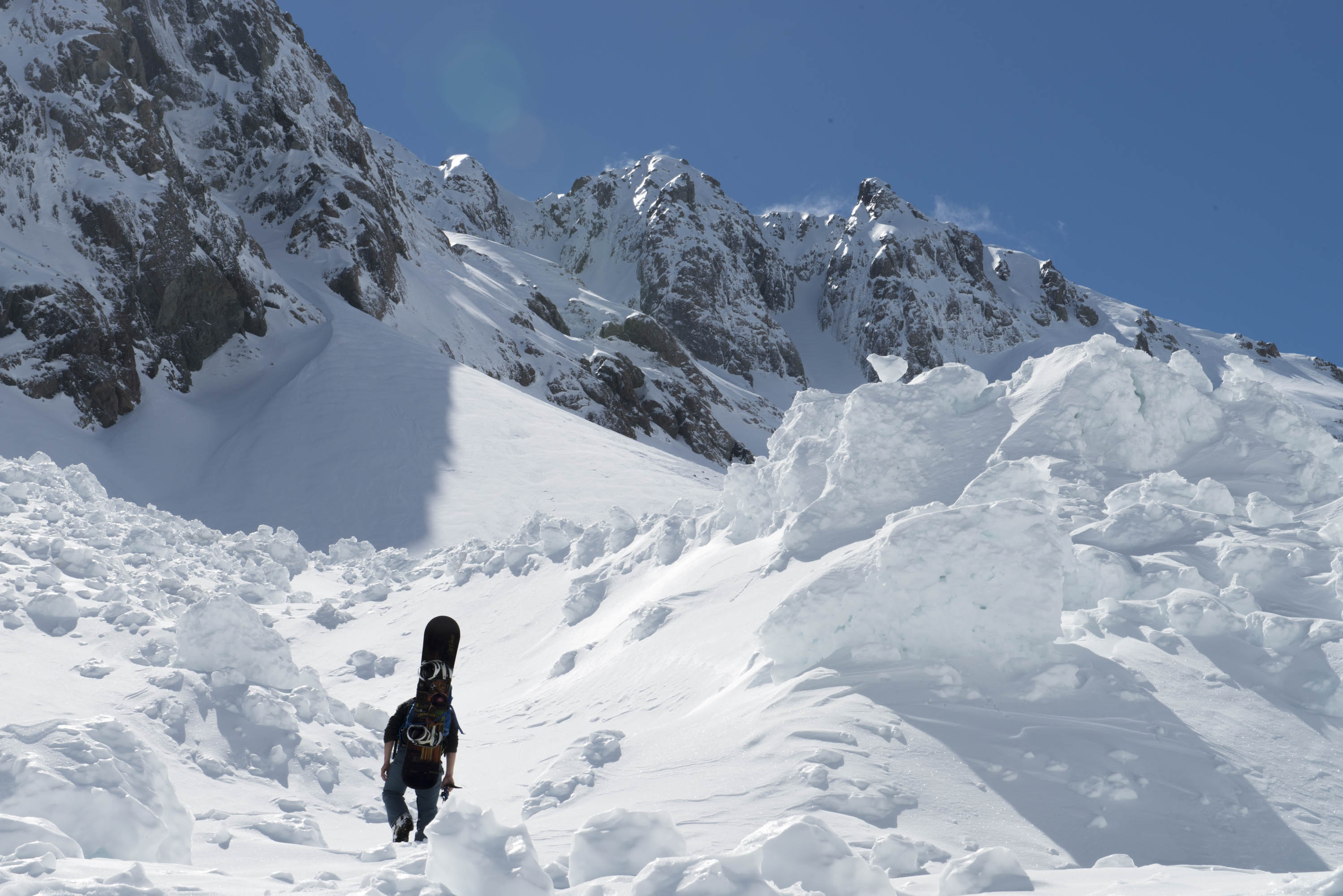 Old Avalanche on Greenlaw Photo Tess Carney
On Day 4, we dropped the Five Finger Couloir on Fremont Peak. Conditions on Fremont ranged from slushy at the top, icy in the middle, rocky in the lower section, to hard avalanche debris at the bottom. I opted to not do Jackson Peak that same day. I was having feet issues. I knew we still had ten more days of snowboarding and heavy pack-carrying. Shane went and soloed Jackson Peak.
The next day we moved camp, and skied the northwest couloir of Mount Helen. Day 6 I took a rest day while Shane descended Battle Mountain and American Legion. Day 7 we walked over Bonny Pass. We descended two couloirs on the east-southeast face of Woodrow Wilson in kind of ice-crusty snow. It started to snow the day we hit Woodrow Wilson, and snowed that night, too.
When it cleared the following day, we kind of took a punch and went around to the north face of Gannett Peak. We hiked up the one line that had powder conditions all the way to the top between all of the rocks. By the time we got to the top of Gannett, it was gray. We waited for two hours in a whiteout. Finally, I decided to go down. I kind of got lost. I tried to follow our boot track but sluffed it. I ended up mincing my way through rocks. I went a little bit around the couloir. That was fine because the chute is 50 degrees with a mandatory rock drop into a narrow landing. Shane didn't even notice when he hit the drop later. It cleared briefly during the descent. I started charging down the glacier. A berchund opened up in my path—a huge crack like a black hole—and I launched myself up and over and out of it. I was a little intimidated after that. Of course, after the descent it was totally clear and beautiful with blue skies. I shot a few photos on the Gooseneck Glaciers. It snowed all the next day and night.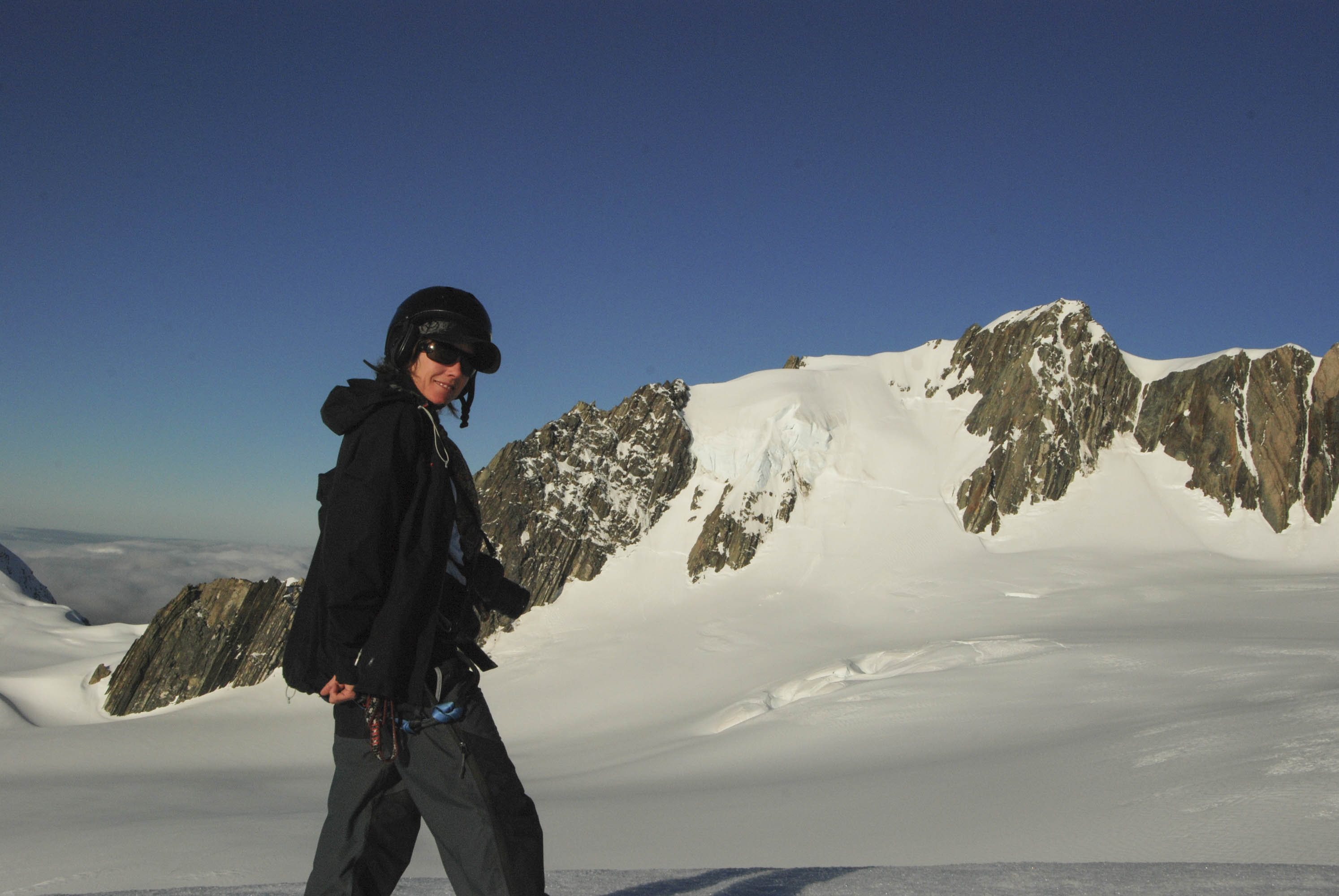 Mt Mantana of Franz Josef Glacier
Shane and I packed up and went over across the Dinwoody Glacier. It got super-hot. The sun just radiated, making feel like we were in a greenhouse. We camped at the Grasshopper Glacier and tried to dry out our wet sleeping bags. The final two days we went up and over Grasshopper, dropped into Sourdough Glacier in a whiteout, and had to skin 11 miles to Moose Gyp to reach my snowmobile.
Can you describe your upcoming plans for which glaciers you'd like to hit next? Long-term? What is your vision for the project and what is the message? What do you hope to achieve with it?
I'm planning to go to places that are starting to be precarious to access. New Zealand is part of the plan. This season we are going to hit either Godley or Ramsay Glacier. The back of the Godley is really tricky to access. There are two terminal lakes with a precarious isthmus in the middle and treacherous lateral morianes. Then next North Hemisphere winter I am thinking about going to Europe.
D'Achiac First Descent Snowboard decent and possible first decent of Moterway Coulier: Rider Shane Orchard Photo: Tess Carney
I hope to spend next summer in South America along the Patagonian ice sheet. It's always called to me. El Chaltéen is like a siren that's called to me for a while because there is a tremendous ice sheet behind it. Then I plan go to the Alps. I also want to go back to Alaska, Russia, and Iceland.
With splitboarding become increasingly popular and helping the pursuits of snowboard mountaineers, what do you think will be the critical next steps in helping snowboard mountaineers ascend and descend peaks? What skills and experiences are absolutely critical to have in order to navigate and snowboard glaciers?
It's critical to know how to self-arrest quickly and in all different scenarios. Invest in a good solid ice axe. It's important to have your crampons fit your boot properly, too.
Another important thing is rope management skills, especially during transitions from skinning to crampons. Getting your rope in your pack efficiently saves you daylight. Learning to ride with a big, 50-lb pack is one of the really challenging things about big snowboard trips–it's a whole 'nother sport altogether.
Separation Glacier NZ Photo: Tess Carney
Know your rescue systems, like a z drag system. You should have at least three carabiners. I use a Petzl Micro Traxion which is a pulley and locking device, and tie three or four prusik loops. Make sure there is a long loop for your feet, and short one for your hand. If you don't have a prusik loop on your feet when you practice crevasse rescue, they go numb.
Unfortunately canteens can't melt water, and it helps to have something the sun can penetrate during glacier travel. I take a water bladder and put it in on a rock and pack so I can harvest water while I'm walking.
Wear a silk scarf or facemask over your face, because the sun reflecting off the snow will permanently damage your lips. Also, keep in mind that you can sunburn your gums, tongue and inside of your nostrils. Zinca–that retro pink stuff from the '80s–is the bees' knees. I wear light gloves, a collared shirt and, of course, a helmet.
What is your mental process when you ascend and ride technical lines and how do you execute?
On the way up, there is always this list of things that I'm thinking about—the terrain, rocks, ice, and sluff—and it's a battle keeping doubts out of my mind.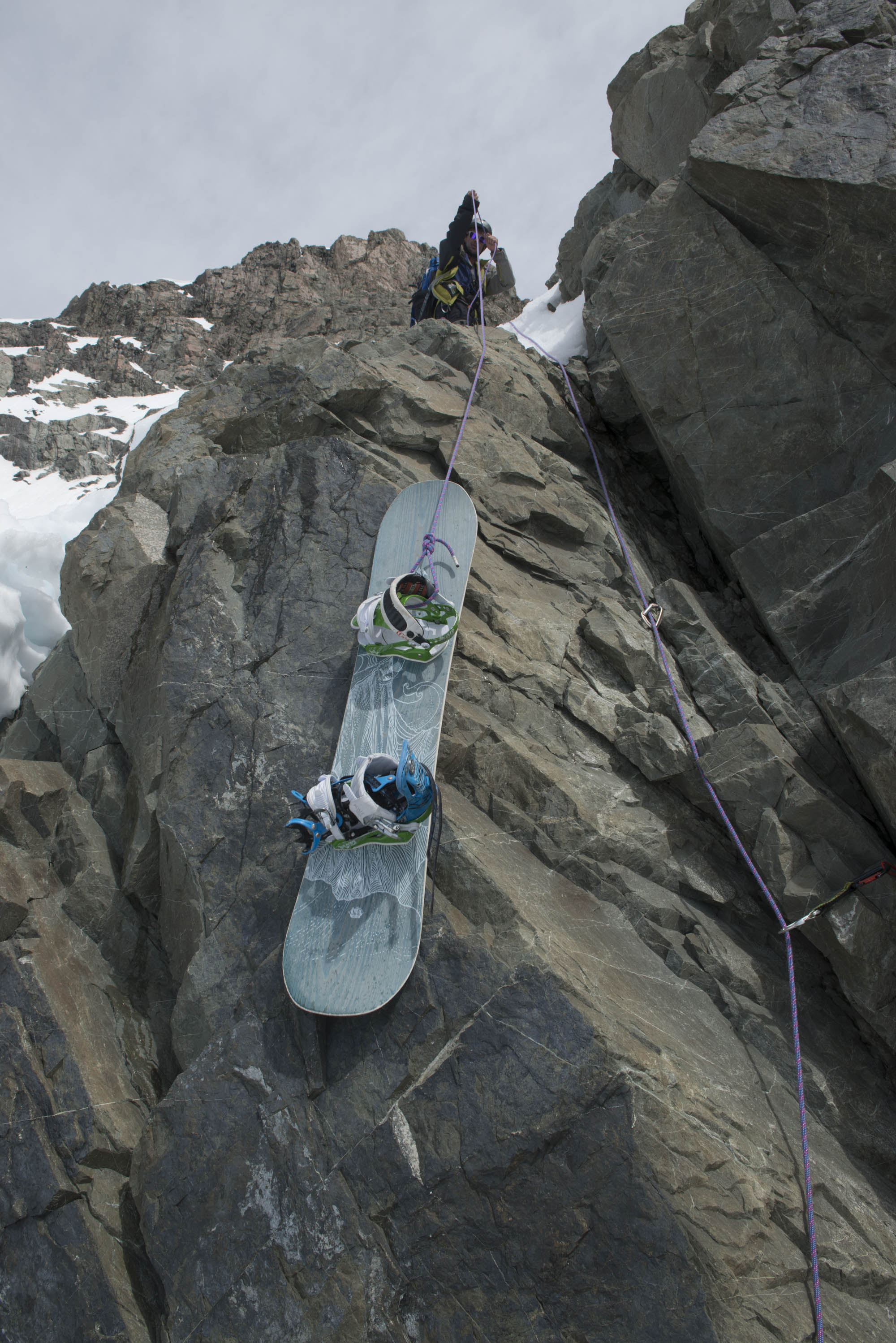 Rock step in Moterway Coulier D'Achiac
It's really trying to be the most focused you can be while being as scared as you've been in your life. It's just you and your partner. You don't fall. You don't make any mistakes. You put that fear out of your mind by taking another step. Even though your body and mind is telling you "no!," you have to keep on going and knowing that you can handle the conditions. Either that or they will handle you. When I get to the top, and I'm ready to drop in, all that doubt and fear falls away. I am no longer doubting–I'm just doing. Each turn is a positive purchase.
How do these things relate to you capturing images and approaching creative expression?
I find it very challenging to shoot powder shots on a powder day. But when it happens, I find that there is a great shot to be had. I find that I get these obsessions with a particular thing like small plants that grow in the alpine, glacier ice, the play of light on a landscape, and I am struck visually and have to take a picture.