August 7th, 2010
Seaton Edges Out Local Favourite Byron Wells in Halfpipe Final Gunning Takes Women's title; Kuzma Second
Taylor Seaton Boosts his way towards victory in the halfpipe
Cardrona, New Zealand - Challenging, snowy conditions didn't prevent the world's top halfpipe riders from raising the bar in the finals of the Volkl NZ Freeski Open halfpipe competition Saturday at Cardrona Alpine Resort.

Taylor Seaton of the United States narrowly edged out Wanaka local Byron Wells in the men's final. Canada's Noah Bowman rounded out the podium.

"Taylor and Byron showed the most amplitude of all the riders," said Head Judge Rafael Regazzoni. "In the end the difference for Taylor was that he was able to combine more tricks in his run and was slightly better technically."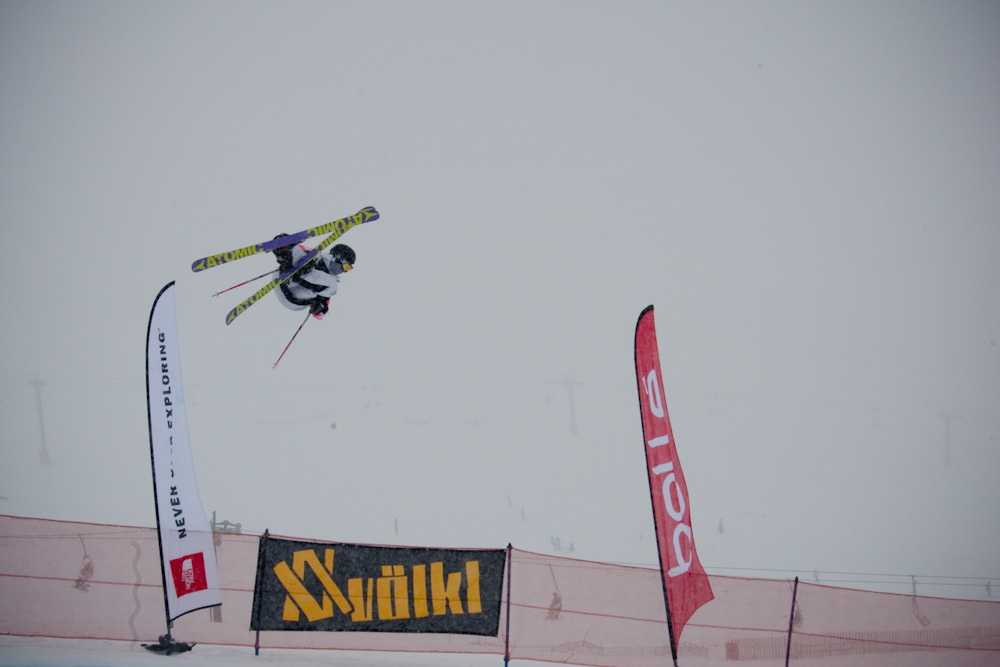 Local Favorite Byron Wells Boosts in the halpipe
Regazonni specifically pointed to Seaton's huge alley-oop 900 as a difference-maker. "Byron went huge, but he missed out on his final hit and that cost him," said Regazzoni. "And Noah threw a big double flare but was unable to land it cleanly."

In the women's halfpipe final, Megan Gunning's final run score of 94.25 separated her from the rest of the field. Wanaka local Janina Kuzma was second, and US rider Jamie Crane-Mauzy was third.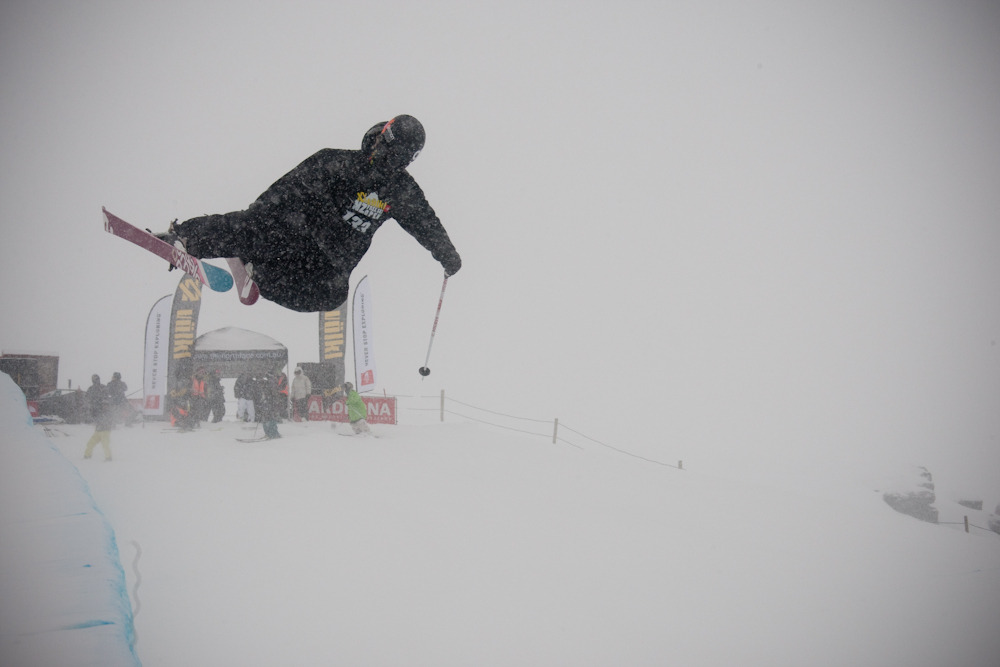 Megan Gunning sessions the pipe in snowy weather
"Megan threw down a huge cork 1080, a trick that not many women can pull off," said Regazzoni. "She was impressive. It was a fantastic halfpipe but the conditions made it difficult for everyone."

Wanaka locals Ryan Read and Raphael Beazley finished 18th and 19th, respectively, in the men's final. After Kuzma, the top New Zealand women were Mikey Austin (5th) and Hannah James (7th).

Men' Halfpipe Results
1st Taylor Seaton
2nd Byron Wells
3rd Noah Bownman
4th AJ Kemppainen
5th Pat Baskins
6th Bobby Brown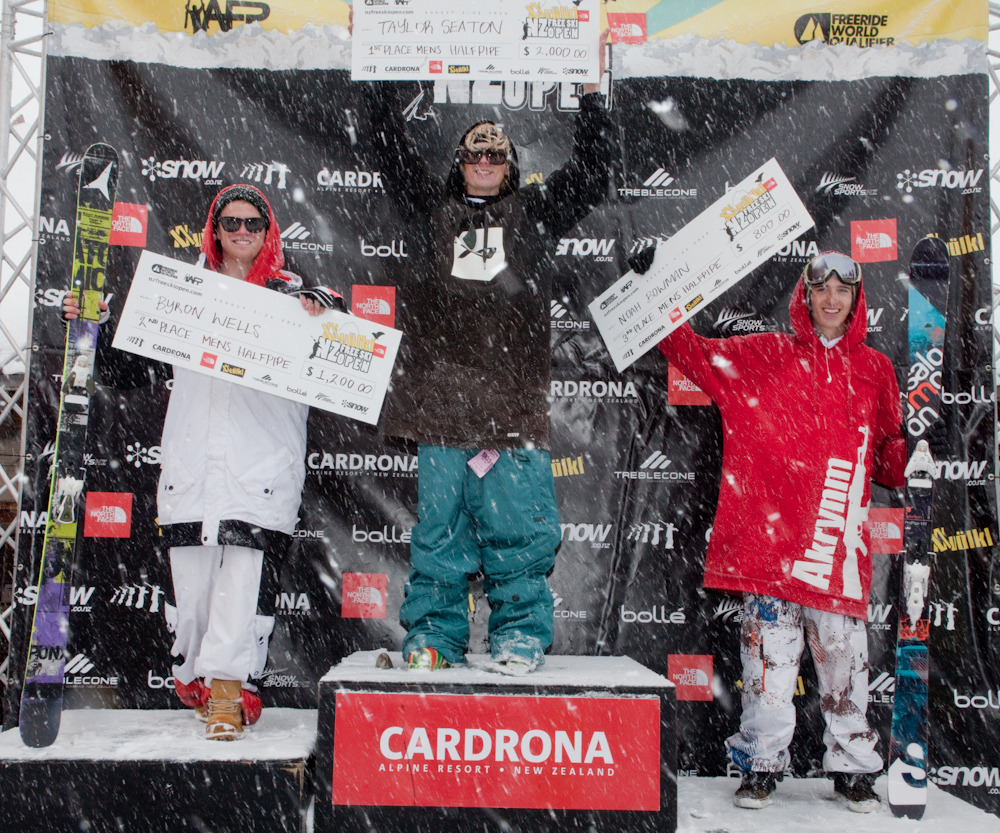 The Bolle Young Gun Awards went to Canada's Gunning (1st); Nick Goepper of the US (2nd) and Jonas Hunziker of Switzerland (3rd).
Byron Wells' brother, reigning World Champion Jossi Wells, did not compete due to injury.

The Volkl NZ Freeski Open continues on 16 August with the North Face Big Mountain Competition at Treble Cone.

The Volkl New Zealand Freeski Open is fast becoming the traditional opening event of the international skiing calendar, rivalling the US and European Open events as a benchmark in world-class freeski competitions.

About Volkl
Principal Sponsor & Official Ski Higher, faster, further – that motto may work for the Olympics, but not for Völkl. There's more to it than that when it comes to developing new ski models: more precise, agile, dynamic, powerful, cushioning, individual, comfortable, intense, flexible, variable, safe, carving. In other words: our goal is to make skiing a little bit better each year. We use technical innovation to drive forward the development of skiing. Why are we doing this? It's quite simple: We don't view the limits of physics as the summit, but rather as just another step on our path. We use know-how, enthusiasm and German engineering to work constantly on improvements. Even if they appear quite miniscule at first – over 85 years of experience have taught us that big successes often depend on the small details.

The following help to support the Volkl NZ Freeski Open and The North Face Big Mountain at the Volkl NZ Freeski Open: Volkl International, Volkl New Zealand, The North Face, Bolle, Southern Lakes Heli, Subway, Racers Edge, snow.co.nz, NZSkier.tv, Pakworld, Cardrona, Treble Cone, Downdays.eu