Ben Goertzen on the '57 Chevy Couloir on Beartooth Pass. Nik Lampard photo.
It's June. You've hit all the post-season sales and stocked up on cheap gear that you're probably anxious to try out. Here are the stories of like-minded individuals who have been getting after it since the lifts stopped spinning.
Beartooth Pass, Montana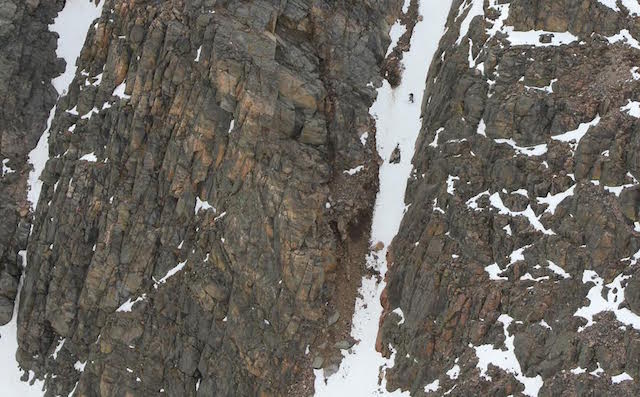 Erik Hilb skiing the '57 Chevy Couloir. Nik Lampard photo.
I caught up with a crew of buddies out of Bozeman, Montana who have been making frequent trips out to Beartooth pass to ski this month. During an average summer, Beartooth Basin Ski Area, located near the border of Wyoming & Montana on Beartooth Pass, has two Poma lifts accessing lines, cornices, cliffs and even a terrain park. Due to insufficient snowfall this past season, Beartooth Basin was unable to get their lifts turning- but that shouldn't stop you from getting after it on the pass. There are burly lines that you can shuttle through with road laps, and enough snow to build booters and road gaps with your buddies.
Montana skier Erik Hilb gave me the low down on his descent of the '57 Chevy Couloir.
"One day after skiing, we stopped at one of the switchbacks on the Beartooth Highway where we heard there was a NW-facing chute that a car had slid off the road and rolled down years ago, I peered down from the entry and saw the '57 Chevy wreckage at the bottom and saw that the crux point was pretty melted out.
We heard there was a NW-facing chute that a car had slid off the road and rolled down years ago, I peered down from the entry and saw the '57 Chevy wreckage at the bottom.
The next day after a jump sesh, we skinned up to one of the mountains above us and topped out of the small peak with a perfect view of the whole couloir. After some binocular scouting, we decided that the crux was definitely-probably doable. So the next morning, Ben Goertzen and myself went up to the top of the couloir and Nik Lampard skinned over to get the full view and snap some photos. Got down the line, booted south back up to the road, met Nik, and then knocked out some more laps on the Rock Creek Headwall." – Erik Hilb
Ian Bailey sending a Beartooth Booter during a whiteout. Augie Shield photo.
Mt. Hood, Oregon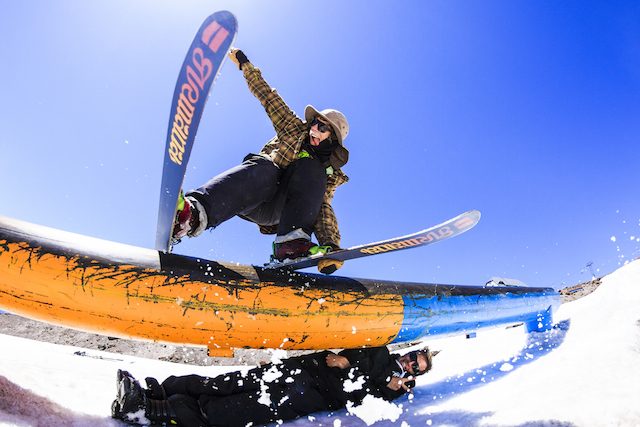 Skier: Christopher Newett & Andy Parry. Emily Tidwell photo.
Mt. Hood is probably the most notorious location for the ski enthusiasts to get lift laps late into the summer. You may be too old for summer camp, but that shouldn't stop you from ripping fresh laps on Palmer, hiking the park and even sending the summit. My good friend Emily Tidwell (Emily Tidwell Photo) is based out of Government Camp, Oregon, and it was a pleasure to spend my time with someone who knows the area so well on my recent trip out to Hood.
"If you've ever been to Mt. Hood, then you will understand when I say this season has been a little 'below average.' But in reality, it's June 10th and we are still skiing some of that sweet spring slop a lot of us dream about, and we aren't about to stop. If you are one of the ambitious and fear not the hoards of ski racers fighting for the early chairs, then you can still experience those smooth corduroy turns on hard pack snow in the early mornings on Palmer. But for me, it's those hours long after 7 o'clock when the snow gives way and mounds melt in front of you, that's when the essence of skiing Mt Hood in the summer really resides. Where the hoodies come off and it's goggle tans and t-shirts till the lifts stop running and you're stomping through the ashy dirt to your car.
But for me, it's those hours long after 7 o'clock when the snow gives way and mounds melt in front of you, that's when the essence of skiing Mt. Hood in the summer really resides.
The summer is where you can still catch some of the essence of what skiing is meant to be. Skiing should be fun. It's about hanging out with your friends on the mountain, goofing off and making the best of what you have. It's about the campers in the woods, with their tarps and campfires, trying to catch every last day of the season until the snow comes. It's about working hard and playing hard, trying to afford that pass and maybe save a little for that Japan trip this January while still going out and partying with you friends.
It's not about the snow, it's about the memories and that's why the summers here can't be beat. We have not had the best snow, but a summer out here is something you won't soon forget. That's why I keep coming back, and why you should start."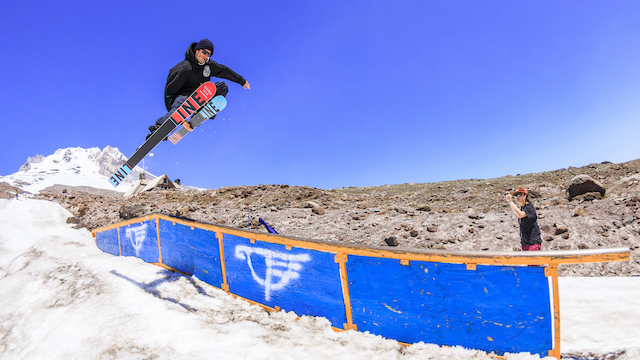 Skier: Andy Parry. Emily Tidwell photo.
Tuckerman Ravine, New Hampshire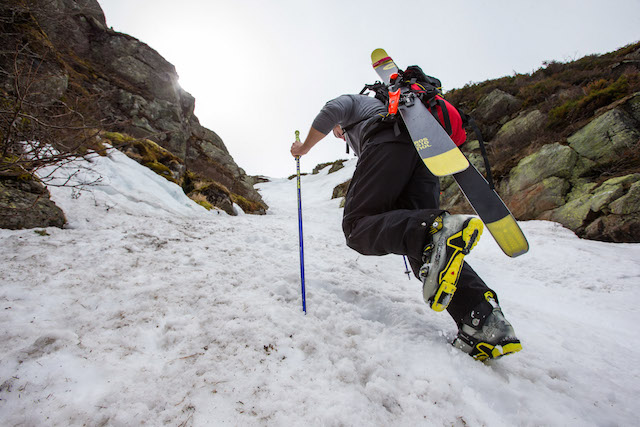 The East's strong winter meant that turns were had all the way into on the infamous Tuckerman Ravine. Jamie Walter photo.
Jamie Walter is a ski photographer from Maine. As someone who personally has never skied the east coast before, Jamie was my go-to in getting the basics on springtime at Tucks.
"Tucks is best from Late-April to Mid-May, from what I've heard. We went May 16th, hiked 2.5 miles up to the base of the Ravine, during which you gain about 1800 vertical feet. Once you're there, it's pretty easy going. It's about a 20-30 minute steep boot pack up to one of several different lines. Even though this was a good snow year, the headwall and snowfields were inaccessible due to undermined snow and melting.
RELATED: How to ski or ride Tuckerman Ravine and why it should be on your bucket list
The worst part was probably hiking all our gear out at the end of the day, back down the 2.5 mile trail. If we had been there two weeks earlier, there is a ski trail that you can descend most of the way down back towards the Pinkham Notch trailhead. It's probably no longer skiable, or anything off of Mt. Washington at this point."
Grand Teton National Park, Wyoming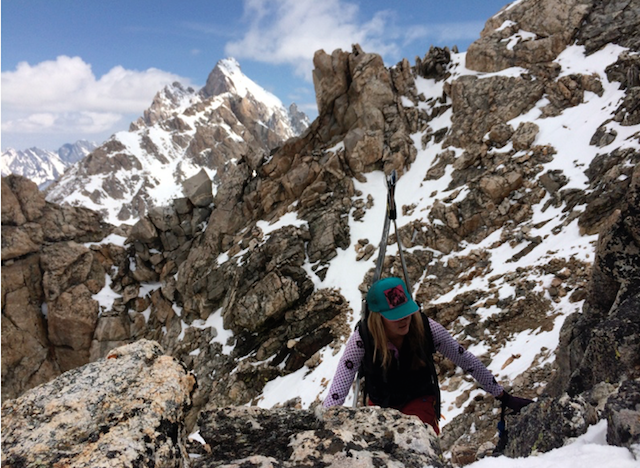 Jenny Allen climbing the final steps to the summit of the South Teton. Morgan McGlashon photo.
If Jackson's inbound terrain doesn't get you to the Tetons, Grand Teton National Park certainly should. Just thirty minutes from town, the park is home to some of the most technical and aesthetic lines in the lower 48, and who better to talk to than Jackson's very own Morgan McGlashon. Morgan is the quintessential born and bred Jackson local. She is well on her way to summit and ski all of the major peaks in the Teton Range, all before her 22nd birthday. Morgan can ski better, faster, and harder than you can...but she'd never tell you.
"There are no lifts to the top or roads to run shuttle on and certainly no huge park jumps, but if you think you would like to try your hand at mountaineering, the Tetons should be at the top of your list. There are aesthetic couloirs, open faces, unbelievable summits, and lines that make the list of classic ski descents. Most objectives are possible to do in a day and you can aim for anything as ambitious as skiing the Ford-Stettner route off the Grand Teton to mellower options like the east face of Albright Peak.
Every day I have spent skiing in Grand Teton National Park has been unforgettable.

Often times, it might be a lot of work and the skiing could be mediocre, but every day I have spent skiing in Grand Teton National Park has been unforgettable. To me, spring skiing is all about the adventure.
Caleb Ladue skiing the Skillet Glacier on Mt. Moran. Morgan McGlashon photo.
This spring, we were lucky to have a few sunny days with cold temps at night to tick a number of lines off my ever-growing list, including the classic Skillet Glacier off of Mt. Moran. On this particular adventure, we biked, hiked, bushwacked, post-holed, camped, skinned, climbed, skied and did it all in reverse with an awesome swim in Leigh Lake at the end. The skiing was mashed potato-esc and we spent more time post holing than anything else, but there is a certain satisfaction that comes with standing on mountain summits before most people have gotten up to eat their breakfast." -Morgan McGlashon
--
It may not be the greatest summer for 4 th of July ski missions or perfecting your beacon tan, but in many places there may just be a couple weeks left of skiing. Get after it, get inspired, and most importantly .. get yourself ready for the snowfall next season.