This is the story of my first day taking my splitboard out into the backcountry. I had previously been out touring before but with snow shoes or just hiking small objectives just out of bounds at resorts. This winter just gone had not been a good one for conditions and days when conditions were good and I had a day off work I wouldn't have anyone to go touring with. This story is mainly about the stars aligning to produce one perfect day in the backcountry for myself and four of my friends.
---
It was April 28th 2014 and I was at a local pub in Banff drinking for some reason not entirely sure why, when I ran into a few snowboarding friends, Shannon, Jarrod, Jennifer and Joel.
We got talking and all of us had the next day off and we suggested a backcountry excursion out of bounds near the local resort, Sunshine Village. We looked up the next days avalanche forecast on avalanche.ca (reports released daily at 5pm) and conditions looked pretty good, I believe it was mod low low with early starting times recommended due to daytime warming, so typical spring conditions. (went and checked the archives, the rating was Low, Low, Low - http://avalanche.pc.gc.ca/bulletin-eng.aspx?r=1&d=2014-04-28 )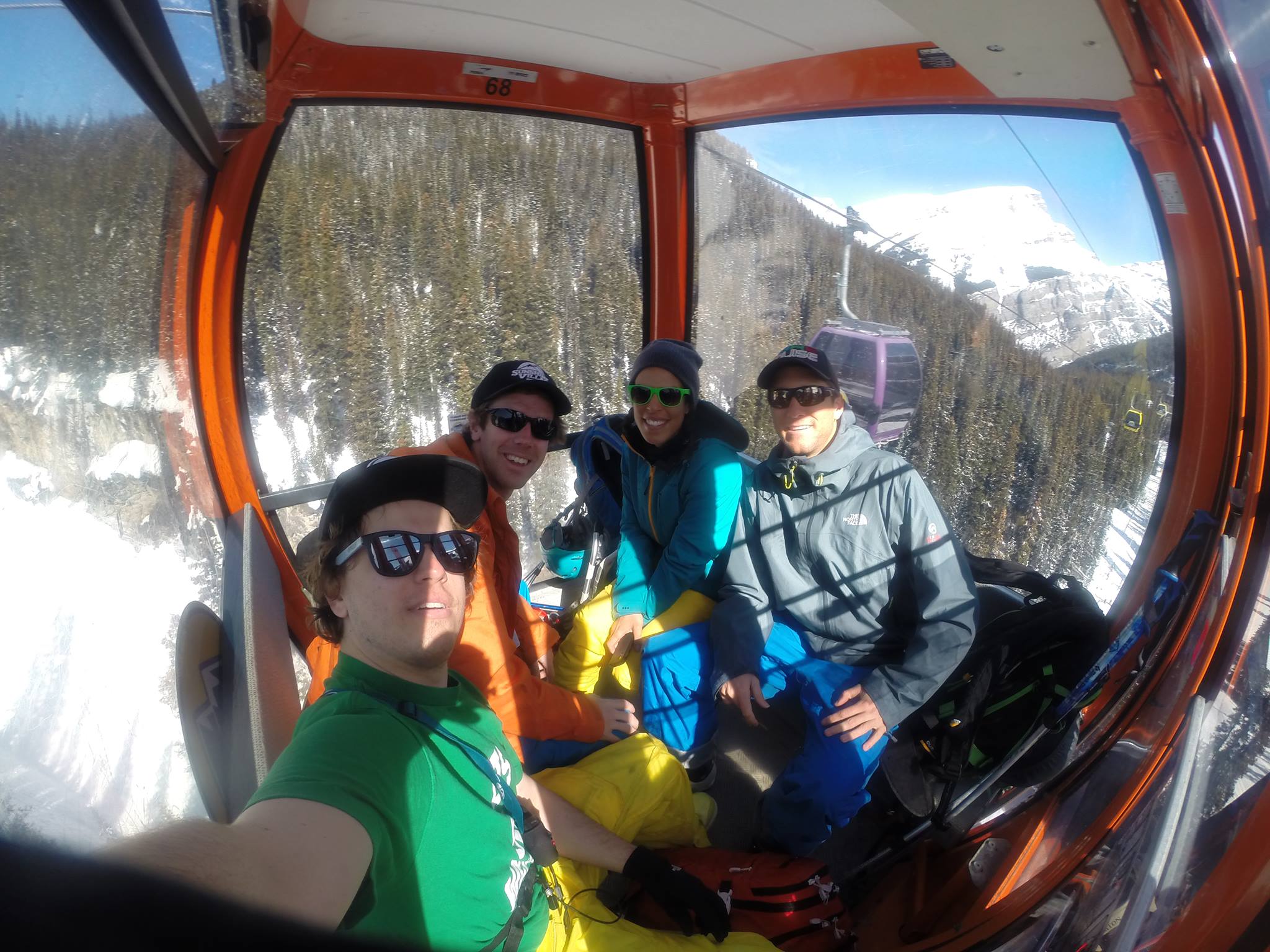 Photo: Myself front left, Jarrod middle left, Jennifer middle right, Shannon far right. Gondola Cabin, Sunshine Village. Credit Myself with Jarrod's GoPro
The next day we headed up the gondola at Sunshine Village, Shannon was on touring skis, Jarrod, Jennifer and Joel had snowboards and snowshoe combo and I had my splitboard. We all had food and water and other survival necessities, avalanche gear, (beacon, probe shovel), a lot of camera equipment, there was a DSLR and 2 or 3 GoPros and I had a snow saw, compass, snow study kit and a local book on backcountry terrain around Banff and particularly Sunshine Village. It was definitely the most gear I've ever seen in a single gondola cabin with only 4 people in it (Joel met us at the top) even though we were only planning on a small day trip. I guess it's better to be over prepared than under right?
On the way up we went through the book and we had a discussion about where we wanted to go, we talked about the pros and cons of each place and route and we ended up deciding to head up Twin Cairns and then down towards Dinosaur Head and out through Healy Creek.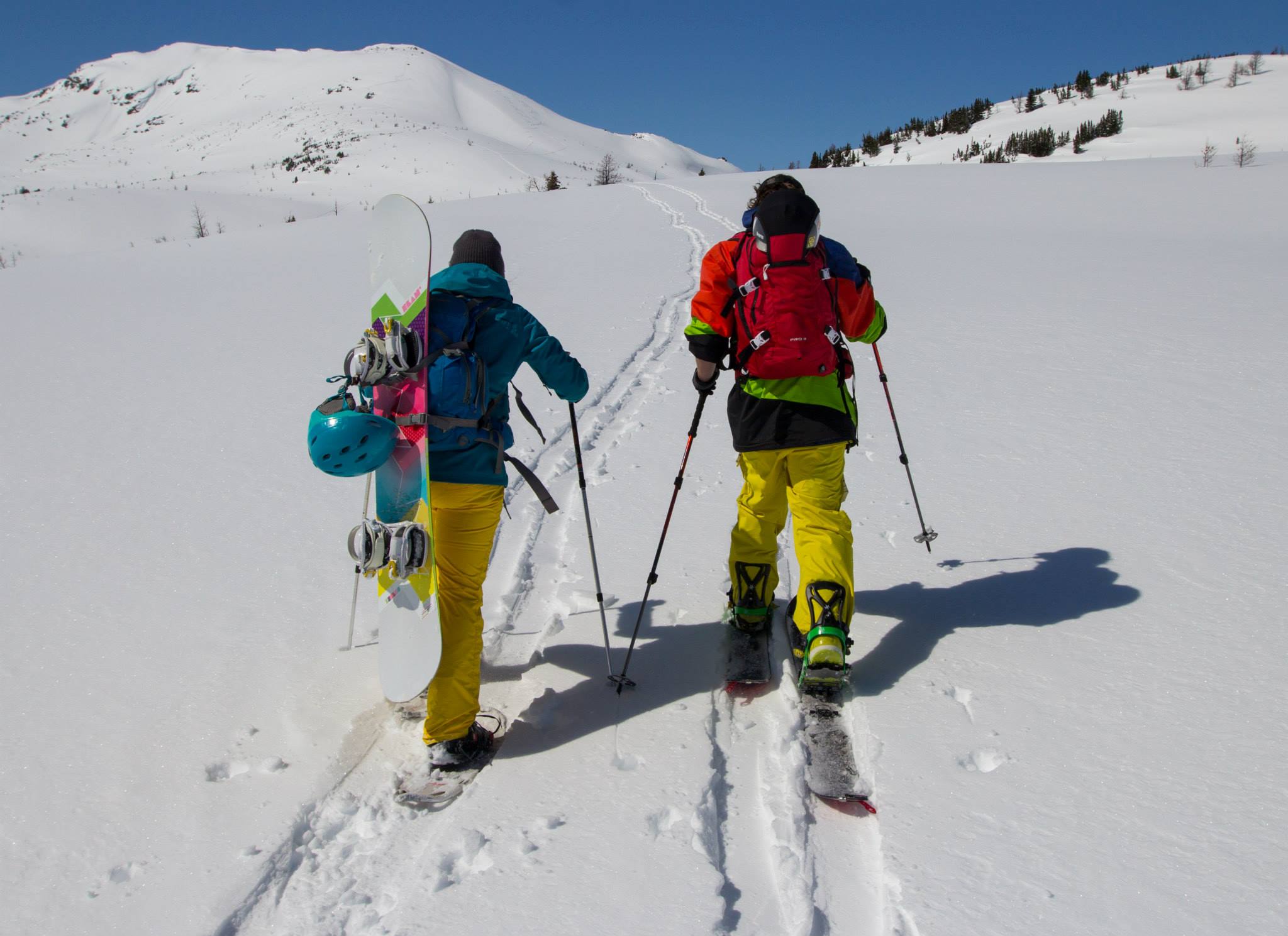 Photo: Jennifer left, Myself right. Heading up the skin track towards Twin Cairns. Credit Shannon DSLR

We headed up Twin Cairns and stability seemed good and it was a bluebird day so the sun had softened up the crust layer on top from the overnight freeze (daytime temps at this time of year were generally in the positives). We bumped into some fellow backcountry skiers at the top of Twin Cairns who had dug a pit on the south facing aspect and decided after performing a compression test that the face was to unstable and that they would head down the North facing aspect, they were almost ready to go when we got there so naturally we allowed them to have first crack at it. After they had gone Shannon went down a little way to a safe spot and took a few photos of us coming down. We then hiked back up to the top and proceeded to tear it up!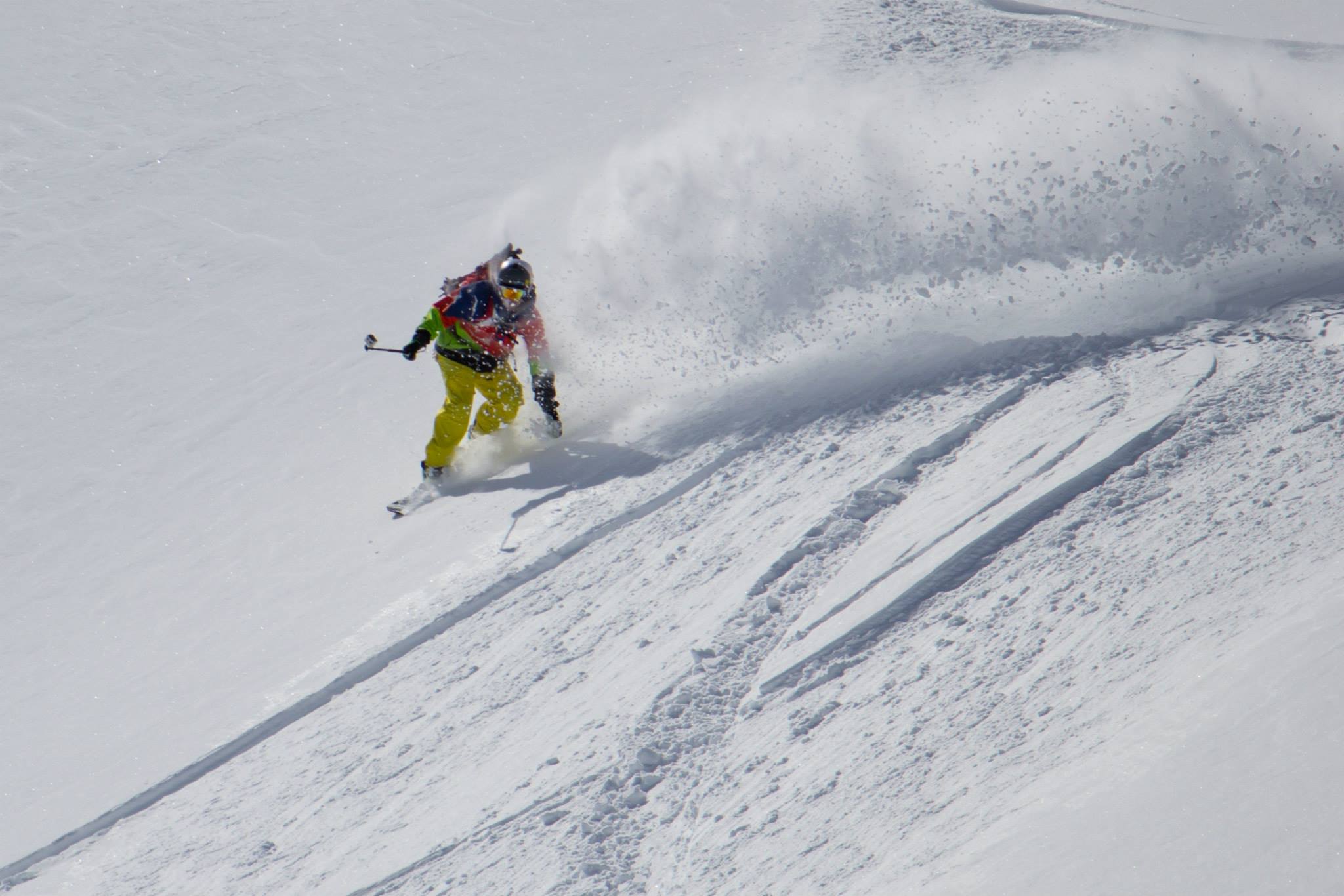 Photo: Myself. Bombing down Twin Cairns. Credit Shannon DSLR

After we came down the face into a very flat spot we then headed to a place that Shannon had visited a week or so earlier with a friend Richard. When he was there last they had come across a small rocky outcrop with some very small cornices overhanging, on that occasion visibility was poor and Shannon tired to get a shot of Richard dropping it but it did not turn out too good. Of course I was keen to give it a crack, and with picture perfect conditions and stable yet soft enough snow pack on this, a NNW facing slope it was a great photo opportunity.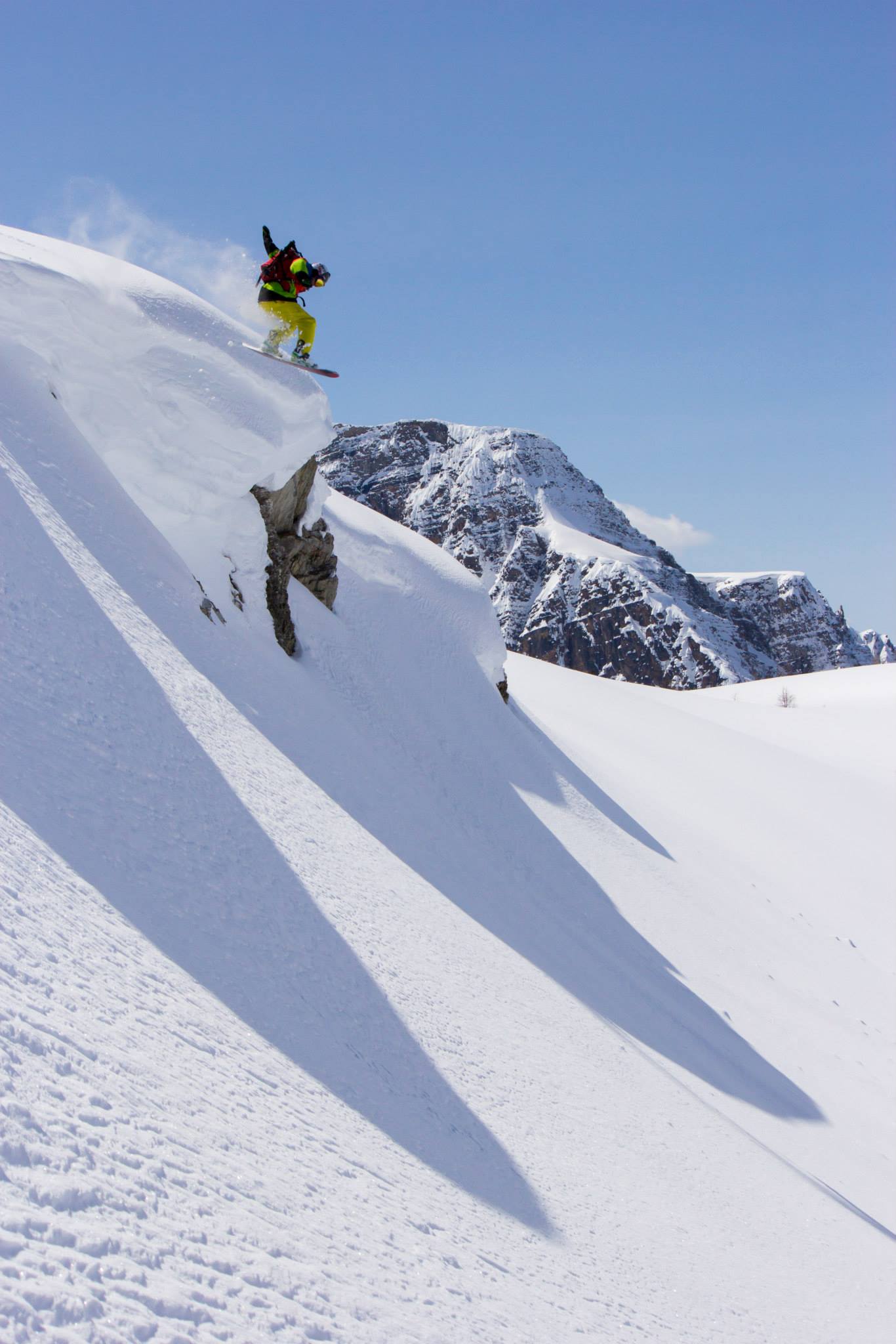 Photo: Myself. First to hit the small rocky outcrop / small cornice section. Credit Shannon DSLR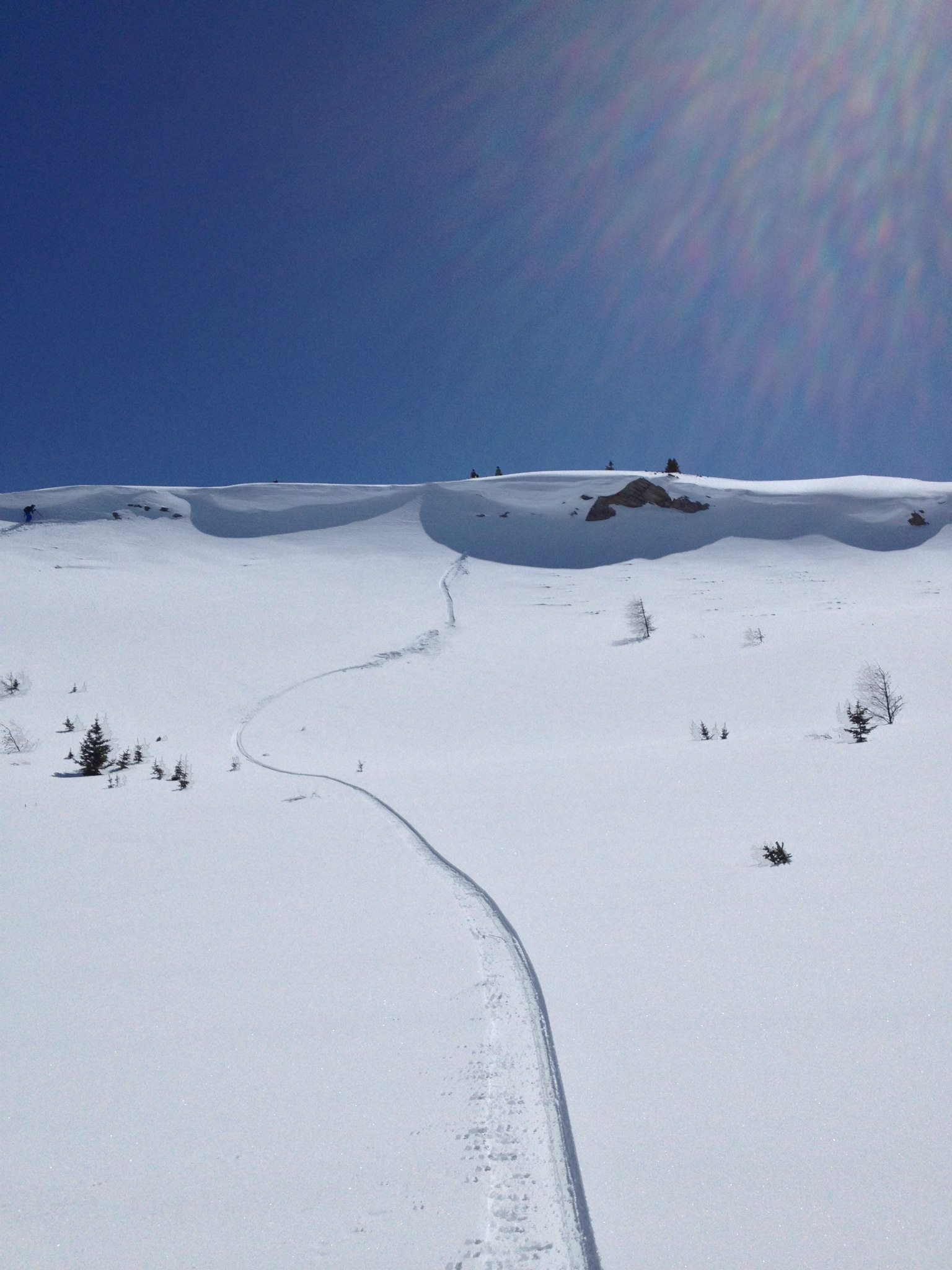 Photo: My down track after dropping first, take off to landing the drop was around approx 25ft. The two dotsabove my down track are Jarrod and Joel, and you can see Shannon far left underneath to get the shots. Credit Myself, iPhone 4S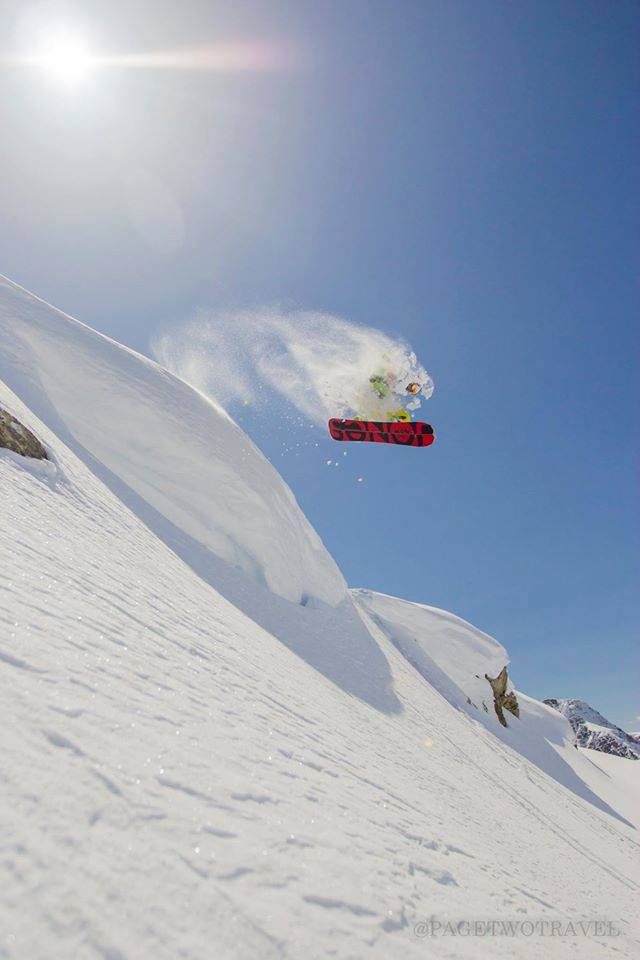 Photo: Myself. Shannon got right underneath me with this one, he said it was the best shot he's taken and he does photography for a living. Credit Shannon DSLR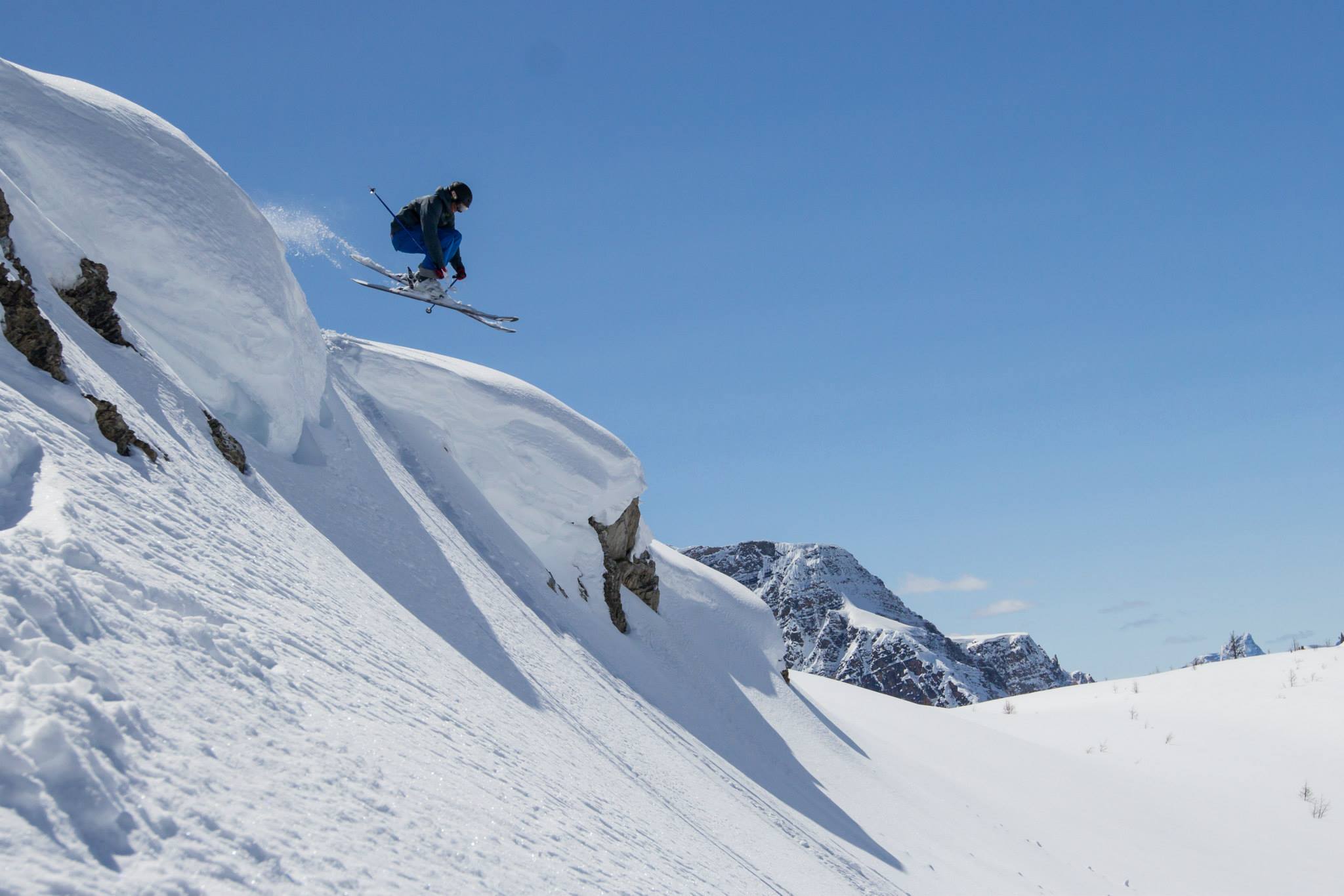 Photo: Shannon. I took over Shannon's DSLR to grab this shot of him dropping in!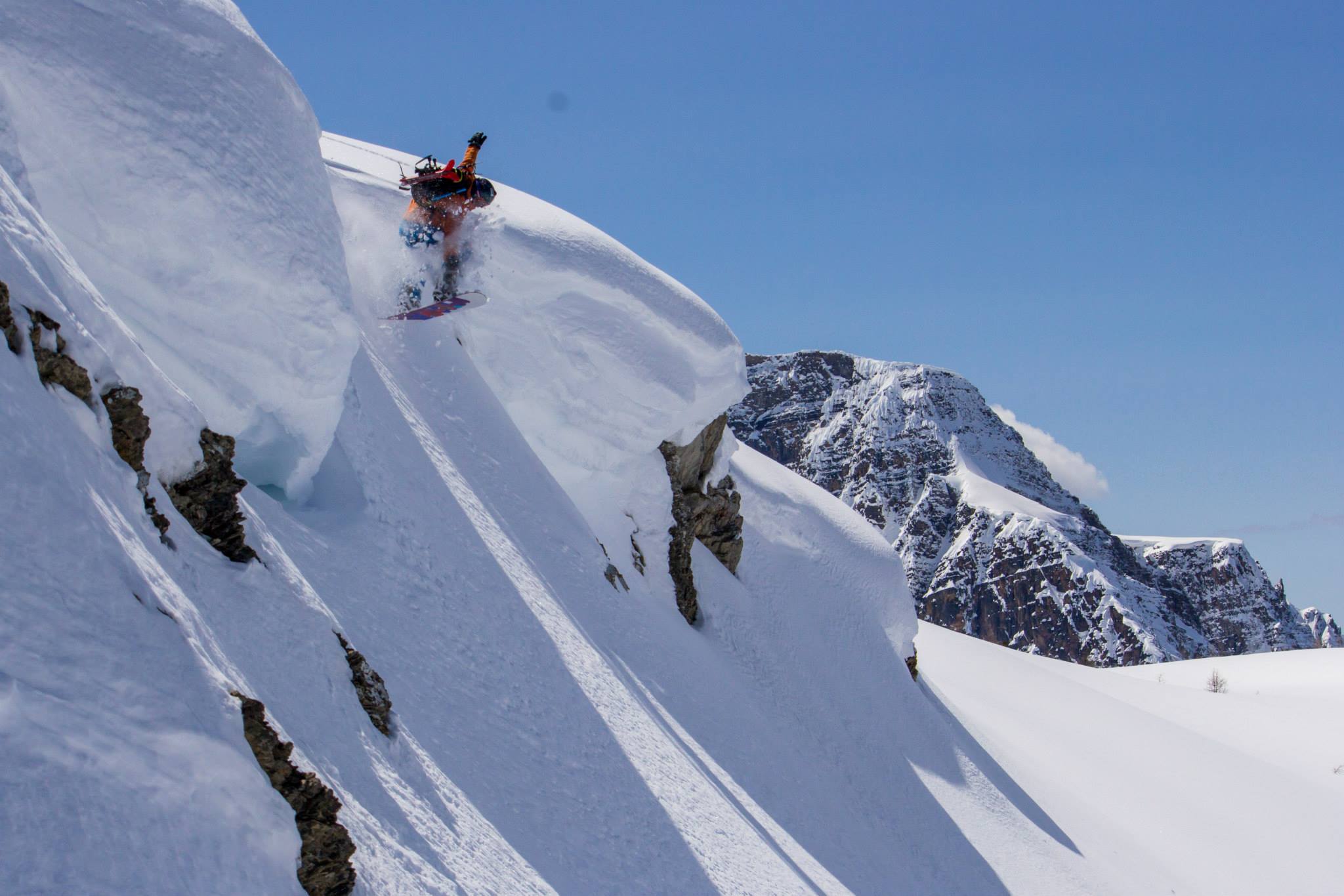 Photo: Jarrod dropping in! Credit Shannon DSLR
After some time getting shots at this spot we continued onwards. As I previously stated Shannon had been to the same area a week before and tried to explain to me a section that was coming up with a little mini spine with a cool shadow in effect due to the positioning of the sun. I could not see it and needed to bomb down through a flat section to get enough speed to reach the spot. Unfortunately I completely misunderstood Shannon's explanation and thought that there was some sort of gap over to this spine that I needed to clear. I ended up with far too much speed and launched off the top of the spine and landed in the soft stuff at the bottom of it.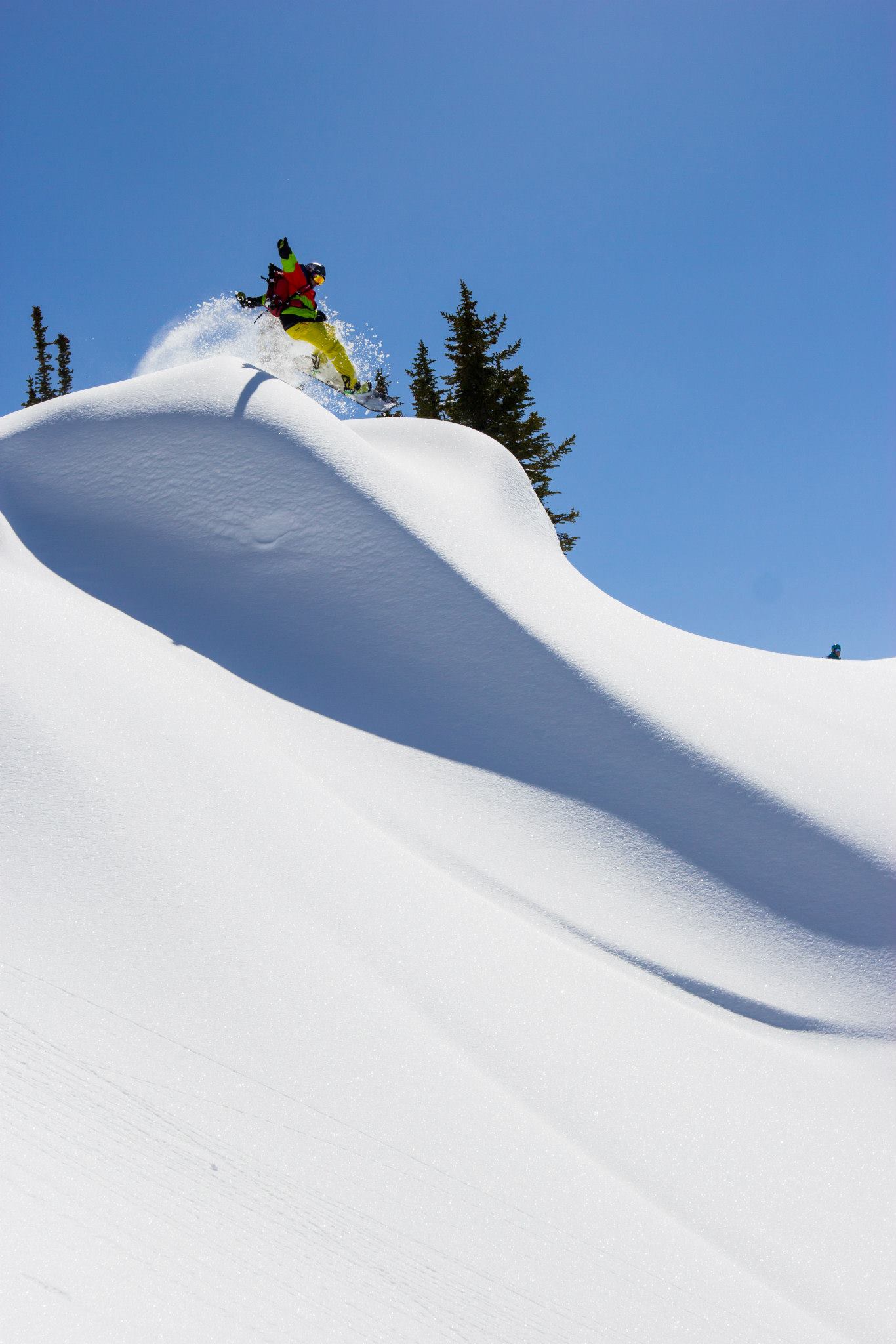 Photo: Launching Point. Here's where I figure out how wrong I took Shannon's description of what lay ahead of me. Credit Shannon DSLR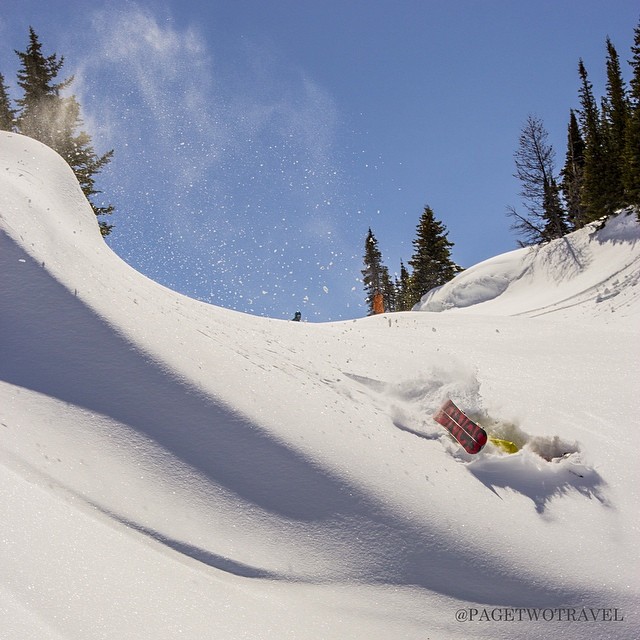 Photo: Resting point…. BOMB HOLE! Shannon describes this on his photography page as "Nick gives a lesson in why not to blindly listen to a ski photographer". Credit Shannon DSLR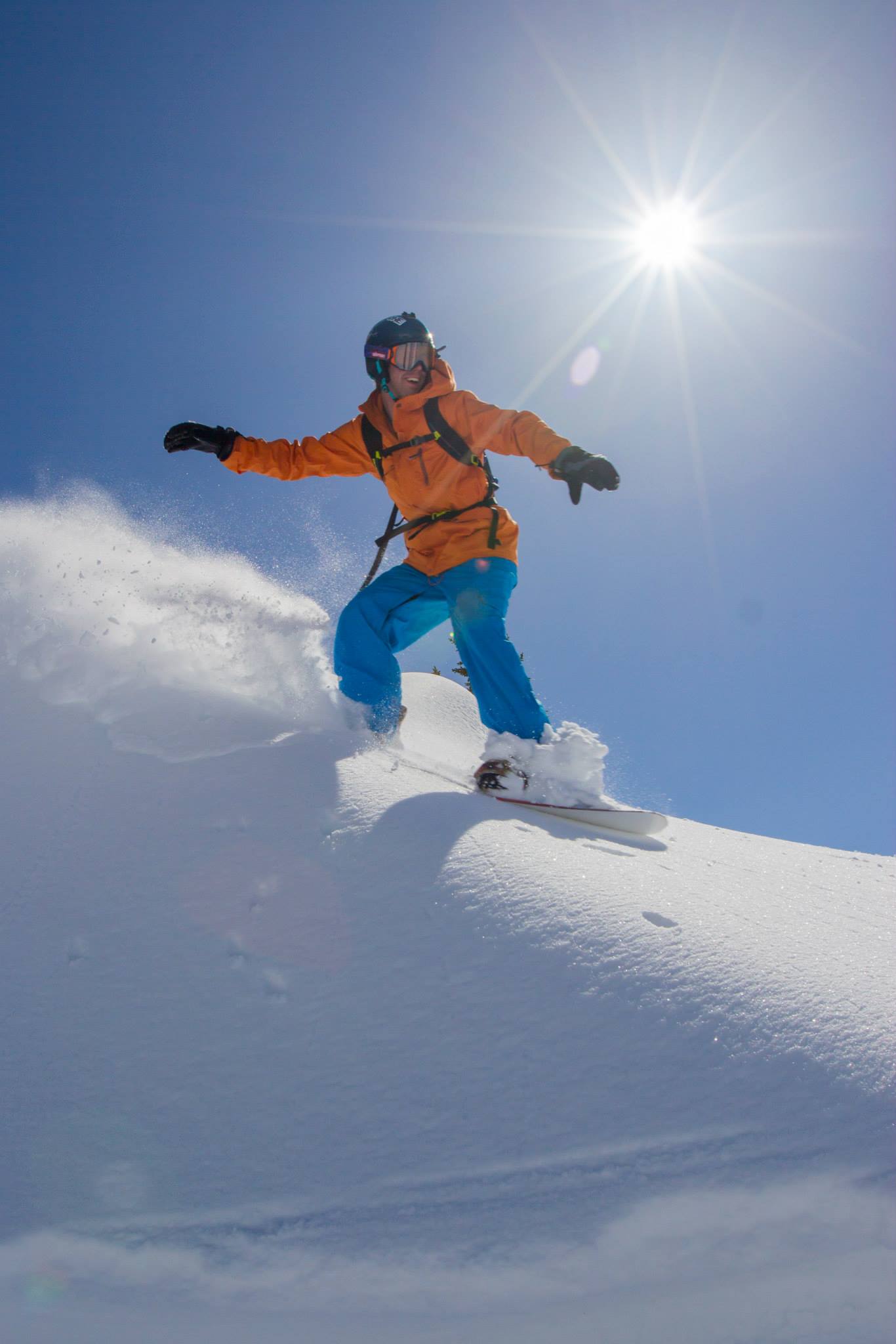 Photo: Jarrod, riding switch, shows me how it's done. Credit Shannon DSLR
After these shots we made our way to Dinosaur Head, once we got there we set up for something Shannon wanted to shoot again with the sun casting shadows around the place. I fresh off ruining the last shot of his wanted to go for a cliff on the opposite side of the chute and try a 360 off it, then attempt to cut back across to it, I made it to the cliff executed the 360 but then I was too front heavy landing and my nose dug in meaning I couldn't make this spot…. Probably for the best… I then continued down to another cliff section with a blind landing. I had no idea what was below and came up to it with some speed and wanted to wash some off, I pulled a big carving turn a few meters from the edge of the cliff and ended up flying off it in a cloud of snow with no visibility what so ever. It ended up being a little double pillow cliff and I landed on the second pillow and proceeded to tomahawk for the second time on landing after bouncing off the second pillow which I never even saw. Jarrod came down and did the second shadow affected section Shannon wanted to grab photos of, and I believe Joel did the same.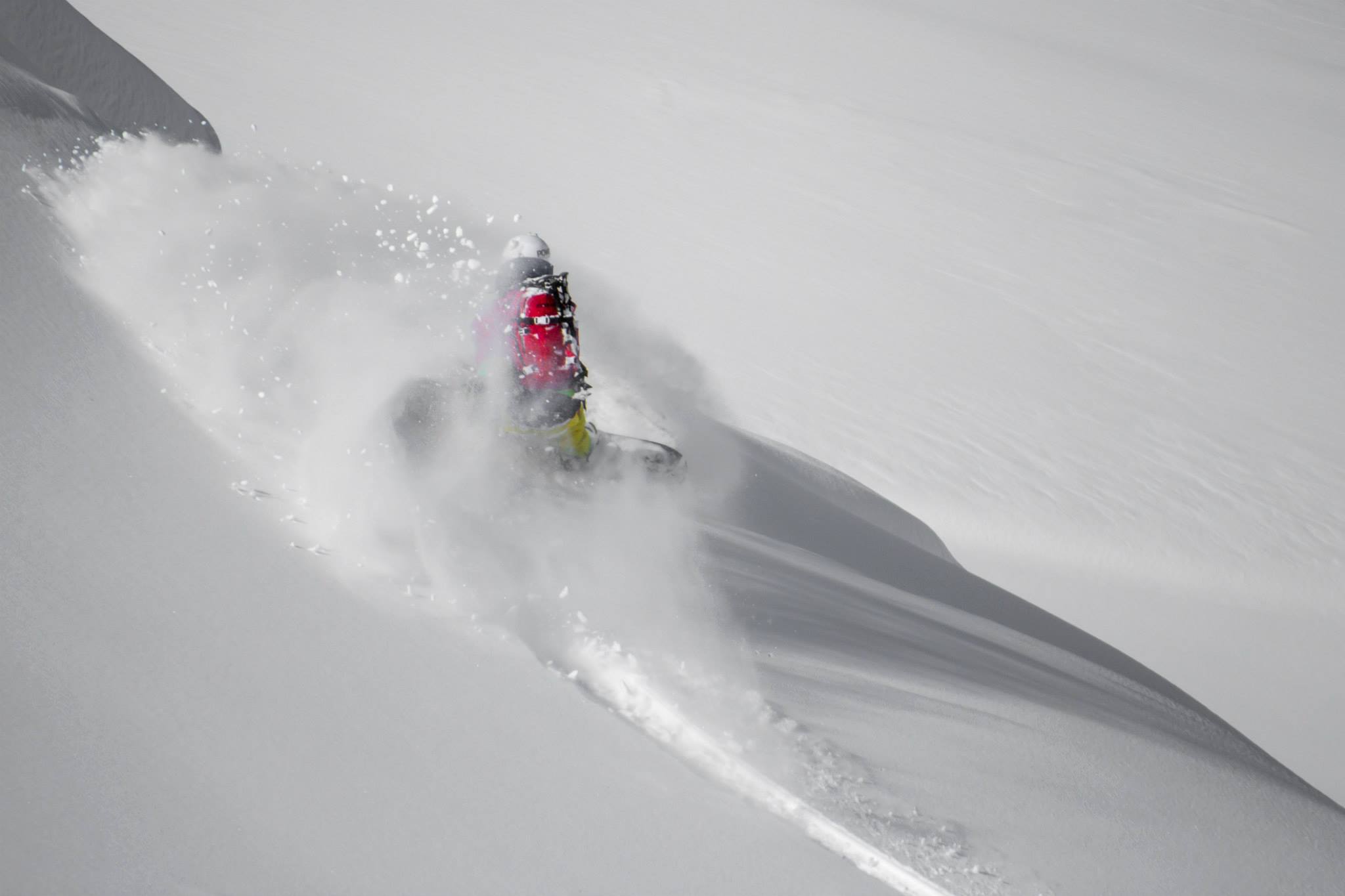 Photo: My carving turn right before the edge of the cliff. After asking Shannon was this the shot I thought it was he replied "Yeah that's the spot. You disappeared over the edge in a cloud of snow and we thought you were dead…". Credit Shannon DSLR
After all that fun we came to a tight tree section down toward the Healy Creek trail, we thought all the fun was over, but just over halfway down to the trail we came out below a cool rock drop section in the middle of the trees and I decided even though my legs were aching by this stage from all the hiking back up for shots I'd done already that I'd give this a go. I hiked up twice to get some good final shots for the day.
Photo: Rock drop. Credit Shannon DSLR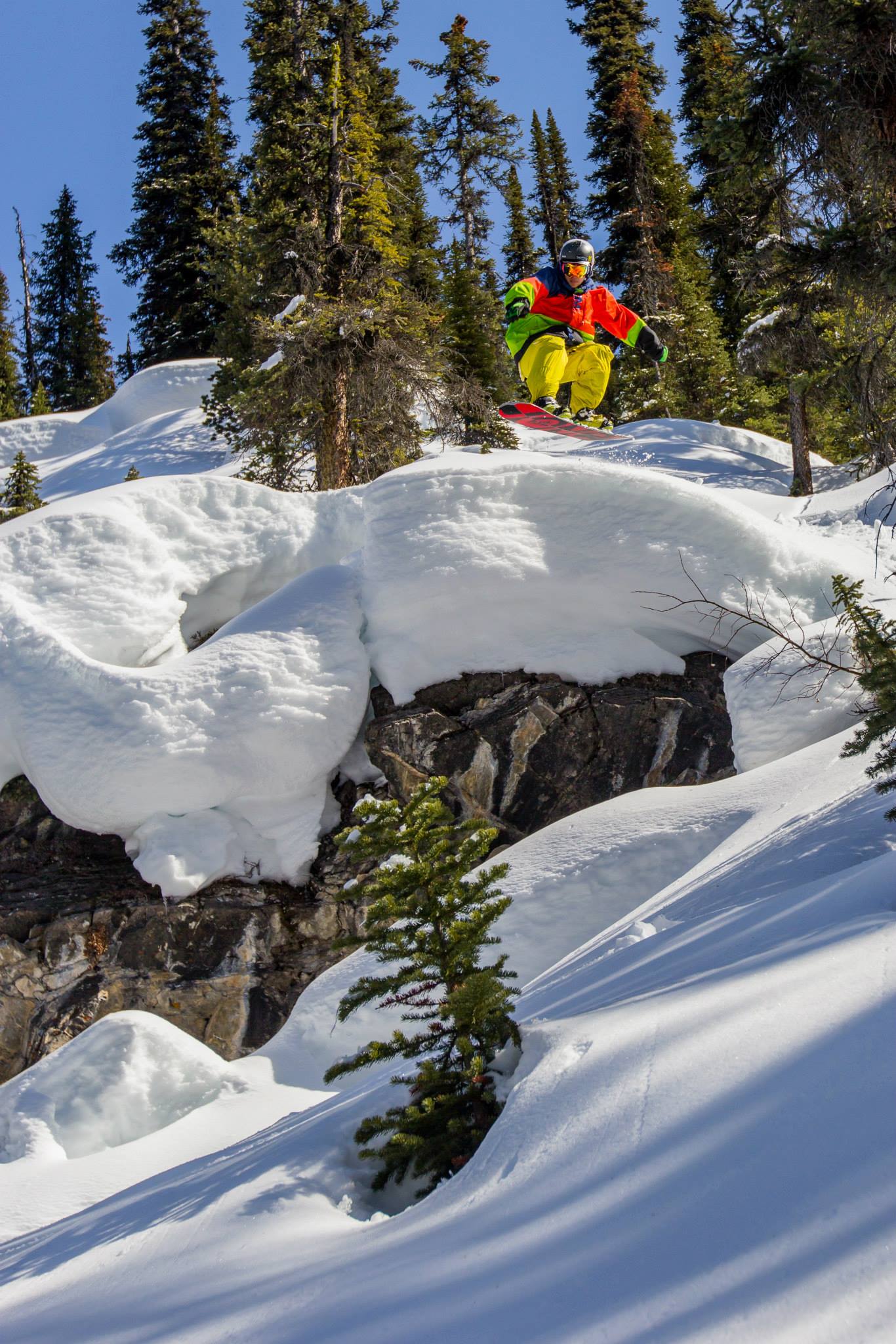 Photo: Credit Shannon DSLR
After that we headed down the Healy Creek trail back to the Sunshine Village parking lot at the base of the gondola. Total trip time was around 7 hours, with a lot of that time taking place hiking and dropping the rocky outcrop/cornice drop between Twin Cairns and Dinosaur Head.
If you liked the photo's Shannon has taken you can find them on his Facebook photography page,https://www.facebook.com/pagetwotravel, a long with all the other photos of his I have posted and loads more from in and around Banff, as well as other places across Canada and America.
We pretty much hit this trip at the perfect time of day, any earlier and the crust from the overnight freeze would have still been lingering around, any later, and the stability would have been a concern. We had noticed when touring up the south facing aspects between the drop photo session and Dinosaur Head that the top layer was almost turning to water with all the sun exposure it had had during the day.
All in all it was a great trip and a fun day for all. I think it was probably one of the last good days for touring in the area in regard to having the perfect weather, combined with good stability and nice conditions for skiing/riding.
Story by Nick Croxton.
Thanks to Shannon, Jarrod, Jennifer, and Joel for a great day. I'm sure it will be one I will not forget!