As seen in this screenshot taken by the hack journalists at TGR during NBC's live streaming of the halfpipe finals, Swiss rider Iori "I-Pod" Podladtchikov was in a state of shock at being announced as the Olympic gold medal winner.
A stunned Iori "I-Pod" Podladtchikov walked away from a ragged Sochi halfpipe this morning (really tonight Sochi time) with a gold medal, having been able to land his signature Yolo Flip (a cab double cork 1440) despite obviously tough pipe conditions that pulled strong contenders like Shaun White and Danny Davis out of medal contentions with a series of botched landings and falls. Japanese middle school phenom Ayumi Hirano got silver and had the best luck finding the smoothest lines and landing higher in the transition than most, while fellow countryman Taku Hiraoka won the bronze.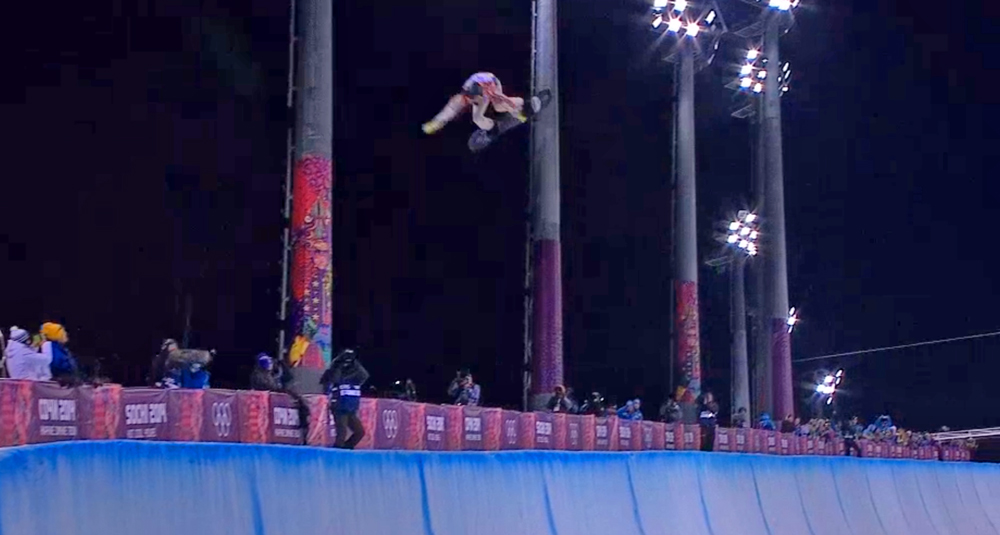 Shaun on the final alley-oop rodeo 540 of his 4th place Sochi finals run, which he valiantly held onto after landing in the flat bottom.
Shaun White wasn't able to manage the difficult pipe as much as he'd have liked, putting him out of the podium for the first time in three Olympics. Faced with a first-run score of 35.00, White did his best to struggle through the rutted and chunky walls, just sliding the last 180 of a right-wall double cork past the coping and managing to keep his hands off the snow when his last-hit alley-oop rodeo 540 put him in the flat bottom of the pipe with all his weight slamming onto his toeside edge. After a commendable recovery, White wasted no time in embracing I Pod in a celebratory hug.
Japanese teammates Ayumi Hirano and Taku Hiraoka high-five their podium performances while a bummed Shaun White embraces the gold medal winner.
Once White's 90.25 was announced, officially keeping I Pod's 94.75 intact as the gold medal score, the Russian-born Swiss pipe rider seemed to be in a state of pure shock - possibly due to the minor miracle he experience of actually landing his run after warming temps and substandard maintenance left the Olympic pipe riding like a "mogul field" in the words of Hannah Teter. Those conditions undoubtedly affected White's run, as they did another American hopeful, Danny Davis, who suffered from falls on both of his run after calling the pipe "garbage" and accusing the Sochi organizers of trying to hoard money for themselves by hiring a cheaper pipe building firm out of New Zealand instead of "the right guys for the job" - widely considered to be X Games course builders Snow Park Technologies. Davis' 53.00 left him in 10th place, two places ahead of teammate Greg Bretz, who also suffered from falls on both runs.
Looking for more Sochi Olympic coverage? Check out:
-Women's Ski Slopestyle Finals recap
-Sochi Olympic Backcountry Conditions Advisory
-Sochi celeb pop quiz: Bobby Brown vs. Bobby Brown
-Women's Snowboard Slopestyle Finals recap
-Men's Snowboard Slopestyle Finals recap