December 15th, 2009
Loveland Pass, Colorado
A snowboarder survives a large avalanche on Loveland Pass in Colorado. Boarder and friend had no Rescue equipment
Thanks to CAIC for story info and skiingislife for the photos
Yesterday there was a close call on a slope that fits this description on an East facing slope near Loveland Pass. A snowboarder was caught in the avalanche, carried a few hundred feet and buried up to their waist. Their partner was able to ski down to them and dug them out. The snowboarder and his partner were not carrying any avalanche rescue equipment. Fortunately this story has a positive outcome. Remember that avalanches do not care how nice the day is, or how good of a skier, boarder or rider you are. What matters more is that you carry and know how to use avalanche rescue equipment and make terrain choices based on what the avalanche danger suggests and by the data and information you gather throughout the day. If you do not have the decision making experience to sort through the observational data objectively, then we suggest that you take an avalanche course prior to spending more time in the backcountry.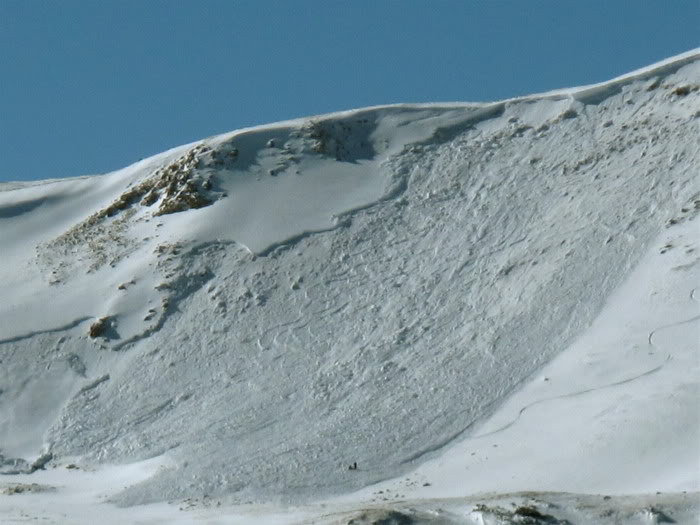 This photo was taken just after the slide occured. You can see the involved party in the debris on the lower lookers right.

Another view. (notice the intact chunk on the left that slid 100' or so.)
The lucky couple talking to "the man".
Video report on the avalanche
Snow & Avalanche Discussion
Yesterday's warmer daytime temperatures and clear sky have helped settle last weekend's storm snow. Today's temperatures will also help settle the snowpack some.
There have been many reports of weak snow below strong snow, collapsing and cracking and even a few human triggered avalanches. All of the reports have common themes, including natural signs of instability and an upside down snowpack. Most of the collapsing is occurring on lower angle terrain while the cracking is occurring on any slope where a stiff slab is on the surface. Where you find stiff slabs are most likely on slopes that face the eastern side of the compass, i.e. they have been recently loaded with snow from the weekend. Although natural signs of instability, like natural avalanche activity, have been less common, they have all occurred on slopes that are easterly facing and are at or above tree.
The winter season is still young and the backcountry is not going anywhere. Today, avoid slopes steeper than 34 degrees, especially if they face North through East and Southeast and are located at and above treeline. In these areas, human triggered avalanches are probable.
Colorado Skiers please visit, study and use the Colorado Avalanche Information Center Website. Bookmark this site and use it. It has tons of amazing information.
Check out the TGR Snowlab for general snow info, avi educational videos and more