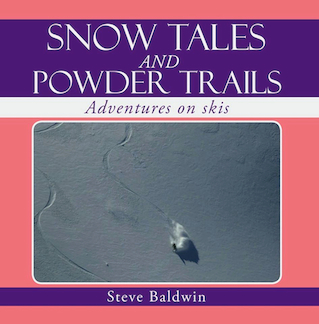 "Snow Tales and Powder Trails" is a collection of short stories and photographs, telling of a lifetime journey through snowy lands and mountains, using skis as a mode of transport and artistic medium.

The experiences of the author come to life on the page, mirrored by images of stunning snow-covered peaks and landscapes. Using vast untracked snowfields as a blank canvas, the author draws line after line with his skis, etching his signature temporarily into the earth's surface, only for the next snowstorm to come in and cover any trace of human existence.

The book explores some of the different aspects of skiing, mostly in deep fresh powder, and illustrates the adventures and elation that the mountains in winter can offer.
http://snowtalesandpowdertrails.weebly.com/
https://www.facebook.com/pages/Snow-Tales-and-Powder-Trails-by-Steve-Baldwin/583808865021439?ref=hl