October 30th, 2009
Jones Pass, Colorado
Colorado Skier Luke Corbitt caught avalanche on Jones Pass. Avalanche breaks 2-3 ft deep and runs 800 ft. Luke is partially buried with no injuries
October 2009 will go down as one of the earliest winters on record. At least 46 ski resorts are open worldwide. Backcountry skiers and snowboarders have been riding powder since October 1st of this year. Despite the fact that it is only October, serious hazards in the snowpack exist. There have been 6 reported avalanche incidences in Colorado alone this year. The following is a report from skier Luke Corbitt, who was in caught in a slide on Jones Pass on October 23rd, 2009. Fortunately the incident did not result in any injuries or deaths. The message is clear though, be safe out there and never underestimate the power of snow, even in October.
Story and photos: Luke Corbitt
We experienced some cracking of new wind deposited snow on the skin up to our determined drop point. Also experienced a large whumph on the large cornice in the main saddle at Jones Pass. After a hike and warm up run, we decided to head over to a small chute. The entrance to the chute is split in two at the top by a rock outcropping, then comes back together at a small bench/rollover and continues down into a runout some 800 or so feet below. Jeff and I had performed the usual compilation of data along the way. We knew the planned descent was crossloaded at the top and we also concluded that top few inches of fresh deposit would more than likely slough, albeit manageably. Due to the eastern aspect and wind direction, it was also evident that there were many independent layers in the pack and that the pack would certainly vary in depth. We decided not to dig a pit feeling that findings would be inconclusive due to large variation within even a few feet. By this I mean that a pit dug in one spot would possibly be very different than a pit dug at the same elevation only a few feet away due to variations in wind deposited snow, differences in wind effect on the snow, etc. We knew the pack would be highly variable from one spot to the next whether it be depth, hardness, or other. (In hindsight, I am partially glad we didn't dig a pit as the ideal spot to dig would have been right where the largest portion of the crown ended up being, which may have resulted in both of us being caught) After discussion, we decided Jeff would perform a cut across the entire top and get to a safe spot. Upon doing so, there was no movement. It was then my plan to begin descending the right half of the chute, reach the slight bench and cut across again toward my determined safe zone. I eased in, made 3 or so hard, short, jump turns near the top and got the expected slough, but no true movement, so I continued down to the slight bench, where my plan was to cross to my stopping point on the left. As I did, the snow 30 or so feet below me beyond the bench/rollover was remotely triggered and shattered wall to wall (perhaps 50+ feet wide). This possibility had gone through my mind, so my first instinct was to simply reach my safe zone, which was less than 20 feet away. What I soon realized is that the energy from below had caused everything above me (perhaps 80 feet above) to release as well. The first few moments I fought to get to my predetermined spot, but quickly realized the further I went in that direction, the more I was being pulled toward larger rocks/cliffs, so I quit fighting in that direction and focused on what was downhill from me. I picked up speed over the rollover as the snow from above hit me from behind, feeling for a moment that I was about to go under. Luckily I managed to keep my feet out in front of me to ease the impact of any protruding rocks. After approximately 250 feet or so of kicking and clawing in attempt to slow down, I managed to release from my downhill ski, which allowed me to begin digging that foot into the ground to slow myself. Eventually, I came to a halt in the upper portion of the deposition zone, with my legs only partially buried when I stopped in a sitting position. Jeff and I were able to see eachother from this spot, and I waved to him that I was ok, aside from being shaken up. After much discussion, I am incredibly lucky to have come out of the situation with only a few scrapes and a bit banged up from the bumpy ride. It was certainly a reminder to the both of us the potential dangers that are out there regardless of the time of year. We talked at length through the rest of the day trying to determine where we went wrong and what we missed. Surely, being so early in the season, our guard may have been down slightly, but I also feel that we took basically the same precautions as we would 3 months from now. The key factor that we didn't have knowledge of was that the bed surface where the slide started and mostly thereafter, was basically an ice layer. We didn't experience this anywhere else through the morning, even on similar aspects. Bottom line, this was an eye-opener to me that even though we determined the spot safe to proceed, slight variations unknown to us at the time resulted in a bad situation. Additional info: The slide, in it's entirety ran approximately 800 feet and was anywhere from 50 to 80 feet wide. When it ripped, the chute all broke from one side to the other. I was carried approximately 250 feet. The initial fracture ocurred on a slope of approximately 32 degrees and the portion that broke above me (where the large crown was) was approximately 36 degrees. The slope where the incident took place ranged anywhere from 28 to 38 degrees. Jones Pass Avalanche Crown This is the crown that broke off above me...maximum was 2 - 3 feet. The cut Jeff performed was not far above this and my initial line was looker's left of the rocks on the left. Jones Pass AvalancheAnother view of the slide path Jones Pass Bed surfaceHigh contrast view of the slick surface Jones Pass Post Avalanche Jeff observes the avi path Jones Pass AvalancheLooking up hill from where Luke stopped Jones Pass slide path Looking downhill from where Luke stopped
This is the crown that broke off above Luke...maximum was 2 - 3 feet. The cut Jeff performed was not far above this and Luke's initial line was looker's left of the rocks on the left.
A look at the slide path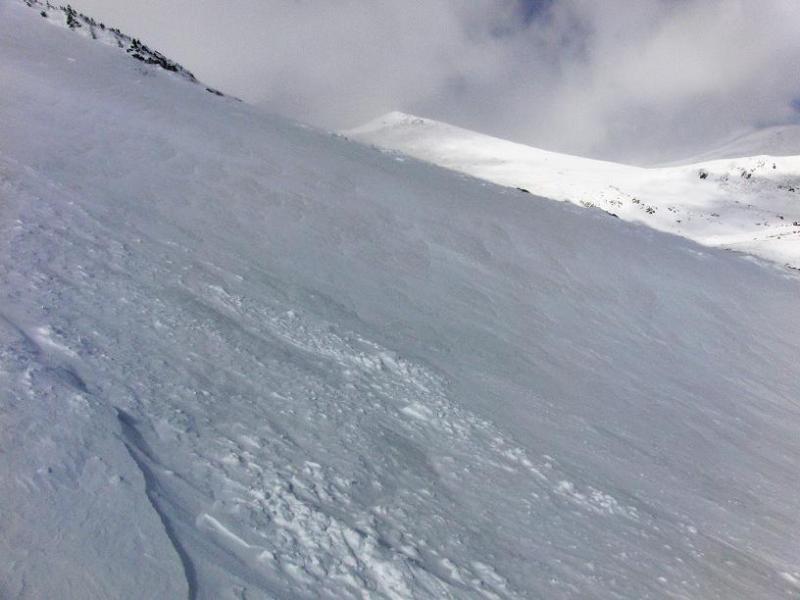 High contrast view of the slick surface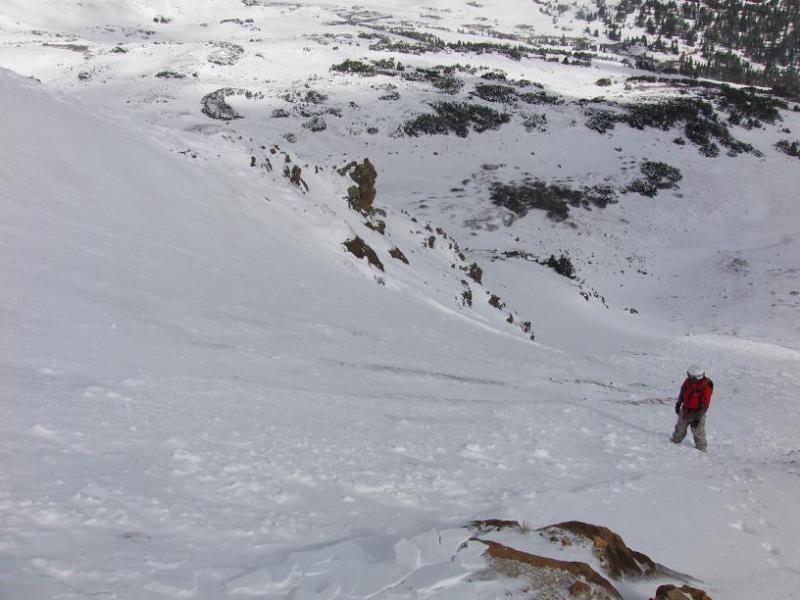 Jeff mid way down the slide path
Looking uphill from where Luke stopped
Looking downhill from where Luke stopped

For more info on avalanche safety check out www.avalanche.org