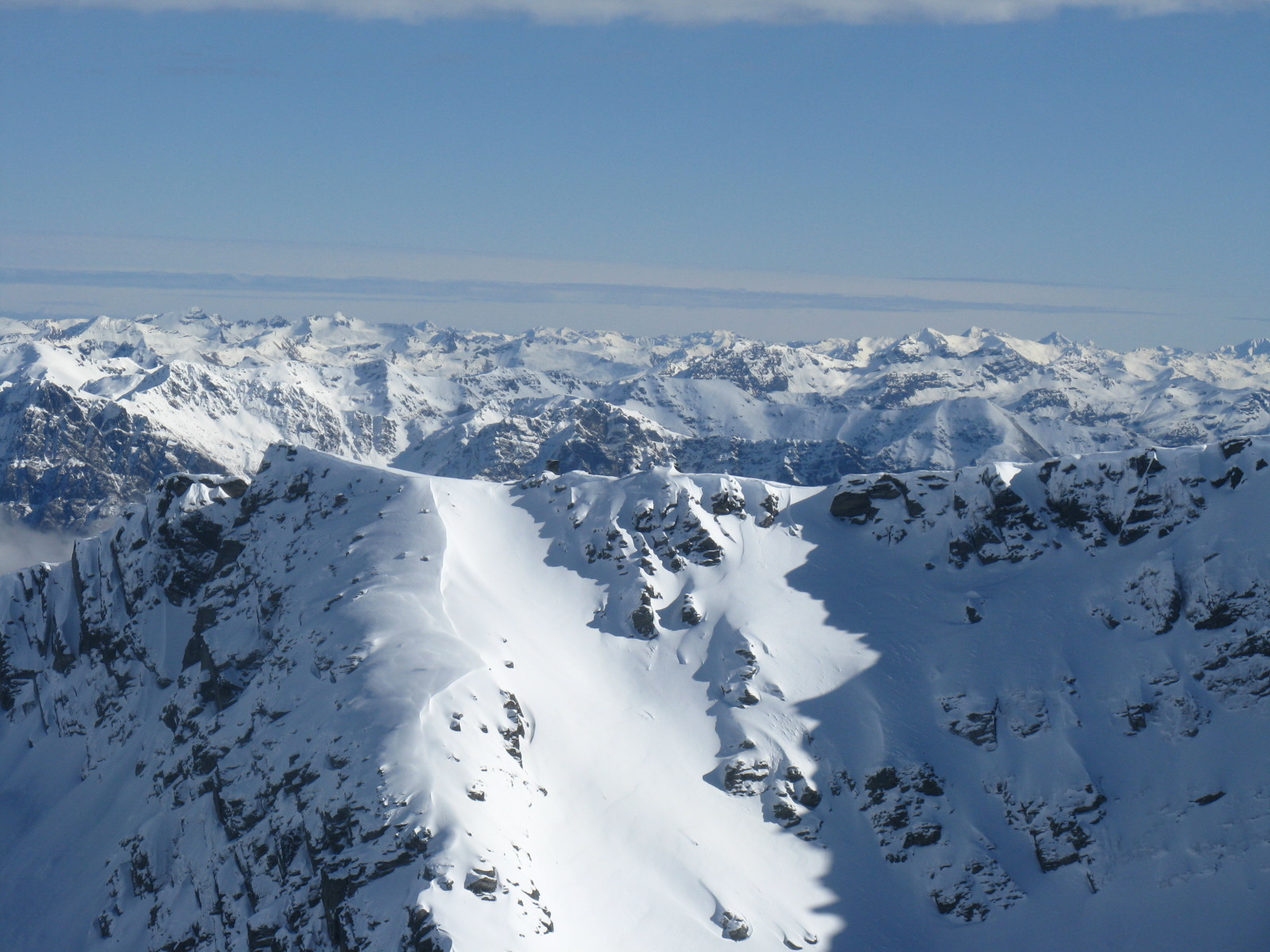 New Zealand's mountains seem to go on forever.
Words and photos by Brennan Lagasse.
Even though Queenstown and Milford Sound couldn't be more opposite of one another, they happen to be two of the most sought after destinations in all of New Zealand. Milford Sound is rural, undeveloped and pristine. Queenstown is home to arguably the most eclectic mix of adventure sports in the world, and full of travelers keen to go out and party till all hours of the night. It's also home to some fabulous wine vineyards, a few good ski resorts, and the top heli-skiing outfit in the country, Southern Lakes Heliski.

Southern Lakes also operates out of the Wanaka area, but has several zones they fly that are closer to the Queenstown area. While a day on the hill at the Remarkables ski area is nothing to pass up, coughing up a few extra bucks to spend some time in the bird while you're in New Zealand is money well spent. In fact, New Zealand is probably home to the most heli-centric activities on the planet. In Queenstown, I saw signs for heli-fishing, heli-hiking, heli-mountain biking, heli-hunting-basically heli-everything. While the many heli options will appeal to a bunch of you out there, if you ski or ride, it's the Southern Lakes option that'll get you the most fired up.
Loading the ship at Southern Lakes Heli-Skiing.

One of the cool things about Southern Lakes is they offer a host of different packages so you can get a taste of heli-skiing even if it's only for two runs. Like a lot of heli-skiing operators in the world, if you want to get after rowdy terrain the access is there, but you'll need to show up with the proper credentials, gear and crew to get after it. Otherwise you'll be matched up with other skiers and riders of equal ability and spend your day lapping untouched lines of cold New Zealand smoke while your magic carpet waits for you at the bottom of each run. The whole Southern Lakes outfit was a dream to ski with from the head honcho and main office personnel to the guides. It's going cost you a few extra bucks for sure, but when all is said and done you'll be stoked to get have gained the experience of spending some quality time in the high New Zealand alpine before it's time to head home.
Sampling the New Zealand powder. Photo by Southern Lakes Heli-Skiing.

Heli-skiing might be one of the more mundane activities in New Zealand when compared with the many adrenaline focused activities one can get into in Queenstown. The bungee jumping options are numerous, like the Nevis, one of the highest bungee jumps in the world. Or how about the world's highest cliff jump via the Shotover Canyon Swing, or a jet boat tour where every second of the ride you think you're going to die? Sound strange, or strangely appealing? This is the true home of adrenaline based activities, and I guarantee you'll never have heard of most of them until you get here. It makes sense since this is where commercial bungee jumping started, so when you make the trip, it's best to give into at least one death-defying activity and scare yourself shitless like the Kiwis want you too.

When you've had enough of the late night party scene, the adrenaline junky buffet, and skied as much powder as you can handle, it's time to slow things down and take the rural drive from Queenstown to Milford Sound. Time seems to stand still when you make your way to the Fiordland National Park area. It's a gorgeous drive alongside miles of forests, mountains and rivers that anglers travel from all over the world to fish. Once you find yourself in fiordland it's time to give in and gape as the dramatic relief from the rainforest base up to the high peaks is truly breathtaking. Waterfalls encompass everywhere you look, unique flora and fauna are all around you, and some of the most famous hiking (sorry, tramping) trails in the world-the Routeburn Track and the Milford Track-are accessible from here.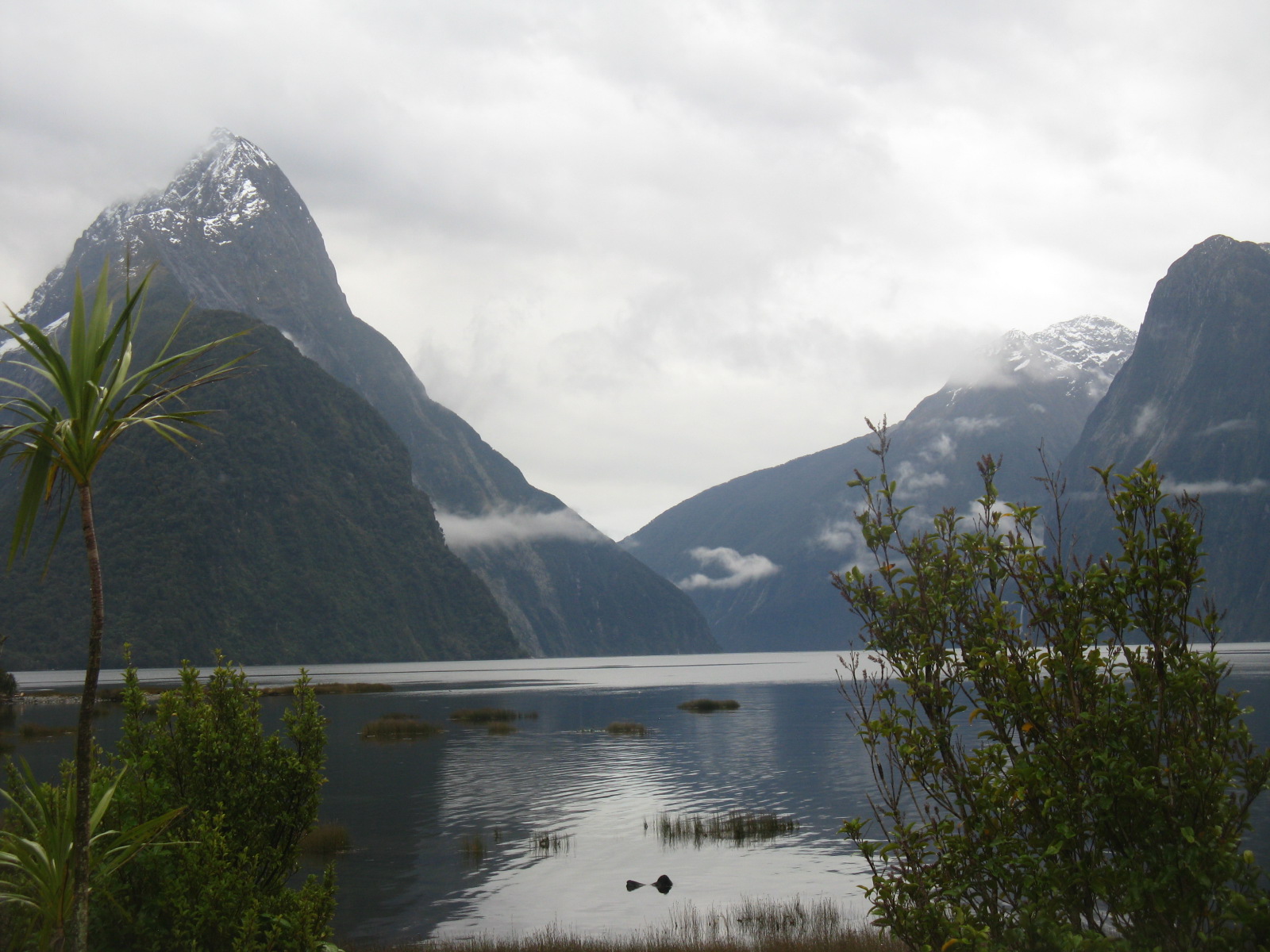 Sometimes it's OK to gape.

If anything a trip to the end of the road to take in Mitre Peak, which rises over a vertical mile from the water's edge, and all the natural beauty found at the head of the fiordland might just be the highlight of your whole trip. Machu Picchu is the only other place in the world that could be as "touristy" without being touristy at all. In Milford Sound it just doesn't matter. Everyone's a gaper as everyone is there to gape. A great way to see some of the surrounding beauty is to take one of the ferry rides that cruise along the fjords, or even better, rent a kayak and go for a paddle. Beyond the snowy mountaintops, huge waterfalls and ominous mists will swirl around you as you check out seals, dolphins and even penguins frolicking in the water. This really is a place that defies the label as touristy because it's just so breathtaking. As soon as you experience it for yourself you'll immediately understand why it's been dubbed a World Heritage site.
Get out there.

Now that you've knocked off New Zealand's best of the best there's still a whole bunch of country to check out before you have to catch your flight back home in Christchurch. You can head south toward Invercargill to check back in with some surf, head over to the college town of Dunedin for some good beer, quality rock climbing, and more surf, or maybe cut up the middle of the island and peel off for another snow session at Mt. Cook. The options are endless for the adventurous souls that make their way to New Zealand — it's more a matter of how you want to spend your time having fun as opposed to making the most of it when you're traveling in this part of the world. There's literally adventure around every corner.

When Jillian and I had to catch our flight home we had to book it to New Brighton, a small ocean town on the east coast pretty close to the airport, to return the surf gear we hired out from Sisco's Surf Shop (100 percent highly recommended for any and every surf need in New Zealand — the couple that owns the shop are amazing and will do whatever they can to dial you out!). But we made such good time we couldn't waste another opportunity for a surf before the long flight home so one more session was had before the gear got returned, the "Backpacker" was tuned in, and we were in our seat ready to fly already wondering when we'd be able to come back. The title of "all-time trip" barely does this one justice. When you finally book your ticket to New Zealand's south island this summer — whichever way your pleasure tends, if you have the spirit for adventure, there's no doubt you're going to harvest well.
Click Here To Read Part 3
Click Here To Read Part 2
Click Here To Read Part 1