The final member of Sony's Action Cam team to be announced has one of the longest track records of creativity in the world's biggest mountains. Sage Cattabriga-Alosa has been bringing a new style to some of the most exacting terrain out there for years, and his playful, jibby approach to what would otherwise be terrifying chutes, spines, and cliffs has earned him Best Male Performance from the Powder Video Awards three times during his career filming with TGR. His flat-spin 360 over an enormous crevasse gap in 2011 in Petersburg, Alaska - with no cleaned-up in-run or built jump at all, just 100% untracked snow shaped by the wind and weather - still stands as one of the most progressive tricks to be thrown in a state that's hosted a lot of skiing's progression over the years. His style of skiing is so original it demanded that Atomic build a ski, the Automatic, that catered exactly to it.
A truly multi-talented individual, Sage is also an incredible mountain biker and a gifted artist, and a lot of his work has found its way onto Atomic skis or TGR merchandise. He was also an early adapter of POV cameras, and knows them well enough to really value his partnership with Sony's Action Cam. "For me the Sony Action Cam is best POV camera on the market," Sage told us. "Its quality is top notch, it has a sleek style, crisp audio, and the fact that it is one of the only POV cams that has image stabilization built in makes it an amazing tool to have on hand while I'm filming. It's easy to use, and its long battery life is something that is lacking in other 1080p cameras."
The new Action Cam will be available in March for $299 and will have a host of new features for better capturing your own action in the mountains:
•Advanced image stabilization that adjusts to vibration
•New splash-proof body with tripod mount
•Built-in WiFi to view and control via smartphone or Live View Remote, which can wirelessly control up to 5 Action Cams at once.
•Shoot pro quality video in XAVC-S 60p (50 Mbps)
•Plot location and display telemetry with built-in GPS
•Exmor R® CMOS sensor for better low light shooting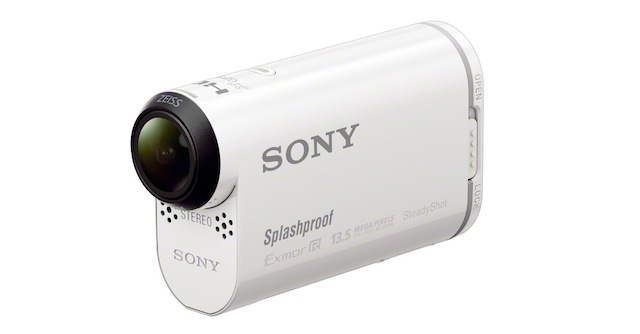 •Ultra wide 170° pro quality Carl Zeiss® Vario-Tessar® lens
•High quality 13.5-megapixel still images in photo mode
•Intelligent Auto (60 different scene combinations possible)
•Color settings with 'Neutral' and 'Vivid' color options
•Summer 2014 software update will enable wireless live video streaming
Follow Sage's Facebook, Twitter, and Instagram to join the #ActionCam conversation online.