It's the middle of the night, and I'm bolt awake. I'm normally a sound sleeper; I've been known to snore through raging thunderstorms, torrents of East Coast summer rain, urban chaos, and even college frat parties. But this evening, in my quiet abode in the midst of majestic mountains, I can't catch even a second of shut eye. So I won't fight it. I find that days are too short, anyway. In order to accomplish all that I want to in the course of a day–cook a hearty pancake breakfast complete with fresh coffee, put in several solid hours of "conventional" work, play outside, cook another homemade meal, read, write, ponder aloud (with myself) in Italian, French, and Spanish, and perhaps even go stargazing–I feel like I need at least 36 hours. The traditional 24-hour day just isn't cutting it for me. I've tried to defy time, but I have been woefully unsuccessful each time around. So rather than wonder why I'm not zzz-ing right now, as I should be, I am going to feel grateful for this extra time in the day. I've been intending to share some thoughts, and I do hope that I can make my posts more frequent, but working, hiking, and feeding myself seem to be taking the front burner, at least for the time being. Perhaps an occasional middle-of-the-night writing session will become a new part of my busy routine?
Or is a middle-of-the-night writing session the ultimate antidote to the overloaded daytime routine? I feel an unmistakable sense of peace right now. I am most certainly awake, donning glasses and slippers and enjoying George Winston's soothing rendition of "Jesu, Joy of Man's Desiring." And yet I'm committed to preserving the company of the evening sky. No lights, candles, or otherwise. Just the soft glow of my computer and the pitter-patter of my typing to punctuate the stillness of this beautiful evening. I feel so fortunate to peacefully coexist with the dynamic and unstoppable night. I am perched on a couch in front of a tall window, and the full moon just dipped gracefully into my line of vision, an eternal pearl that dances in the supple folds of the velvet night sky.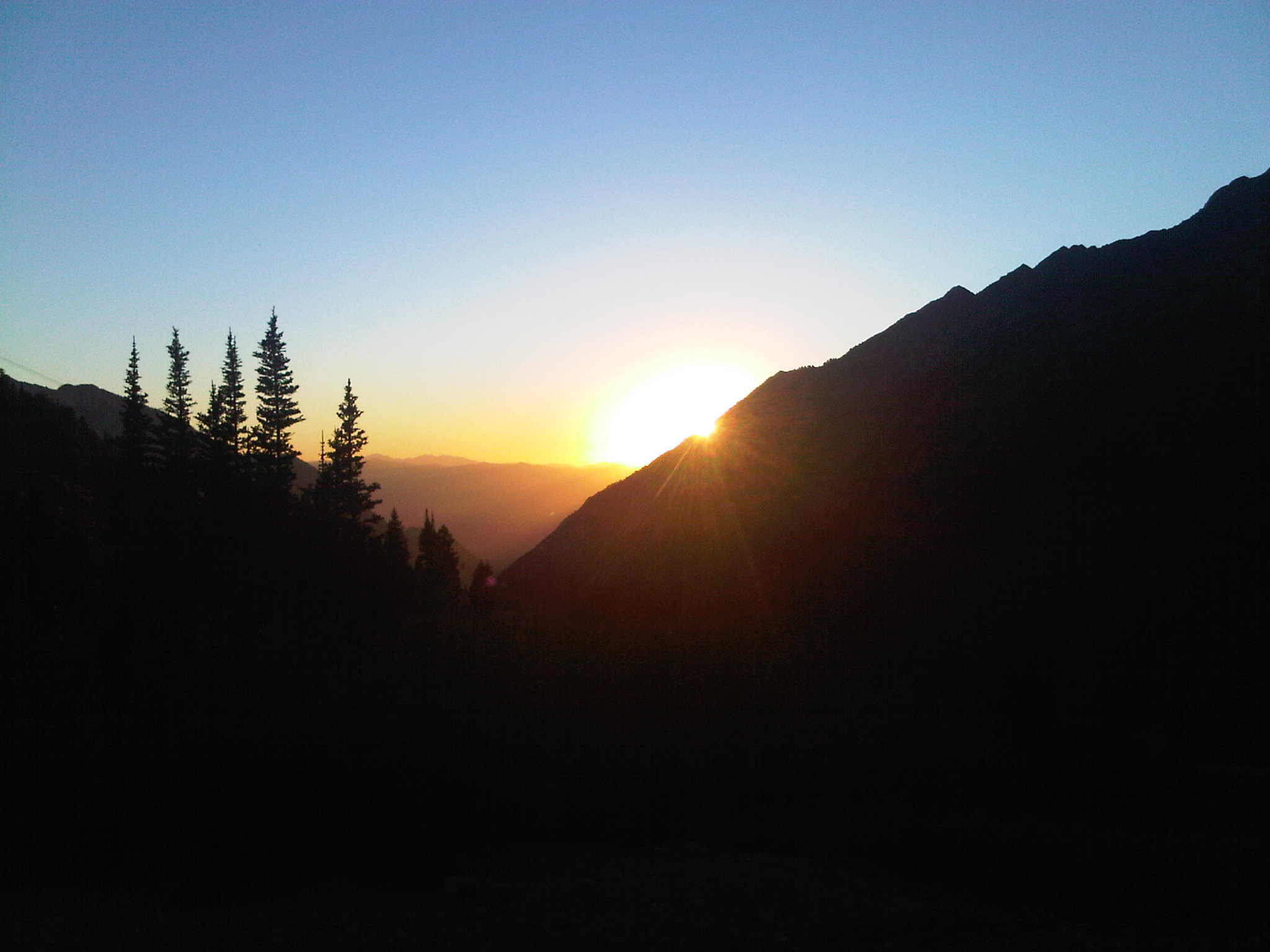 Muir was onto something. Photo: AK, 09/2010, location undisclosed.
I acted out quite a drama (and many of my subconscious dreams and desires) at the beginning of the summer months: I heeded the "call of the wild," the tradition of Muir, Emerson, Whitman, and Thoreau, and a powerful impetus to "go off the grid" (as much as possible). I abandoned civilization, and headed upwards. Legendary Tibetan yogi and poet Milarepa once meditated on this impetus with grace and eloquence: "In the mountains, there is a strange market where you can barter the vortex of life for boundless bliss." I would like to think that we all know and believe this, at least subconsciously, for the mountains are humbling, daunting, inspiring, and ultimately, comforting. I've been living in the woods for almost eight weeks now, and count my lucky stars everyday. I certainly have ample moments of fatigue, fear, and frustration, but I ultimately gaze upwards–and the craggy mountain peaks that have graciously welcomed me here put me in my place.
I had an unmistakable moment of "boundless bliss"–joy, devotion, and ultimate harmony with my surroundings–as I headed home last night after a quick trip to the grocery store to stock up on fresh fruits and vegetables. I was out-of-town (or should I say "out-of-mountain") last weekend, and I returned early Monday morning to a dramatically changed landscape. Autumn has at last permeated the land and the sky: friendly aspen trees are bursting into fiery shades of orange, red, and yellow, the towering spruce and fir trees appear dark and mysterious against the fall foliage, and the thin mountain air breathes crisply against my cheeks, still rosy red from last week's summer adventures.
As I traveled uphill last night, I felt compelled to bow my head in reverence and in awe; I had just rounded a sharp bend in the mountain road, and the steep granite peaks, with shrubs and dwindling wildflowers clinging boldly to their sharp spires and edges, were alive with force and personality against the deep and mystifying blue of the night sky. I continued uphill into the protective womb of the mountains, and experienced a wonderfully uplifting contrast: sentiments of smallness and insignificance in the midst of towering mountain peaks and a sense of gravity, vitality, and self. The world seemed alive, and alive with simplicity: endless blue sky, dramatic mountains glowing as if in eclipse in the early evening light, and me.
Mountaineer George Mallory wrote lyrically during his 1921 expedition in the Himalaya that, "in the evening light, shadows soften the hillside; there is a blending of lines and folds until the last light, so that one comes to bless the absolute barrenness, feeling that here is pure beauty of form, a kind of ultimate harmony." But I would like to think that this "ultimate harmony" doesn't simply exist in nature, for its own sake. Rather, I believe that this "harmony" comes to life through our experience, through our reverence, and hopefully through our "boundless bliss."
Reverence for the beauty of the wild, for the life that it gives us, and for the delicate balance and coexistence of man and nature. Living in close connection with nature, whether with mountains, foothills, rivers, rolling pastures, or simply the comfort and proximity of our own sun-washed backyards: boundless bliss. And I'd like to think that the personal price to pay is minimal. I've lost several toenails over the past few months as my toes have acquainted with my trusty hiking boots, but I continue to sport open-toed sandals all the same, clearly to show off my toenails-in-transition, opaque with intriguing shades of black and blue. Still, a small price to pay.
Annie Kramer, Alta, Utah, 09/2010