My younger brother tested himself on Alta's gnarliest lines at the ripe age of thirteen. Solo. My older brother was alwaysthat guy–floating effortlessly from snowboard to alpine skis and back again and teaching himself to tele like a complete pro (no exaggeration) in a matter of four days. I suppose my dad is equally impressive–with his trove of Alta powder stories, circa 1974 (check out these guys), and his current ability to ski top-to-bottom runs in upwards of 35 inches of the Greatest Snow on Earth after a month-long hiatuses from skiing. And my mom? Well, she boasts about a particularly special moment during the winter of 1983 in which she tore off her hat and goggles in complete whiteout on Snowbird's famous Chip's Run, succumbing to the woes of goggle "foggage." Maybe she was protesting.
I shared a similar moment with her on the slopes of upstate New York's forbidding Whiteface Mountain back in 2000 while struggling down a groomer in 50 m.p.h. sustained winds. My "best" excuse for seeking refuge in the relative comforts of the nearby on-mountain lodge? "Mom, I'm telling you, I'm skiing with two left liners. My left boot feels decent, but I'm telling you, there is a left liner in my right boot!" I was tragically determined the bring the best out in my eggplant-purple rental boots, whose sparkly sheen would have surely sparkled in upstate New York's [nonexistent] sunshine. Or perhaps more accurately, I was simply determined to trade vertigo-inducing turns in flat light (on flat groomers) and rosy-red windburn for ski area cafeteria-style brownies and french fries. My mom, similarly perturbed by the same pair of rental boots, indulged my discontent and added piping hot cups of hot chocolate to our [very] early lunch.
My relationship with the sport of skiing has certainly been a rocky one. Past highlights include the following, all on the slopes in Little Cottonwood Canyon (and you are encouraged to post a comment requesting more): collapsing in the snow at the bottom of the Wildcat Lift and determining to end my ski day then and there–a condition scarcely mollified by my parents' literal delivery of grilled cheese with tomato to my bomb hole, where I not-so-comfortably resided until they finished their day of skiing; bursting into tears at the top of a six-foot-wide chute (in reality, not so narrow) near Snowbird's Carbonate and defiantly remaining seated while my brother (the gnar one, who had probably experienced a rush tearing down the chute and was probably scouting his next line) waited not-so-patiently twenty vertical feet below; and, my personal favorite, confidently opting to remove my skis rather launch off of a mandatory two-foot drop in early-season pow in Alta's Eagle's Nest, burying–and briefly losing–both skis after pushing them off the drop, shimmying down on my rear, struggling–and probably burning off my entire pancake/bacon breakfast–while attempting to click back into my skis, and subsequently suffering some serious goggle foggage (like mother, like daughter).
Stated simply: my feelings about skiing have undergone significant evolution since those special (for lack of a better word) days of sandwich "room service" and self-inflicted ski burial. On a borderline "dust-on-crust" day in Alta's Ballroom, I made unharmonious contact with some bumps, whose presence was belied by a few inches of pow, and completely "yard-saled"–losing both skis, both poles, both gloves…the works. I was in stitches; I just could not stop laughing. Determined to catch my brother, who had bombed ahead onto the groomed runout, I quickly cleaned up my personal carnage and forged onward. As I gained speed and momentum on the groomer, I experienced a certain…rush flowing through my body. Adrenaline? Not quite. I glanced downward. Jacket zipped? Check. Pants zipped? Not so much. Yep, complete carnage. I remedied the situation, and carved some gleeful groomer turns down to the bottom of the lift.
Good days...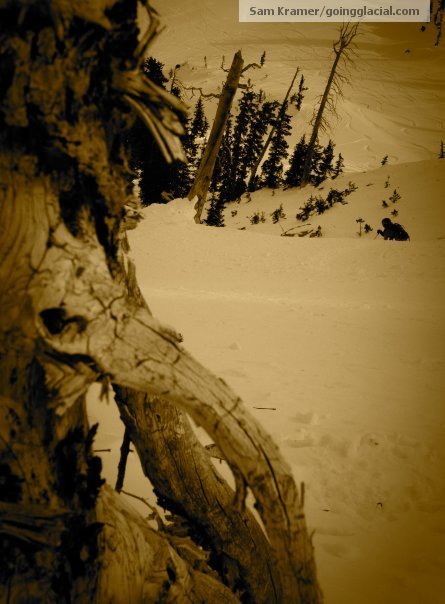 On a more serious note, I was exploring some new lines in my favorite area at Alta (whose name shall remain undisclosed) with a ski buddy a few weeks ago, and we ran into a bit of trouble. We weren't exactly cliffed out, but instead, perched uncomfortably–and unintentionally, of course–on a steep slope (~45-50 degrees) coated with that pernicious MLK rain crust and adorned with rocks, rocks, and more rocks. For lack of better description, the slope was impassable and continuing with our traverse in search of friendlier terrain was scarcely an option. As my heart thumped-thumped in my chest and beads of sweat collected on my goggle-clad brow, my friend took a leap of faith, and attempted to gingerly navigate the rock garden. He failed to edge into the boilerplate ice, and careened downhill into a cluster of trees. I briefly entertained an attempt at bombing across zamboni-style, but my buddy vetoed that course of action. My friend suggested the last resort option (moving in reverse to safer ground), but the ease of my self-extraction would certainly be limited by my reverse sidecut skis–incidentally designed to enhance my enjoyment of the powpow that I was aiming to access at the moment of bottleneck. At the risk of rambling, I'll simply share that as I struggled to move in reverse, a condition exacerbated by my skis and the inconsistent curvature of the slope, my face crinkled into an unprecedented grin–a sea change from the near tears at the top of Carbonate many years before. Before completing my backwards maneuver and giving myself over to hero blower snow, I reveled in the opportunity to truly live in the present–confronting those circumstances and nothing more–and the reminder of nature's strength and sovereignty. We must tread lightly, and so I did.
And thus I found myself humbled and amused a few days ago when I arrived home after early-morning tram laps at Snowbird and some pow surfing and navigation (the light really was flat) at Alta. I'll be frank; I just couldn't ski. (I will attempt to excuse myself by sharing that I had dislocated my left shoulder a few days prior, and was skiing with crippling timidity.) My best attempt at explaining the circumstances to a friend: "I'm really sorry, I just feel like I have two left legs today. I'm holding out hope for tomorrow." My family is in town for a few days, and I would have expected to find them playing on the Alta slopes and getting their fair share–and taste–of the Greatest Snow on Earth. But instead, as I entered the living room and prepared to collapse on the couch for a few brief minutes before heading off to work, I found my younger brother sprawled across the couch, providing some tender loving care to an apparently injured right knee. (I should probably mention that he sustained the injury while completing an epic traverse of the Patagonian Ice Cap in January and February.) He confided that after two runs, he just couldn't withstand the pain of more skiing. Victory for the couch. Meanwhile, the father figure, who recalls overhead pow turns in Gunsight on wood-core 205′s in 1974 and combed his former shoulder-length hair through seasons at Mt. Snow, Stowe, and Mad River Glen in Vermont, sat chugging away at his laptop–in spite of the fluffy Alta pow awaiting contact with his much shorter skis. And my older brother (the snowboarder turned skier turned tele-er) was perched ~2,000 miles away, tapping away at his keyboard in a very indoor office in the New York metropolitan area.
And the mother figure? Through my brothers' years of relentless shredding, my dad's gradual acquisition of OG status in Little Cottonwood, and my predictable ups and downs (pun very much intended), my mom had quietly and calmly made her Alta turns, albeit with a little less verve–for better or for worse–than the rest of us. She certainly never boasted about how many faceshots she experienced surfing down the Backside, how many High Boy laps she fit into her afternoon of storm skiing, or about the hero-quality buffer skiing off of the High T. Regardless of the skier or the story, this particular sport, wonderfully wild as it may be, precipitates magical growth, change, and engagement. For some, this engagement is the narrative, in itself; and for others, yet, this engagement is the hard-fought and long-awaited end product, the result of years of trials and tribulations–rocks, chutes, taking residence at the mountain base, and perhaps even skiing with two left boot liners. But on that particular afternoon a few days ago, I was heartened to answer the house phone, much to my mom's surprise ("Why are you home at noon on a storm day?"), and to hear the joy and fight in her voice. "How's the skiing going, Mom?" "Well, the [lack of] visibility is vertigo-inducing, but who needs visibility, anyway?" "So you're feeling it today, huh?" "Well, not exactly. I can barely ski today, but I'm out here riding the storm, wind, fog, and all, and that's good enough for me!" And on that particular day, it was good enough for us all. We watched the snowflakes fall sideways from the heavens to our earthly paradise, we watched in reverence as Superior danced in and out of the clouds, and we rode out the temporary wave of insouciance–all the while dreaming of our next chance to surf the endless sea of white.