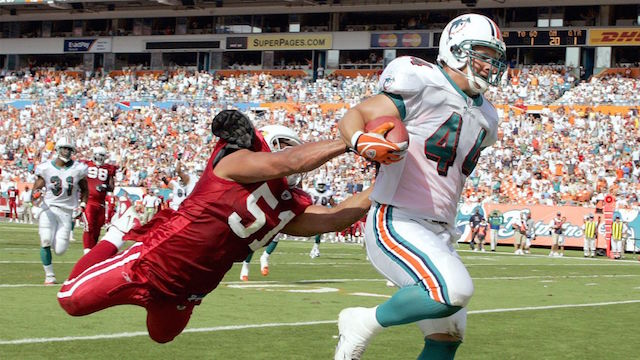 Former NFL player Rob Konrad swam nine miles to shore after falling off his fishing boat this week. Fox Sports photo.
We talk a lot about backcountry preparedness here on Tetongravity.com. One of the things we preach is that you need to be thinking about, and prepared for, getting yourself back to safety when you make a mistake and shit inevitably hits the fan. Normally, this might include having a proper first-aid kit and the ability to build a rescue sled to evacuate an injured partner to safety.
But former NFL player Rob Konrad reminded us we've completely forgotten another part of the equation: pure, unadulterated drive. That characteristic, which 38-year-old Konrad now famously holds in spades, got the former NFL star to the beach in his underwear after he fell off his boat while landing a deepsea fish nine miles off the coast of Boca Raton, Florida. According to USA Today, having made the mistake of setting his throttle on autopilot, Konrad was unable to swim back to his boat, and instead decided to swim nine–yes, nine–miles back to shore, arriving in one piece on the beach at 4 a.m. He then lumbered around in his underwear (that's all he made the journey in) until he could call the police and let the authorities know that the missing party had, in fact, simply rescued himself.
Konrad, who played for the Miami Dolphins from 1999 to 2005, now runs a financial services firm, and is currently getting dozens of endorsements on his LinkedIn page for "general badassery."
Check out our 2014 Safety Week, which loads of content on preparedness of all sorts, here.