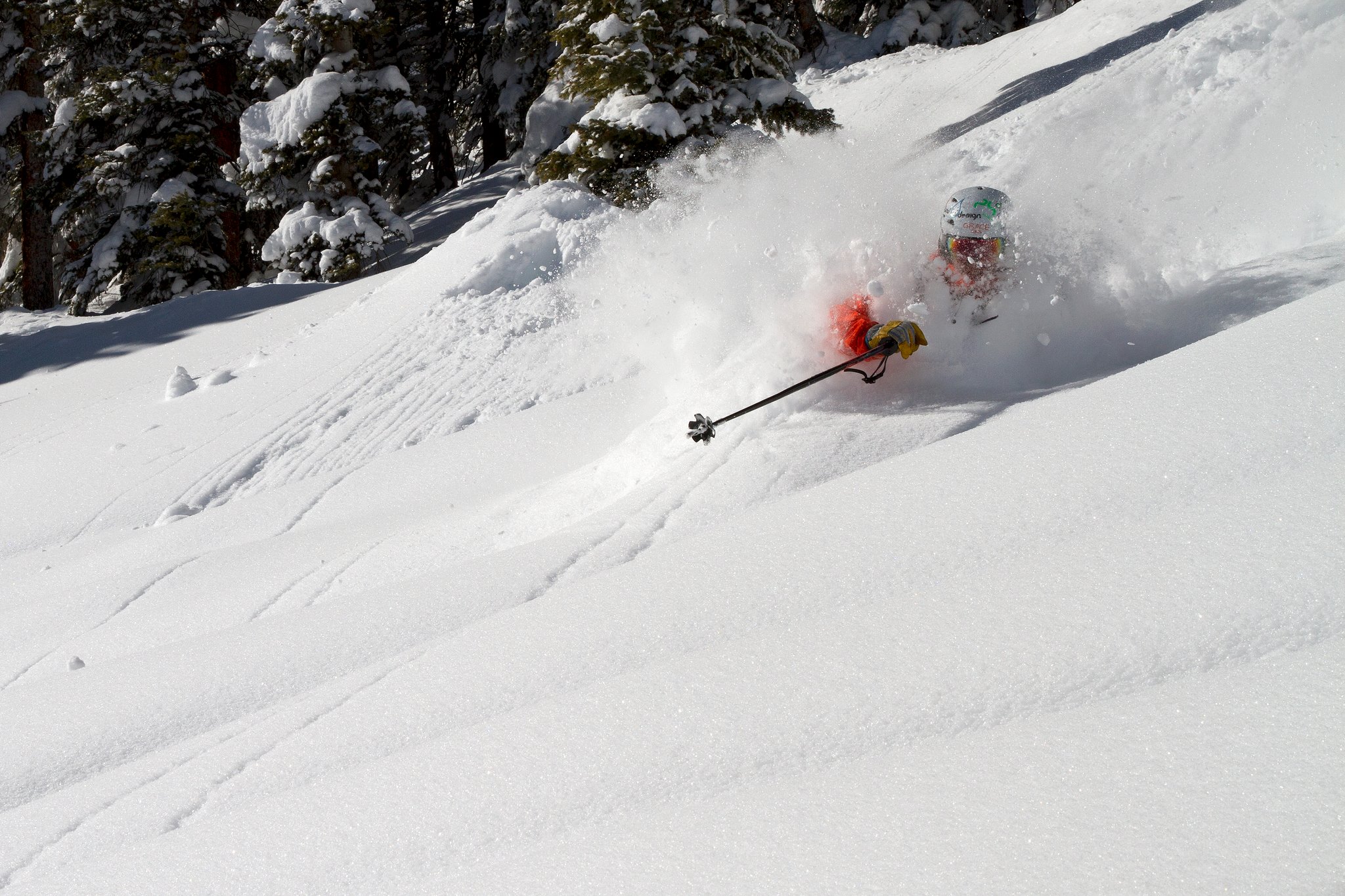 Vail has quite the reputation with out me writing one word about it as a subject you probably already have an opinion on the place. However after living here for 15 years and growing up skiing this place with my family before that I know some of its secrets so perhaps I can add some perspective both as a former gaper and a long time local.

Essentially a 5 mile by 5 mile expanse of ridges and huge open bowls that happen to sit at the south end of the Gore Range which creates a jagged cloud trap to catch any precipitation and funnel it towards Vail. It is the reason that there can be 5 inches on the report at mid vail but the back bowls and Blue Sky basin will receive feet as happened just this last storm cycle. On a good year well over 400 inches of super light Colorado fluff fall back there a few miles from the village.

The terrain here is mostly mellow but trust me there are some steeps and cliffs if that your thing. I spoke with young big mtn up and comer Christian Nichols formerly of Ski Club Vail's Big Mtn Team and he told me that its legit terrain for him and the rest of the team to have to train on to prepare for contests at mountains that are much more highly regarded as steep and technical. The terrain parks at Vail are looking better than ever with a brand new 22 foot super pipe this season and always innovative rails and eagle counties little secret, lots of log slides in the trees if jibbing lumber is your thing.

Lines can be long on weekends or big powder days but there are ways to get away from the crowds. Show up early with a plan and get ahead of everyone and you will be lapping untracked powder for hours or show up late when its dumping and go seek out some stashes. Ptarmigan cornice and the ends of the ridges in the bowls are some of my favorite places to look for super deep wind-loaded leftovers. As a kid I can remember loving to go out to inner and outer Mongolia bowls just because there was no one ever out there and there was a lot of terrain to explore. Its not that steep but it is always worth a look if you want to find some solitutde.

The resort has a bunch of easily accessible side-country, which means you can usually find fresh snow even weeks after a storm if you know where to look. East Vail, The Minturn Mile, West vail trees…. It would take you years and years to ride all of the lines located a short walk from Vail's ropes. Just remember here in Eagle County more often than not we have a sketchy snow pack with lots of depth hoar and a recipe for slabs that step down into bigger slides so use good sense and remember your Avalanche gear if you are wanting to venture out. Seems almost every year someone is lost in an avalanche around here and its definitely something that's always in the back of my mind.

The snow is not the only attraction here, Vail does a pretty good job of putting on events and concerts all year long almost. With the Burton U.S open making its Vail debut, this coming weekend it looks like they are just stepping it up. Things have never been better as far as nightlife goes and bridge street, will keep even the most seasoned partiers happy. Check out the George if you want to chill or Samana Lounge to get your groove on.

Some of the things I have heard is that Vail is flat and its crowded, full of gapers, extremely corporate, expensive, my aspen friends call it a truck stop and yada yada yada. So what, a lot of negative things are true about this place and people always hate on the biggest for whatever reason but subtract that and what do you have. A huge expansive mountain with a pretty fun town, pretty easy access from Denver, via a very well maintained highway that doesn't close often enough for my liking. Check Vail out, you may have the time of your life here whether it's a deep pow day or a night out on the town, I know I have.
Skier Drew Rouse
Photo Ben Koelker
Vail Lodging Sale, book online through Mountain Reservations.