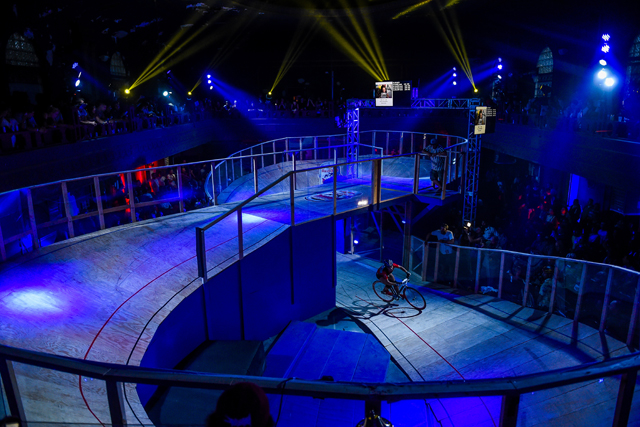 At a former dance-hall-turned-art-studio in the industry area of Queens, 64 of the fastest, tatted up, hipster bad-asses on two wheels went balls out on a knarly figure-8 mini velodrome. I've been around, lived in NYC for 13 years, and… um… yeah, I thought this was pretty great.
NYC invented cool shit in busted old places. And if you're about to make an argument for wherever you are from, don't even.
Abandon Porn: BMX in the Silverdome
Sure, it was put on by the world's gorilla of activation marketing - doesn't matter, still hip.
The Event
Gunnar Waldman photo.
I rolled up after qualifiers, just as the main heats were getting started - passed by an ambulance with rollers on while looking for parking. Dang, already? Of course there was the usual not too strict ID checking at the door, and I could have shown any old QR tag on my phone, they weren't really scanning anything. De-rigueur hottie Saatchi event girls handed me my press pass at the entrance and made some polite chat, always appreciative of that. And off I went.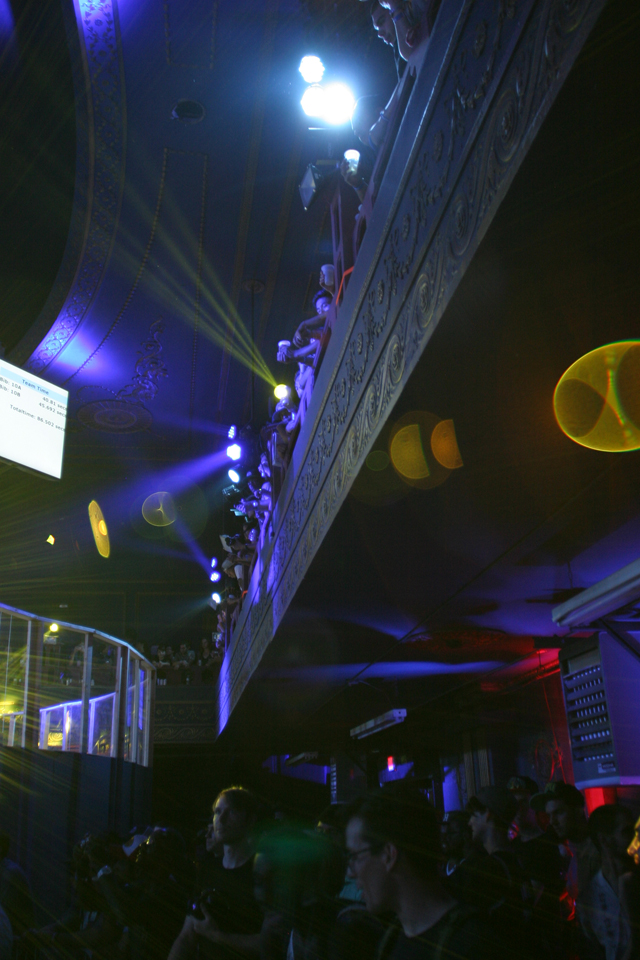 Gunnar Waldman photo
PBR and Modelo in cans, Loud DJ, smoke effects, MC, killer lighting and busted plaster and windows. Fucking everybody looked like they were half bike messenger and half badass post-modern model. I weep for my youth.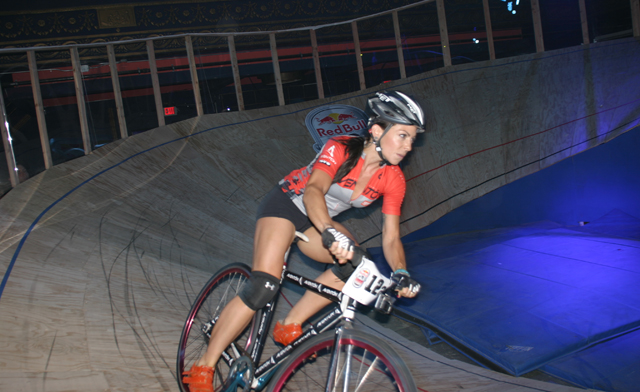 Gunnar Waldman photo
But right in the middle of what could have just been a scene was this monster of a velodrome. Not monster because it was big, monster twisted-on-purpose to fuck people up.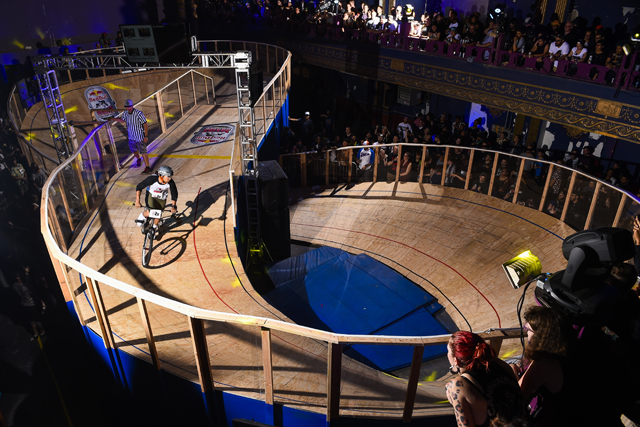 Red bull photo.
This is the third year for this event but the first with the added steeper, deeper curves provided by the figure-8 shape. A rowdy and drunken-ish, but definitely totally into-the-sport crowd yelled from above and below.
The Race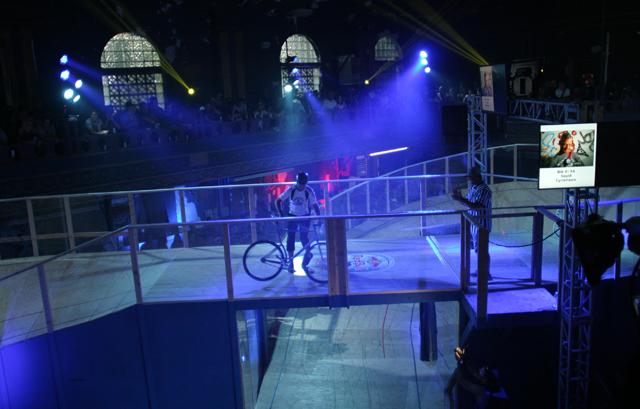 GW photo
The competitors began on the only flat 20 feet of track flat and dropped into the 8. Each heat was 4 laps, with each progressive lap usually either faster than the last, or resulting in a crash. I started to flash to Thunderdome. Bike messengers run Bartertown.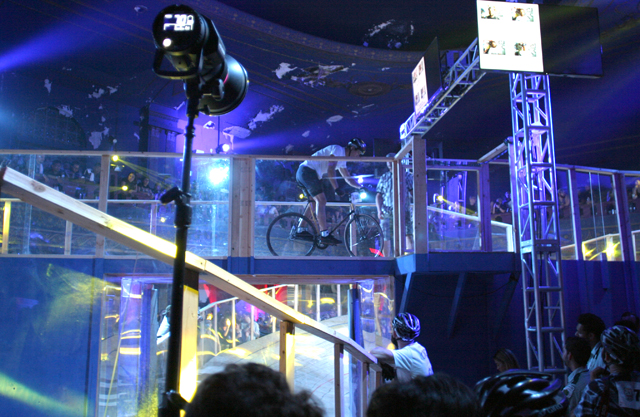 Great timing system added to the drama. GW photo
The competition was divided into two sections; teams (mostly local) and Red Bull Mini Drome competitors from previous years. Definitely a few badass hired guns from out of town in that latter category.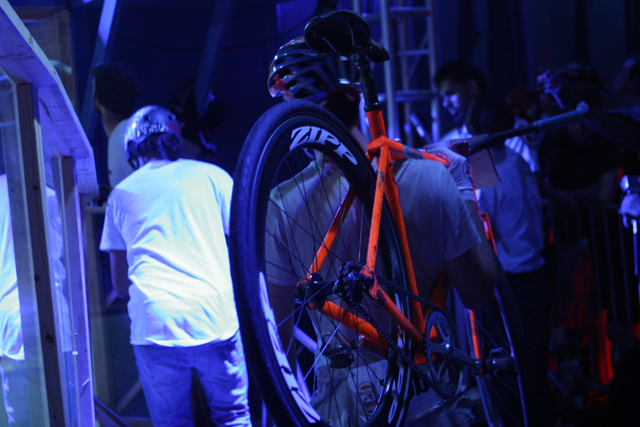 Hired gun Addison Zawada from Florida in the gate waiting on his slot. GW photo
Testing skills and tolerance for risk, riders hit the 45-degree curves. As you may or may not know, if you don't hit velodrome corners with solid speed and at a right angle to the bank, you're going down.
Lower east side in the house.
And because of the figure 8 shape, these corners were greater than 180 degrees. Oh, did I mention this was fixie only? No brakes, no coasting. And the track was new, so the wood floor was pretty slick.
The eight fastest teams of two competed in a single round elimination style tournament - with each team using their combined times to advance against their opponent. Even if you crash you had to get up and keep going because more than likely somebody on the other team would also crash.
Then the all star singles race had 32 fixie pros going head-to-head. Some of the riders had also competed in the team event, so there were some full-on warriors out there. Some would go down, the EMT crew would throw a little first aid on them between heats, and they'd go back out and hammer some more, completing a massive number of laps on the night. But hey, if someone allowed me on there, I'd ride it as much as I could too.
The timing system was awesome and added to the excitement. Really solid tech, whatever it was. Loved that I could see it from pretty much anywhere in the event.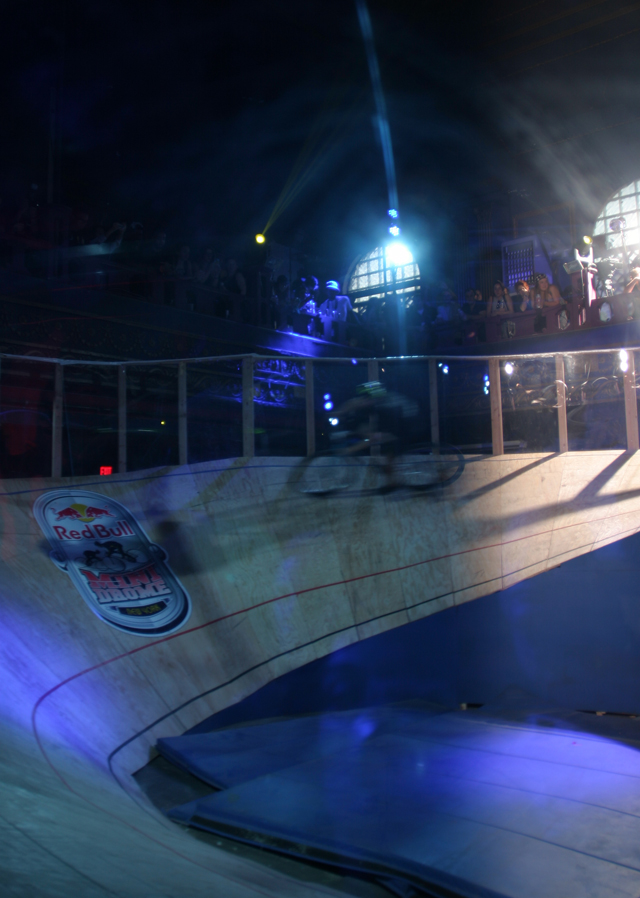 Drop into the prime crash zone
Each lap riders and crowd got instant split times and position - as well as the final rank after all 4 laps in each heat were completed - so you knew when someone was on a burner. Crashes usually occurred in later laps by riders trying to push up their position while gassed. No matter where you were in the arena, you could tell when someone went down hard because of the massive "OOOOOHHH!".
Local Bed-Stuy bike shop Deluxe Cycles, featuring riders Willis Johnson (totally a crowd favorite, running slightly fatter tires and mashing like a kid possessed) and Cooper Ray, took the team challenge in a close race against NYC shop Chari&co.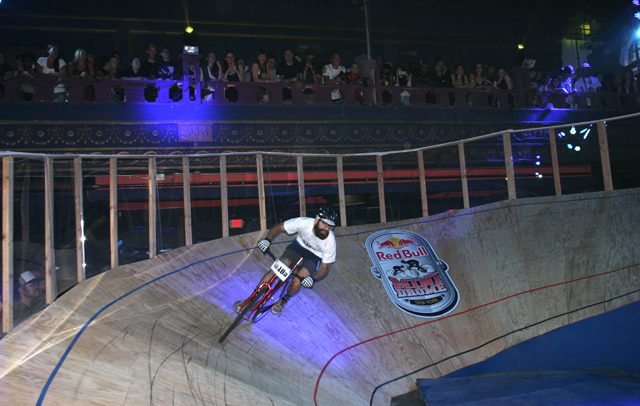 Not every cyclist with a beard rides a fixie, but it doesn't hurt
In the individual competition, Red Bull Athlete and competitor Addison Zawada beat out Bronx native Ryan Locascio by .65 of a second. Addison helped design the track so… well… yeah.
Not bitter, he's a solid dude, he puts it out there and advances his sport. But just like LA's Wolfpack Marathon Crash Race, it's nice when the winner is local.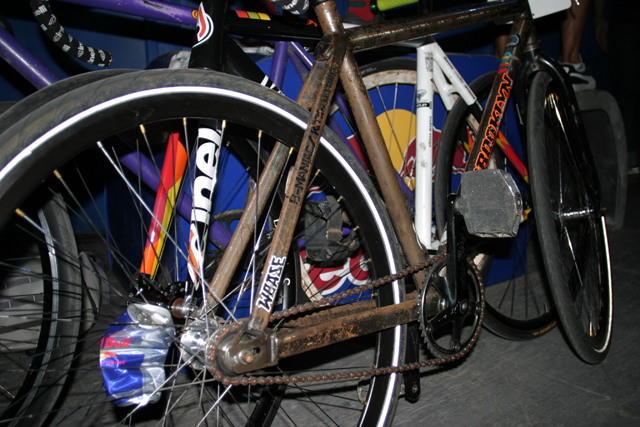 Lean the local masher on the Cinelli. GW photo

This is one of those events that clarifies who will survive the zombie apocalypse and who will not. Urban bike messenger fixie track racers are freaking cool. Great argument for seeking out different types of two-wheeled fun, spectator or competitor.
Results (Team):
1. Deluxe Cycles (Bed-Stuy) 2. Charli&co. (NYC) 3. Dah Shop (LES)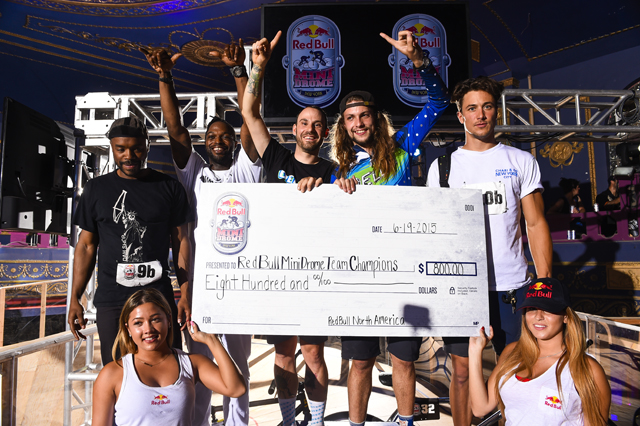 Team podium.
FYI, Bed-Stuy is Brooklyn, LES is Lower east side - just south of Houston St. near my old 3rd street hood – was kinda pulling for these guys (on left).
Results (Individual):
1. Addison Zawada (FL) 2. Ryan Locasicio (Bronx) 3. Matt Reyes (SF)