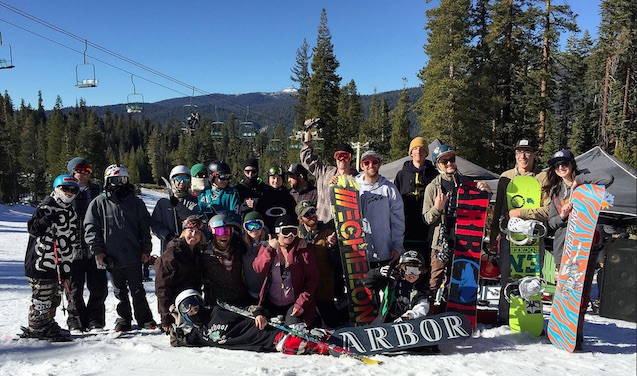 A group of China Peak locals the week before drenching rains killed the remaining snow and forced them to close. China Peak photo.
This winter has been one big dump of salt in the wound for anyone hoping to do some skiing or riding in the Sierras. The high pressure ridge sitting off the West Coast has pushed cold temps and moisture far to the north, after which the low on the East Coast has sucked it down and produced mind-boggling blizzards. China Peak CEO Tim Cohee considers it the absolute cruelest winter for the state since he started working at California skis areas in 1976.
So cruel, in fact, that China Peak become the latest in a growing line of ski areas who've closed their doors to due a complete lack of snow; while a recent storm brought up to two feet to the highest parts of Lake Tahoe, most everywhere under 10,000 feet (which is most everywhere) saw only rain, which washed away what remained of China Peak's meager snowpack. The following letter from Cohee announcing the ski area's closure (temporarily, we hope) brings to bear the true tragedy of the Sierras' dismal four-year snowless run, while reminding that ski areas like China Peak are not just places where we make turns, but also where we find and make community, where young and old look to live out dreams big and small, and upon which many depend for their livelihoods:
Dear China Peak Supporters:
First, let me say how incredibly appreciative we are at China Peak for the amazing support shown by our loyal skiers and riders over the course of this brutal winter, the fourth in a series of droughts for the California region. We quit counting how many Facebook posts and emails we have received, telling us to hang in there, what a raw deal we were getting from Mother Nature. You came up and spent time with us even though the conditions were less than what we all want. You even went so far as to say the conditions were good, which we appreciate, but they weren't really.
We also want to acknowledge the recent article by one of the most support media members I've known, Marek Warszawski of the Fresno Bee, who went out of his way to point out the things we've done to make China Peak better than ever, only to be saddled with four years of no snow.
This has been what I'm now calling the 'cruelest' winter I've ever seen, dating back to my first season working for Snow Summit in 1976. By that I mean we have not only dealt with no snow, but also with incredibly marginal snowmaking conditions. To top it off, when we finally did get enough moisture last week to make a big difference, it came in with a snow level of well above 10,000 feet, higher than all but a very few peaks in the state. It was the nail in the coffin, washing away what precious snow we had on the mid mountain, forcing us to close all but the beginner hill for the busiest ski weekend of the year, President's. In nearly four decades I have never worked for a resort that closed mid winter; now I have.
We have others to feel very bad for, including our tremendous full time staff and our fantastically loyal season pass holders. We have 30 members of our team who in many cases have spent decades with us, are there every day to provide service equal to any major resort in the Sierra, and will suffer financial hardship along with the owners. Plus, we had 300 mostly young adults who committed their winter to us, only to get virtually none of what they had hoped for - good times, great skiing and riding, and paychecks.
Read also: The Winners and Losers of the 2015 season
We have thousands of pass holders at China Peak who have suffered along with us, committing their money and passion for the sport each season, only to be disappointed year after year. What is most impressive is how many of you have sent us emails or asked our staff when season passes will go on sale for the 2015/16 season. Now that is true loyalty. We have yet to decide how to handle season pass sales for next season, but we can't emphasize enough how encouraged we are with your interest in buying passes after four years of sub par conditions.
Is there still time for a season? Of course. Many of you may remember the 'March Miracle', which happened in 1991. It was a very bad season until March, then it snowed over 20 feet, producing one of if not the most amazing spring season in California skiing history. We are ready to reopen on a moment's notice with a foot or more of snow; with a few feet or more we could open a lot of our lifts and terrain quickly.
In closing, on behalf of my two Fresno based partners and our terrific full time staff, we thank you again for your undying support. China Peak is a great resort and will always be there, as it is a great asset to the region and a very profitable business when given even a glimmer of chance to succeed.
Cheer for snow, and we'll see how things go over the coming weeks.
Best Regards,
Tim Cohee
Managing General Partner, CEO & General Manager
---
To stay tuned for information about China Peak's hopeful reopening, please stay tuned to their Facebook page and website.