One day, one shot wonders were wearing us down. Not what you'd call a productive trip. We kept changing our plans, driving further each day, hiking for better snow and it was the same result. Boot deep at best, slightly wind effected and warming temps. This trip was suppose to be "guaranteed blower pow over the head" according to Benchetler. He's hit it good the last 4 times in Japan, but our hopes of slaying it day after day were getting crushed as the 4-5hr daily road trips took their toll with no big rewards.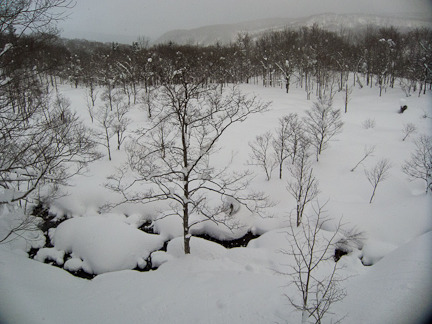 Seico Mart snacks, Ramen Bowls, Sushi feasts and Sake night skiing were the highlights. Good times and good eats, but I would have taken our ski hit list for Japan instead. Those were deep pow runs, pillow lines and tree hits. The days rolled on and then the team came to a crossroads.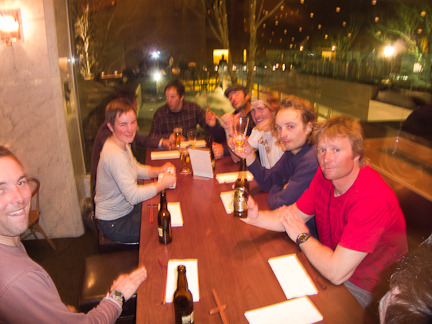 Nine days in on our twelve day trip we had two options. Stay and risk more of the same or pull the ripcord and bail on Japan. Dana had a heli trip lined up and Chris was excited to get home and ski after a huge storm hit the Sierras. We all changed our flights and so did our still photographer, Mark Fisher. TGR's two filmers Greg Epstein and Dan Gibeau were sticking it out not thinking we were serious about leaving. An hour after changing my flight I went out for one last mission with Clayton from Black Diamond Tours.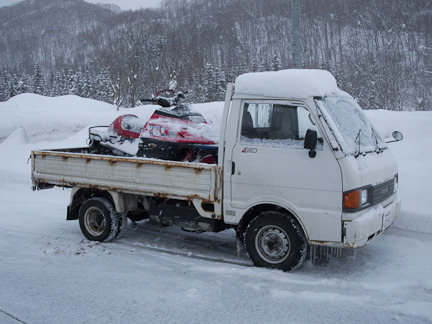 Our Sled Setup
Their Sled Setup
We took the sleds and then hiked up to ski some trees. The wind was hammering and it was snowing heavily. We dropped in and found knee deep blower pow. It was the trip changer for me. My stoke meter was red lining and I was staying. I got back to The Green Leaf and did my best to convince Dana and Chris to stay. They already had one foot on the plane home and it was useless. I changed my flight back to the original date and stuck it out.
While those boys were on the way home I was making lap after lap in some of the deepest snow I've ever skied. Pillow drops, cliffs and laying trenches. I was the only child and enjoying it. Thankfully TGR was there to film the goods. It was awesome, but I missed not sharing those last three days with my Atomic teammates. Feeding off the energy and stoke with your bros it what makes those moments special, but I wasn't crying over it.
When in doubt, stick it out for JaPow!
Daron Rahlves