I had this idea in the back of my head for some time now. It really started when I was working on the East Coast and spent an amazing winter riding in Vermont at resorts like Killington and Stowe. The time I spent in the White Mountains rekindled the flame of adventure and thrill seeking. Once spring came around I returned to my mountain biking roots and began exploring downhill parks in New Hampshire and New Jersey.
During the next couple of years I made every effort to feed the desire for adrenalin and exploration. We continued to push the limits on the bike while ski trips were becoming increasingly focused on backcountry. Even with some great bike and ski trips, the time spent in the mountains was just not enough. I needed more than a long weekend of adventure.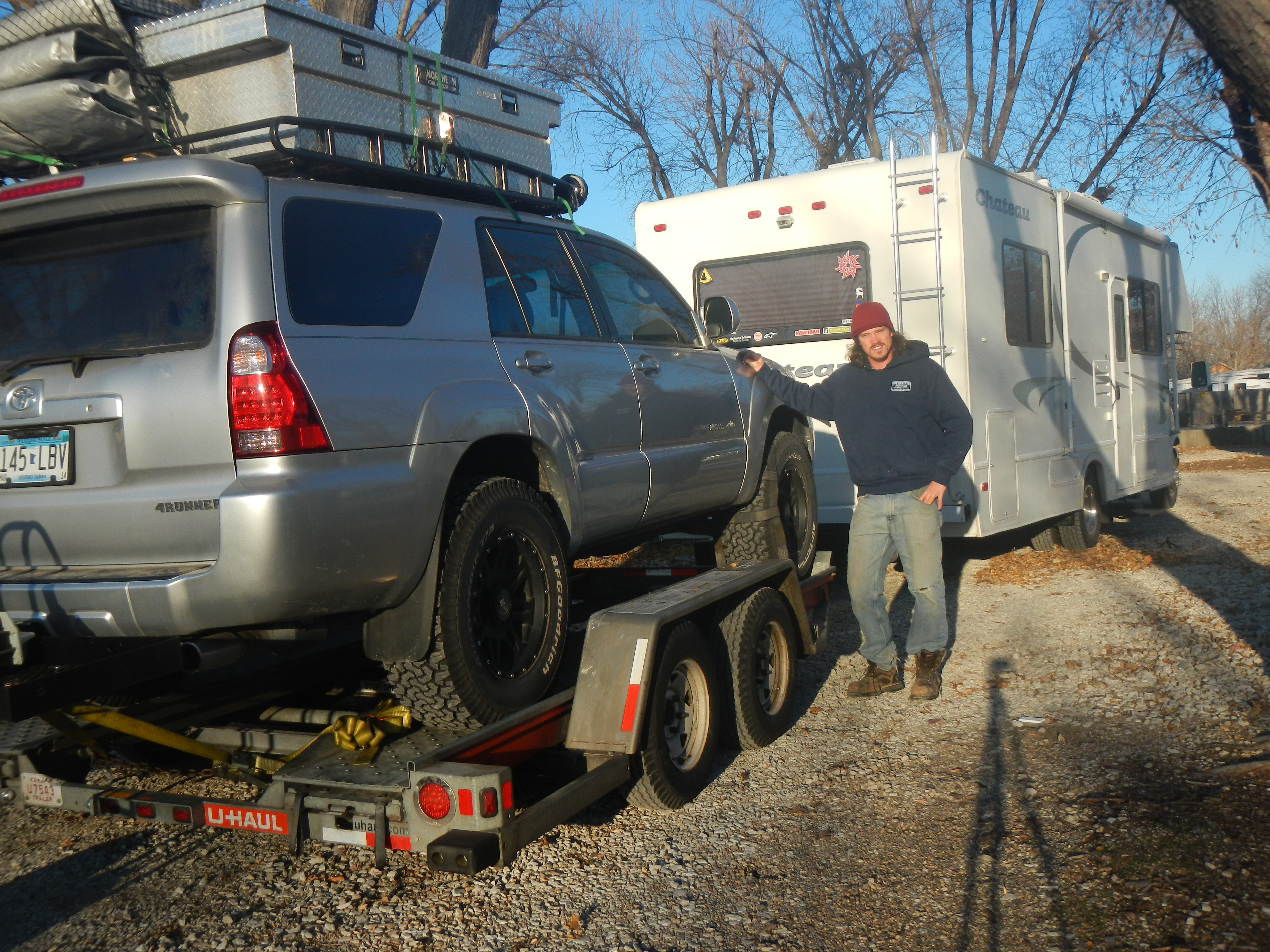 Rolling out of Sioux City, Iowa to Breckenridge with the 4Runner in tow.
So by this time, the gears really started to turn on making a trip happen. The outline I came up with was to travel North America hitting mountain bike parks from coast to coast. I would start on the East Coast, since they open the earliest, and finish in Whistler. Of course this trip is easier said than done. The first major step I took in downsizing my life was selling my pick up. This was a huge step for me! That truck was my baby and it had traveled all over the US with me. Even with the truck gone I still had not fully committed myself to the trip. Walking away from my career and a steady paycheck was a decision not made lightly, but a trip to Colorado for a weekend of downhill biking set off a chain reaction of decisions. These decisions ultimately lead to this trip, this blog, and everything to come.
Riding solo that weekend I ended up sharing a chair with another rider. We started off with the typical chairlift banter; Where are you from? Have you ever ridden here? He said he was from Washington State but had recently left his job and was making a cross country trip hitting bike parks along the way. That was all it took. Running into Mike and hearing his story was all the push and inspiration I needed to throw it all to the wind and commit to this dream trip of mine. Mike and I ended up riding the rest of the day together, sharing a couple parking lot beers and a few war stories. We still keep in touch and I'm sure we'll ride again.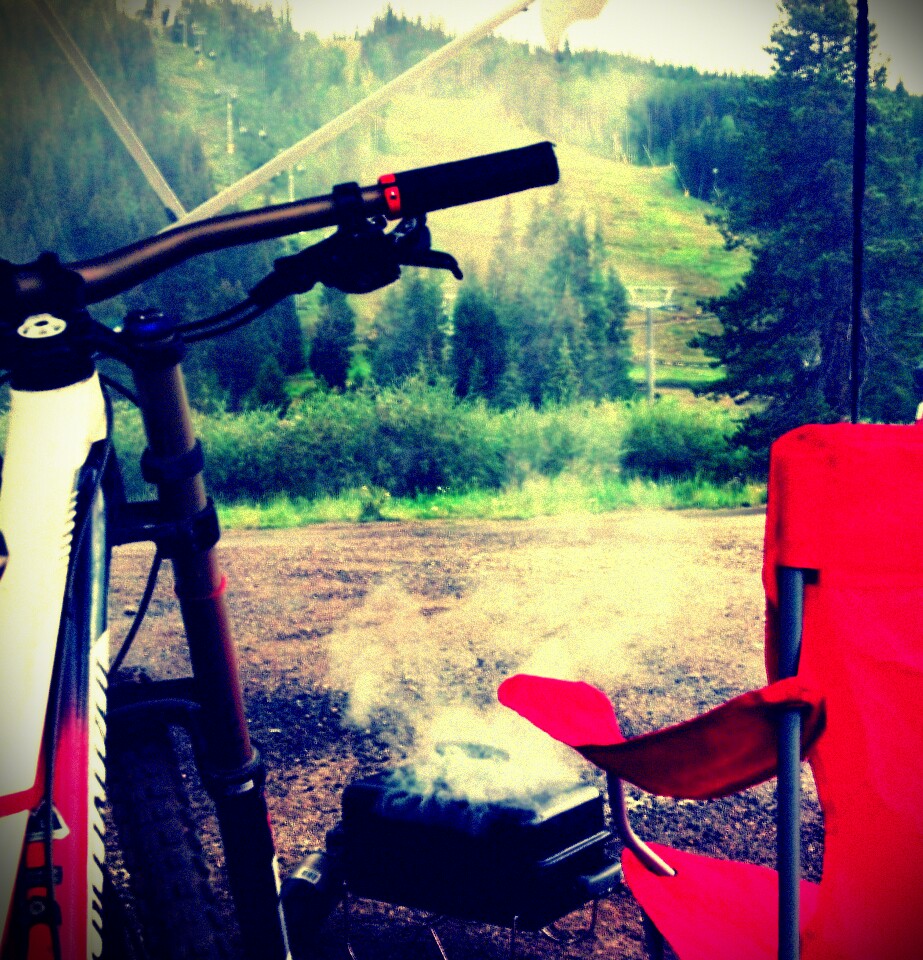 Camp at Keystone Bike Park, summer 2013
A week later my dad and I were on a flight to Phoenix, Arizona to pick up the RV I had purchased, site unseen, over the phone. I searched every major city on Craigslist, Ebay, and rvtrader.com until I found the exact one I wanted. I needed an RV with space to live in for long periods of time and the power to pull my 4Runner from coast to coast and back again. "Superstition RV" in Superstition, Arizona had just the rig I was looking for. It was a used Ford E450 Four Winds with the bullet proof 7.3L Powerstroke diesel engine and, somehow only 19,000 miles on it. I was sold!
Once the ink was drying. my dad and I were hitting the road back to the Midwest. I had to go back to work in only 36 hours, forcing us to drive in shifts and climb over each other as we switched places with the cruise control engaged. In short order, we put this machine though its paces.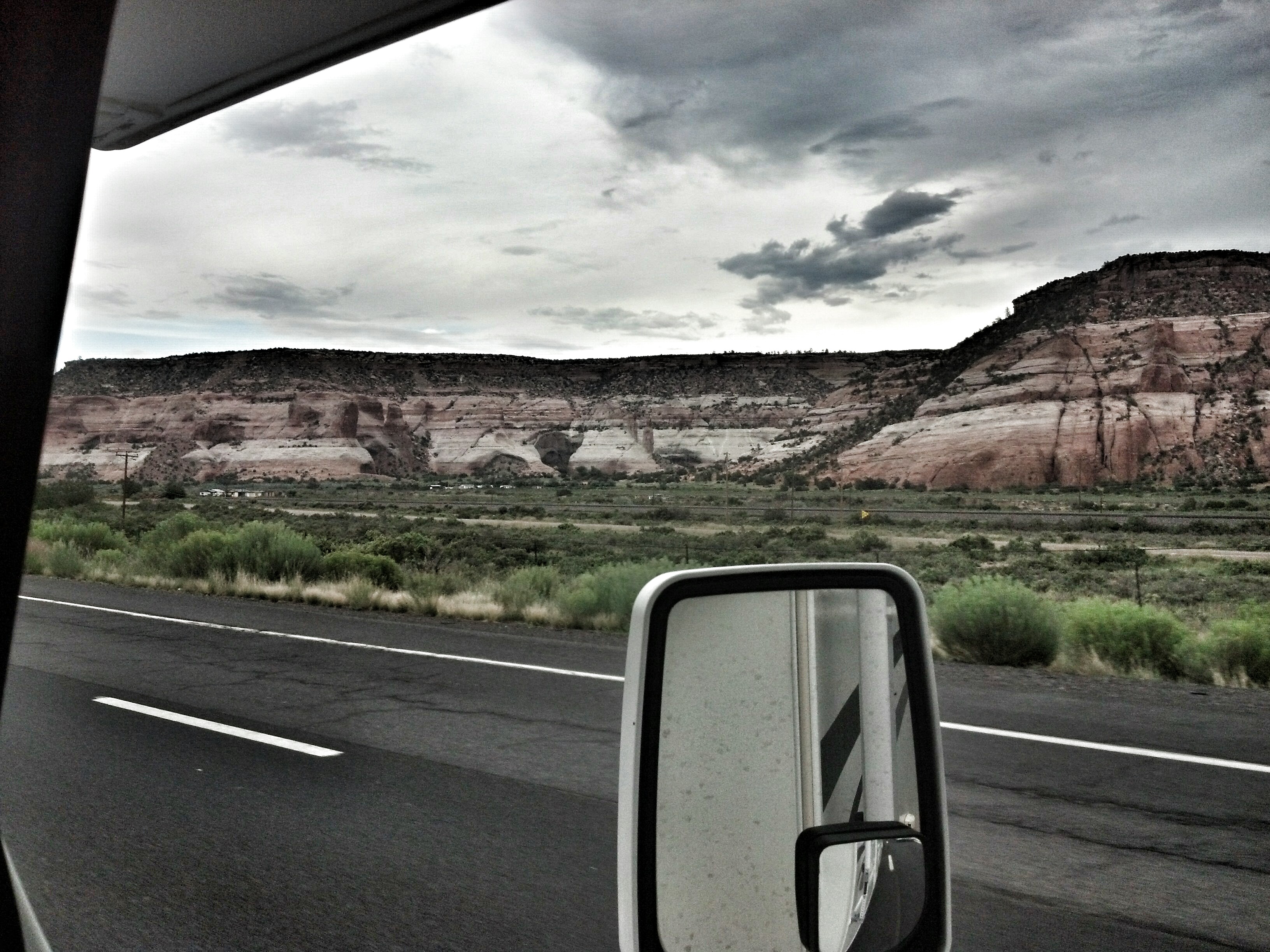 Somewhere in the Arizona desert.
While the E450 held strong as a tank for the entire drive, the flatbed trailer I bought with it to tow my truck with did not. The first tire blew out about eight hours into the drive, and naturally the spare tire was flat. We eventually got that sorted out and back on the road after some tire slime and a late night trip to Wal-Mart. Somewhere in Oklahoma I again saw sparks spewing out the fender of that piece of shit trailer. We pulled over to investigate only to discover that the flat was caused by the spare tire breaking off its mount, after which the trailer ran it over and popped another tire. By this point, we'd gone through three tires. Despite the unwanted pit stops, we managed to get back to the Mid-West with just enough time to spare to get to work. I sold the trailer as soon as I could.
The month leading up to my departure was a busy one. The project I had been working on was closing in on mechanical completion, which is always a hectic time. On top of that, at the end of October I moved out of my condo and into the RV. Anything that couldn't fit in the rig went on Craigslist with the rest going into storage. The slim down had begun. At this point, the majority of people still had no idea of my plans for the trip; they just thought I was crazy for my choice in housing.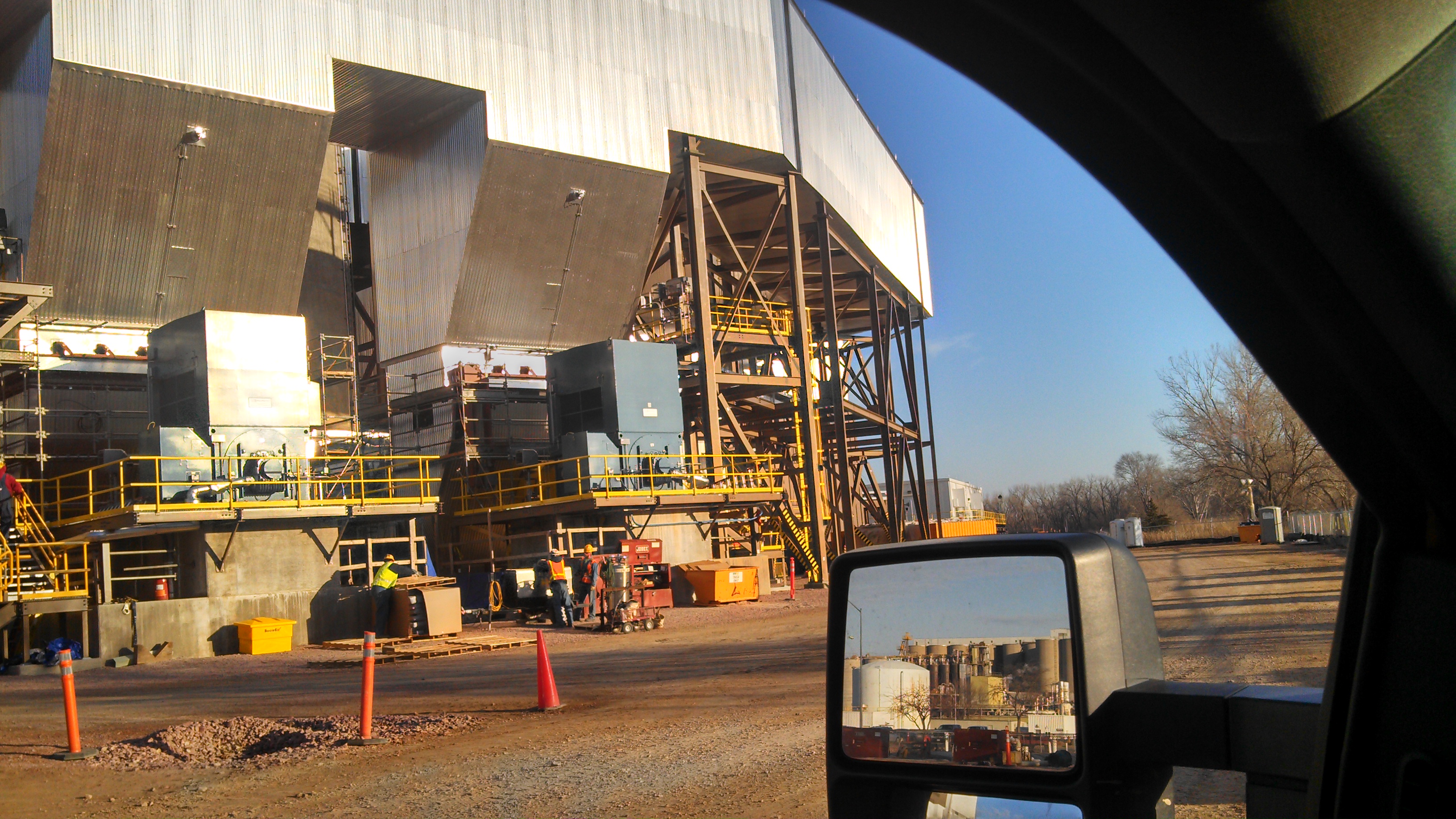 Ready to Fire on All Cylinders!
Two things amazed me during this month. The first was the endless amount of storage an RV has! And the second was how much stuff you really don't need. I managed to liquidate quite a bit of my belongings, which in turn, supplemented my diesel fund nicely, which in turn, was awesome. Still, there were some things I wanted to keep or that didn't sell. My parents, in full support of my "cast off," offered up some storage space in the old horse barn...free of charge. Score.
Parked in the Paddock
Nearly seven months later, I'm still at it. Everything I do and everywhere I go, my home comes with me. There is no packing or unpacking from the last adventure; the only task is to figure out where to go next. I saw a t-shirt the other day that read "Ride Simply, Simply Ride." This endeavor is teaching me that on a daily basis, I continue to learn just how simple an adventure lifestyle can be....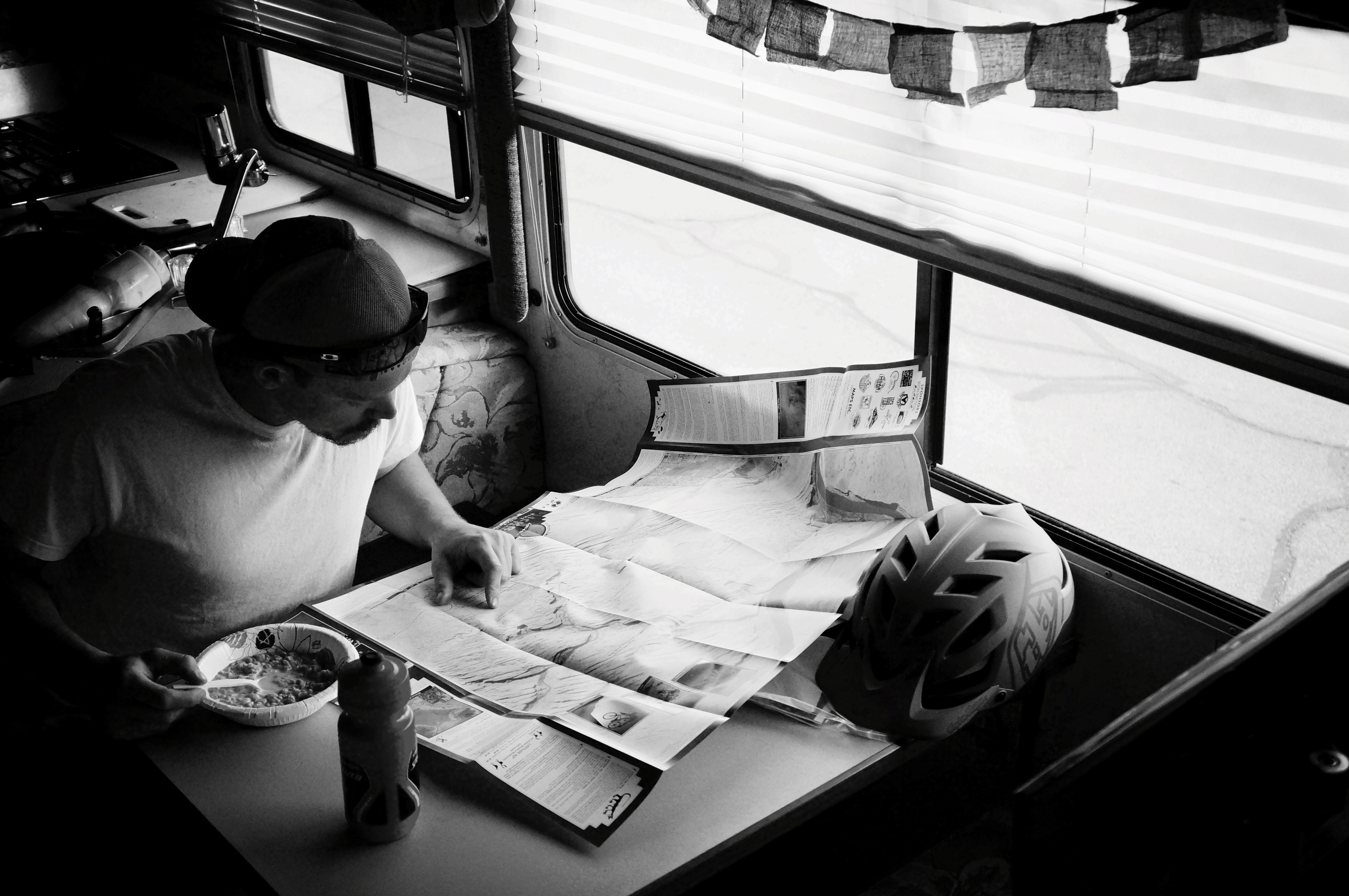 Check out how a record winter went living in The Betty and what I'm up to for the summer. Miles in the Mirror